Brooklyn Navy Yard: Spanish-Language Broadcaster HITN Expands & WeWork Opening Soon
BROOKLYN NAVY YARD – The Brooklyn Navy Yard Development Corporation (BNYDC) announced last Thursday that HITN, the largest Spanish-language public broadcasting network in the country, has signed a ten-year lease to expand its current space at Building 292.
HITN currently occupies 21,000 square feet at the Brooklyn Navy Yard and will add an extra 25,000 square feet of interior space as well as a 15,000-square-foot LEED-certified rooftop studio for the station's television operations. HITN's new headquarters, offices, production studios, editing and tech facilities will fill the new interiors.
The Spanish-language network produces family-friendly educational and cultural programming focusing on health and wellness, science and technology, natural history, and early education, and reaches more than 43 million households across the United States and Puerto Rico.
The broadcaster's expansion will create 40 to 65 permanent jobs, adding to HITN's current 57 jobs at the Brooklyn Navy Yard and helping in BNYDC's mission to create accessible, high-quality jobs. In the past two and a half years HITN has hired 13 full-time employees with the help of BNYDC's employment center and has offered 23 internships to high school and college students through BNYDC partnerships with local schools and CUNY.
Elsewhere at the 300-acre Navy Yard, co-working company WeWork will occupy 220,000 square feet spanning six floors of the 16-story Dock 72 building which is currently under construction, The Architect's Newspaper reported.
A creative office building developed by Rudin Management and Boston Properties and designed by S9 Architecture, Dock 72 is slated to launch this Fall. The firm Fogarty Finger was enlisted to design WeWork's space and create 35,000 square feet of high-end amenities for the building including two bar/lounges, a juice bar, café, market, fitness center, and a 600-foot-long lobby that spans the length of the building, according to the article.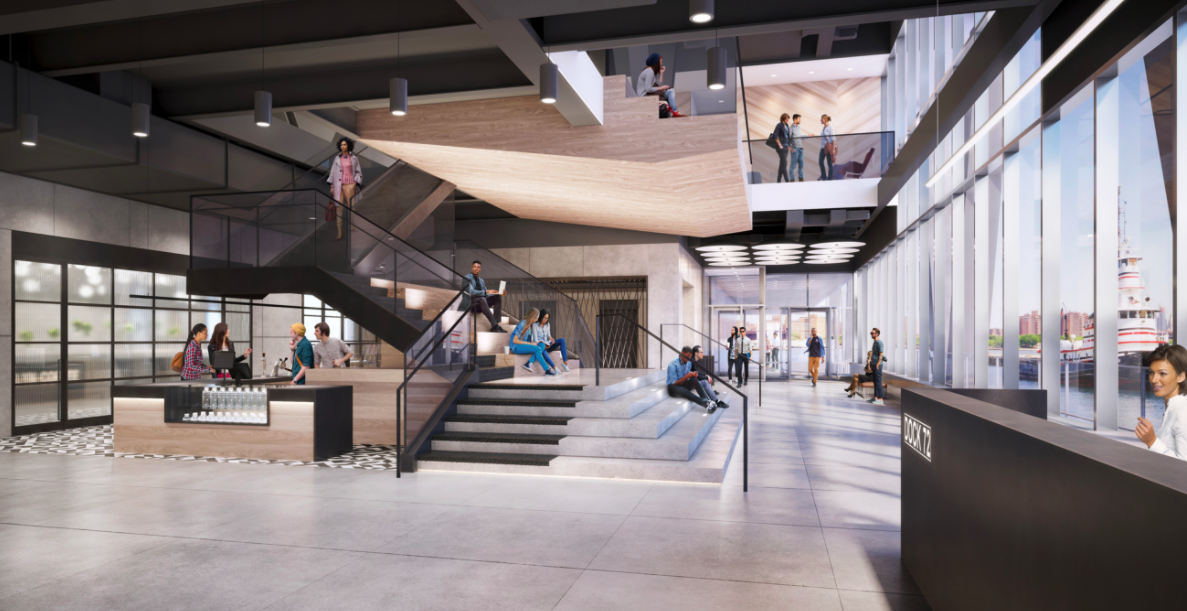 The interiors feature industrial details including concrete floors and black steel columns as well as touches of wood paneling along the ceilings. Local manufacturers based at the Navy Yard assisted in curating the public areas of the new space.
Earlier this year, BNYDC announced its plans to add more than five million square feet of manufacturing, creative, and innovation space to The Brooklyn Navy Yard and create more than 10,000 new jobs.