Nikkei: The 'Latest Gastronomic Sensation' Hits Park Slope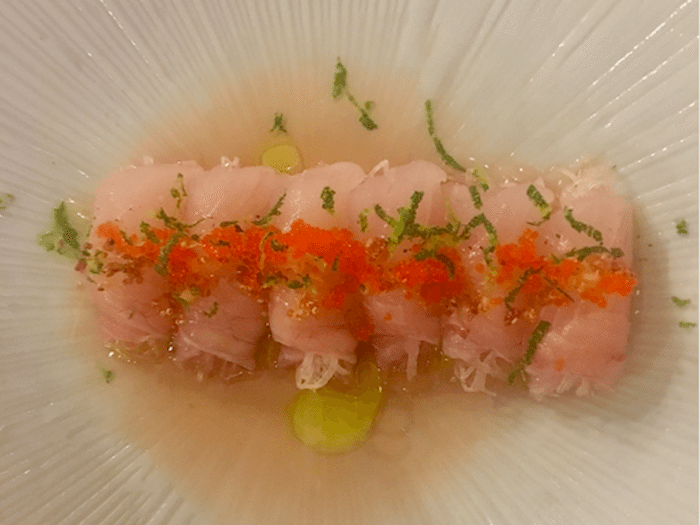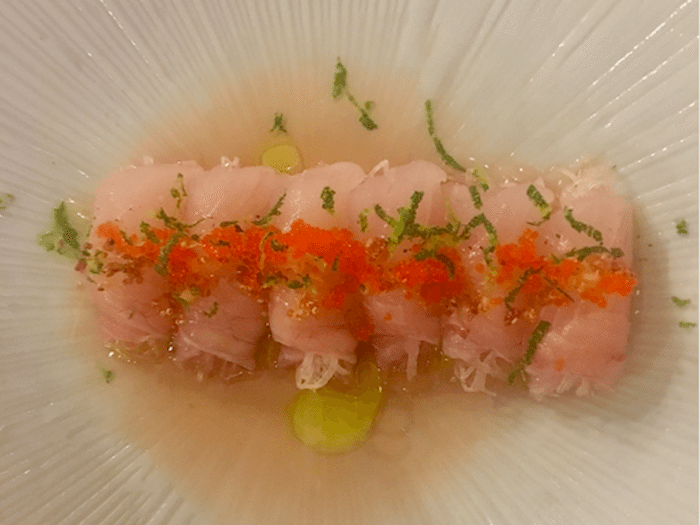 The Nikkei is a stock market but the word also refers to the Japanese diaspora and a type of Peruvian cuisine which fuses ingredients, cooking styles, and cultural influences from both countries.
And while that cuisine has been around for over a hundred years, it has only recently gained global attention.
Remarkably, although New York is awash in sushi joints and is no stranger to Peruvian food, Nikkei is rare here. There's a restaurant in Port Washington, Long Island and Sen Sakana is slated to open soon in midtown Manhattan.
But closer to home, Carnem Prime Steakhouse, a two-year-old restaurant on 5th Avenue in Park Slope, has recently rechristened itself Kizuna Nikkei.
How a traditional Park Slope steakhouse became "the first restaurant in NYC serving dishes from the latest gastronomic sensation that hit Europe's culinary capitals" is a matter of happenstance.
Carnem's owner Jacob Krumgalz placed an ad on Craigslist looking for a sushi chef. Enter Jorge Dionicio, a Peruvian chef who's worked in New York's O Ya and Morimoto, as well as restaurants in Texas and Nebraska, and ranked 7 out of 20 in Tokyo's 2014 World Sushi Cup.
Auditioning for the job, instead of preparing sushi, Dionicio served up Nikkei. Though unacquainted with the cuisine, Krumgalz fell in love.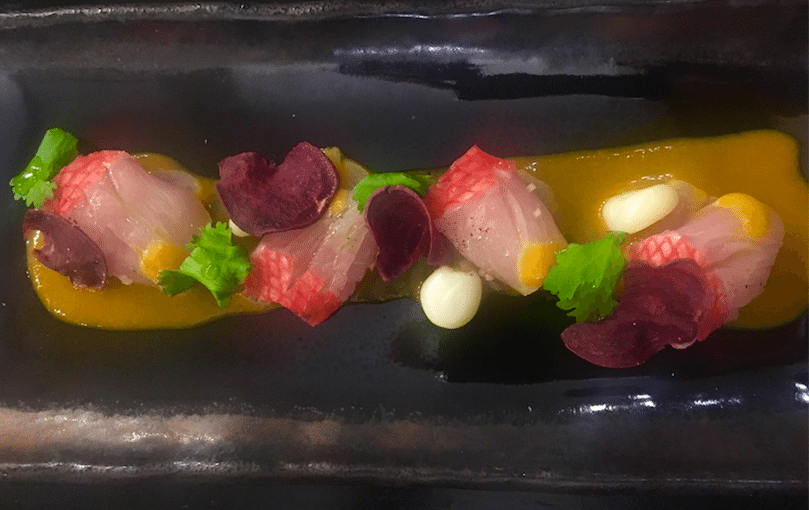 Kizuna Nikkei's menu is divided into Cold Tastings, Hot Tastings, Sushi and Sashimi, and Makimono (Rolls). Koshihikari Echigo, a clean and crisp rice beer, pairs well with this delicate food, the first of which was Hirame Usuzukuri.
Hirame is any flat fish (in this case fluke) and Usuzukuri is a technique for achieving paper thin slices which in this case were tightly rolled around daikon, a Japanese radish, resting on top of a splash of sweet potato vinegar and olive oil. The fish was topped off with a sprinkle of lime zest, a dash of pepper and smoked salt, tobiko or flying fish roe, and the secret ingredient, candied kiwicha, a Peruvian superfood high in vitamins, similar to quinoa.
More refined and beautiful than sushi or sashimi, the plate was citrusy and palate cleansing. The kiwicha lent a playful crunch, like some kid snuck Pop Rocks into the recipe. Like a glass of bubbly champagne; it was the perfect dish to start things off.
The Catch of the Day Ceviche followed, prepared with leche de tigre, or tiger's milk, a citrus-based marinade. Scattered throughout the chunks of white fish were cancha (corn nuts) a popular snack in Peru, as well as softer choclo, a large kerneled corn from the Andes, and small cubes of sweet potato. Aji chili peppers (Peruvian hot pepper) added some tang.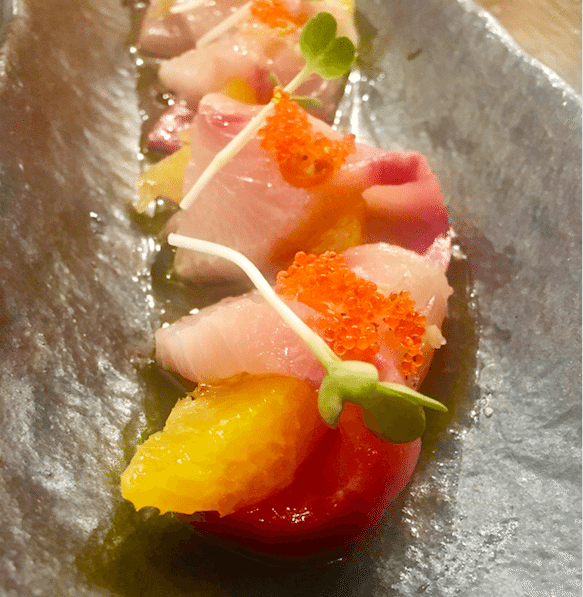 The chef and owner's favorite dish, Hamachi Crudo (yellowtail) followed, thinly sliced fish wrapped around succulent orange slices, dressed with a citrusy ponzu sauce.
Though mellower than the ceviche, tiny cubes of sweet potatoes and flecks of aji ramped up the intensity. Bursts of orange juice accompanied each bite.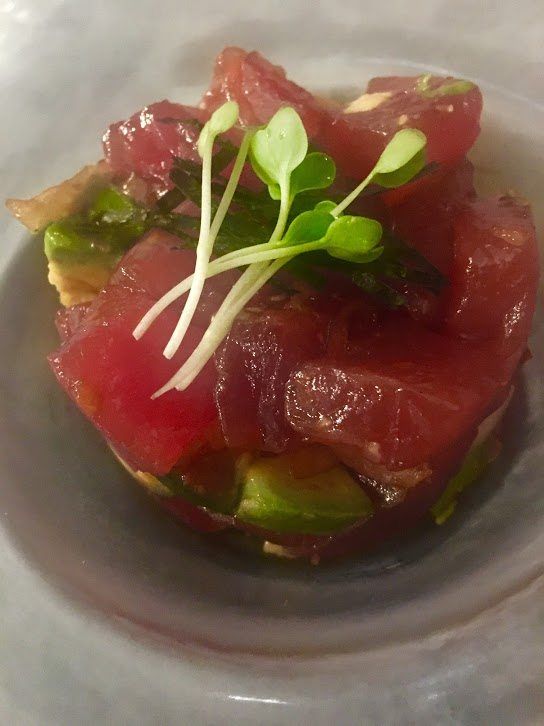 Even before tasting it, you could smell the earthiness of the Maguro Nikkei, a mound of small translucent tamari marinated cubes of Bigeye tuna mixed with kaiware (lightly pickled Japanese cucumber), avocado chunks, yellow aji that provided unexpected bolts of heat, and spicy kaiware (daikon radish sprouts) garnish.
Described by my wife as a "tuna roll deconstructed," the savoriness of this dish paired particularly well with a sweet sake.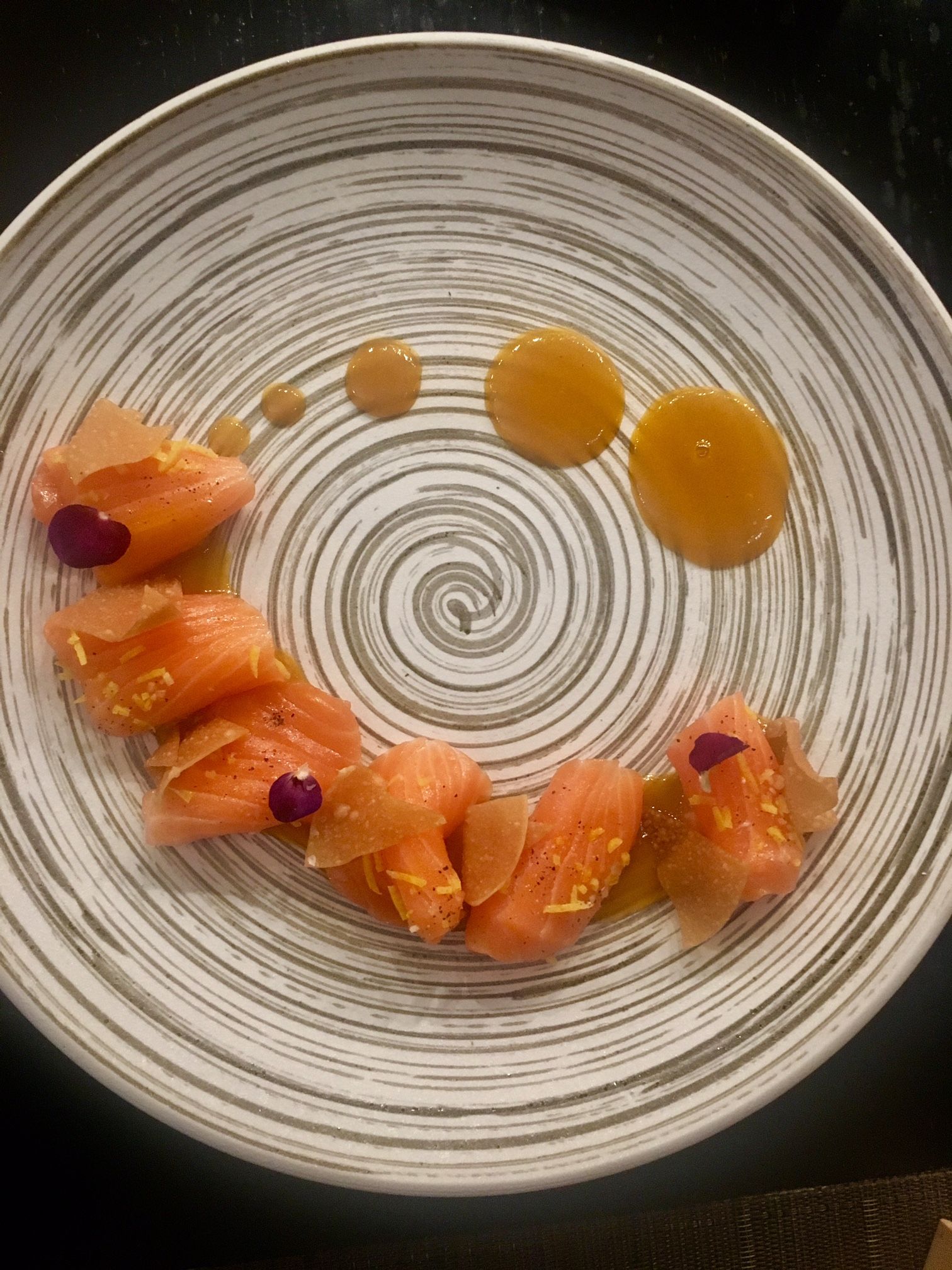 Other Nikkei touches can be found in the Kinmedei Tiradito, such as mixing Golden eye snapper with purple sweet potato chips or the Sake Passion (another house favorite) in which fatty strips of King salmon and bits of crispy gyoza skin rest on a sweet and peppery sauce made from aguaymento, a fruit closely related to the tomatillo, and passion fruit.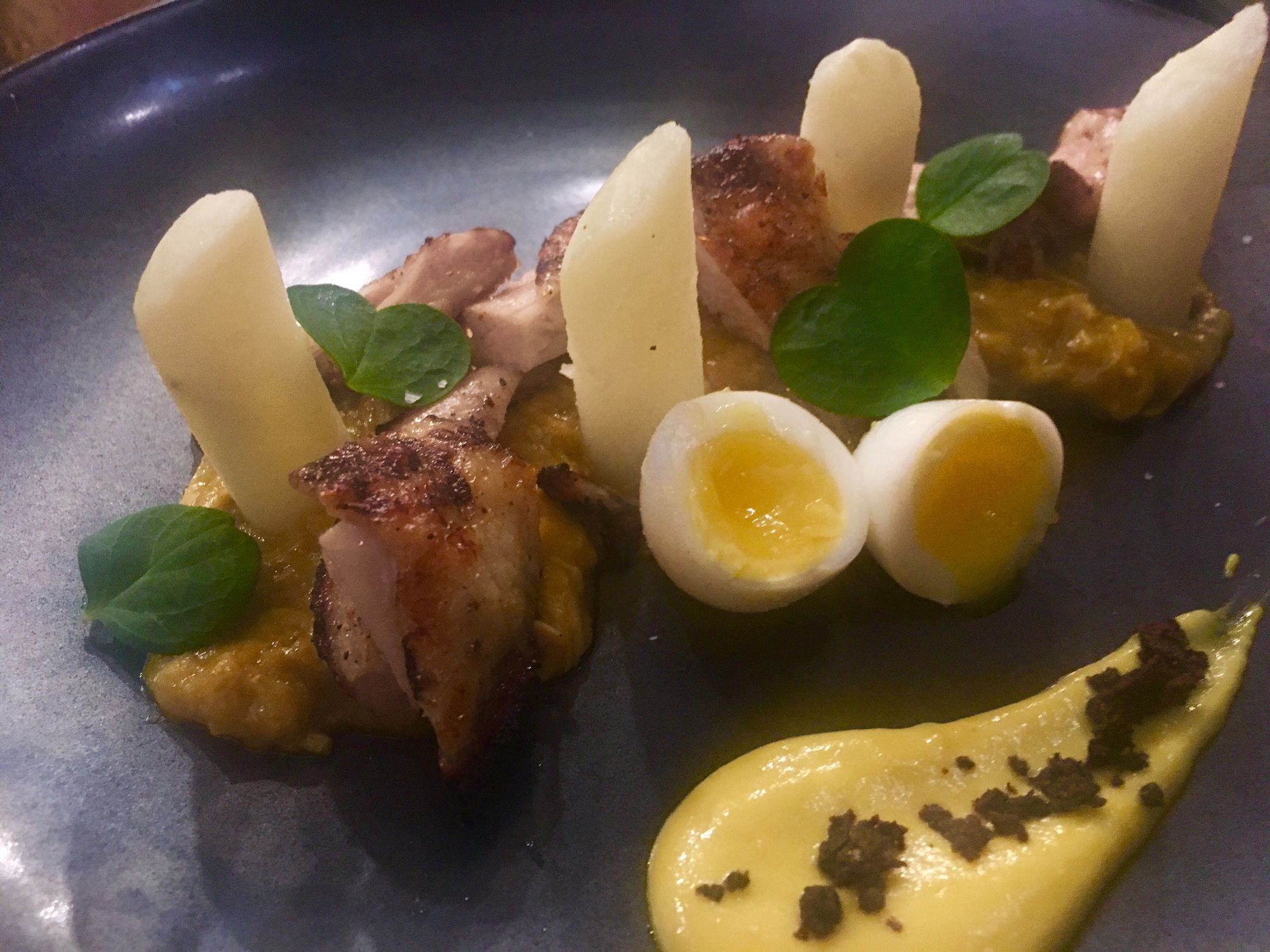 Our one Hot Tasting was a modernist take on a classic, aji de gallina, a spicy chicken stew that is typically served with hard-boiled eggs, black olives, boiled yellow potatoes, with ground walnuts cream sauce.
Delicious but not particularly beautiful, chef Dionicio spent three years wondering how to present this dish aesthetically, finally imagining it as an artfully arranged forest of potatoes trees.
The final dish, foie gras sushi, was practically a dessert in itself. It was rich and creamy, contrasting flavors just like Ample Hills' Salted Crack Caramel ice cream.
It almost made superfluous the purple corn sorbet that followed, an elegant frozen chicha morada.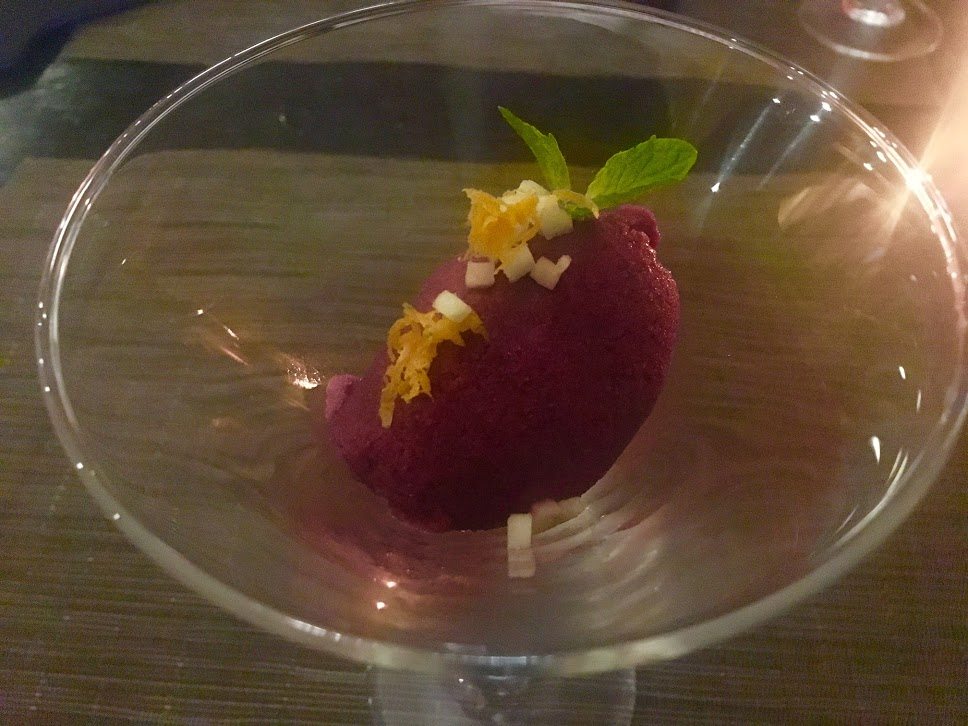 Kizuna Nikkei's menu is unique. There is no need to head east to Long Island or south to Lima — just head over to 318 5th Avenue between 2nd and 3rd Streets. Enjoy this wonderful food before the secret gets out. You won't regret it.