Ample Hills Creamery Celebrates 5 Years, So It's Time To Pedal For Your Cone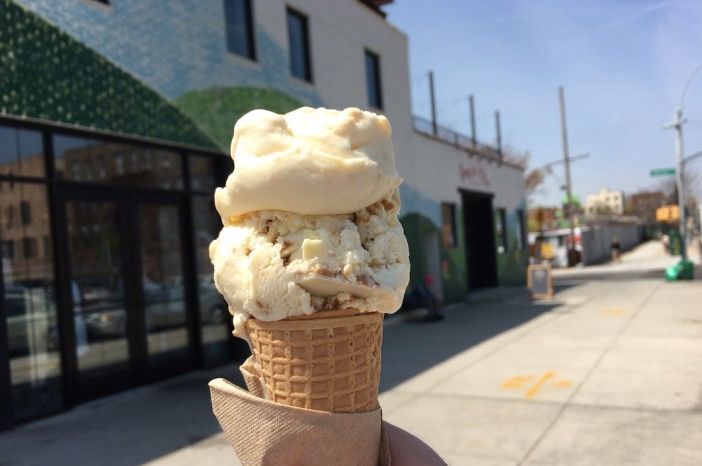 At the beginning, it was the-little-ice-cream-shop-that-could. Ample Hills Creamery opened in Prospect Heights (623 Vanderbilt Avenue) in 2011, a company which prides itself on making ice cream completely from scratch.
Owners Jackie Cuscuna and Brian Smith (partners in ice cream crime and married in real life) were armed with 130 gallons of their homemade Peppermint Pattie, Stout 'n' Pretzels (beer, chocolate ice cream, and milk-chocolate covered pretzels), Bubblegum (all natural and colored with beet juice), and more.
The customer turnout was overwhelming. "We had lines back to the bathroom, 20 people deep for six to seven hours straight," Smith told The New York Times.
And then they closed four days later.
The response to their ice cream was so popular, that they simply ran out of all 130 gallons. "I remember how scary it was when we opened our doors for the first time wondering if people would come, and if they'd keep coming," Cuscuna told us. "Our reception at Vanderbilt was overwhelming and gratifying and when we had to close after selling out of ice cream the first four days, [and]  the fact that those customers returned and many more kept coming was even more rewarding."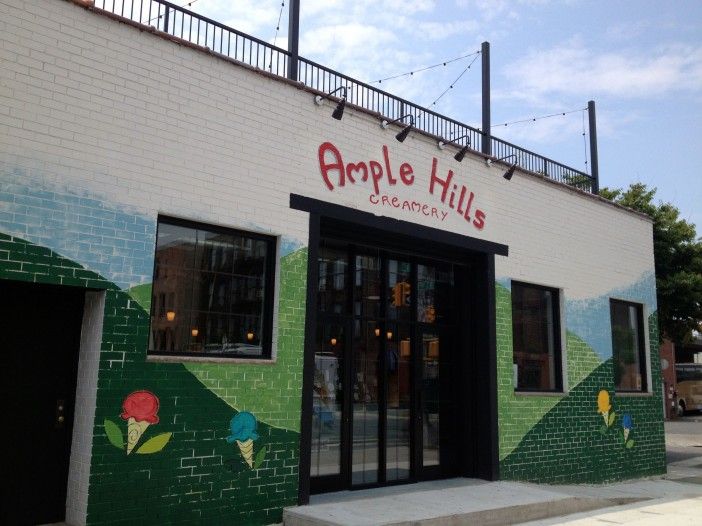 Ample Hills was named after a quote from Walt Whitman's Crossing Brooklyn Ferry — part of his Leaves of Grass poetry collection. "I too lived—Brooklyn, of ample hills, was mine," Whitman wrote.
The creamery just celebrated the five-year anniversary of their Prospect Heights shop. And in a few weeks, Ample Hills will celebrate the two-year anniversary of their Gowanus outpost (305 Nevins Street at Union Street), which opened on July 15, 2014.
The Gowanus Ample Hills continues to make its ice cream from scratch in their creamery, which is attached to the retail store. In addition to sitting at the counter or booths with your cups and cones, you can enjoy them on an airy rooftop with stunning views.
Ample Hills has grown, opening other outposts in Brooklyn (Brooklyn Bridge Park), Manhattan (Gotham Market West and Bubby's High Line), Queens (Jacob Riis Park), and in Florida (Disney's Boardwalk Inn).
While the company is expanding, Cuscuna and Smith are keeping their focus on the Gowanus neighborhood.
Known for their ice cream collaboratives, Ample Hills teamed up with co-founder of The Matzo Project/co-owner of Royal Palms Shuffleboard Ashley Albert on a flavor called "The Land Of Milk & Honey." The obscenely good flavor (I sampled the day of its release) is a combination of salt honey iced cream with pieces of cinnamon bun ButterCrunch matzo.
But their collaborations aren't just in the kitchen. They'll be working on the upcoming 2000 Gallon Project along with Gowanus Canal Conservancy, Alloy Development, and the DOT's Street Seats Program.

And while the kids drag their parents for scoops throughout the year (or is it the other way around?), the creamery also offers events focused on the adults.
On both July 12 and August 9, Ample Hills and Brooklyn Brainery offer an "Ice Cream Social" where you'll be able to make ice cream the old-fashioned way — via bicycle, of course.
"We wanted to create ice cream that was playful and fun and creative…ice cream that allows the adult to feel like a kid again," says Cuscuna. "And we wanted to create a place where people could gather and be social as families and friends and strangers."
So get ready to churn your cone with pedal-power. The two-hour social involves an ice cream-themed craft project with a waffle sundae bar. And pizza, of course. (It's BYOB as well).
Cuscuna wants to mix ice cream and neighbors together. "It makes me so happy to host this and many more ice cream socials where strangers can gather and ride a bicycle and make ice cream and color and feel like kids again," she says.
The Event Rundown: Brooklyn Brainery and Ample Hills Present An Ice Cream Social
Where: Ample Hills Creamery, Gowanus. (305 Nevins Street at Union Street)
When: Tuesday, July 12 or Tuesday, August 9, 7pm-9pm
Admission: $35, tickets available online. Participants must be 18 years or older.