Neighbors Seek Answers On 4th Avenue Homeless Shelters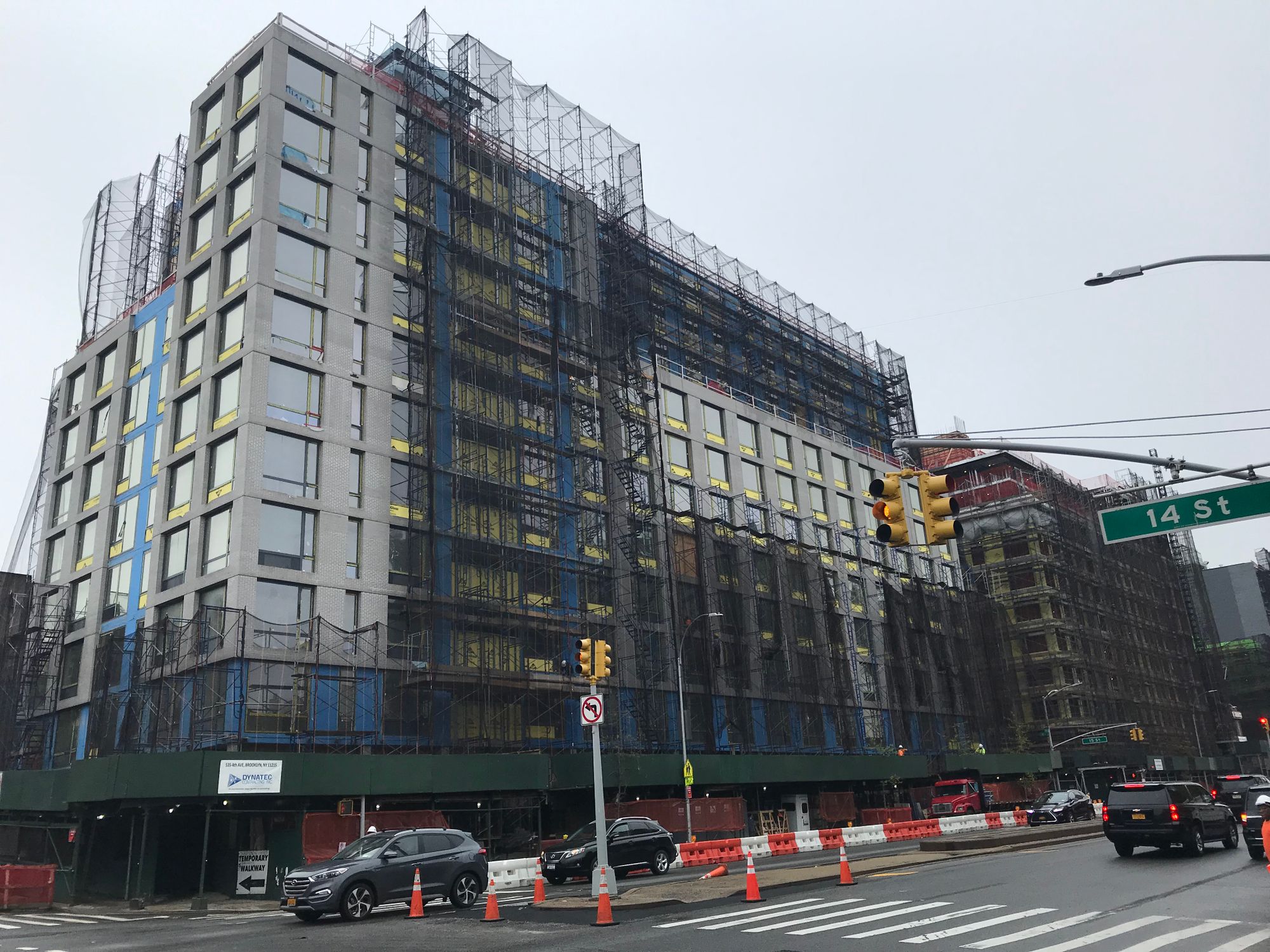 PARK SLOPE – Following a heated meeting on two homeless shelters planned for 535 and 555 4th Avenue, a group of neighbors has united in an effort to get answers from the city.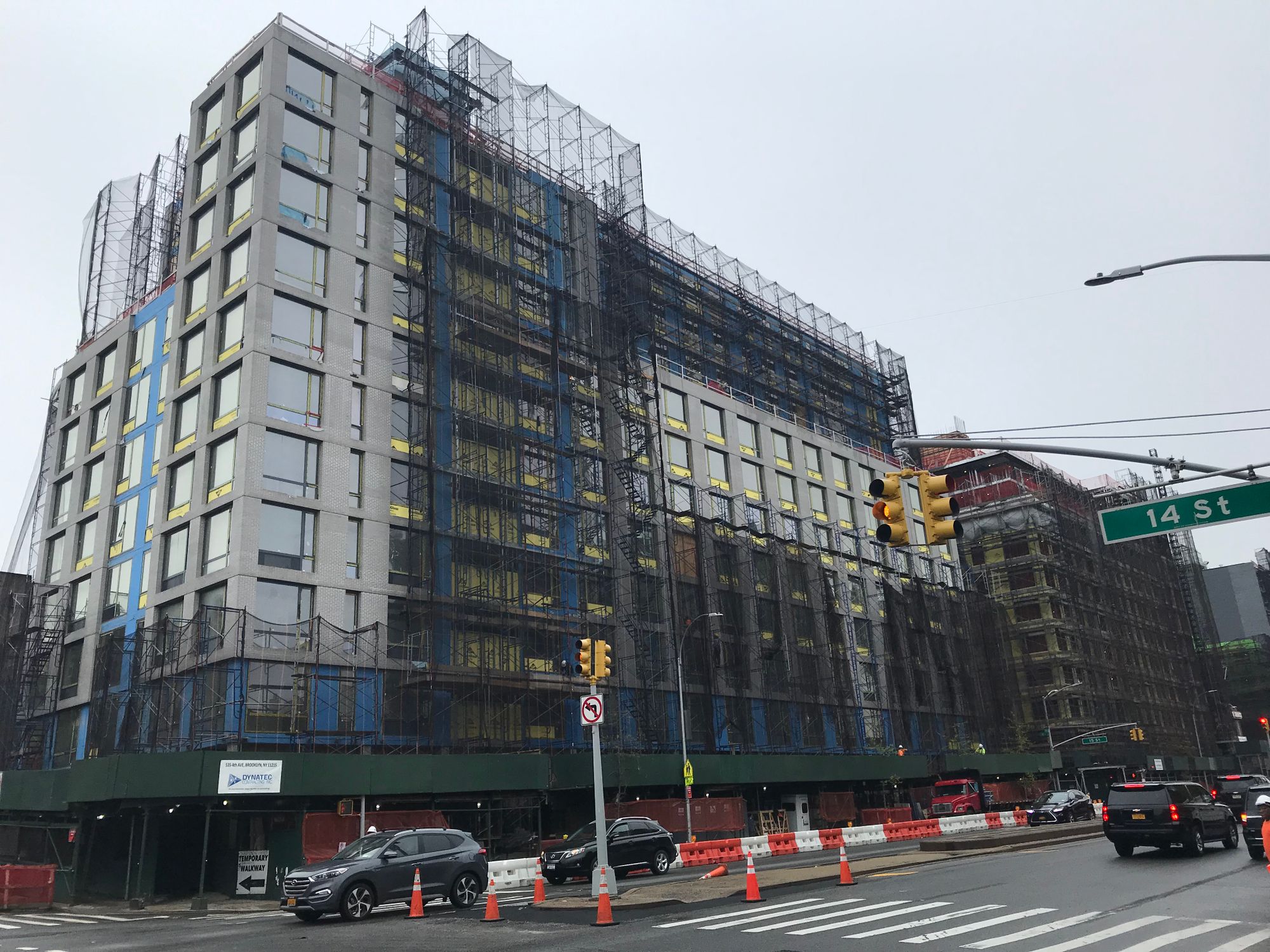 "We care deeply about how best to serve our neighbors experiencing homelessness and are concerned that a massive, temporary shelter that stands apart from and towers over our diverse neighborhood is the wrong way to go," Dan Guido, one of the organizers of the group 4th Ave Matters (FAM), told Bklyner.
"We believe strongly in permanent affordable housing in-scale with the surrounding houses," he continued. "Warehousing 1,000 of our homeless neighbors in temporary beds on a single corner entirely zoned for one small school instead of integrated affordable housing is a massive mistake."
Opening this fall, the two 4th Avenue facilities will be operated by WIN (formerly Women in Need). 535 4th Avenue (located in Community Board 6) will provide 148 units for homeless families while 555 4th Avenue (in Community Board 7) will provide 105 units for homeless families as well as 26 units of affordable housing.
The shelters are part of Mayor Bill de Blasio's "Turning the Tide on Homelessness in New York City" initiative to close the cluster sites and commercial hotels across the city that currently house the homeless and replace them with 90 new shelters. The plan would place homeless New Yorkers closer to their communities and distribute the facilities more equitably.
At the meeting on Wednesday, May 1, Council Member Brad Lander, Assembly Member Jo Anne Simon, representatives for the Department of Homeless Services (DHS), and Christine Quinn, the CEO of WIN, fielded questions from dozens of concerned community members who live near the two sites.
Along with objecting to the city "rewarding" the building developers—who have multiple DOB violations—with market rate (or above) prices, several in the packed John Jay auditorium expressed concerns about the project's density, a decline in property values, overcrowding in schools, and quality of life. Frustrated by the "lack of transparency" from elected officials and unsatisfactory answers to their questions at the meeting, neighbors decided to form a working group.
"The continued refusal of Brad Lander, Jo Anne Simon, Nydia Velazquez and Christine Quinn to answer simple straightforward questions has destroyed any sense of trust," said a member of FAM who lives on 15th Street.
"The frustration in the neighborhood is growing with each day that elected leaders like Brad Lander stonewall and evade," a spokesperson for FAM said in an email. "When Community Board Six tried to shut down discussion on Wednesday [at the May 8th CB6 general board meeting], multiple people stood up and walked out of the room. More people are signing up at 4thAve.org every day."
"Discussion with the community takes place at the committee level, as we have an agenda to get through in a limited time frame at the general board meeting," CB6 District Manager Michael Racioppo wrote in an email when asked why members of the group were not permitted to discuss the shelters at the board meeting. "Community session is for informing people about issues and upcoming events in three minutes or less."
"We are working on having a housing committee meeting with the shelters on the agenda," Racioppo added. "However, shelters are part of an emergency contracting process that is not subject to a formal community board review such as ULURP.  We hope the operators, such as WIN, in both their and the community's best interest, will come to present and speak with us in an effort to tell us how they run a shelter such as staffing, security and services they provide in order to allay those fears that are always expressed in the community in these circumstances."
Council Member Lander reiterated at the CB6 meeting that his office is working on a FAQ document for constituents and he plans to follow up with a meeting with P.S. 124, P.T.A. members, DHS, WIN, and the Department of Education. Lander had a meeting with school leadership on Friday, May 10, according to a spokesperson for the Council Member.
"The city has a homelessness crisis and it's important for us to try to address it by finding some shelter for the folks who are out on the street," CB6 Vice Chair Eric McClure told Bklyner. "I think it's important that wealthy neighborhoods like Park Slope take in their fair share of the homeless and not expect poorer neighborhoods or neighborhoods that are predominantly neighborhoods of color to take all the burden."
"People are concerned, I know, about having a homeless shelter nearby but I don't think there's any evidence that a shelter—especially a shelter that would serve women with children—leads to any kind of increase in crime or anything else that property owners would find objectionable," he continued.
Regarding the answers that Lander, Quinn, and DHS provided at the meeting, he found them satisfactory. "It seemed to me that they were sharing information that they had to give and people maybe weren't hearing what they wanted to hear," McClure said. "I think that the issue really is not transparency. I think that the issue is NIMBYism."
"The people who live on these blocks are not opposed to homeless shelters," said another member of FAM who lives on 14th Street. "But we want to build communities, not internment centers. These buildings run the length of two full city blocks and are each 12 stories high. They are many, many times the size of the low-slung three-story townhouse and tenement-style homes around them and are located on the edge of an already fragile neighborhood. If integration of homeless neighbors into stable communities is de Blasio's goal, this is not the way to do it. We are asking for the opportunity to work together to find a thoughtful solution that serves families experiencing homelessness, but does not let criminal developers off the hook or neglect this neighborhood's considerable existing needs either."
"Numerous people have reached out to our elected officials, but Brad Lander, Jo Anne Simon and Nydia Velazquez have simply failed to provide honest answers to simple questions," Guido said. "The examples of other shelters they cite—like the one in Kensington—are vastly smaller and integrated into the community." During last week's meeting, the CAMBA shelter in Kensington, which houses 65 families, was referenced in comparison to the two 4th Avenue facilities which will house 253 families.
According to Daniel Price, another organizer of FAM, he is still waiting for answers to the below questions that he's repeatedly posed.
Is there an example of a successful project run by WIN this large, in a neighborhood of single-family homes and small apartment buildings and zoned for a single school?
What is the economic deal the city is offering these two developers and why is the city bailing out such bad actors?
Are massive temporary shelters, rather than integrated, long-term affordable housing, the right approach? We hope that these families transition out of homelessness, however, they will be forced to leave our neighborhood without permanent affordable housing. Won't this result in a constant, transitory population?
Have Brad Lander and the city done any real planning? There was no planning—or even discussions—with the school.
"The refusal to answer [these questions] either means that they haven't bothered to think about the issues…or that they are intentionally hiding something," Price added.
"Our office is sorry to hear that constituents did not feel like the process was transparent," said a spokesperson for Council Member Lander's office. "We tried extremely hard to provide as much information as possible as soon as it was available. In many cases, we genuinely did not have certain information because our office is not the contracting agency. The nature of siting shelters is never as comprehensive as other housing matters. There is no overview process, through the City Council or through Community Boards, because the city has a legal obligation to house homeless New Yorkers. DHS is actually not obligated to provide more than 7 days' notice for siting a shelter, and in this case they provided many months' notice."
"We hosted the community meeting on May 1st to bring more transparency to the process and to provide constituents with an opportunity to ask questions and work through any logistical concerns," she continued. "It was imperative for us to have DHS representatives available to answer questions our office did not have the information to answer."
When asked what he thinks would help the process moving forward, McClure suggested engagement efforts, such as a Community Advisory Board for the facilities. "The degree to which the city can engage with the community and invite people to participate in the process, I think is helpful…. Stay[ing] engaged with the neighbors, the community board, and the larger community as much as possible will make this as smooth as it can be," he said. "As a community I would like us to be welcoming of people."
Regarding Price's inquiry about a comparable project of similar scale in a low-rise residential neighborhood, Price said that WIN has "only offer[ed] up a project that is half as tall and sandwiched between a school bus depot and a rail yard." He noted that the organization has agreed to give FAM a tour of one of its existing facilities.
In terms of next steps, Price said, "We are exploring a range of options, from dialogue with WIN, DHS and our elected officials to Freedom of Information Law [F.O.I.L.] requests and even legal avenues that force openness and transparency into this process. We won't be deterred by bullying from the likes of Christine Quinn or stonewalling from Brad Lander."
"Ultimately, these buildings have been sited, and they will open to homeless families in the fall," the spokesperson for Lander's office said. "We hope the community will welcome these new families, and we encourage folks who still have questions to read our office's FAQ, or to reach out."
Click here to contact 4th Ave Matters.
.