Neighbors Have Heated Meeting About Two 4th Avenue Homeless Shelters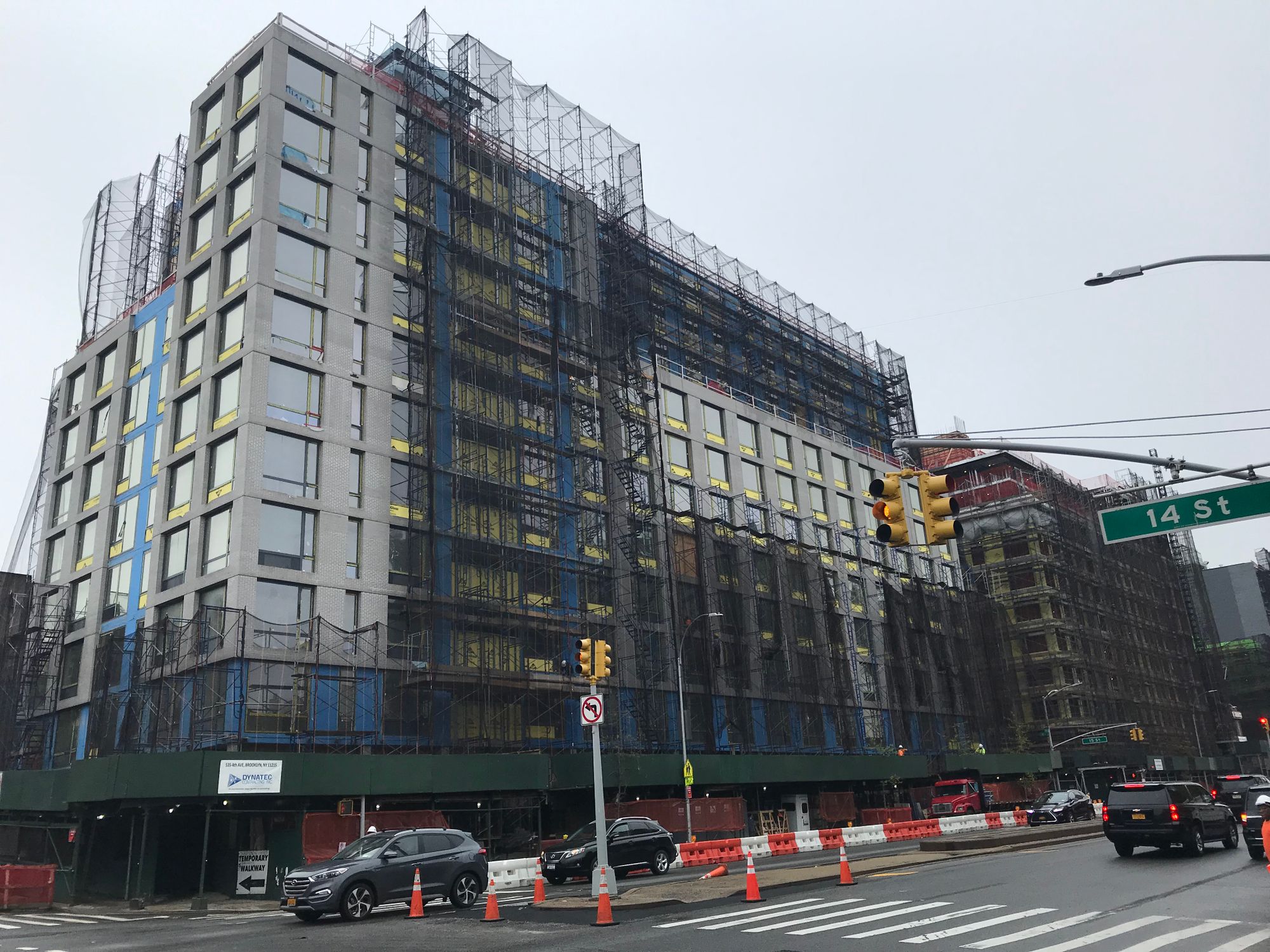 PARK SLOPE – The John Jay auditorium was packed Wednesday evening with locals eager to learn about the two homeless shelters coming to 535 and 555 4th Avenue.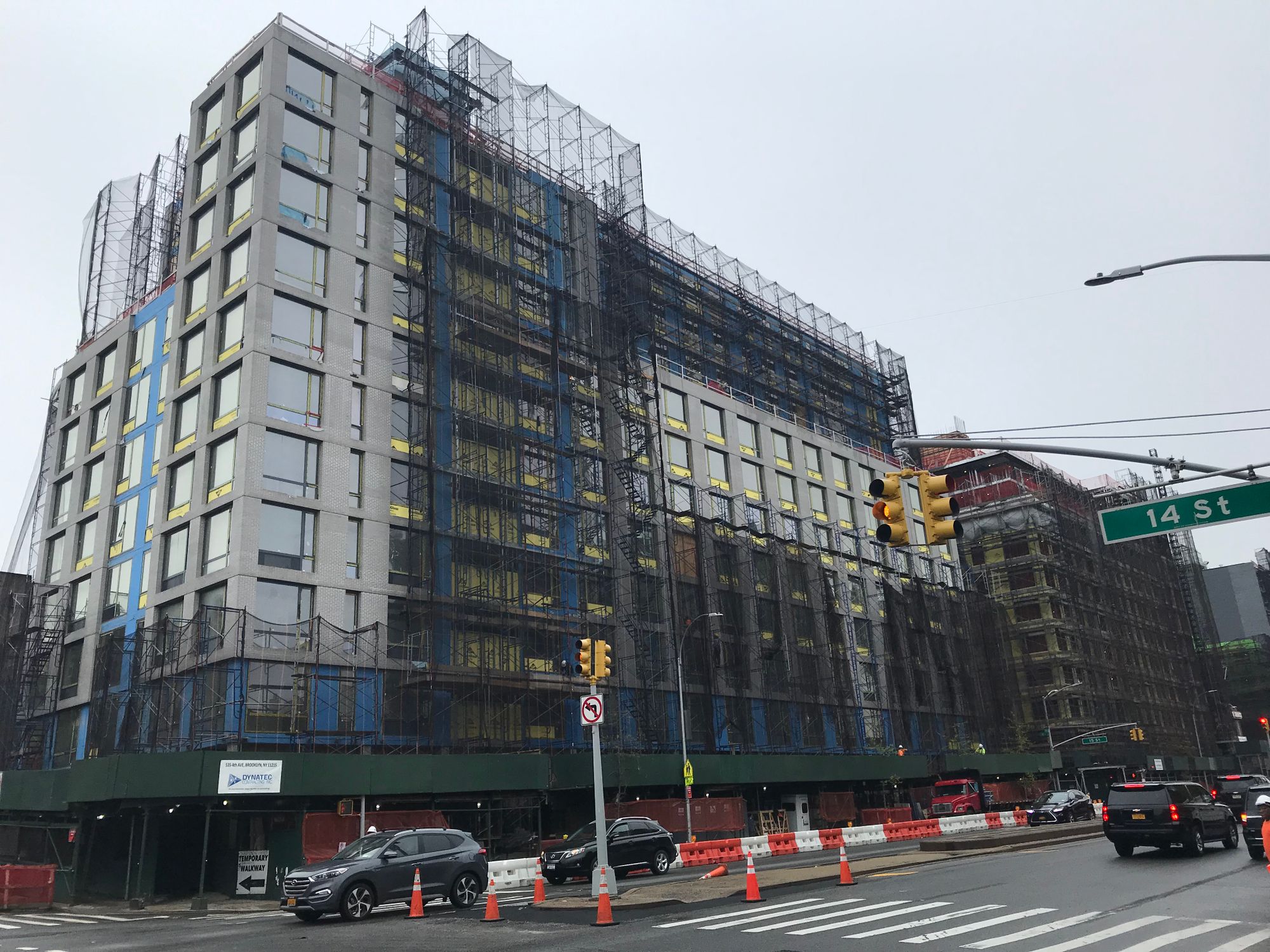 The two facilities, opening this fall, will be operated by WIN (formerly Women in Need), explained Jackie Bray, First Deputy Commissioner for the Department of Homeless Services (DHS). 535 4th Avenue (located in Community Board 6) will provide 148 units for homeless families while 555 4th Avenue (located in Community Board 7) will provide 105 units for homeless families as well as 26 units of affordable housing. WIN will offer a number of services to the residents of the two buildings including case management, housing specialists, security, and social workers (one per every 25 families), Bray said.
The shelters are part of Mayor Bill de Blasio's "Turning the Tide on Homelessness in New York City" plan announced in 2017 that will close the cluster sites and commercial hotels across the city that currently house the homeless and replace them with 90 new shelters. "These two sites are two of those 90," Bray noted. The plan would place homeless New Yorkers closer to their communities and distribute the facilities across the city in a more equitable manner.
"I'm glad to be here tonight both as your Council Member and as a neighbor," said Brad Lander who noted that he lives just a couple of blocks away from the two planned shelters. "What happens there matters to me and my family just like it does to you and your families."
"No one is happy about the need to build new homeless shelters in New York City," the Council Member continued. "No one wants to have to spend the night in a homeless shelter…. Our city has both a moral and a legal obligation to provide a safe place to sleep every night, to provide shelter for everybody who's homeless and I'm glad we have that legal obligation. It is the right thing to do."
"That creates a real challenge. Siting 60,000 shelter beds in the city is not easy to do. No one is thrilled about having them in their neighborhoods just like no one wants to sleep in them every night…. One principle we have is that we try to bear burdens fairly and take a fair share approach to make sure that communities are all helping," Lander added.
"A principle that the city uses here is to roughly match the number of people coming from a community district to the number of shelter beds in that community district," Lander said. "And we actually have very few shelter beds…. There are community districts with thousands of shelter units." Park Slope currently has one shelter, CAMBA's 100-bed women's shelter located at 1402 8th Avenue (between 14th & 15th Streets).
"Last night just under 59,000 people slept in a shelter bed and 22,000 of those were children," noted Joslyn Carter, Administrator of DHS. Fifty percent of those children are aged six and under. "We need to make sure that every child that needs a unit has one and that is why we need to open these two shelters in this community district," she added.
"The way this process works, it's not like ULURP, it doesn't go through a land use review process, it's not something the council votes on," Lander added. "The Department of Homeless Services works with landlords with service providers and sites shelters. They do not need public approval for it." The Council Member noted that in the past, DHS was only required to give seven days notice before the agency opened a shelter in a community. The policy has since changed to 30 days notice. With the two 4th Avenue facilities opening in the Fall, "We have much more than 30 days notice," he said.
"What is the one good thing about this is this is a meeting months and months in advance of the siting so that we have an early opportunity to engage, an early opportunity to respond to questions, and the proponents have an early opportunity to address your concerns and needs," said Assembly Member Jo Anne Simon. While the two shelters are in different community districts, they are both located in Simon's assembly district (52). "The one thing that I know about this is that the operator of the shelter will be WIN and it is an organization that knows what they're doing and has an excellent reputation and that's critical," Simon added.
The audience was impatient to ask questions or voice comments, so any formal presentation from DHS or WIN was skipped in order to give everyone a chance to speak.
A common topic among meeting participants was the developers of the two buildings, Adam America and Slate Construction, and how much money they were receiving from the city for a pair of buildings that many said are poorly constructed.
"This is not about the homeless people," said the first speaker. "Brad Lander and Bill de Blasio are bailing out developers…. How much is the city paying for those units? Fourth Avenue is oversaturated with a cesspool of luxury condominiums that have already been paid for by tax dollars and those developers can't possibly get a nickel for those units, so I want to know what the city is giving them for those units."
"What we have started doing is pay market rate in rent," answered Bray. "In previous administrations most of the shelters were concentrated in East New York, Brownsville, Hunts Point…they were concentrated there because the city said, 'We're not willing to pay higher rents for sheltering.' What that meant was deep inequity in the way we site shelters," she explained. Bray added that WIN will lease the properties from Slate.
Another speaker named Gary lives and works across from 535 4th Avenue. "I was standing there two or three winters ago watching them put two floors up every week in the middle of the winter and I'm saying, 'They should not be pouring cement right now.' And of course, as we all probably know, that building was closed down for over a year because of multiple violations. This developer, Adam America, is being rewarded with what you're calling market rate for substandard quality… Market rate on a building that was falling down…. Are you taking that into consideration because when you say market rate, you're saying you're paying this— we're paying it…. That's our money…. Give me one example of what you're paying for a two-bedroom apartment in that building."
"Our sites are inspected and poked and prodded literally more than any buildings in the city," replied Bray. "Every single building is inspected by every single oversight agency twice a year. You will not find buildings that are inspected more, that are worked on more…. It is incumbent on us to make sure that no one moves into the buildings until every 'i' is dotted, every 't' is crossed and until the department of buildings and FDNY and our state oversight has spent a ton of time in these buildings. That will happen as we move towards opening."
Bray did not have an answer regarding costs, noting, "I do not have specific numbers to give you tonight on these buildings. When we finalize the contract and publish those contracts, that will be public."
"I think nobody has given a clear answer to what has been a concern multiple people have expressed and that is our money appears to have been used to subsidize a developer who is demonstrably incompetent," said another neighbor. "He's built a building that has [multiple] violations, literally seems to be falling apart at the seams…. Does anybody seriously believe that in ten years' time that building is not going to have serious structural problems given the history that it's had? If that's true, who's going to pay for that? It just seems like a disgraceful, disgraceful waste of money," she said.
An upset neighbor on 15th Street said the developer's incompetence has resulted in serious damage to his home and demanded to know whom to hold accountable. Council Member Lander told Bklyner after the meeting that he would work with the homeowner in seeking redress.
Several homeowners living near the two sites expressed concerns that the proximity of the two shelters would bring their property values down. "There is zero research supporting the idea that shelters reduce property values," Bray insisted.
Others voiced concerns about density and questioned why two shelters were planned right next to each other. Bray said that multiple neighborhoods in the city have two adjacent shelters and that there are many shelters "bigger than these two put together." A representative of WIN noted that the non-profit has two 200-unit shelters in East New York that are "right next door to each other."
"I just think it's worth remembering that the buildings were…going to have families with children and they're [now going to be] homeless shelters that are going to have families with children in about the same numbers," added Lander. "So they were going to be wealthier families with children and now they're going to be poorer families with children…. From the point of view of…infrastructure and services, it's just not a difference between their having market rate housing."
Many parents at the meeting were concerned about overcrowding at P.S. 124. Located at 515 4th Avenue, the school is steps away from the two shelters. DHS gives parents the option to either transfer their children to the local school or to keep them in their home district (where they were last stably housed). "The vast majority of our families choose to keep their kids in the school of their home district," Bray explained, also reiterating that DHS works with mostly young families and that half of the children are six and under. "A tremendous amount of our kids are babies," she noted.
Council Member Lander promised to coordinate a meeting with P.S. 124, P.T.A. members, DHS, WIN, and the Department of Education. "P.S. 124 is a great school," he said. "If a handful of kids from these shelters…come to P.S. 124, I think it would be great for those kids, I think it would be great for P.S. 124."
"Please think about these families with children who want the best for their children just like you and just like me," DHS Adminstrator Carter added.
"My neighbors and I are not okay with this," said one local. "I'm on my own, I'm taking care of my five-year-old girl because I have a job. And I'm sick and tired of working hard and getting punished. I'm scared for her safety. I'm scared for my safety. I'm scared of robberies, drugs, loitering. Where's my security? Am I going to get free security on my house? What are we getting? I'm tired, I'm mad, I'm scared," she said.
"Our families are your neighbors today," responded Bray. "When you're on the train with people, you're on the train with moms and kids experiencing homelessness. Our families do not commit more crime, they are not dangerous, they are your neighbors who can't afford their rent. Or they're your neighbors who were in an abusive relationship….They are not dangerous people."
"I must say to my neighbors who claim to be progressive and have a sign in your window welcoming Syrian refugees, if you're against homeless people coming into our neighborhood…you're against homeless people, just admit it, don't fool yourself," said another community member. He recounted attending a similar meeting 15 years ago about a (now shuttered) shelter that was planned between Pacific and Dean Streets. "I heard everything, that crime was going to rise, property values were going to plummet, and no one would ever move into Prospect Heights…. Isn't it true that these objections are raised at virtually every site and none of them turn out to be true?"
"I'm just accepting it, it's a done deal. I'm really supportive essentially. As a neighbor, what can we do as a neighborhood?" asked John, a 13th Street resident. "What have been positive experiences, ways in which the local neighborhood can welcome the homeless shelter into the neighborhood?"
"Thank you. That's a wonderful, generous offer," said Christine Quinn, President of WIN. She said that the community can volunteer to host a program at the STEAM-focused Camp WIN or donate presents for the kids during the holidays or new backpacks at the start of the school year.
"This community has a big heart and we are welcoming to all people—that doesn't mean having concerns isn't legitimate," said another neighbor. "We have legitimate concerns and we want you to take them seriously and the scale concern is a really big one. These are huge and we are a low density neighborhood." She noted the approximately 750 people who will be "cycling through the neighborhood" concern her. "I want to know really specifically what you're going to do to make sure that our community is kept safe," she said.
Quinn responded that the facility will be staffed with a WIN-trained security team—15 to 20 per building per shift, 24 hours a day. The security guards will not be armed.
She also noted that both facilities will have cameras inside and outside to monitor activity and that room inspections will be conducted every two weeks. All residents will have a 9pm curfew and head counts will taken every night to ensure everyone is there. Quinn also noted that WIN has a zero tolerance for drugs.
She added that a Community Advisory Board could also be established which would have regular meetings with WIN staff and an internal point person.
Daniel Price was expecting to learn more last night. "You're either not prepared or you're not giving the answers," he said to the panel. "You could get the community behind you if you're open and transparent." See some of the questions he wanted answered in the video below as well as questions from Zac Martin regarding overseeing the developers and affordability.
"DHS, WIN, Brad Lander and others were woefully—and possibly willfully—unprepared last night," Price told Bklyner following the meeting. "Their answers were vague, often directly contradictory or demonstrably false. If last night was designed to build trust and the foundation of a strong working relationship with their neighbors, they failed miserably. Many who entered the room undecided sadly left angry and disappointed." He noted that he and several neighbors have formed a working group and are actively organizing.
"We were shocked in particular by Christine Quinn's arrogant, dismissive and condescending attitude toward the audience," Price continued, "especially given her past fight against a far smaller homeless shelter in her own neighborhood."
"CB6 supports shouldering our fair share during a crisis of homelessness," said District Manager Michael Racioppo. "We should welcome these families in need of shelter. Indeed some of the eventual occupants are already part of our community which has been their 'home.' I'm sure everyone in attendance at last night's meeting would want to feel welcomed if they had to enter either of these shelters."
"We must do more to address homelessness, so it's important that the City is opening new shelters for homeless families with children in the community, since there is so little shelter in our community right now," Assembly Member Jo Anne Simon said in response to Wednesday's meeting. "The public meeting provided a good start to engaging the community and learning more from DHS and the non-profit shelter operator, WIN. Attendees asked good questions about the impacts on schools and the City's payment for the housing, and I'm encouraged that many people have expressed support for this project, but we still have work to do to reduce the myths around why people experience homelessness and to get answers to certain questions from the City. I will continue to work with DHS, WIN, my colleagues, and the community to address any questions and welcome our new neighbors."
Council Member Lander's office is working on a FAQ document to distribute to neighbors. He is also working to get responses on the questions that were left unanswered last night. "There's time to put out information, to take people's questions, and give the best and clearest answers that we can, so we're working with DHS, WIN, and DOE and other agencies to do that," he said.
"We will make sure to work with DHS and WIN to establish the Community Advisory Board which will be an important ongoing vehicle for information and partnership," the Council Member added.
"In almost all the cases that I have seen, there is a lot of concern expressed until the place opens…and especially when it opens," Lander continued. "As long as there's been a good partner like WIN, and a good community who work together, pretty quickly people realize that we have some new neighbors, they fit in pretty well, and we can all make it work together."
Community Board 7 District Manager Jeremy Laufer did not attend the meeting and hopes to be briefed on it soon by board members who were there. He told Bklyner that CB7 will host a community meeting regarding 555 4th Avenue in the near future.