"We Need The ACA": Say Locals To Rep. Donovan In Video Message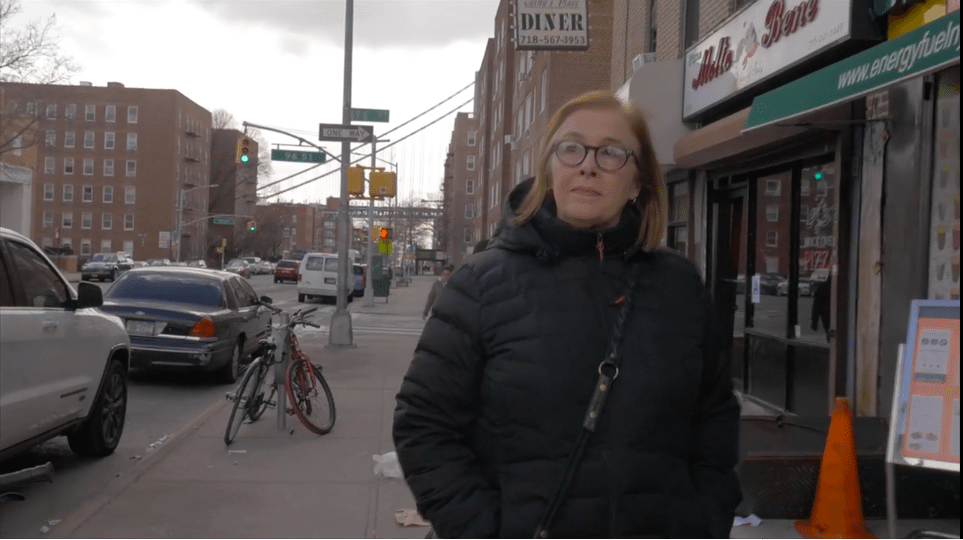 Activists in Bay Ridge want to de-politicize the Affordable Care Act battlefield and put a human face to the struggle to pay for coverage in southern Brooklyn and Staten Island.
In a new video made by Courtney Scott and Rebecca Brodsky, constituents from U.S. Congressman Dan Donovan's district tell their stories directly to their elected pol — in lieu of a town hall meeting — on how the ACA saved their lives.
Scott and Brodsky aren't film professionals, but neighborhood activists who wanted to bring together voices from both sides of the bridge — the Verrazano bridge, that is — as "a non-partisan representation of the congressional district." (which includes parts of Gravesend, Bath Beach, Bay Ridge, and Bensonhurst).
"ACA is such a human need. There's no reason it has to be a game of political football," said the film collaborators, citing the 78,800 district residents covered under ACA's Medicaid expansion.
And the reviews are in:
"This heartbreaking and powerful video shows once again that access to healthcare is personal, not political," said Justin Brannan, Democratic candidate for the 43rd Council District and founder of the Bay Ridge Democrats. Brannan contends that while ACA is "far from perfect, is literally saving lives right in his own backyard…Everyone needs to see this video."
One of the filmmaker's concerns is that the bill is too steeped in the country's deep political divide — and Donovan's district straddles both a Democratic and republican base. And the video features voices that overwhelming support for ACA in the 11th congressional district, but Donovan also documents voices from the healthcare act's detractors.
There's misinformation about ACA, said Brodsky, citing the eponymous Jimmy Kimmel live video where people recoiled from — or supported — Obamacare vs. the ACA because of its name (not realizing that Obamacare is merely the ACA's nickname.)
The important frame isn't who came up with the plan, said Scott, but who's benefiting from it — which pins the issue to the constituent's needs, rather than political buzzwords.
"People don't understand these issues, the mechanics of the bill past or present. But it's unignorable. There's aways someone for which this hits close to home," she said.
Donovan, who hasn't yet reached a verdict on his vote for the Republican-proposed ACA replacement, has said he's committed to "not pull the rug out from millions of people."
Sources from Donovan's office told BKLYNER that the video was well received, and the presentation was a creative way to highlight personal concerns and present them to the congressman.
"On Thursday, the House of Representatives will vote on the American Health Care Act," Donovan said. "Based on an in-depth analysis, I have deep and serious concerns about the current bill. I plan to meet with President Trump on Tuesday afternoon to discuss those concerns in detail," said Donovan, who hosted a healthcare roundtable with hospital reps., doctors and residents on March 15.
In an earlier statement, Donovan said he'll fight for Medicaid funds and coverage for pre-existing conditions — while reforming "a broken healthcare system."
But Brodsky and Scott aren't convinced.
"It's one thing to say you believe these things," they said. "But there's no way to fund them without an individual mandate."
They were in the small audience of constituents that met with Donovan, after public controversy over Donovan's refusal to host a face-to-face town hall meeting last month, and 100 constituents rallied outside his office in support of ACA.
"We got the meeting after a lot of agitating," she said (Donovan's office had denied accusations that he's ignoring constituents). Though they appreciate the congressman taking the time to meet, they want the privilege of communication to reach a wider audience in the district. "There are a lot of voices that aren't being heard."
According to the two women, Donovan told the small group that he'd be willing to hold a town hall when things calm down.
"The nature of our issue is that he's thinking of who he has to answer to in his own party. We want to bring him back to the roots in the community," said Scott. "He has to have those conversations whether it's uncomfortable or not."