'Where's The Plan, Dan?' Southern Brooklynites Protest Donovan's Stance Against ACA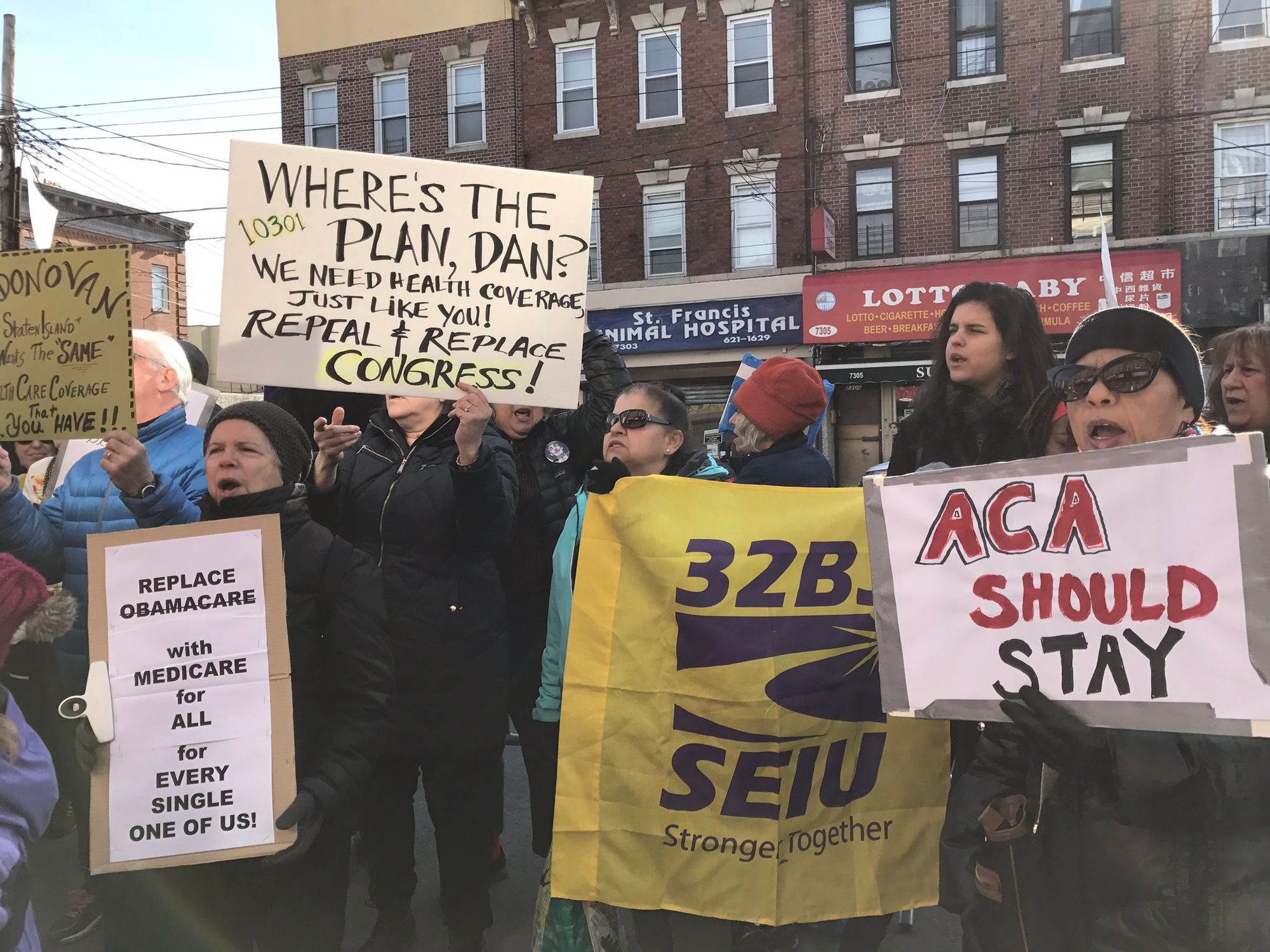 Today, nearly 100 protesters rallied outside Republican Congressman Dan Donovan's Dyker Heights office, demanding that he support the Affordable Care Act and meet with constituents in person.
And earlier this month, U.S. Congressman Dan Donovan, who represents parts of Gravesend, Bath Beach, Bay Ridge, and Bensonhurst, along with other Republicans in the House of Representatives, supported a resolution to begin the repeal components of the Affordable Care Act, potentially cutting off the 22,200 people in District 11 currently enrolled.
Chants could be heard all morning on 13th Avenue, as participants spoke passionately about why the Affordable Care Act needs to stay — including coverage to include pre-existing conditions, children under 26, and Medicaid.
"I'm fighting for affordable health care for my grandchildren," said speaker and Brooklyn resident Vie Mae-White. "With a $250 fee to even see a doctor, children cannot be without healthcare," Mae-White told BKLYNER.
"Healthcare is a life and death matter, if you can show us something that's better than what we have, people will go for it," said Mae-White.
The Congressman counters that ACA needs major reforms to create stable healthcare for his constituents.
"The reality is, the Affordable Care Act has caused families to lose their doctors, limited health care choices, and caused soaring deductibles and premiums," said Communications Director Patrick Ryan in response to the protests.
"Congressman Donovan believes reforms are needed to create a working and stable healthcare system, and he has continually said that he will not pull the rug out from millions of people."
On February 16, Donovan cosponsored the Pre-Existing Protection Act of 2017, which guarantees health insurance coverage for Americans with pre-existing conditions through individual and group markets if ACA is repealed.
But for many attendees, the plan to repeal and replace isn't enough. And many say that the Congressman isn't listening to their message.
"You can't just replace a complex law that dealt with basic human rights with one bill," said Carolina Gonzalez of the 32BJ Union. "A lot of pieces of ACA work together closely. For example, a single bill to cover pre-existing health conditions doesn't address the kinds of tax breaks health insurance companies would get."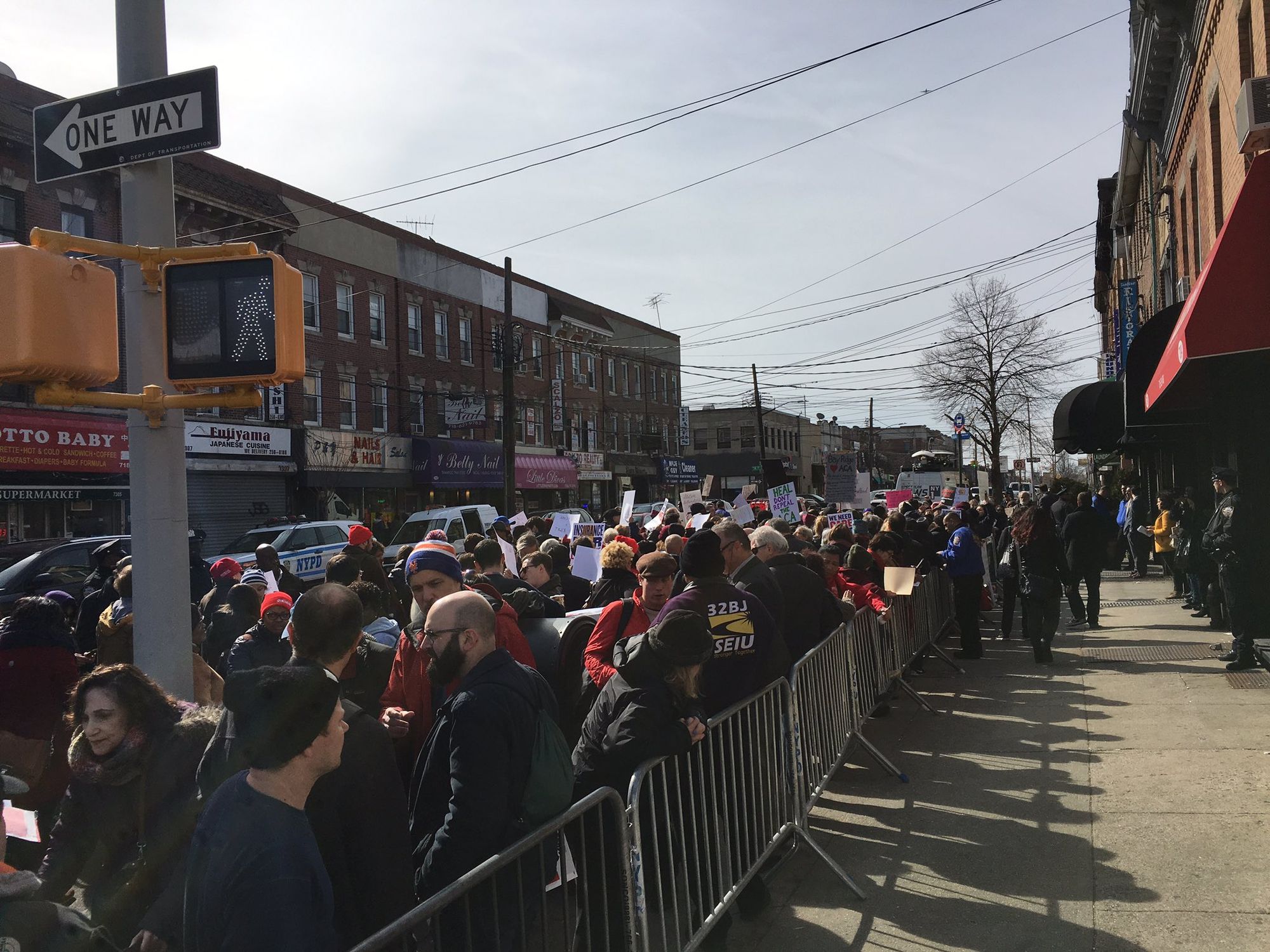 This large rally comes after a month of activist events directed at Donovan, including a show of protesters at the Brooklyn Chamber of Commerce and outside his Brooklyn district office during the controversial teleconference on February 17. The Congressman's Staten Island constituents held a similar pro-ACA protest last month.
Constituents have attacked Donovan in op-eds, alleging that the Congressman is ignoring their requests to meet in-person. However, representatives from Donovan's office countered that the Congressman is working to set up meetings and that the level of vitriol has gone "a step too far."
But protesters are committed to having their voices heard. Responding to the large turnout on Tuesday morning, Mae-White said, "I have faith that victory is on its way."