Activists Rally For Planned Parenthood While Donovan Decides If He'll Support ACA Replacement Plan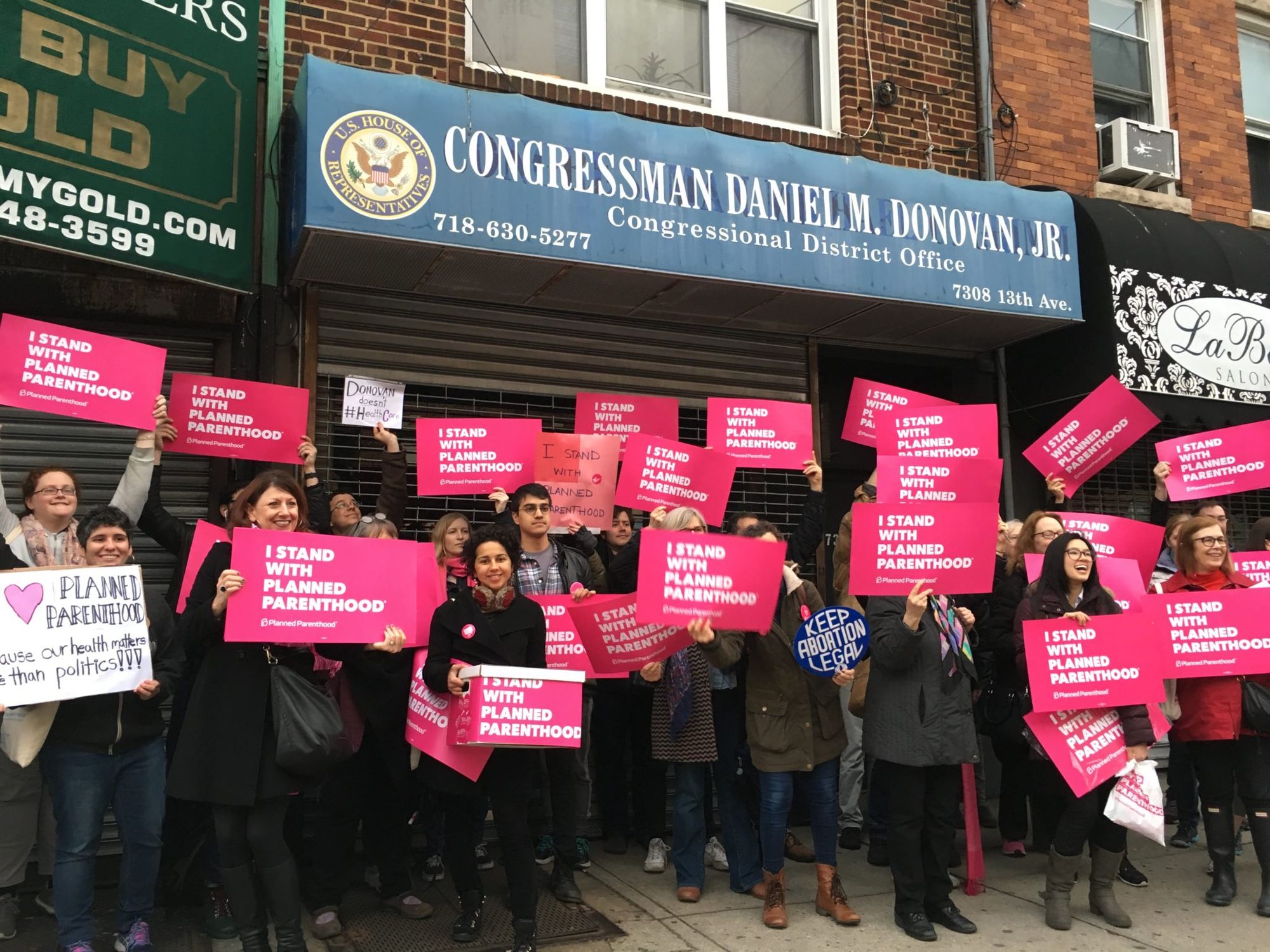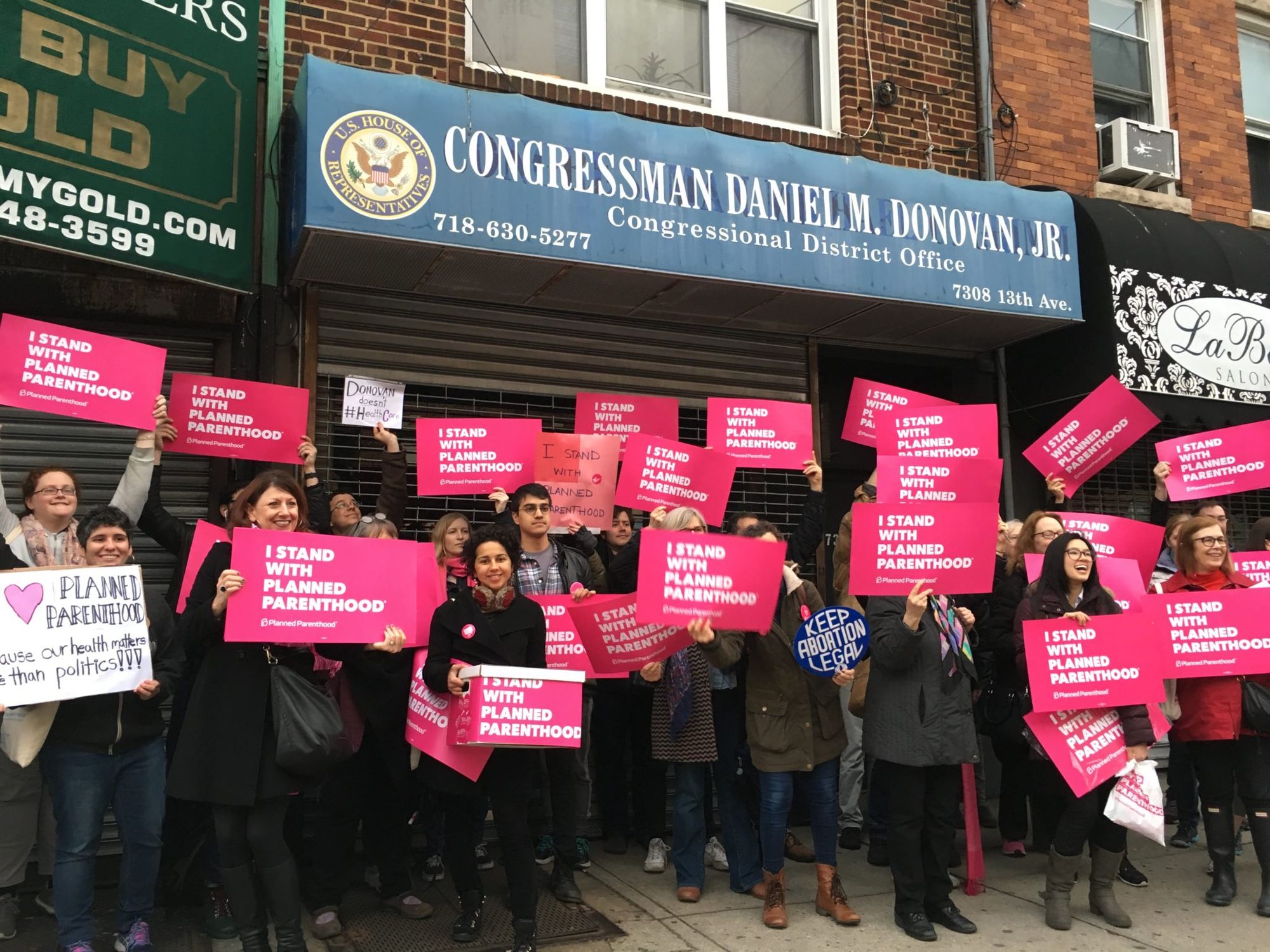 In response to a House bill with a provision to defund Planned Parenthood, about 100 activists rallied outside U.S. Republican Congressman Dan Donovan's Dyker Heights Office yesterday to send him a visual message: "We're not going anywhere."
Last night's action — which included a rally and a letter writing campaign — comes only two weeks after another 100-person rally against Donovan's support for repealing the Affordable Care Act. Local organizers, activists, and constituents chanted and flashed signs on 13th Avenue supporting Planned Parenthood in response to the newly unveiled replacement plan for the Affordable Care Act.
The plan, released on Monday, includes a proposal to roll back Medicaid expansion, cut some subsidies for low-income people, remove the employer and individual mandate by 2020, and defund Planned Parenthood, among other things.
Donovan, who represents Staten Island, parts of Gravesend, Bath Beach, Bay Ridge, and Bensonhurst, said, "I think this bill represents thoughtful analysis and some smart, innovative policies, and I'm glad it grandfathers in Medicaid beneficiaries." But he's reserving judgment until he hears from everyone. Read more about Donovan's stance here.
"I'm waiting on the CBO score, speaking with health care stakeholders in my district, and…thoroughly analyzing the proposal. This is the beginning of a weeks-long process of consideration and updates," said Donovan.
One of the organizers of last night's rally, Katie Needle, is a Bay Ridge activist, Planned Parenthood patient, and ACA enrollee. "I feel very passionately about the issue of access to affordable healthcare, particularly for women," she told BKLYNER.
"The majority of Americans support planned parenthood," said Stephanie, planned parenthood staff writer, noting that there's a clinic in Donovan's district in Staten Island.
Many residents we spoke with are afraid that this replacement bill will mean a loss of health coverage and access to health care for vulnerable women nationwide. "My mom's on ACA and if that goes, I have to be around to take care of her," said Daniel Hetteix, a 31-year-old Bay Ridge Native.
Others felt that Donovan has been an absent representative, citing his refusal to hold face-to-face town hall meetings with constituents.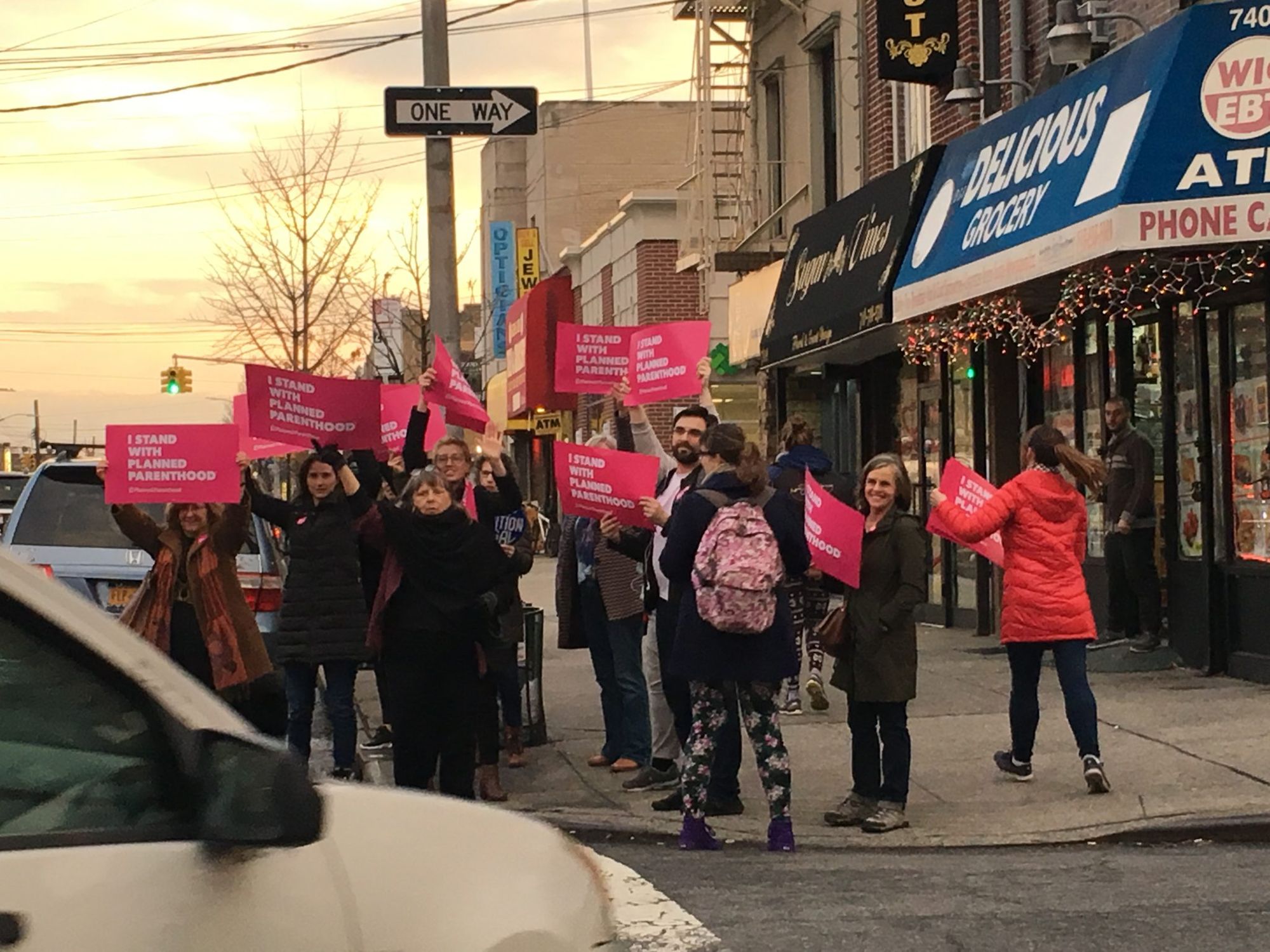 "I voted for Donovan because I thought he'd represent me under the Working Family Party," said 35-year-old student and Medicaid recipient Maria Rivera, noting that she now feels ignored by the congressman.
"This is my story. You're affecting me directly. Medicaid is my only option," she said.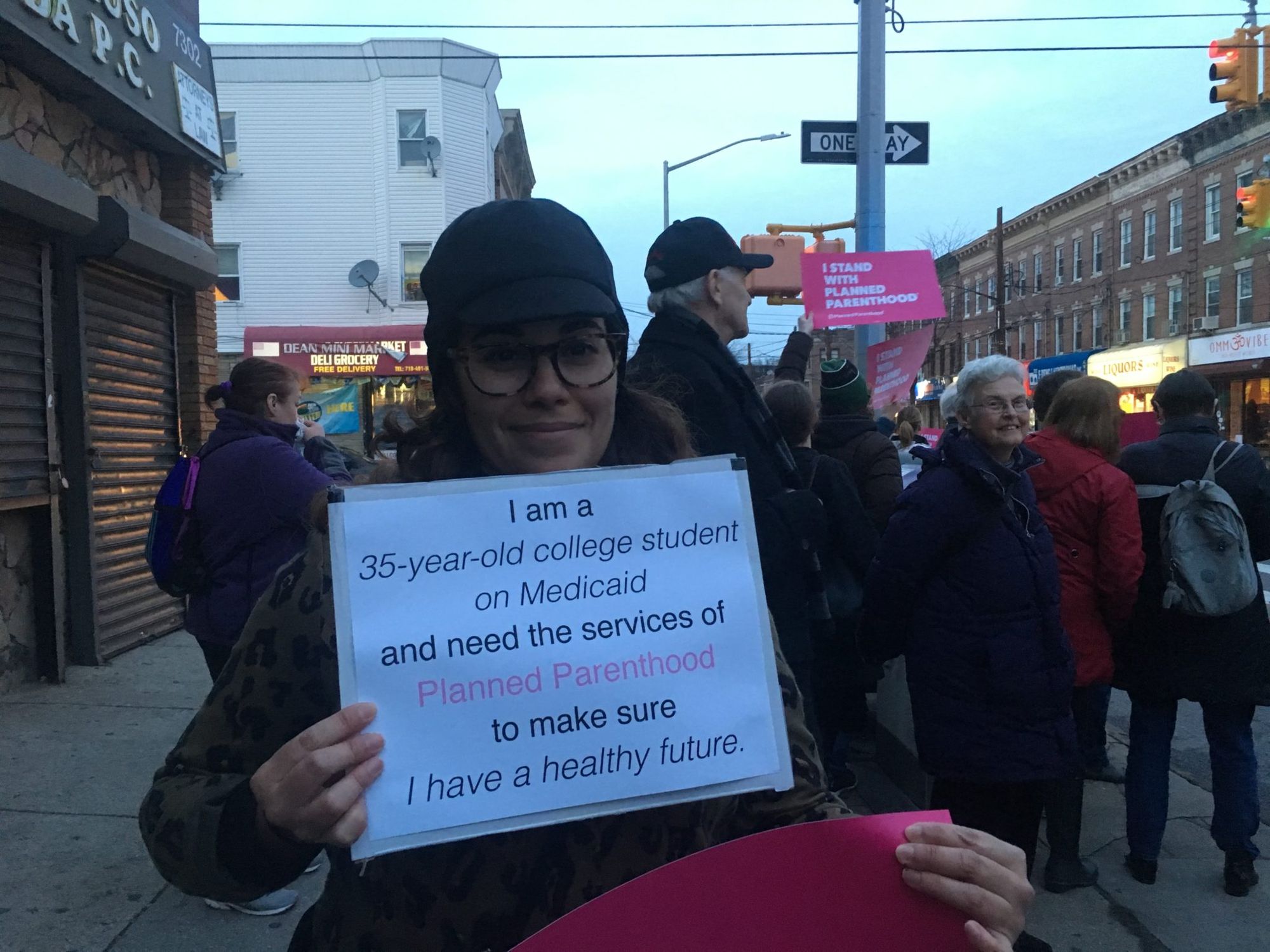 There are 22,200 people in District 11 currently enrolled in the Affordable Care Act, and as their benefits get cut some neighbors are predicting a backlash.
"For the first time I'm seeing my entire community activated, and I don't think Trump expected that. Nor did Donovan," said Hetteix, who is a member of the Bay Ridge for Social Justice.
"I've been on subway cars with girls in Reeboks, carrying Jansport backpacks and wearing hijabs, and they have a stronger Brooklyn accent than Dan Donovan does," said Hetteix. "So I'm not sure who really belongs here."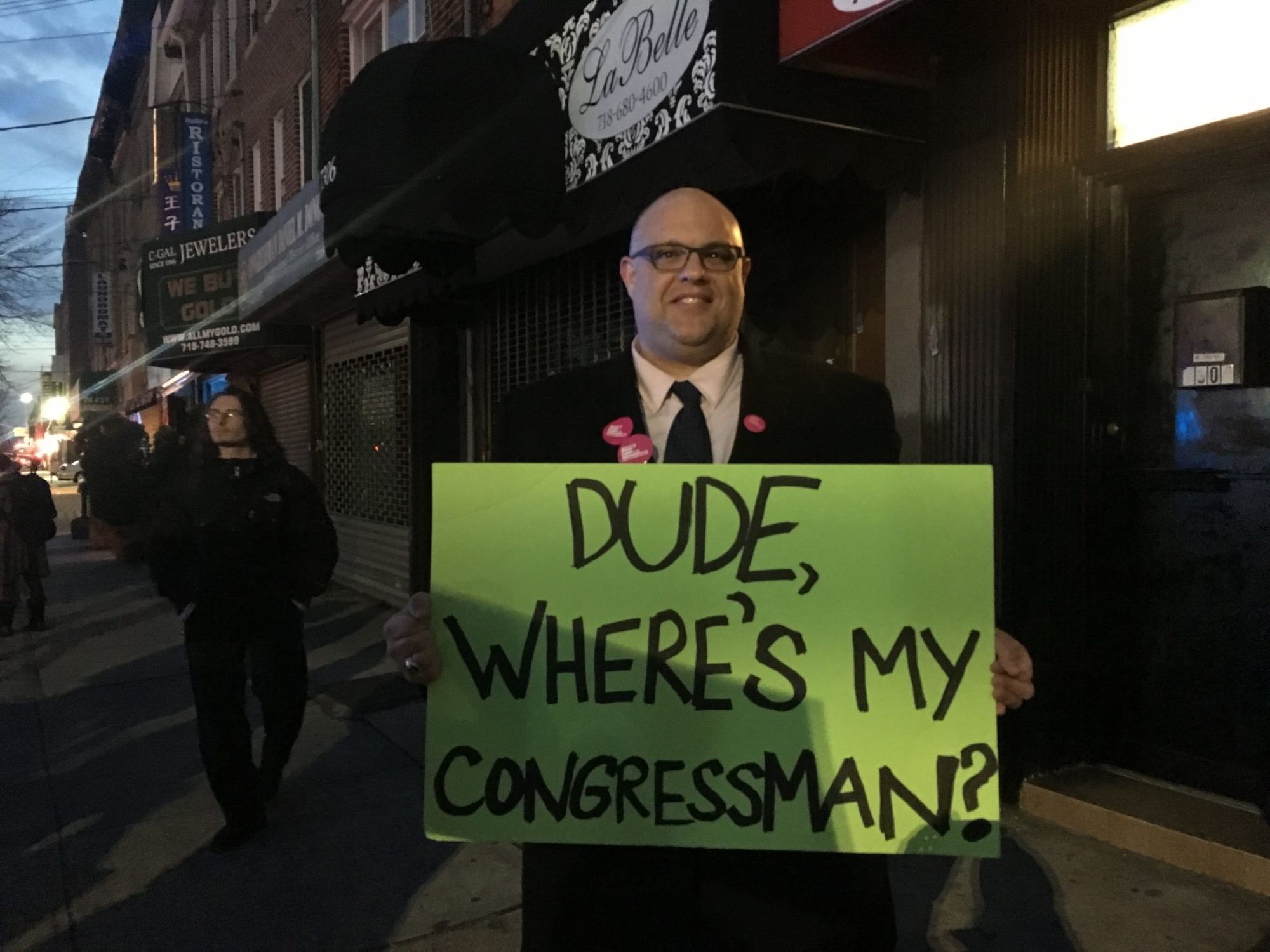 Women weren't the only ones rallying to protect Planned Parenthood last night. "I'm not directly affected," said resident Johnny Bel. "But I believe that healthcare is a human right. It shouldn't be a business."
"Anytime that people get out and show where they're hearts are is just a great thing," said Larry Finkelstein, another supporter of Planned Parenthood.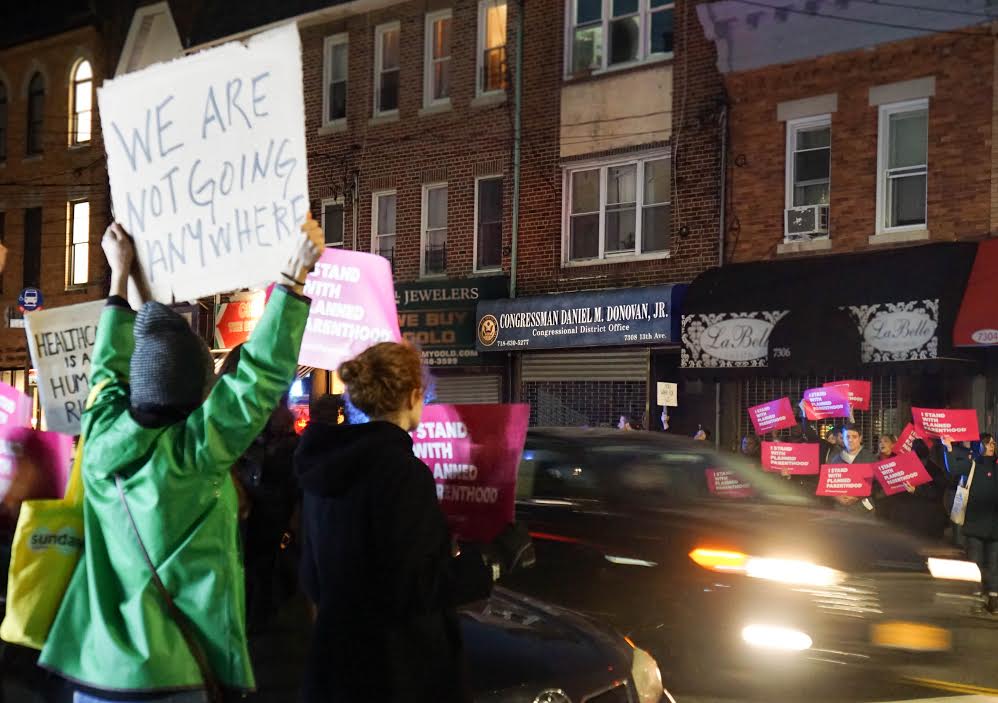 But not everyone standing on the street corner last night had a progressive agenda.
Two disgruntled women said they were drawn out of their apartments by the loud noise. At one point, they began shouting directly at a protester "I have a right to be here, too" until police officers stepped in.
One of the women said she is pro-life, along with many of her Trump-supporting neighbors. "I was just going to the store and this is happening outside my house. I don't have much of a choice," she said, raising her voice to be heard over the chanting.