Morbid Anatomy Museum In Gowanus Has Closed; 'Rebirth' Promised
The challenging, at times disturbing, deliciously wry, and always invigorating Morbid Anatomy Museum (423A 3rd Avenue at 7th Street) has closed its doors permanently, according to long-time Morbid Anatomy Museum collaborator Ryan Matthew Cohn, who wrote in a Facebook post:
You may have heard that Morbid Anatomy Museum is closing their doors indefinitely, Unfortunately the news is true. I will refrain from going into full detail regarding the circumstances and details as I am quite certain the museum will give some kind of public statement.
It has truly been an honor and privilege to have been intertwined with this rare and remarkable institution which has truly felt like a home, meeting place and community for so many of us all of these years. There will certainly be a tremendous void and we will have to regroup and come up with a new place to share our love for all things anatomical, odd, and obscure. This is not the end of Morbid Anatomy, just a pause. There will be a rebirth in the near future. So all we can do for now is stay tuned. Thank you dearly Joanna Ebenstein Laetitia Ante Delictum and Cristina Preda for making the museum the legendary success that is was.
Recent fundraising efforts from the museum have requested donations from the public, writing, "we need your support to carry the museum into 2017."
On late Monday afternoon, the museum released a statement which pointed to the fiscal struggles they had during fundraising efforts:
We are proud of the unique, award winning and critically acclaimed work we have done. Good press, however–as we have learned–does not pay the rent. Our institution was made possible by an incredible investment from our co-founder and a dedicated group of early supporters, but we were sadly unable to develop the broad support from our audience and from grants, gifts, and other sponsorship that is necessary for sustainability.
Morbid Anatomy Museum opened its doors on July 27, 2014, led by Joanna Ebenstein, Creative Director and Tracy Hurley Martin. The building once housed a nightclub.
One of Ebenstein's many goals with the museum involved having a sophisticated conversation about uncomfortable subject matter.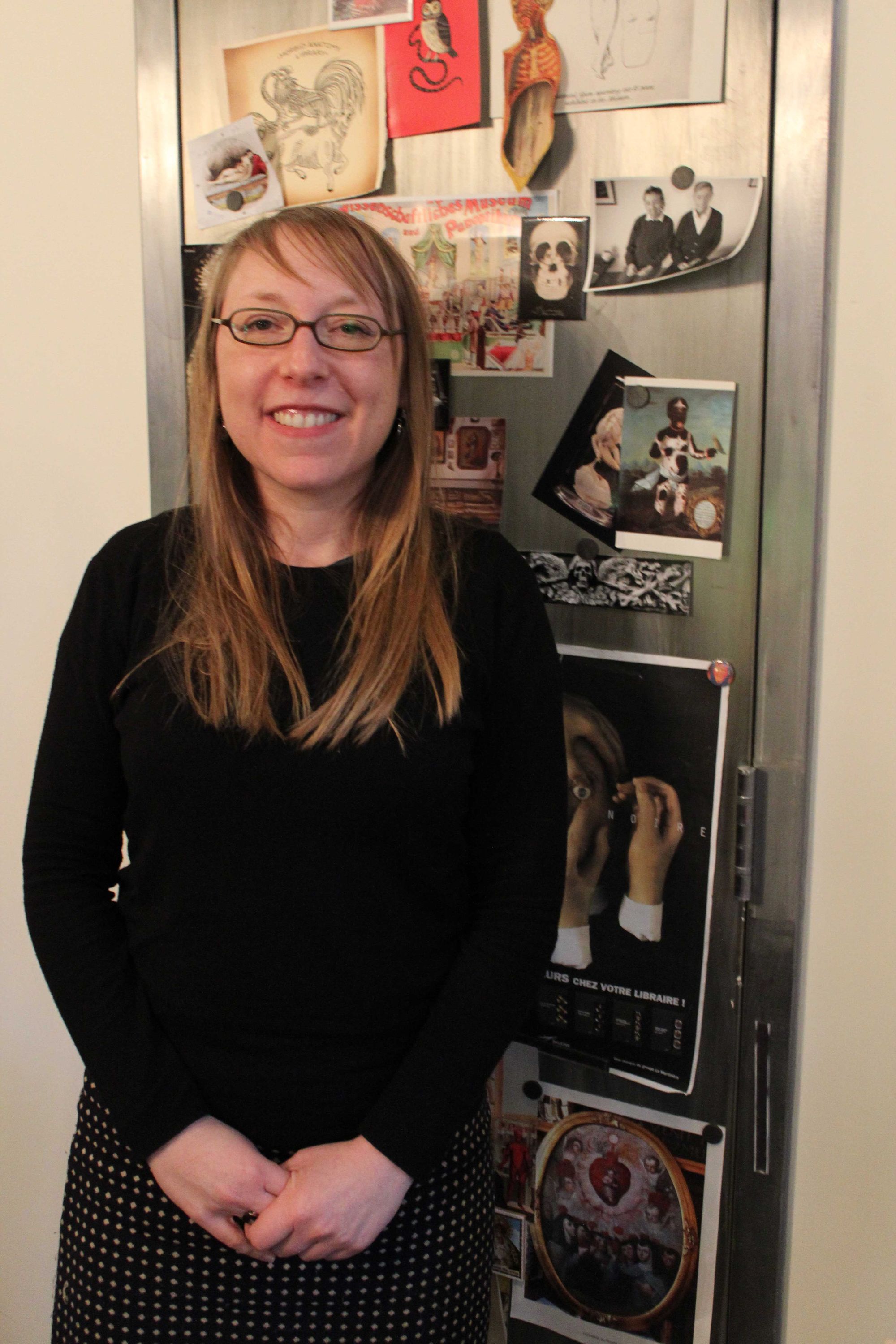 For the uninitiated, it may seem a bit strange to enjoy a cup of coffee and snacks at the museum's café alongside the taxidermy chipmunks riding a ferris wheel. This was one of the unique elements of the museum – trying to provide alternative views and perceptions of the relationship between life and death.
"Wit is so important. Death is supposed to be a solely somber subject, but if one looks at art and culture from the past, they find that this idea is historically very new. I'm a big fan of 'black humor' and you will experience this at the museum as well," Ebenstein said in a 2015 interview with BKLYNER (former Park Slope Stoop) which marked the celebration of the museum's first anniversary.
A cursory look at BKLYNER's archives displays the almost daily programs, lectures, and classes which Ebenstein made available for the public.
One of the most recent exhibitions, entitled House of Wax: Anatomical, Pathological, and Ethnographic Waxworks from Castan's Panopticum, Berlin, 1869-1922, focused on both the anatomical and pathological (as in the nature of a physical or mental disease) display of waxworks. The exhibition is the waxwork section of a panopticon and had never been shown in the US.
In a discussion with BKLYNER about the exhibition, Ebenstein explained that the panopticons were "museums as popular for the masses. They were both educational and entertaining. They sit on the flickery, amorphous edge between spectacle and education."
The exhibit lives on at the recently opened (and at one point delayed) Alamo Drafthouse Cinema at Citypoint in Downtown Brooklyn.
The final exhibit — which closed on December 6 — delved into one of the museum's fascinating tropes: the art and function of taxidermy.
Taxidermy: Art, Science & Immortality featuring Walter Potter's Kittens' Wedding brought attendees from far and wide, including author Anne Rice.
"Surrounded by the dead (sailfish, squirrels, pheasants), Ms. Rice, 75, suddenly found inspiration, wrote The New York Times. 'There have to be kitties on the astral plane,' she said."
While the museum was constantly filled with intellectual stimulation, the experience came from Ebenstein's personal experience:
I've never had a problem talking about death. My grandmother – who I was very close with – confided at me towards the end of her life that she was ready to die. She called me her "father confessor," and told me she didn't feel she could tell anyone else. This made me very sad. Why was the one thing she wanted to talk about so earnestly considered taboo?
What kind of society makes someone feel they can't talk openly about death, which has happened to everyone who ever lived, will happen to us, and is arguably the greatest mystery of human life? Recently, a member of our community lost her father suddenly. She told me that the museum helped her ability deal with his death. This intrigued me and made me very happy. It makes me think we may be serving an important role in society.
Cohn's statement provides a hopeful future. "This is not the end of Morbid Anatomy, just a pause," he wrote. "There will be a rebirth in the near future. So all we can do for now is stay tuned."
The entire statement from the museum is available here: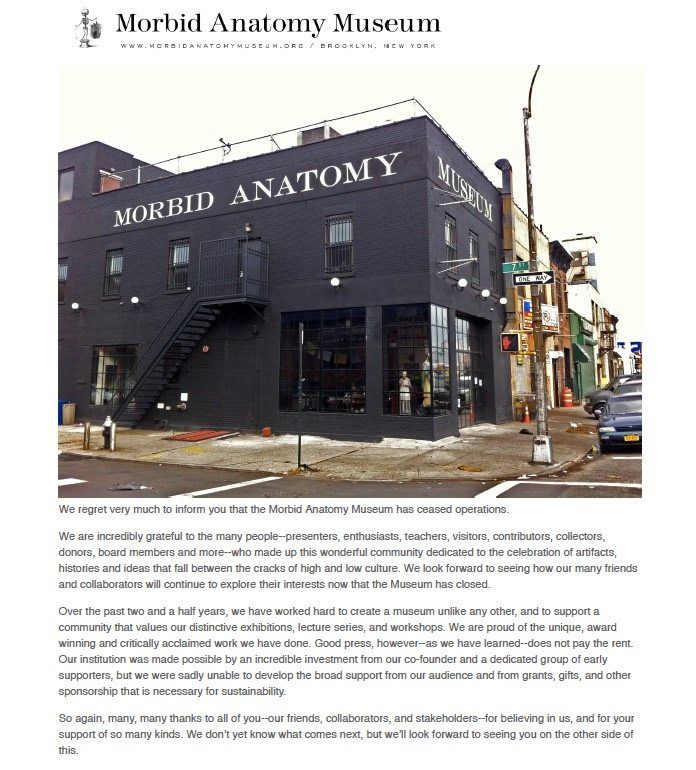 Updated: December 20, 2016, 8:46am.