Where The Brooklyn Spirits Play: The Morbid Anatomy Museum Celebrates Its One-Year Anniversary
The Morbid Anatomy Museum opened its doors on June 27, 2014 and is about to celebrate its one-year anniversary. Located at 424-A 3rd Avenue at 7th Street, the museum is surrounded by a curious patchwork of industrial spaces, garages, and a growing presence of bars and restaurants – not to mention Whole Foods a mere few blocks away.
For the uninitiated, it may be seem a bit strange to enjoy a cup of coffee and snacks at the museum's café alongside the taxidermy chipmunks riding a ferris wheel. This is one of the unique elements of the museum – trying to provide alternative views and perceptions of the relationship between life and death.
The museum serves an amalgam of purposes: exhibition space, research library, lecture hall, classroom — and yes — a café. Most significantly, the space is a meeting place for a community that is curious about scholarship, history, and science, as well as the ethereal and spiritual.
We were able to speak in-depth with Joanna Ebenstein, Creative Director of the Museum. Originally from the Bay Area in California, Joanna arrived moved to New York in 2001 and eventually settled in Brooklyn, "where my community is," she said.
Did you always see yourself opening a museum?
No. This all started out as an art project, a photo exhibition about anatomical museums. This led to the Morbid Anatomy blog. Of course I love museums, and had been studying their history for a long time, and much of what I do on the blog is report on and photograph amazing museums around the world. But I would never have opened one on my own.
In 2008, I founded the Morbid Anatomy Library at Proteus Gowanus, a gallery and reading room in response to queries on the blog about books in my bibliography. Soon after, I founded Observatory, a cooperative event and gallery space where I and my collaborators began to host lectures and classes in our very small space. In 2013, I met Tracy Hurley Martin, who came to the library and fell in love with it. She said she had always thought there should be a café/shop in the style of the library, and I replied: "There should be. It should happen in this neighborhood, it should happen now, and I could build you a great museum to go with that." It was just a conversation. But little did I know that Tracy is one of those special people who has the vision and ability to get things done, and the ability to raise funds to do it.
What has been one of your significant learning experiences over the past year?
Creating a museum is so much more work than I ever imagined. The process has been humbling. There's something about museums in New York: The Metropolitan Museum of Art, The Museum of Natural History, MoMA. They are the best of the best. Museums as palaces, and of course, I love them. But I think people are hungry for things on an intimate scale, and I think this is one of the things people really respond to at our museum, where objects can be touched, and people can spend real time with them up close. We attract a community that really loves that.
Do you have any particularly interesting stories about museum attendee responses to the exhibition or special programs over the first year?
There are very few places to talk about death in polite society. Much of the content in our permanent collection, and on the blog, is about the art and history of humankind's attempts to grapple with and make sense of death. The conversations within the library can get intense. We have had many visitors who come because they have lost a loved one, or are dealing with sickness in their life. And they often want to talk.
How do you personally deal with the subject of death? How does this contribute to the goals and outreach of the museum?
I've never had a problem talking about death. My grandmother – who I was very close with – confided at me towards the end of her life that she was ready to die. She called me her "father confessor," and told me she didn't feel she could tell anyone else. This made me very sad. Why was the one thing she wanted to talk about so earnestly considered taboo? What kind of society makes someone feel they can't talk openly about death, which has happened to everyone who ever lived, will happen to us, and is arguably the greatest mystery of human life? Recently, a member of our community lost her father suddenly. She told me that the museum helped her ability deal with his death. This intrigued me and made me very happy. It makes me think we may be serving an important role in society.
The museum can also be funny.  What role do you think humor plays at the museum?
Wit is so important. Death is supposed to be a solely somber subject, but if one looks at art and culture from the past, they find that this idea is historically very new. I'm a big fan of "black humor" and you will experience this at the museum as well.
How do you see the museum evolving?
I've never been much of a collector. I'd like the museum to develop a larger, better permanent collection to become a receptacle for other peoples' materials. I'd also like to continue to develop our educational program. It would be wonderful to provide more non-American artists and scholars with residencies. In April 2014, we published a book called The Morbid Anatomy Anthology, which is a collection of 28 of our lectures in highly illustrated essay form. I would like to begin work on a second volume. We have a partnership with the School of Visual Arts, where their students can take a special five-week taxidermy class at the museum. We definitely want to develop more partnerships like that, to make our unique offerings available to more people.
What do you think the museum means to the neighborhood?
I'd like to think the museum serves as a footprint of everything I like about the neighborhood. I love the diversity of the Gowanus neighborhood, and the kind of homespun projects it has produced, the kind of niche subcultures that have flowered here. I honestly worry that the neighborhood will not be like this much longer; the area is on the upswing, and I imagine it won't be long before artists and makers get priced out. The most important thing we do is to serve our community. We provide our community of people not served by other, more mainstream institutions a place of their own. Partnerships are also very important to us. We are partnering now with Green-Wood Cemetery, one of the first park cemeteries in America, on a series called "Common Shade" which takes place in its gorgeous historic chapel. This is a series of short talks and moderated discussions exploring death and its relationship to art, history, and culture.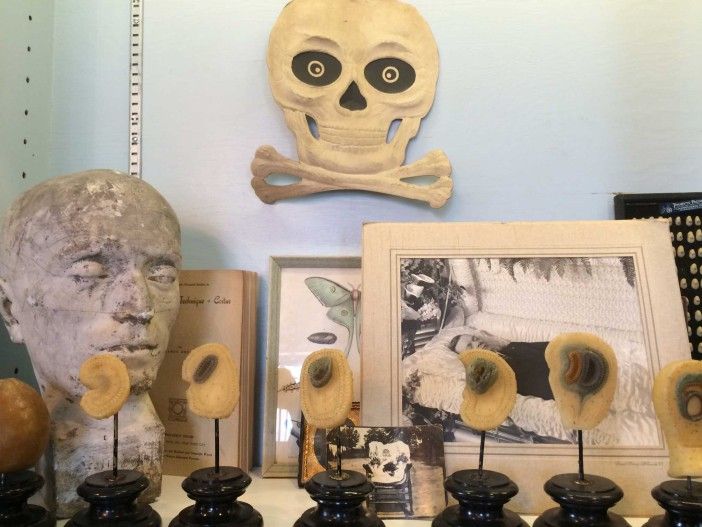 How do you feel about children attending the museum?
Kids love the museum. We have one young girl and her mom that used to come in almost every day. We are working on a kids' educational program, which will include a class where kids can create anatomical self-portraits among other things. We'd love to find the right partnership with a school. For those reading this, we encourage you to be in touch with us if you'd be interested in doing so.
How will the museum celebrate its one-year anniversary?
On July 18, we will be hosting our all-day first anniversary party that includes demonstrations, lectures, screenings, and a devil's masquerade and costume contest in the evening. It's called the "Festival of Arcane Knowledge." We'll have lecturers and active participants to return and celebrate with us.
---
In addition to the variety of events at Green-Wood Cemetery, you can certainly take advantage of other outdoor offerings by the museum during the summer months. Walking tours are extremely popular; such as the H.P. Lovecraft Brooklyn Guided Tour on June 27 led by filmmaker, writer, and "weird horror" fan Jane Rose. On June 28, the Morbid Anatomy Flea Market will host vendors who will offer "taxidermy galore, artful bones, unusual antiques, obscure books, and assorted curiosities." Office Manager Cristina Preda describes the flea market as, "a one-stop shop for all the people in your life that are hard to buy gifts for."
Brooklyn resident Laura Sitkin is one of many who have taken classes offered by the museum. She was fascinated by the three-day class called Dance of Death by Hans Holbein: A Linocut Workshop with classically trained artist Lado Pochkua. She describes the class as "a pleasantly 'memento mori' experience." In addition to the class, Laura remarks on the powerful presence of the museum in relation to its subject matter. "I thought it was weirdly appropriate that the Morbid Anatomy Museum was right next to the Gowanus Canal, a festering font of death for any poor creature that mistakenly wanders into it, the least hospitable environment possible for all but the scariest of microorganisms yet to be discovered or understood by science."
The current temporary exhibition is called "Do The Spirits Return?: From Dark Arts to Sleight of Hand in Early 20th Century Stage Magic" and runs through January 5, 2016. The exhibition space and library are open from 12pm until 6pm, every day except Tuesday. Admission to the exhibition and library is $8. Seniors and students are $6, and children 12 and under are free. Membership is also available.
The Morbid Anatomy Museum is a generous, curious, and stimulating neighbor that will be welcoming the neighborhood in for years to come. We'll certainly be stopping by often.