Campaigning Heats Up Ahead of Tuesday's District 45 Democratic Primary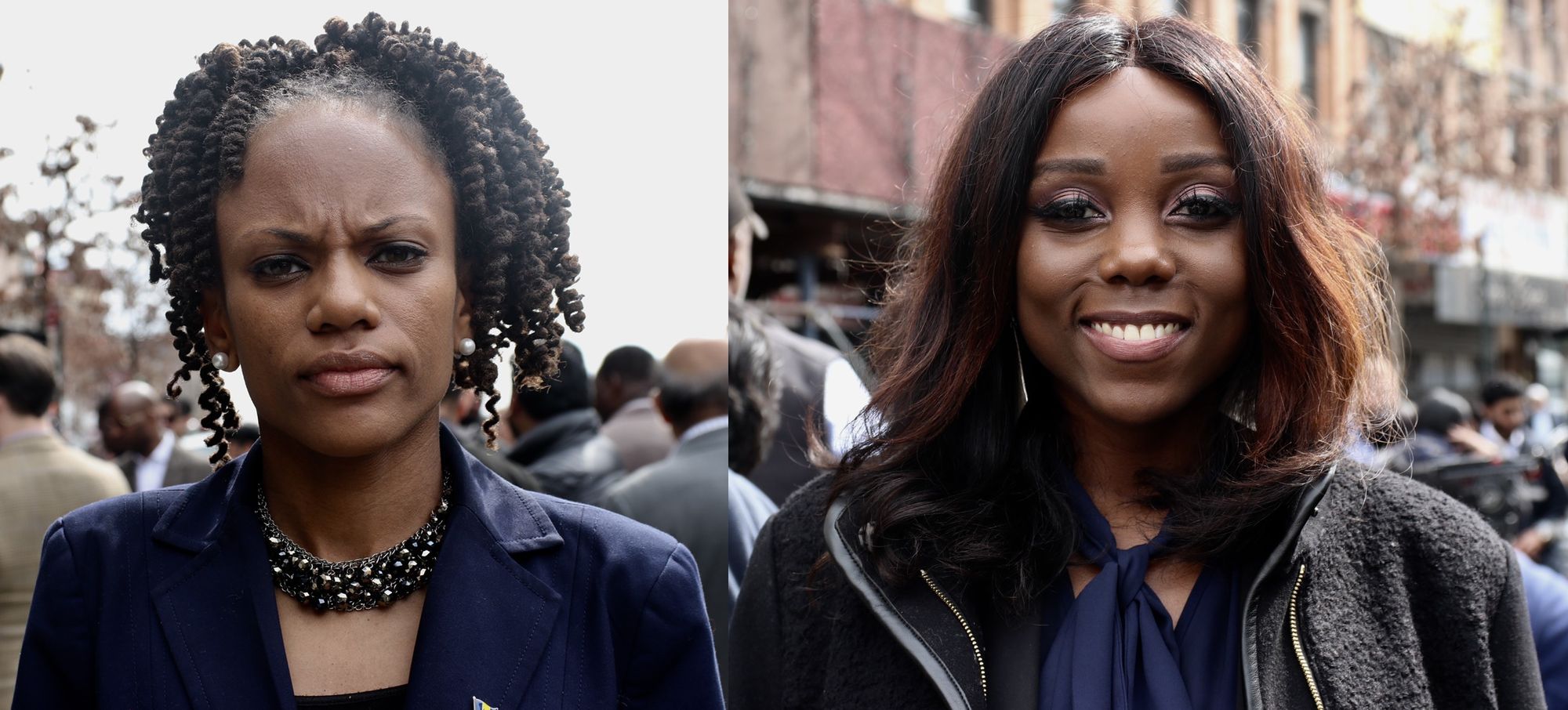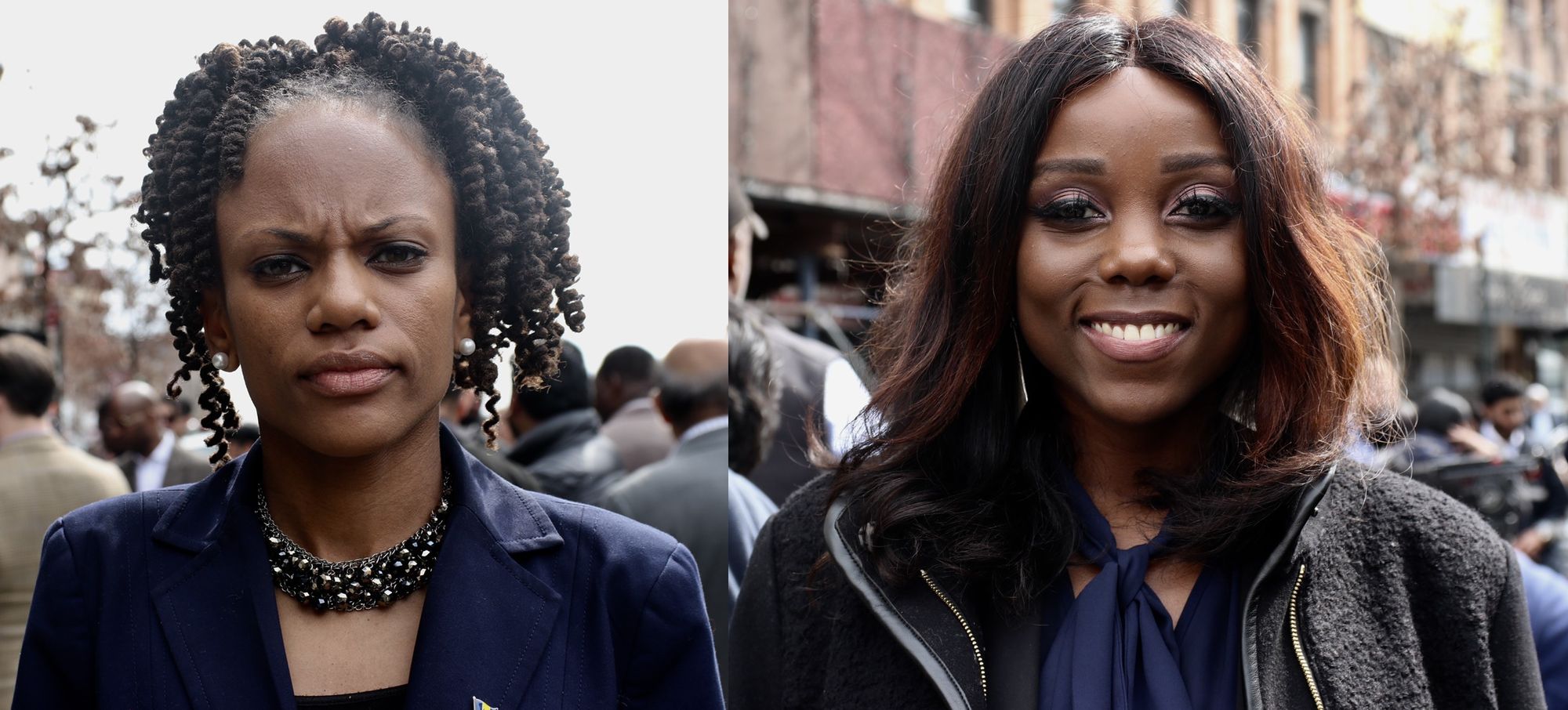 By Zainab Iqbal and Sam Raskin
MIDWOOD/EAST FLATBUSH – City Council candidate Monique Chandler-Waterman accused Council Member Farah Louis of orchestrating an unspecified "deal" involving Trump supporters and "greedy landlords and developers" to get votes from right-leaning voters in the district, in a last-minute robocall ahead of the Tuesday election.
"My opponent made a deal with Donald Trump supporters to sell out our community to greedy landlords and developers who are pushing us out," Chandler-Waterman said in a robocall that went out Sunday at around 4 p.m., and was obtained by Bklyner on Monday.
Chandler-Waterman, who is running in the District 45 Democratic primary after Louis won a May special election, also noted that Louis is endorsed by the Police Benevolent Association to make the case her opponent lacks left-wing credentials.
https://bklyner.s3.amazonaws.com/bklyner/wp-content/uploads/2019/06/robocall.mp3
The schismatic call serves as an escalation of previous claims she's levied about Louis and her supporters and is part of a message Chandler-Waterman has repeatedly employed in recent days ahead of her Tuesday rematch with Louis.
The campaign message drew criticism from Public Advocate Jumaane Williams, who endorsed Chandler-Waterman and prior to that represented the 45th Council district.
"I do not approve of the wording used on that robo and have requested it be taken down," he said on Twitter.
On Friday, Louis made a similar claim about an unspecified arrangement with local real estate players aimed at courting President Donald Trump supporters for the May special election— race in which all registered voters are able to cast their ballot. (On Tuesday, only registered Democrats can vote since it's a primary).
"I am not sure what was offered, but I know that there's a lot of development, and developers are supporting her, and we have a big issue when it comes to affordable housing and development all over our community, overdevelopment and upzoning," she told Bklyner. "Obviously, a conversation or a deal was made … before the May election."
That came after Chandler-Waterman told City & State a toned-down version of the-president's-supporters-got-Louis-elected narrative, saying "Trump supporters actually determined the race," though without including the landlords-and-developer piece of the puzzle.
Chandler-Waterman's also used talking points about Trump supporters on the campaign trail.
On Saturday, Chandler-Waterman held a rally in Flatbush with people in the South Asian and Muslim community. At the small rally, she iterated the messages written on the mailers and said: "It's unfortunate that we have a candidate that was chosen by Donald Trump supporters."
She criticized Louis— though never once mentioning her name—by saying, "I'm not a Democrat in front of you and behind closed doors, I'm a Republican or a Trump supporter."
"You cannot caucus and make deals or somehow make some kind of arrangement with Trump supporters if you are a Democrat," she added. "Trump supporters will never support me because I do not have the same goals and agenda they have for the community."
Before Williams condemned the language used in the robocall, he showed his full-pledged support for Chandler-Waterman at the rally and urged voters to go out and vote.
"We have another chance. There were some folks who really made their voices heard [in the special election] and they had the right to do so," Williams said. "Folks who are very supportive of Donald Trump came out and had their voices heard and voted against Monique."
But despite singling out alleged Trump supporters, Williams promised Chandler-Waterman will represent all people in the district, recalling his time as a Council member.
"There are people [in this district] who support Donald Trump and will push back," he said. "That's just a real thing … but they should not be the people who get to decide who gets to take the seat."
"Most of the district stayed home during the special election and that allowed the small group of people who support Trump to come out in a very strong way," Williams went on. "We just have to counter that. And after that is countered and Monique is in, I know very well that she is going to represent everyone, even if you're a Trump supporter."
Additionally, Chandler-Waterman's campaign sent a mailer over the weekend to voters in the district— which includes Midwood, Flatbush, East Flatbush, and Canarsie— alleging on the mailer that "Trump-voting Republicans got to decide who represents us on the City Council" in the May election.
Jewish Brooklyn elected officials and Louis endorsers on Twitter condemned the mailer, which was widely interpreted to reference Jewish voters in Midwood since the neighborhood is home to many nominal Democrats who vote Republican in national elections and people who in May voted for Louis.
"Not only disgusting & divisive, but it's also a vile lie," Council Member Kalman Yeger, who represents predominantly Jewish Borough Park and surrounding neighborhoods, said in a tweet, adding the campaign literature "might as well have just said 'Jews.'"
Council Member Chaim Deutsch, who like Yeger is an Orthodox Jew, said Monday he is "disappointed" to see "divisiveness" from Chandler-Waterman's campaign and that it plays into "age-old anti-Semitic tropes."
"I'm very hesitant to refer to Monique as anti-Semitic, but I would certainly say that she is teetering on the precipice. Referring to Orthodox Jews as 'greedy landlords', 'the rich', and implying that we 'bought' Farah Louis is insulting," Deutsch— who represents Brighton Beach, Gravesend, Manhattan Beach, Marine Park, and parts of Midwood— told Bklyner. "From where I stand, it appears that Monique doesn't think that the Orthodox Jews in the district she is vying for deserve a vote, and that is extraordinarily dangerous."
"There is a way to run —and win— in the 45th district without dividing the community and causing strife," he added. "Monique should be focusing on what she brings to the table, and what she would do to improve the quality of life for residents of the district."
A spokesperson for Chandler-Waterman said the campaign has "taken the robocall down" but they "stand fully behind the facts."
"We have moved on to our get out the vote message to encourage the people of our District to vote in tomorrow's primary,"  the statement said.
A spokesperson for Louis—who on Friday denied she had been a party to any such deal and spoke about her anti-real-waste development positions—referred Bklyner to statement sent Friday when Louis labeled Chandler-Waterman's remarks "opinion-based claims" that lack factual basis.
"As a proud Democrat and child of immigrants, I want to see our community stand unified together and thrive. I welcome anyone who wants that same vision," the statement continued. "It may be [an] unpopular opinion, but I believe anyone can stand with the vision of unification. … Again, I welcome anyone who wants to see the betterment of everyone in the district, that's what I stand for, and I denounce anyone who wants to rip this community apart."