Farah Louis Snags Council Seat
EAST FLATBUSH/MIDWOOD — The duel between two former staffers vying for the city's 45th council seat ended (temporarily) Tuesday, with Farah Louis as the victor, in large part because of the votes from the Orthodox Jewish community.
The top two contenders secured more than 70% of the underwhelming 9,235 total votes in the May 14 special election which boasted eight candidates.
Louis won with 41% (3,861) of the vote, more than 10% more than her rival Monique Chandler-Waterman, who came in second with 30% (2,790) of the vote. The election brought out a little over 9,000 people in a district with more than 100,000 residents. The remaining six contenders filed in at single digits on the percentage breakdowns.
More than 1,000 voters bubbled in for Louis in the 41st Assembly district (Flatlands, Midwood), home to much of the district's Orthodox community. That number accounts for more than a third of Louis' winning vote and more than 10% of the entire electoral count of 9,235.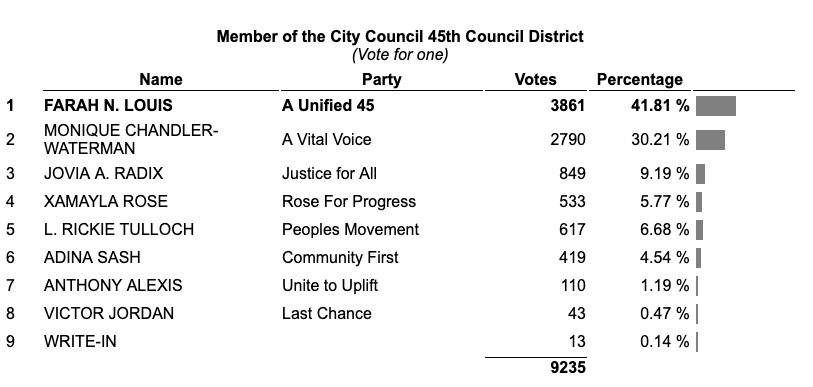 "Monique and Farah were the only two candidates that reached out to me," said Councilman Chaim Deutsch of the 48th council district when asked why he thought the Jewish community rallied around Louis rather than Adina Sash, an Orthodox woman who ran for the seat. "When I asked Farah what her platform was about she spoke about unifying the community. Her message of unity spoke to me," he added noting the uptick in hate crimes throughout the city which he's been vocal about.
Deutsch, Councilmen Kalman Yeger and Justin Brannan attended Louis' victory party at Juicy Box in Midwood where the Councilwoman-elect took the stage just after 10:00 pm. Flanked by Brannan and Assemblywoman Rodneyse Bichotte who advocated heavily throughout the entire race.
"I'm a partner and a friend of the Jewish community," said Louis when asked if she was surprised about the outpouring of support from her Midwood soon-to-be constituents. "So I am forever grateful that the Jewish community came together with me in partnership to ensure that the pick the right person to continue to move forward."
Louis will fill now-Public Advocate Jumaane Williams until Dec. 31.  A June 25 primary elections will determine if the former staffer will remain in office until 2021. Louis will face the same seven contenders which include: Monique Chandler-Waterman, Xamayla Rose, Jovia Radix, Adina Sash, L. Rickie Tulloch, Victor Jordan and Anthony Alexis.