Chandler-Waterman Gets an Exonerated 5 Member Endorsement Ahead of D45 Democratic Primary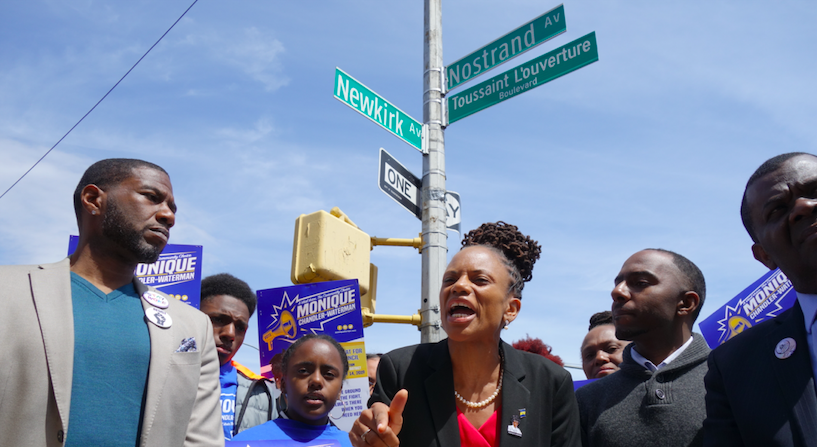 EAST FLATBUSH/MIDWOOD – Ahead of her rematch against Council Member Farah Louis in next week's primary, Monique Chandler-Waterman on Wednesday received an endorsement from one of the exonerated Central Park Five members, Raymond Santana.
The Exonerated 5 member endorsement comes just days ahead of the Tuesday Democratic primaries, and after Louis on Wednesday picked up endorsements from Mayor Bill de Blasio and the Hotel Trades Council. In a May special election to fill the seat vacated by Jumaane Williams in District 45 when he became the public advocate, Chandler-Waterman came in second to Louis with about 30 percent of the vote. Next week, candidates will face voters again in an election in which only registered Democrats can vote.
"New York City's criminal justice system is in desperate need of change, and on Tuesday, June 25, New Yorkers have the opportunity to elect an activist and community organizer to the New York City Council who can help get it done," said Raymond Santana of the exonerated 5 on Facebook in his endorsement. "For more than a decade, Monique Chandler-Waterman has been a leader within her community who has been unafraid to speak truth to power and shine a light on the inequities of our justice system."
Santana went on to say that Chandler-Waterman is a better candidate than her main opponent, Farah Louis, because Chandler-Waterman has "consistently fought for what's right," and "understands that ending police misconduct requires standing up against special interests like the Pat Lynch and the Police Benevolent Association (PBA)." The PBA, a police officer union, endorsed Louis in the race.
"Any candidate who truly cares about justice and equity must work against what Pat Lynch and the PBA has stood for, which is why I am proud to endorse Monique to be the next New York City Member of the 45th District," he added.
Chandler-Waterman, in a tweet, accepted his endorsement.
"Thank you to @santanaraymond of the "Exonerated 5" for this most impactful and meaningful endorsement," she said. "I promise to continue to be a fighter against all forms of injustice ."
In an interview, Chandler-Waterman said she was thankful for mentioning her name and "recogniz[ing] the work" that she's been doing for the past decade.
"I am honored that it's recognized and people who have been in that situation think that I've been out here advocating," she said Friday.
"He's been through a lot of injustice that's been happening," Chandler-Waterman added. "The exonerated five have been through a criminal-justice system that has failed us. This is something that's an everyday thing in our community."