Louis Gets de Blasio, Key Union Endorsements in Council Race
Newly elected City Council Member Farah Louis has picked up two major endorsements in her re-election campaign: Mayor Bill de Blasio and the Hotel Trades Council.
"Farah Louis is an impressive, hard-working leader in her community," said de Blasio in a statement obtained by Bklyner. "I look forward to our partnership in making our city a fairer and safer place to be. I am proud to endorse Farah Louis for her re-election to the City Council."
Louis, in a statement, said she is "honored" to receive the mayor's endorsement and supports his "efforts to make this city a more accessible and equitable place."
"I am eager to collaborate on policy to secure more affordable housing, quality health care, and resources for education in the 45th district and beyond," said Louis.
President of the New York Hotel Trades Council—a politically influential union that represents hotel workers— Peter Ward, said Louis "has a track record of leadership on workers' rights and job safety, and understands the importance of providing real constituent services in her district."
"Our union has a long history of progressive organizing, and we look forward to partnering with Council Member Louis to fight for a better New York City for all working people," he added.
The endorsements come as Louis, who last month won a special election for Public Advocate Jumaane Williams' former Council seat, faces a Democratic primary election next week, in what amounts to a rematch a little more than a month after she was elected to the City Council, though only registered Democrats are able to vote in the second election.
The June 25 Democratic primary election for the 45th District—which includes, Flatbush, East Flatbush, Midwood, Canarsie, Flatlands and Marine Park—will have all eight candidates from the May special election on the ballot. However, only three have been campaigning: Louis, Monique Chandler-Waterman, who, like Louis, is a former staffer in Williams' Council office and Xamayla Rose.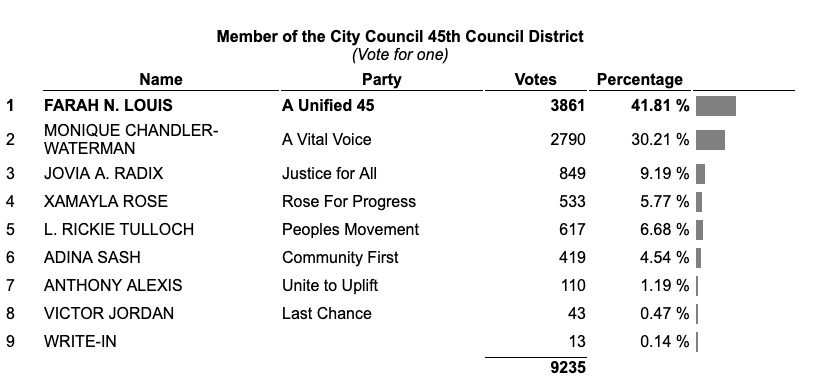 In May, Louis won the low-turnout election, which drew roughly 9,000 voters—less than 10% of the more than 100,000 registered voters in the district— earning 41.8% of the vote in an eight-candidate field. Her closest competitor, Chandler-Waterman, received the support of 30.2% of those who cast their ballot, and Rose – 5.8%.
In the election, Louis received backing from many Orthodox Jewish people in the district, earning a third of her votes in heavily Jewish neighborhoods there, as Bklyner reported last month. Louis was also backed by Haitian-American leaders.
The matchup has split Brooklyn politicians, with the public advocate, State senators Zellnor Myrie and Kevin Parker, as well as Council Member Brad Lander endorsing Chandler-Waterman; Louis has been endorsed by Assembly members Rodneyse Bichotte (who recently endorsed the mayor in his presidential bid), Jaime Williams and Helene Weinsten, Borough President Eric Adams, Council members Rafael Espinal, Justin Brannan, Kalman Yeger and Chaim Deutsch, along with several others.
The duo has split union endorsements, as well. Building workers union 32BJ SEUI and the transit workers union, TWU, have endorsed Chandler-Waterman, while the United Federation of Teachers and Teamsters Local 237 back Louis.
On Wednesday, Louis added to her list of union endorsements, as the hotel trades and Sheet Metal Workers union endorsed her, the latter citing the Council member's "dedication to adequate pension plans," support for apprenticeship programs and for "middle-class jobs that keeps pace with the cost of living in her district."