Louis Keeps District 45 Council Seat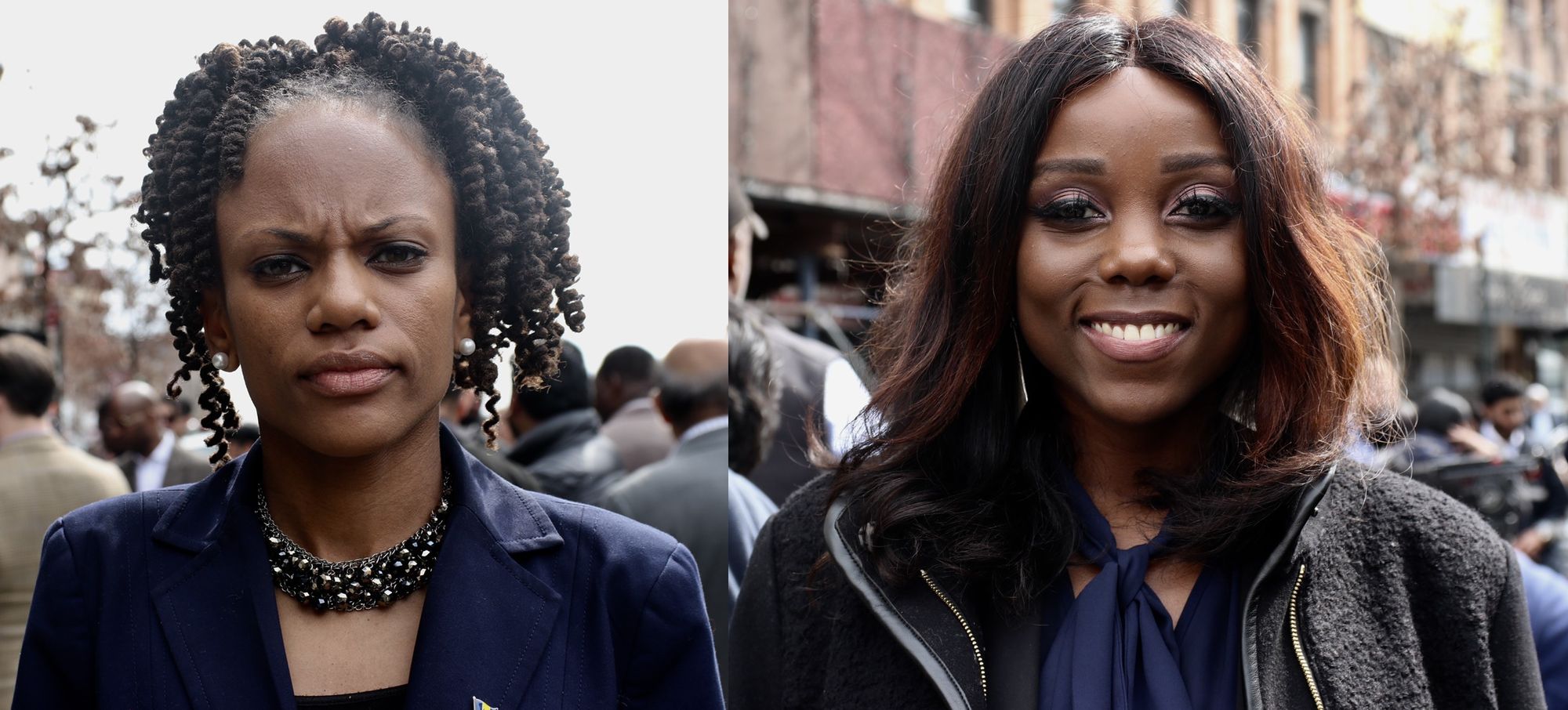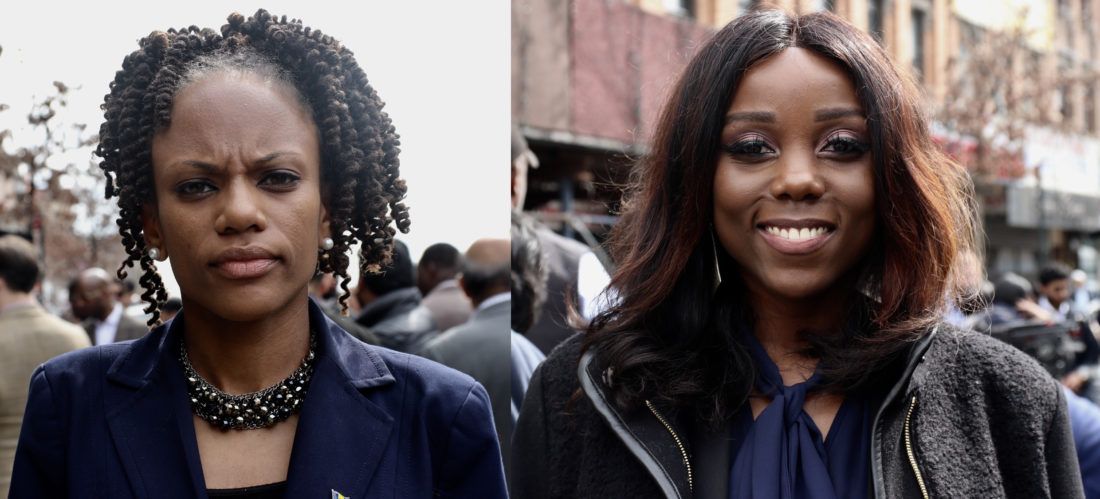 EAST FLATBUSH—City Council Member Farah Louis has held on to her seat.
In a near replay of the May special election, Louis on Tuesday beat her main opponent, Monique Chandler-Waterman, by about 700 votes— a smaller margin of victory compared to last month's election. As of 12:33 a.m. Wednesday morning, Louis received 50.30% of the vote while Chandler-Waterman received 43% of the 9,042 votes recorded as of this writing.
"We did it!" Louis said in a late-night tweet as the election results came in. "Your hard work and dedication to the vision of #AUnified45 prevailed. I would be nowhere without your support. Our vision seemed scary to a lot of people, but a unified BK is a more prosperous BK. I am humbled to serve as your representative. Let's continue the work!"
"Since the start of this campaign, we had to work hand in hand to unify and strengthen District 45 as a community for all of us," she said at her victory party. "I am proud to be the people's choice, and we see that tonight with the numbers."
Chandler-Waterman and Louis were both Public Advocate Jumaane Williams staffers when he represented the 45th Council District— which includes Flatbush, East Flatbush, and parts of Midwood, Flatlands, and Canarsie— and split support from borough's elected officials, with progressives like Council Member Brad Lander backing Chandler-Waterman and some establishment politicians like Brooklyn Borough President Eric Adams and the mayor, as well as Jewish and Haitian leaders supporting Louis.
The race also served as a central Brooklyn proxy battle between Assembly Member Rodneyse Bichotte, who represents Flatbush and endorsed Louis, and Williams, who surprised many by endorsing Chandler-Waterman.
Barring any unforeseen circumstances, Louis will be on the Council until at least 2021, after in May securing the seat at least through 2019.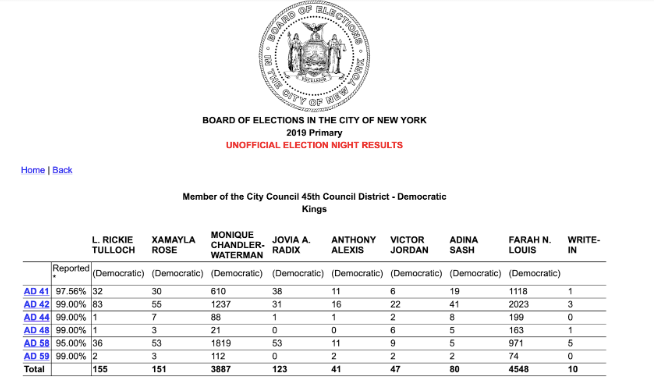 Like last month, there were noticeable differences in voter support within different pockets of the district. In Assembly District 42, represented by Louis-endorsing Bichotte, Louis won 786 more votes than Chandler-Waterman. But in District 58, represented by Chandler-Waterman supporter Assembly Member Nick Perry, Chandler-Waterman earned 848 more votes than did Louis.
In Assembly Member Helene Weinstein's district—which includes Midwood, Flatlands, East Flatbush and Canarsie—Louis earned double Chandler-Waterman's total.
And in the heavily Jewish 48th District, which includes part of Midwood and is represented by Simcha Eichenstein, Louis received about eight times as many votes as Chandler-Waterman, the former receiving 163 votes to the latter's 21.
(The Assembly districts and the Council district do not neatly geographically align, with some Assembly district overlapping with just slivers of the 45th Council district).
As the election was called for Louis in the wee hours Tuesday, supporters congratulated her.
"SO proud of @FarahNLouis on her incredible victory in the race for the 45th District," said Council Member Chaim Deutsch, who endorsed Louis, in a tweet.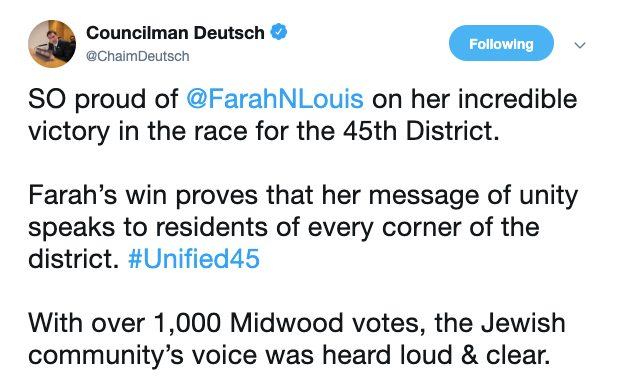 "Farah's win proves that her message of unity speaks to residents of every corner of the district. #Unified45. With over 1,000 Midwood votes, the Jewish community's voice was heard loud & clear."
Mayor Bill de Blasio chimed in, as well.
"Congrats to @FarahNLouis on tonight's primary win in the 45th Council district!" he said in a tweet. "She's hit the ground running this year and I look forward to working with her to fight for communities in central Brooklyn."
Williams, who attended Chandler-Waterman's watch part, also congratulated Louis on her victory.
"Council Member Farah Louis won a second very tough race. The 45th District has clearly spoken again," he said on Twitter.
"I want to congratulate Council Member Farah Lous of the 45th District," Williams said at the watch party in East Flatbush. "It is time now for the entire 45th District to begin to heal and I want to be a part of that."
"I want to start off by congratulating Councilwoman Farah Louis for her victory," said Chandler-Waterman at the event. "I look forward to partnering with her … to help unify our district and address many of the issues facing our community."
Chandler-Waterman, notably, has the Working Families Party ballot line in November, and in an interview did not rule out actively campaigning for the Council seat again, though the chances of her winning a general election are slim.
"I'm going to speak to my awesome team and we're going to see how we'll move forward," she told Bklyner. "We haven't made any decisions, I haven't even spoken to anybody about anything yet. I'm not ruling out anything, I never rule out anything."