Local Groups Organize BQE Town Hall, Wed. April 3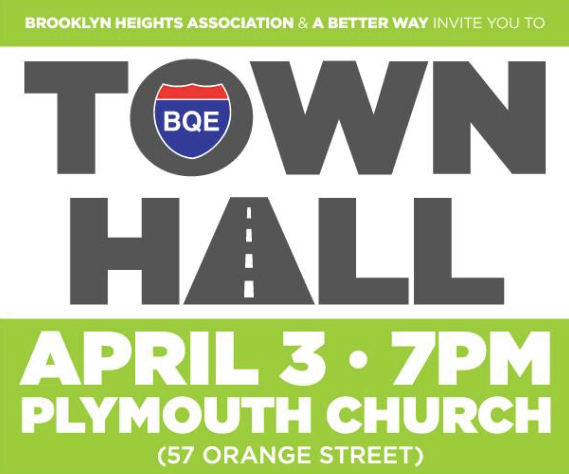 BROOKLYN HEIGHTS – The Brooklyn Heights Association (BHA) and A Better Way NYC are hosting a town hall on Wednesday (April 3) to give city officials the clear-cut message that they oppose NYC Department of Transportation's (DOT) two plans to fix the BQE.
"Your presence at this informative meeting is vitally important to sending an unambiguous message to Mayor de Blasio, Commissioner Trottenberg and our elected officials that we will not accept DOT's current plans to rebuild the BQE," the BHA's website states.
Last September DOT revealed its two proposals for repairing the 1.5-mile, triple-cantilever span of the BQE between Atlantic Avenue and Sands Street. The first "traditional" option would have crews working incrementally lane by lane and would take about eight years and cost between $3.4 to $4 billion.
The second "innovative" option calls for demolishing the Brooklyn Heights Promenade and building a temporary six-lane elevated roadway in its place. This approach would take approximately six years and cost between $3.2 to $3.6 billion.
The two community groups reject the first option because it "will flood our local streets with traffic" and the second option because of the "environmental and economic threats" it would pose, including traffic congestion, air pollution, construction noise, and potential damage to nearby buildings.
"We demand that DOT develop a better, less destructive and more forward-thinking temporary solution that will give consideration to people and not just traffic," the BHA website says.
Brooklyn Borough President Eric Adams, NYC Council Speaker Corey Johnson, Council Member Stephen Levin, and NYC Comptroller Scott Stringer are expected at Wednesday's meeting. Stringer proposed his own alternative solution for the BQE in March which includes converting the triple-cantilever section, as well as the trench portion that runs along Hicks Street in Cobble Hill and Carroll Gardens, into a truck-only highway topped by a two-mile public park.
In November BHA presented its own plan, designed by Marc Wouters Studios, to DOT which would re-route BQE traffic west to a temporary two-level structure built on Brooklyn Bridge Park's sound attenuating berms and leave the beloved Promenade intact.
And on Tuesday morning, A Better Way NYC released Reimagining the BQE: Policy Options to Reduce Traffic on the Brooklyn-Queens Expressway, a report that outlines policies to reduce traffic on the BQE both during and post construction. A Better Way NYC commissioned Regional Plan Association to develop the report which includes five traffic-reducing options for DOT to consider.
Congestion Pricing – Though congestion pricing was only just approved, the report suggests implementing the plan to help reduce traffic on the BQE and rerouting vehicles to the Hugh Carey Tunnel.
Two-Way Tolling On The Verrazano Narrows Bridge – Only westbound vehicles traveling on this bridge currently pay tolls. By equalizing the toll—charging half the total in each direction—some eastbound drivers may decide to use other routes instead, the report claims.
HOV 3+ On East River Bridges – Requiring three or more occupants per vehicle during the BQE reconstruction would reduce traffic on the East River bridges by 20% to 25% and send fewer vehicles traveling to/from Manhattan onto the BQE.
HOV 3+ On Full Length Of BQE – Requiring three or more occupants per vehicle during peak periods would also result in a 20% to 25% reduction in traffic on the BQE.
Lane Reduction – Making the BQE a smaller, four-lane highway to reduce demand.
NYC DOT will review the report, according to a spokesperson for the non-profit organization. Click here to see the full report.
BQE Town Hall
Wednesday, April 3, 7pm
Plymouth Church, 57 Orange Street (between Hicks & Henry Streets), Brooklyn Heights