Comptroller Proposes Truck-Only BQE Fix With Two-Mile Park
BROOKLYN HEIGHTS/CARROLL GARDENS/COBBLE HILL – NYC Comptroller Scott Stringer recently presented to NYC Department of Transportation (DOT) his office's proposal for the BQE rehabilitation project, recommending a "scaled down triple-cantilever rebuild" that would save the Brooklyn Heights Promenade and create a nearly two-mile-long new park.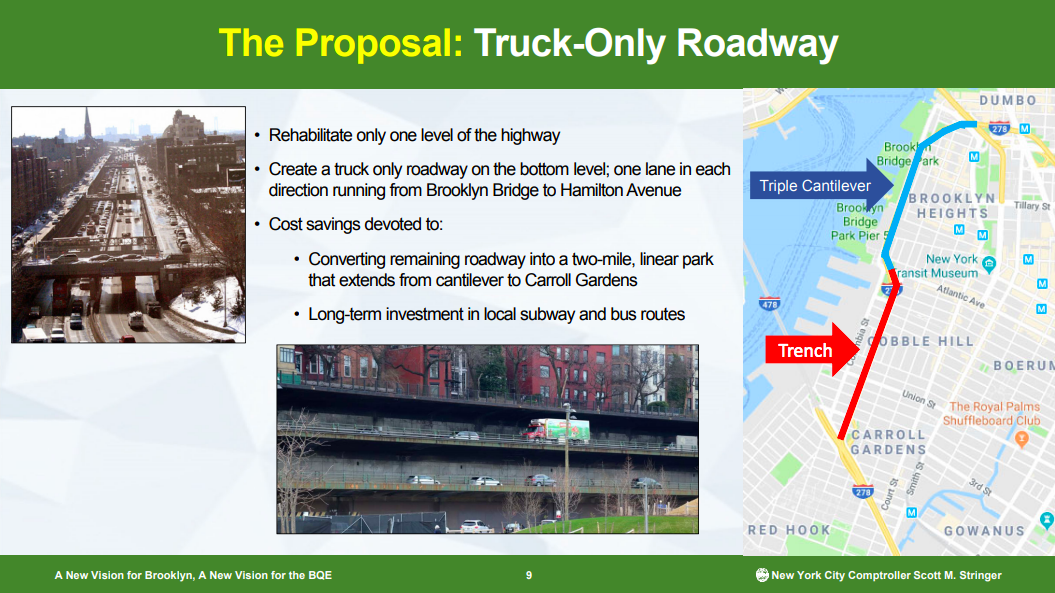 Stringer notes while some cities have completely removed freeways, such as Portland, San Francisco, Paris, and Seoul, those roadways had been car-only, and 14,000 trucks travel on the 1.5 mile triple-cantilever section of the BQE every day. "We can't redirect those trucks on to local streets, we don't have enough freight routes in the city, and this section of the BQE serves an essential manufacturing and warehouse corridor from Sunset Park and Red Hook to the Brooklyn Navy Yard and North Brooklyn," Stringer states in a letter to DOT Commissioner Polly Trottenberg requesting that the agency consider his proposal.
"Despite these constraints, we think there is a possible middle-ground that both responds to traffic needs while also dramatically improving local air quality, reducing noise pollution, and rebuilding neighborhoods that have long been divided by the BQE," he continued.
Stringer's alternate solution is to convert the triple-cantilever section of the BQE, as well as the trench portion that runs along Hicks Street in Cobble Hill and Carroll Gardens, into a truck-only highway topped by a two-mile park spanning from DUMBO to Hamilton Avenue. The plan includes reconstructing the middle-level of the triple-cantilever section, transforming it into a park that would extend to a new deck built over the Hicks Street trench, offering green space, playgrounds, dog parks, and bike paths as well as connections to neighborhoods currently separated by the roadway.
Car traffic would be redirected to the Hugh Carey Tunnel and the Belt Parkway, and public transportation and car pooling would be encouraged. According to Stringer, restricting cars from this section of the BQE "will likely reduce car traffic," noting "highway traffic follows an iron rule: build more highways, get more cars; eliminate highways, get fewer cars."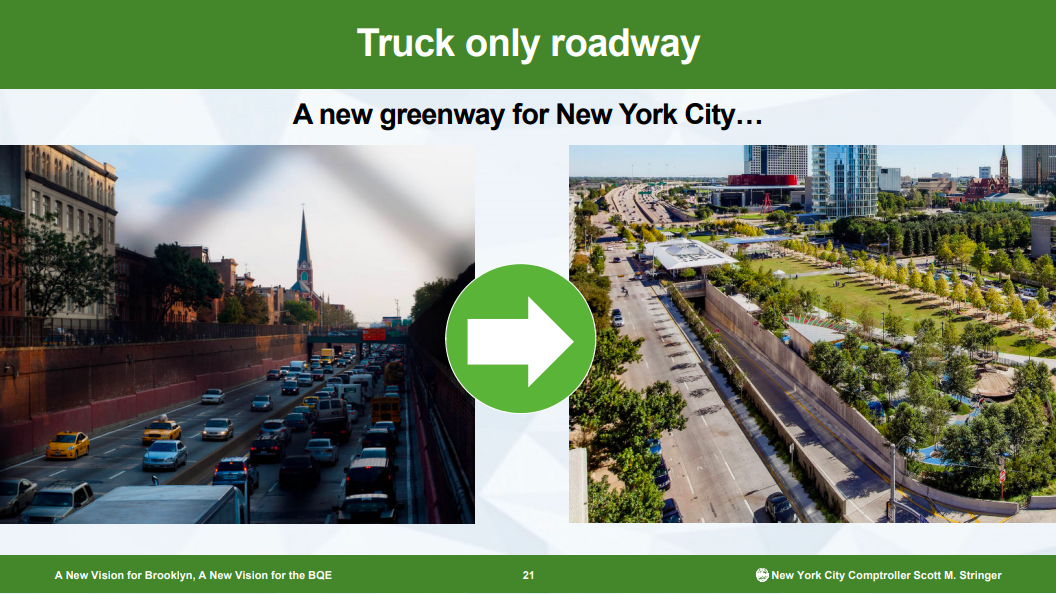 During construction under Stringer's plan, trucks would travel on the middle section of the triple-cantilever while DOT crews repair the bottom level, eliminating the need to build a costly temporary highway as proposed in one of DOT's two plans as well as in an alternate plan provided by the Brooklyn Heights Association.
After construction is complete, truck traffic would be permanently rerouted to two lanes on the bottom level. Since trucks account for only 9% of traffic on this section of the BQE, two lanes—one in each direction—"will be sufficient to accommodate their daily and hourly throughput," according to Stringer. Express buses would also be permitted on these lanes.
While the Comptroller did not provide a timeline or cost for his plan, he noted that design proposals for decking over the trench in Cobble Hill and in Williamsburg "have previously been assessed at approximately $125 million." He noted his cost-saving plan would make the possibility of decking over the Williamsburg trench an option as well.
"In the end, this project could be a rare opportunity to not just fix a dilapidated highway, but to reimagine a vital section of our city through an integrated, community-focused process that advances not just a better roadway, but a greener, more vibrant city," Stringer said.
Multiple options for repairing the triple-cantilever section of the BQE will eventually be presented, according to Community Board 6 District Manager, Mike Racioppo, who along with Chair Peter Fleming and members of the Transportation Committee, met with DOT and members of Community Board 2 on Monday to discuss the project. He also noted that DOT estimates the environmental review process will take two years.
Visit comptroller.nyc.gov to see Stringer's letter to DOT and the presentation of "A New Vision For The BQE."