Hundreds Ride To Honor Jose Alzorriz And Call On Safety For All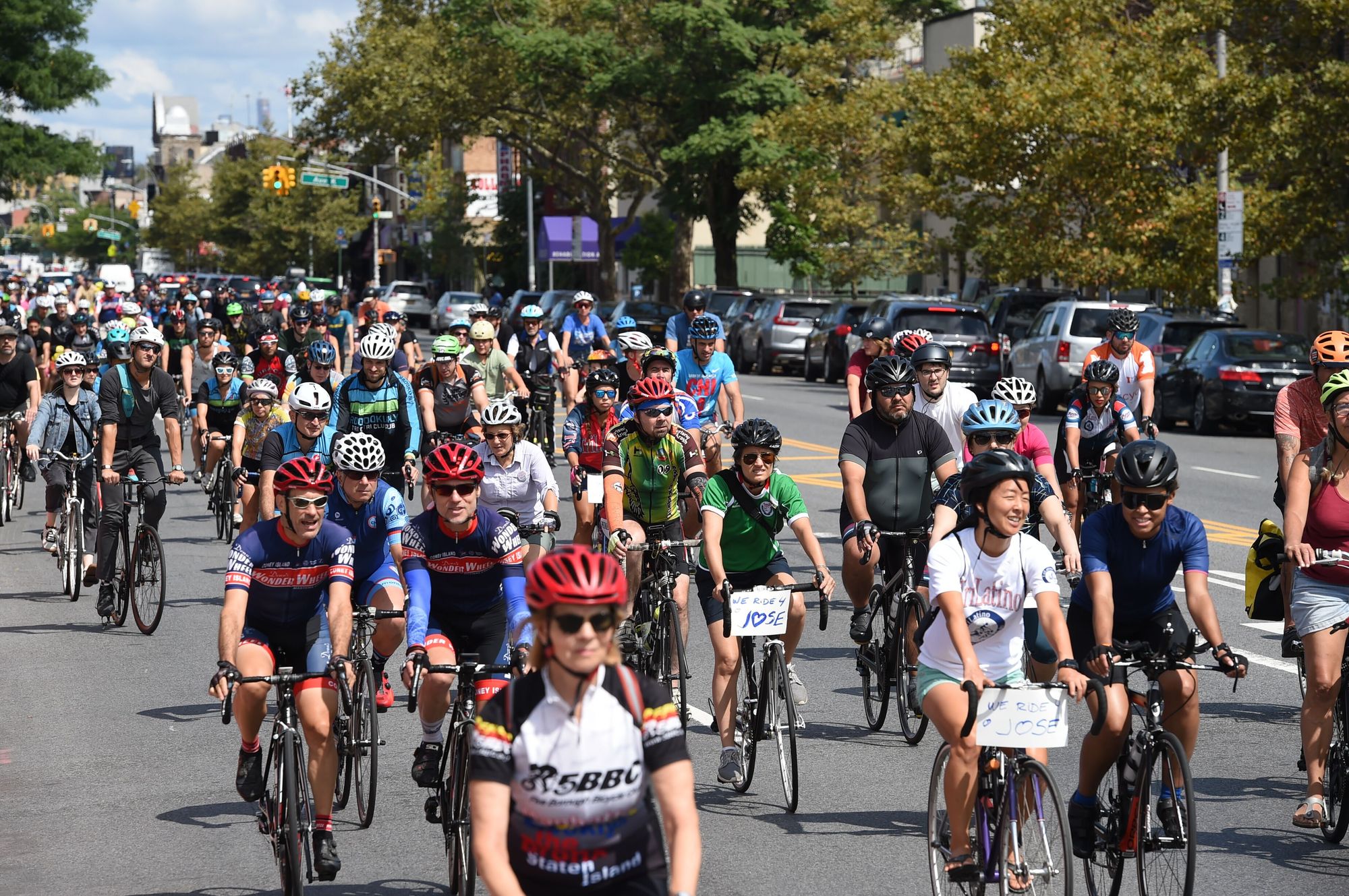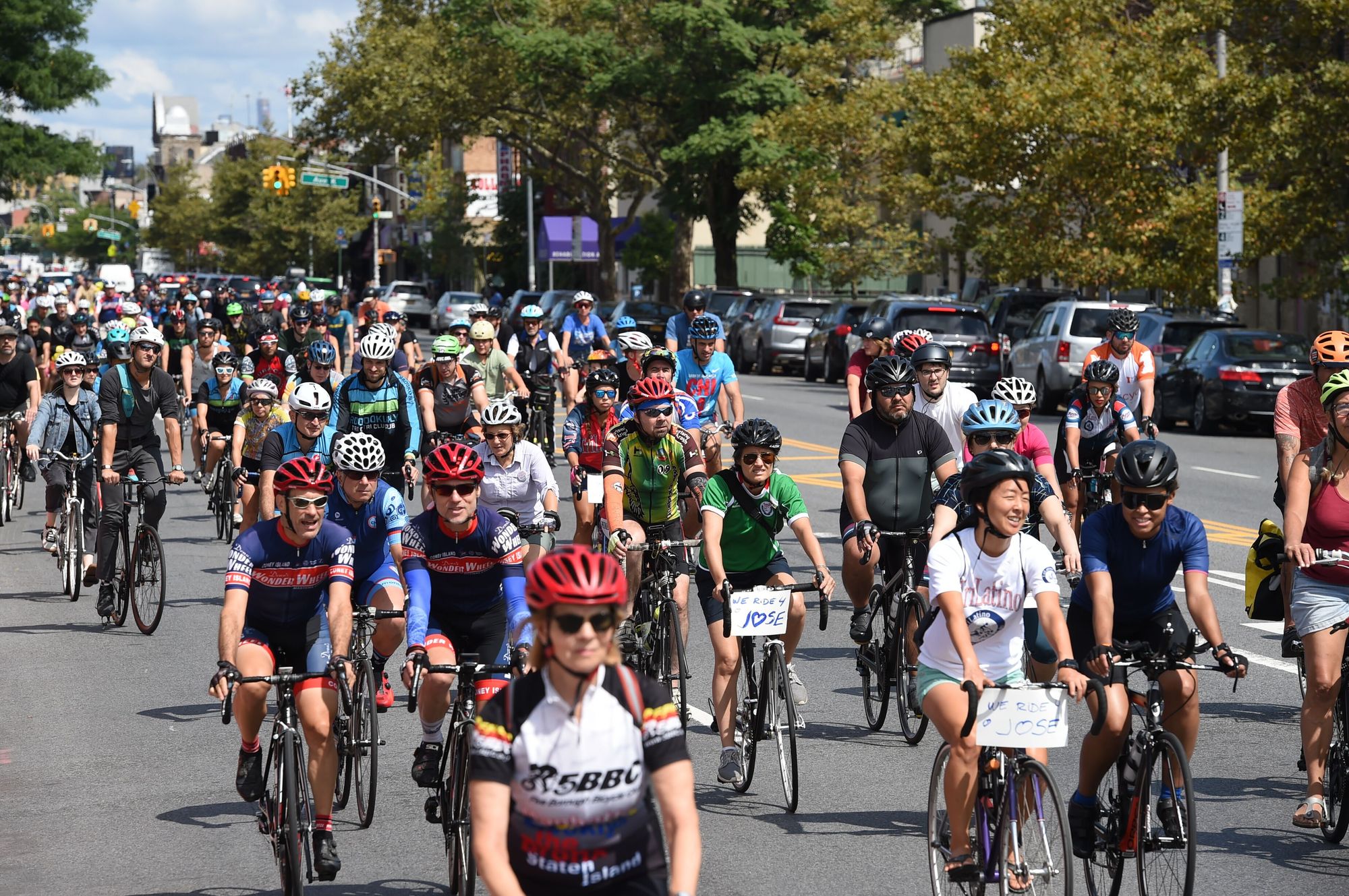 PARK SLOPE – Hundreds of bicyclists from throughout the city jammed Bartel-Pritchard Square on Sunday to follow one rider who was pulling a white bicycle, a "ghost bike," representing Jose Alzorriz, 52, who was struck and killed by a driver who blew threw a red light in Midwood on August 11.
Alzorriz was the 19th cyclist killed on the streets of New York this year—nine more than the entire year before.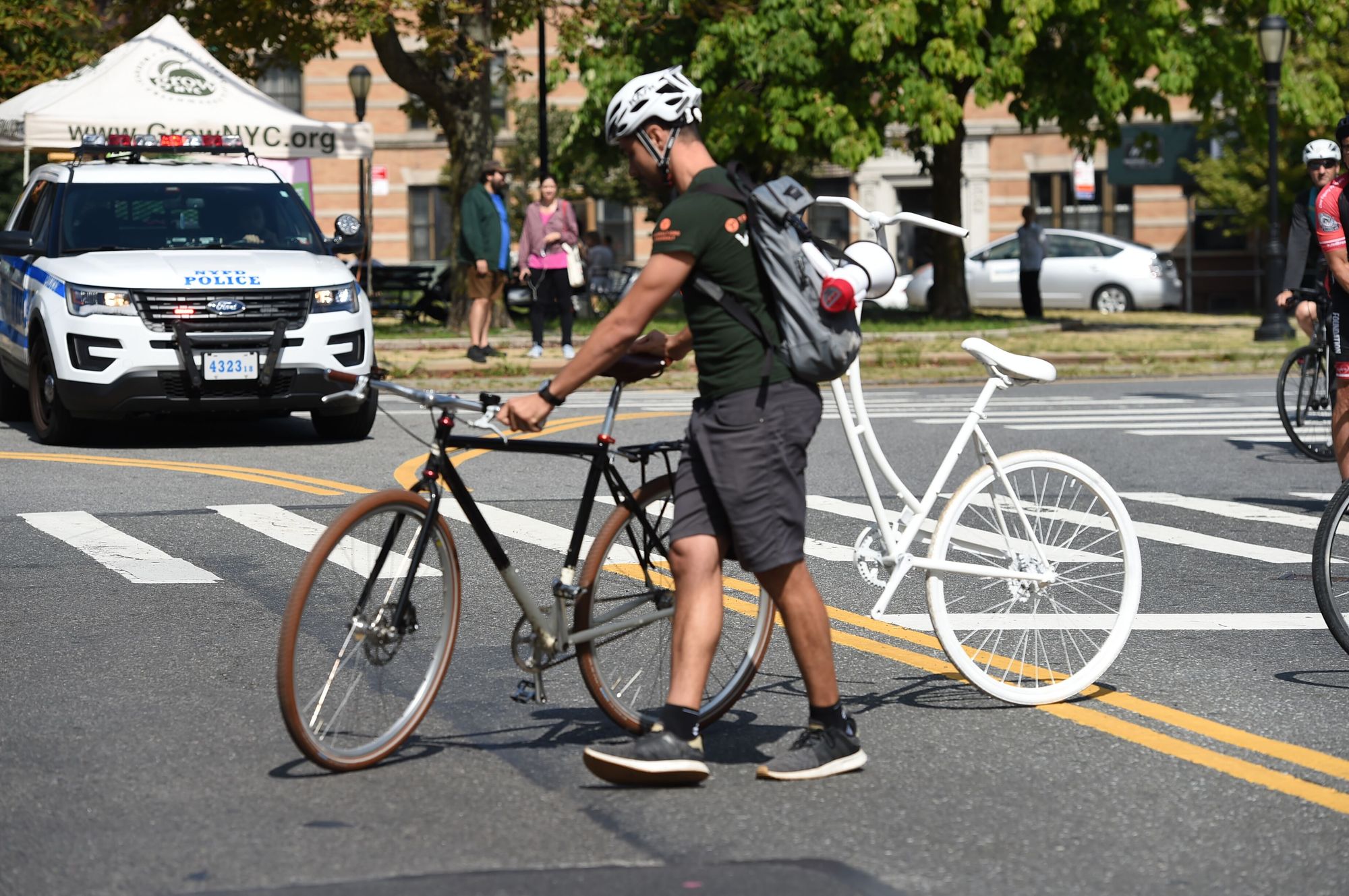 The swarm of cyclists rode with a police escort from Bartel-Pritchard Square down Coney Island Avenue to Avenue L, the site where Alzorriz was killed.
A pedestrian and several motorists were also injured in the crash that resulted in the arrest of Mirza Baig, who was later charged with manslaughter, criminally negligent homicide and vehicular assault, among other offenses.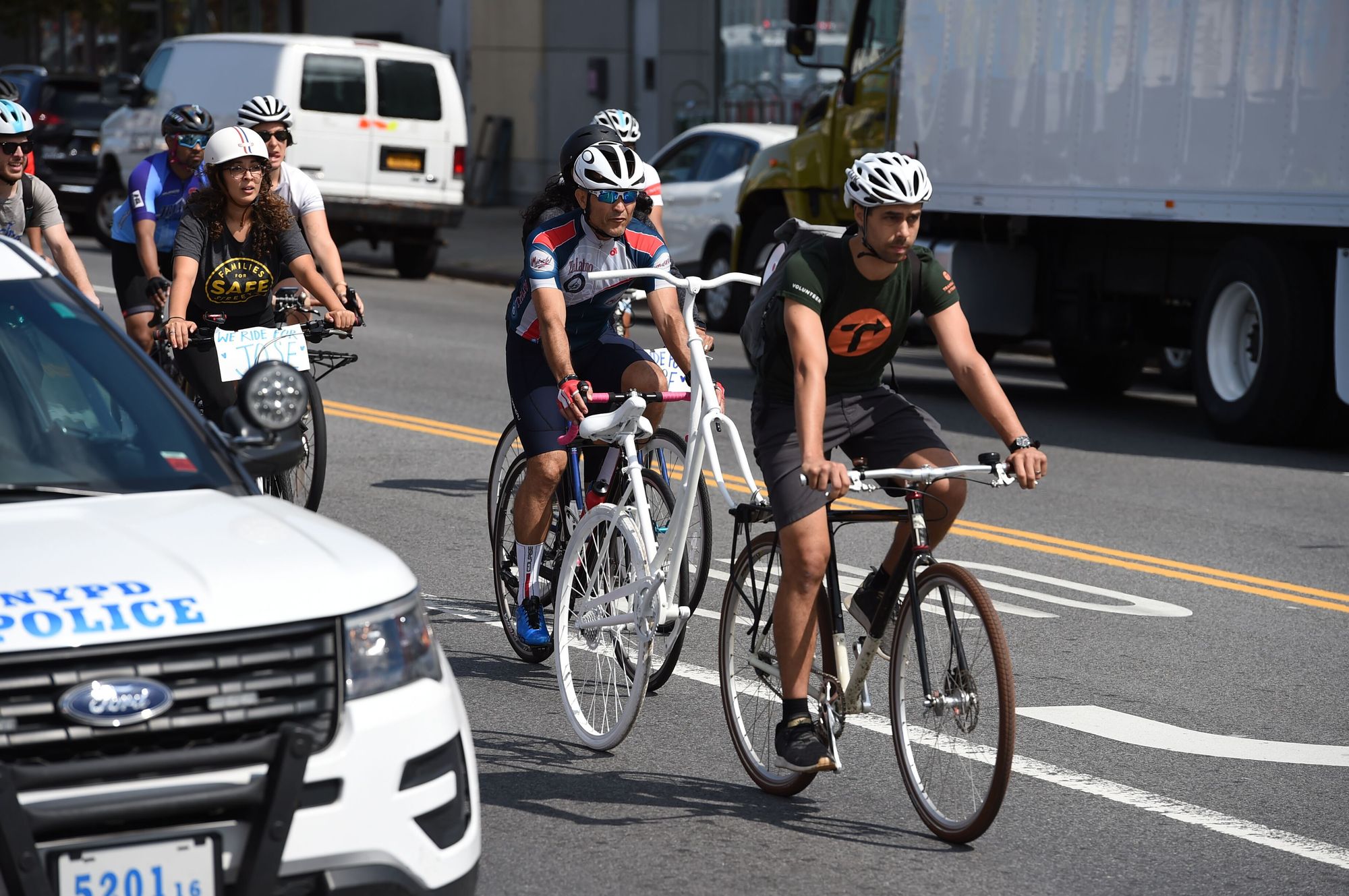 The cyclists were joined by elected officials yesterday, including Brooklyn Borough President Eric Adams, Public Advocate Jumaane Williams, and Assemblywoman Jo Anne Simon.
Adams and Williams joined the group in the ride to Midwood and vowed to find solutions to the uptick in crashes involving bicycle riders that has reached "epidemic proportions" despite many new Vision Zero initiatives designed to slow vehicles and prevent collisions.
Many officials and transportation advocates, however, say not enough is being done as a larger number of people are now riding bicycles instead of driving, and are calling for initiatives such as expanded bike lanes, both protected and lines on the roadway.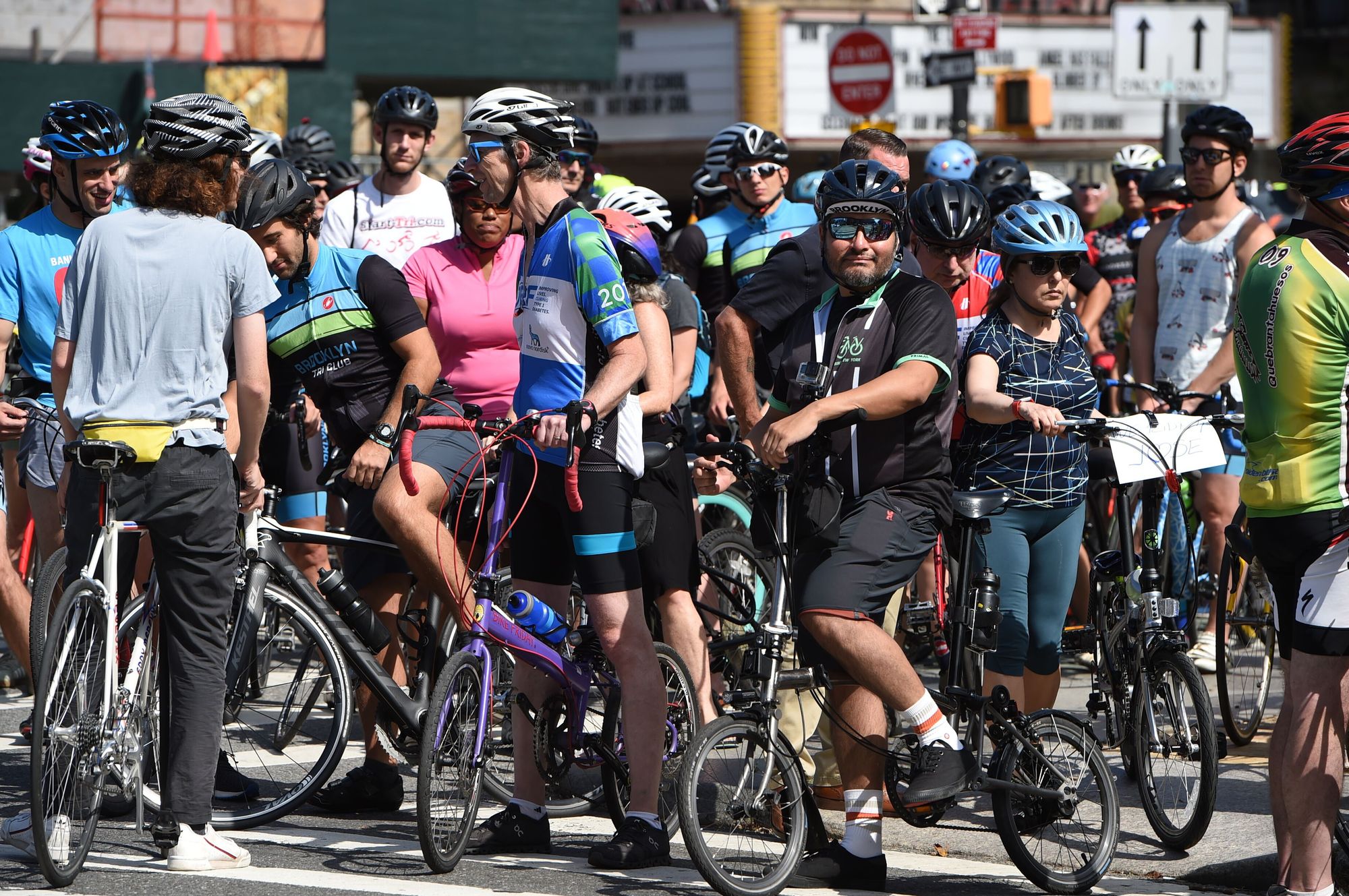 Mayor Bill de Blasio announced on July 25 a $58.4 million five-year plan, dubbed the "Green Wave," to add new bike lanes, redesign intersections and step up enforcement of traffic laws, but the changes aren't happening fast enough for transit advocates who say more must also be done to enforce vehicle traffic regulations.
But many of those present for Sunday's ride were there to pay their respects to Alzorriz of Park Slope, who was well-respected among avid bicyclists throughout the borough.
At the spot where he was struck and killed, the ghost bike was chained to a sign-post along with a note that read, "Cyclist Killed Here. Rest in Peace."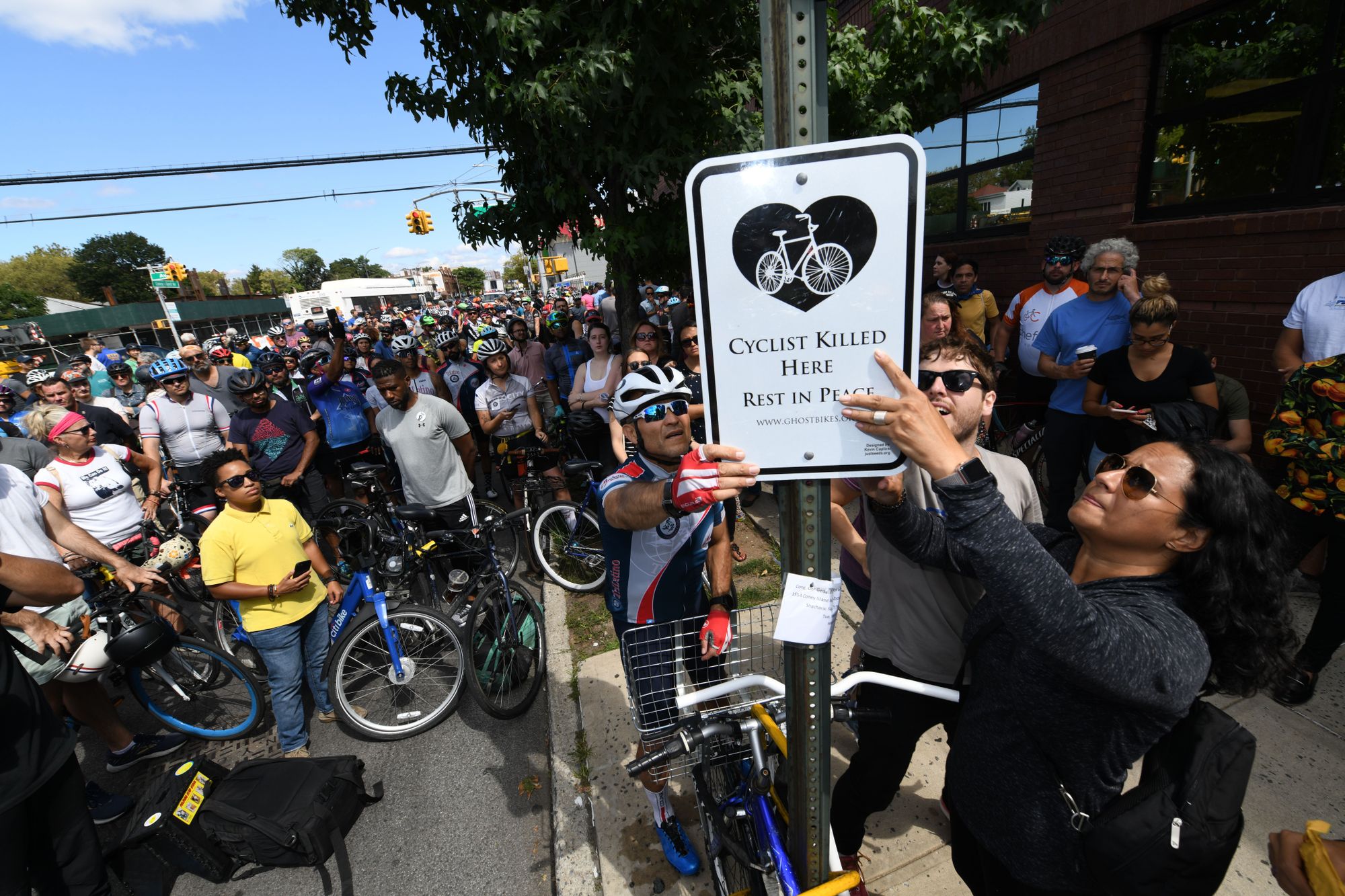 A chorus of bicycle bells began ringing from the hundreds of participants. Danny Artrea, a bicycle team coach and close friend of Alzorriz since 2001, said he had competed in bike races and triathlons with him.
"I want to celebrate the life of an incredible human being," said Artrea as he prepared his bicycle for the short trek to Avenue L. "I also want to highlight bicycle safety and awareness of recklessness of drivers and safety for cyclists. When people have a car, they have a killing machine in their hands, and they must realize it. But I think people don't think enough of safety—of riders who talk on the phone, use headphones or ride with no helmet—both sides need to be educated."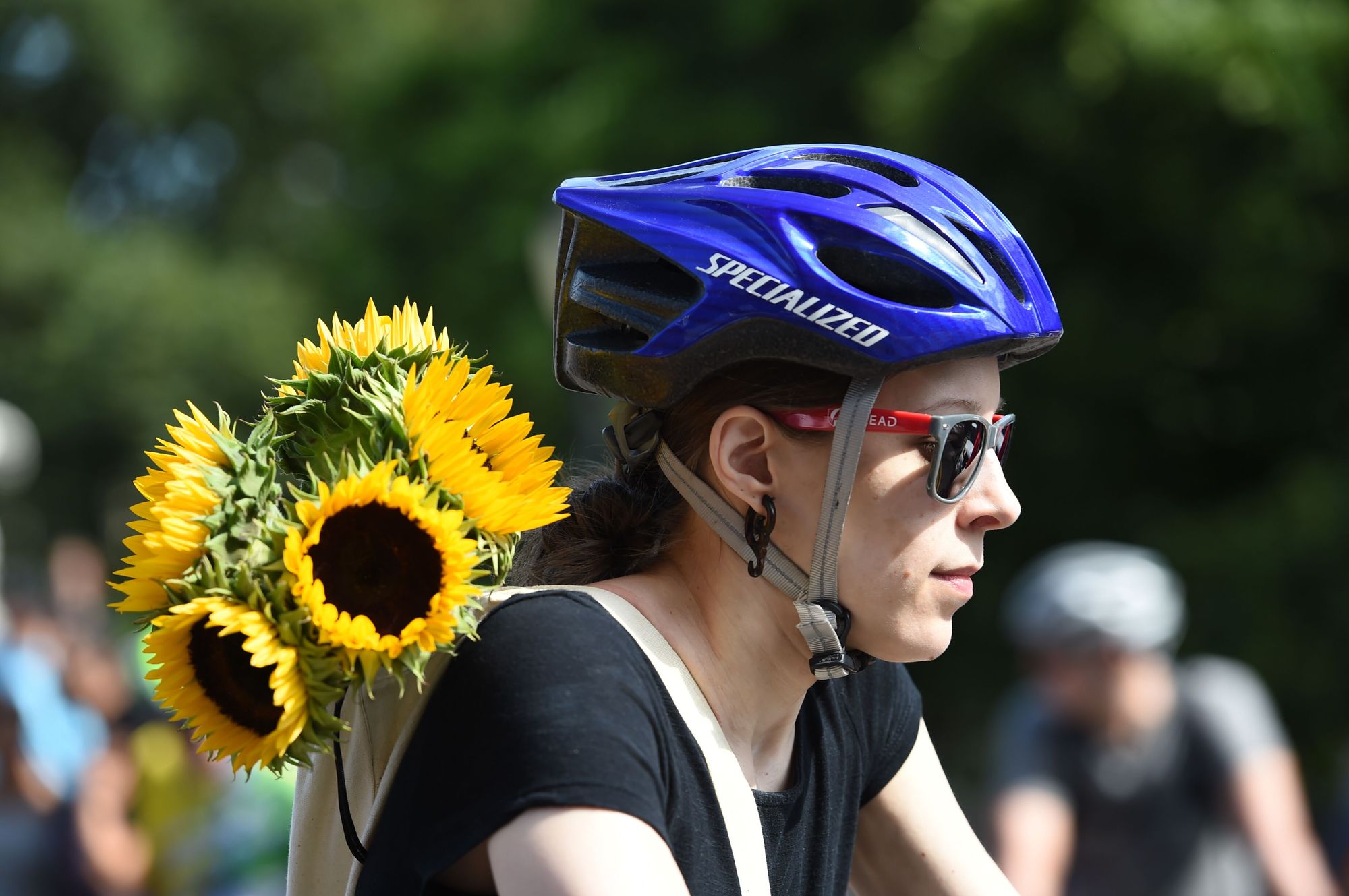 Irene Hanna, the girlfriend of Alzorriz for the past two years, shed tears thinking about her companion. She said 25 years ago, two of her family members were killed in a traffic collision in Bay Ridge.
"We don't need another person killed because we don't have stricter laws. We don't have better landscapes and we do need better education," Hanna said. "Motorists need to understand the repercussions of their actions. We really don't want this 18-year-old kid to go away forever—we want to rehabilitate him and make him understand what he took away from us."
She described Alzorriz, saying, "He was honest, he was thoughtful. He cared about everyone and was generous with his time. He just loved everyone. When said he would do something, he did it."
Nina Sabghir, a resident of Midwood, said she was riding to highlight the problems of enforcement and drivers with "multiple violations."
"The number one problem is not enough enforcement and drivers are not held accountable for crimes," Sabghir said. "These repeat offenders are out here over and over again and shouldn't be on the road. A bike lane would [have made] no difference for him because Coney Island Avenue is not protected. We need more speed and red-light cameras, and more time for pedestrians to cross streets."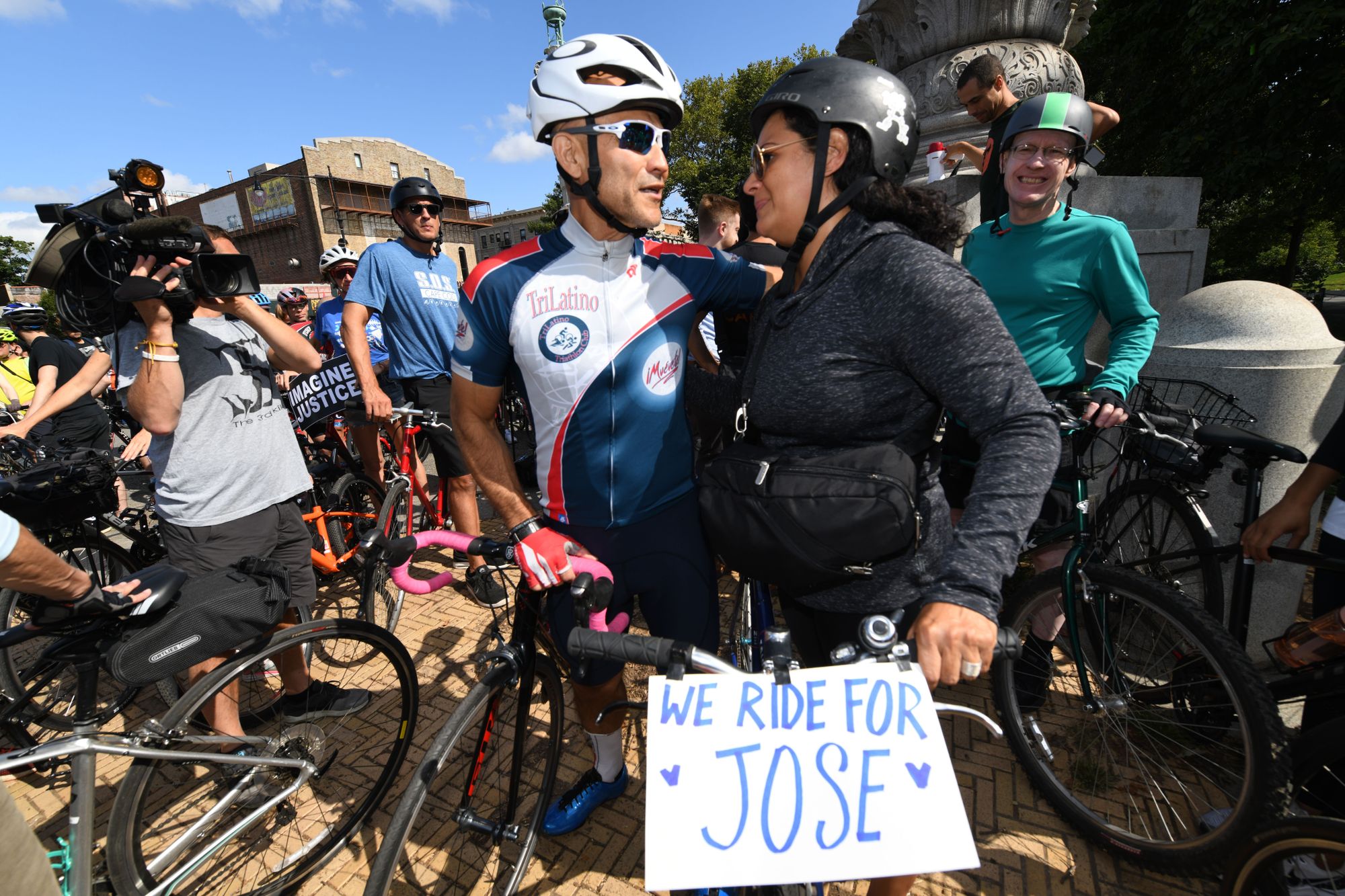 Chris Chapman, a member of the Miss-Fires Motorcycle Club, rode along with the bicyclists and said they were there in "solidarity." She said the police should concentrate more on checkpoints for motorists and not just motorcycle riders.
"This kid had moving violations, was young and inexperienced," Chapman said. "DA Eric Gonzalez is setting a precedent and we want to see justice and that is what is going to happen here. What is going on with so many people getting killed is just wrong."
Assemblywoman Jo Anne Simon said safety for bicyclists is a "two-way street," and has seen many people on bicycles "riding the wrong way on one-way streets with kids and no helmet and it scares the hell out of me." Simon said it makes a difference to have protected bike lanes, but it isn't always possible on narrow streets.
She also said it is very hazardous in some parts of the borough where "the streets are broken and full of holes. It's not good for cars, but certainly not good for pedestrians and bicycle riders."
Public Advocate Williams said that as a driver he understands there is a "mistaken belief that we own the road, and we sometimes think we are the only ones on the road."
"We are the most protected but we don't own the road and so the message is for people, who drive like me, is that we don't have to get rid of the car culture, but must change because we all must share the road," Williams said.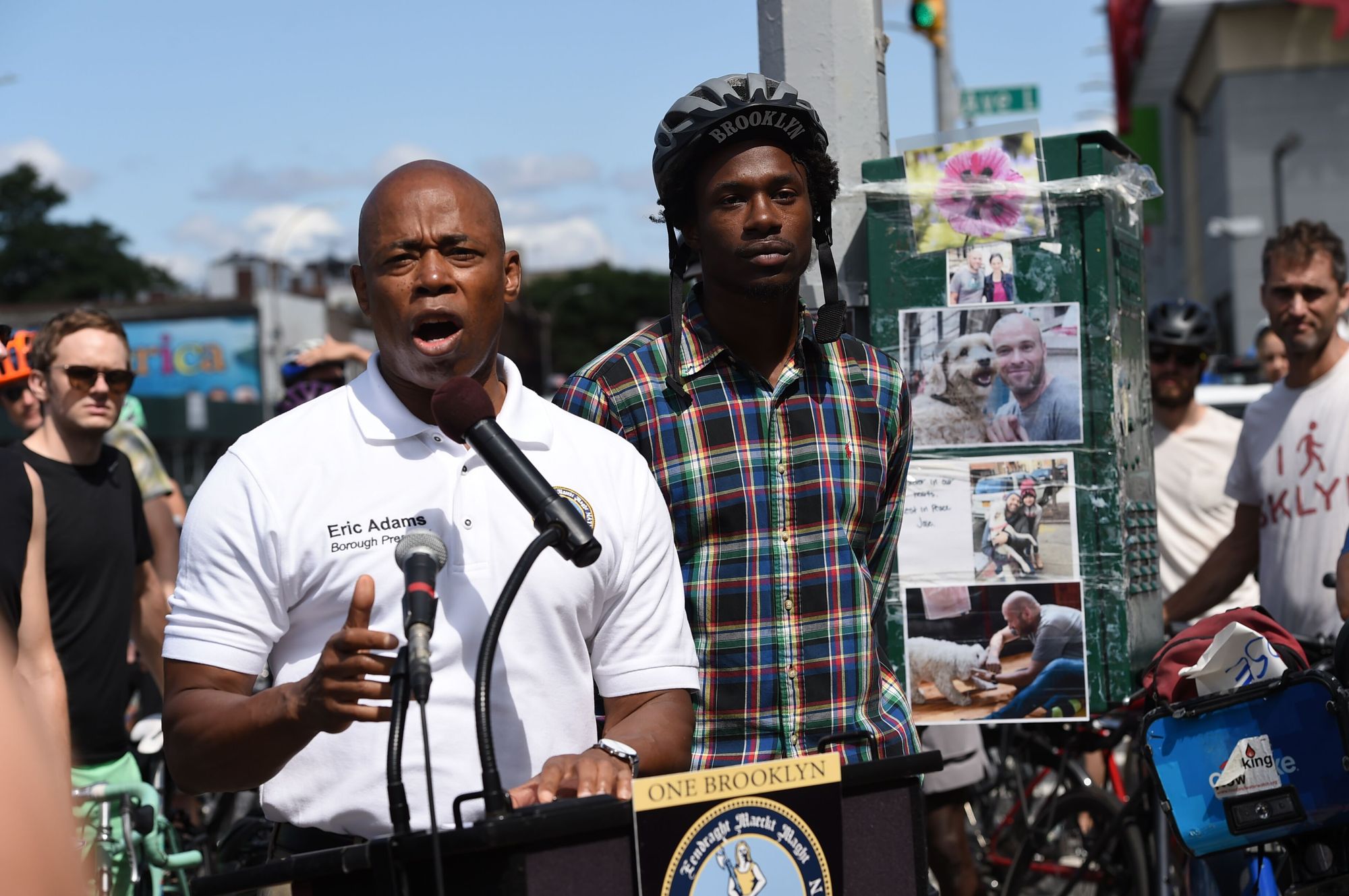 "The driver has most privilege so we must take most responsibility to protect people who are dying. Vision Zero has failed to protect as it said it would," Borough President Adams said, adding that along with more bike lanes and enforcement, there has to be a "shift in conversation" that addresses the driver psyche.
"Some drivers are driving vehicles with anger inside them. You don't speed and run lights unless there are other issues," Adams said. "Too many people have so much emotional trauma, we must deal with that. Speeding between bus stops, school buses, taking red lights, hitting pedestrians—something else is going on. We have to change the energy in city to have more common energy, not only cars to slow down, but to remove the hatred."