'It's An Emergency': De Blasio Unveils 'Green Wave' Plan After Spate of Cyclist Deaths
BAY RIDGE — Following a series of cyclist deaths, Mayor Bill de Blasio on Thursday rolled out a plan aimed at making streets safer for bikers.
"This crisis we're going through is absolutely unacceptable, and the steps we're taking today are meant to end this crisis now," said de Blasio at a press conference in Bay Ridge. "We will keep doing all we have to do to turn things around."
The mayor's $58 million plan, dubbed "Green Wave," includes adding 30 miles of bike lanes per year, 80 more Department of Transportation staff and ramping up NYPD bike lane enforcement at 100 city-identified "crash-prone areas."
"For the first time," de Blasio said, "we are committing this city to a truly citywide protected bike lane network."
"We want every bicyclist to feel safe," he added.
With the new plan, the city seeks to install 80 miles of bike lanes by 2021. In Brooklyn, Borough Park, Kensington, Ditmas Park, Flatbush, East Flatbush, Midwood, and Sheepshead Bay seem to be slated for more bike infrastructure, according to maps released by the city.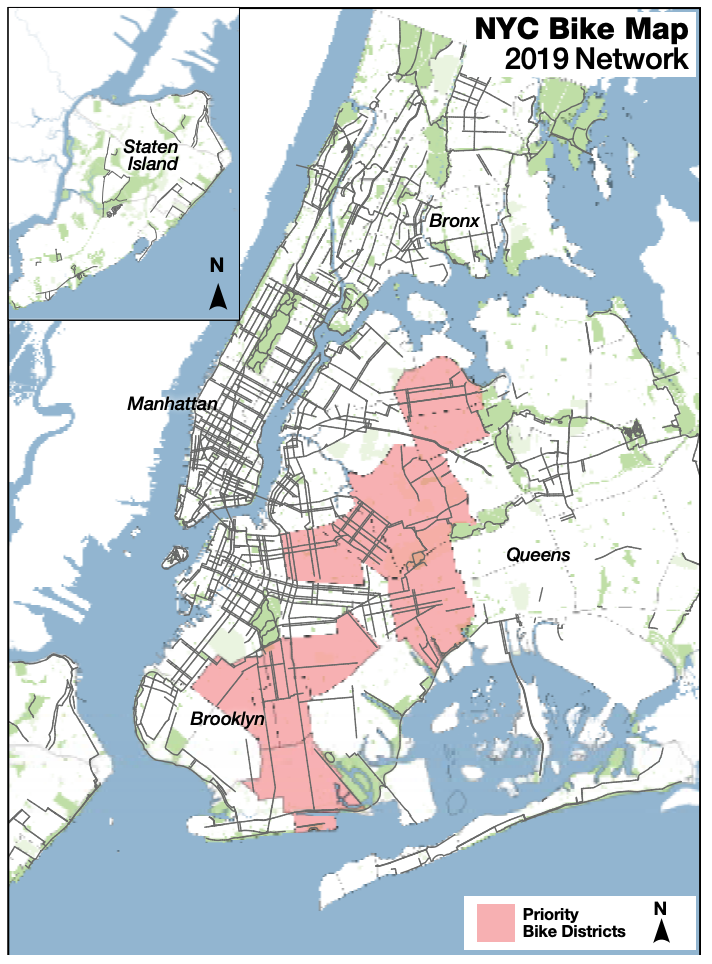 The initiative's rollout comes after 17 cyclists so far this year have been killed by motorists on the city's streets—more than double the rate of cyclists who were killed in the five boroughs in 2018, when 10 bike riders were killed. This year, Brooklyn has been home to a disproportionate share of cyclist fatalities. Twelve of the fatalities, 71 percent of them, have taken place in Brooklyn, and eight of them have involved trucks. Most recently, a cyclist was killed in Greenpoint.
"It's a crisis, it's an emergency," the mayor said of the spate of cyclist deaths.
"Clearly, we are having a very difficult year," said DOT Commissioner Polly Trottenberg. "This is a time when we need to bring a new vision, some new energy, and new resources to tackle the challenges."
As part of the plan, the NYPD says it will step up its efforts to keep bicyclists safe.
"We are ramping up enforcement at crash-prone intersections, and targeting enforcement on high-risk activities such as speeding, failing to yield and blocking bike lanes which directly affects bicyclist safety," said NYPD Transportation Chief Thomas Chan in a statement.
On NYPD enforcement, de Blasio also said that the NYPD's previous practice of ticketing cyclists following cyclist fatalities at intersections where they took place was misguided.
"I think it was a mistake for the NYPD to be giving tickets to cyclists right after a tragedy," he said.
In addition to the personnel investment and directives to the NYPD, the plan seeks to speed up the community board approval process via City Council legislation that the DOT is required to go through before bike lanes can be put into place.
Borough President Eric Adams, who is running for mayor, said in response to de Blasio's announcement that he is "appreciative of City Hall's redoubling of its street safety efforts."
"It is long past time we get serious about building out a truly connected network of safe bike infrastructure, including a focus on priority corridors in underserved communities like Bay Ridge, Brownsville, Midwood, and Sheepshead Bay," he said Thursday in a statement. "We need equitable attention paid to intersection redesigns and enforcement of our traffic rules. I am eager for fast-tracking implementation and addressing this Vision Zero crisis with the sense of urgency it demands."
At Thursday's press conference, Stephanie Bohbot, a teacher in Bay Ridge who commutes to work on bikes, said she appreciates the mayor's efforts to add a bike lane in the neighborhood, and said she was "thrilled"  about the city's newly minted plan more broadly.
"It is so exciting to hear the Bay Ridge will receive a two-way protected bike lane on 7th Avenue," she said.