Film Crew Relinquishes Parking Spots After Neighbors Speak Out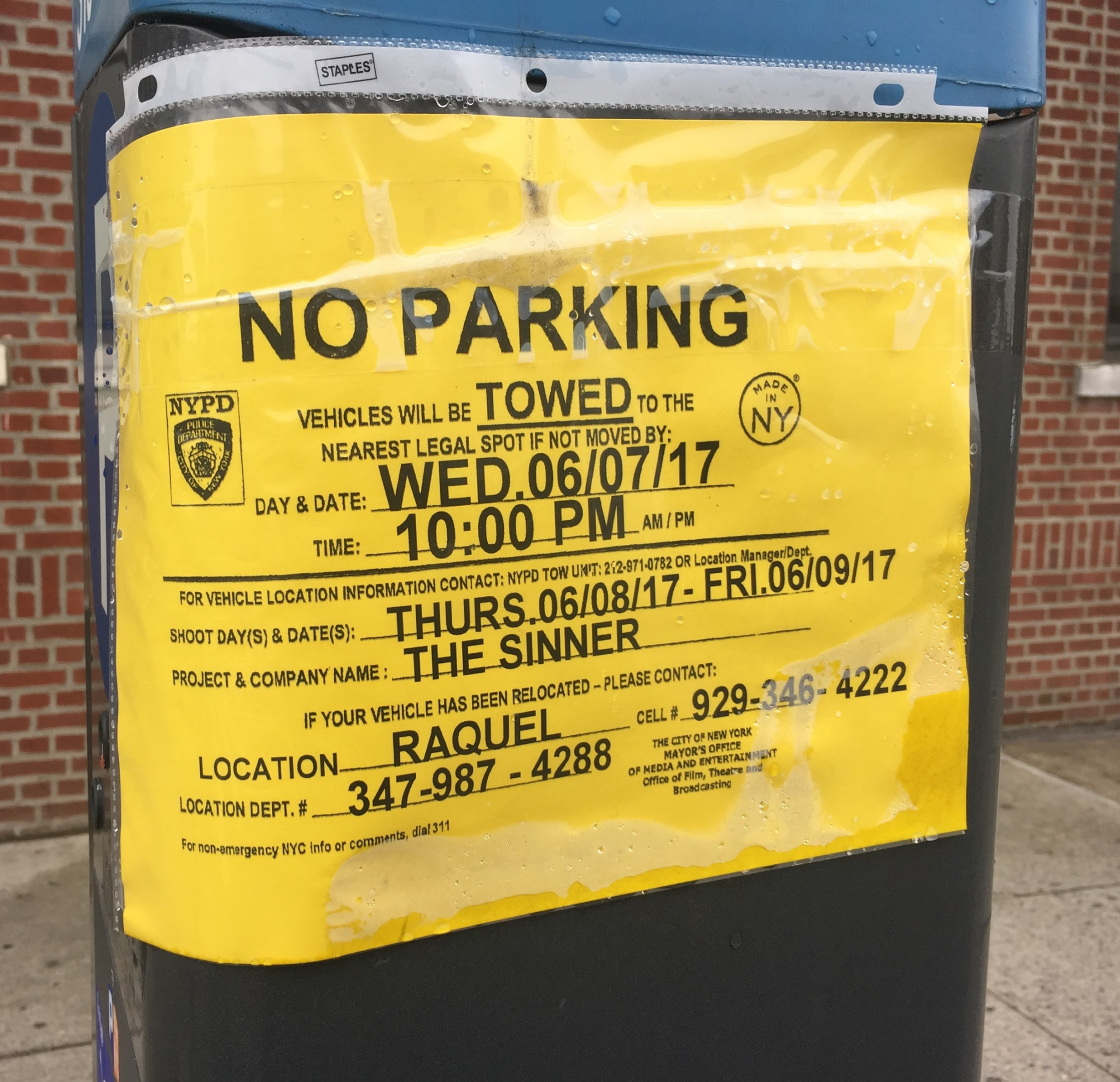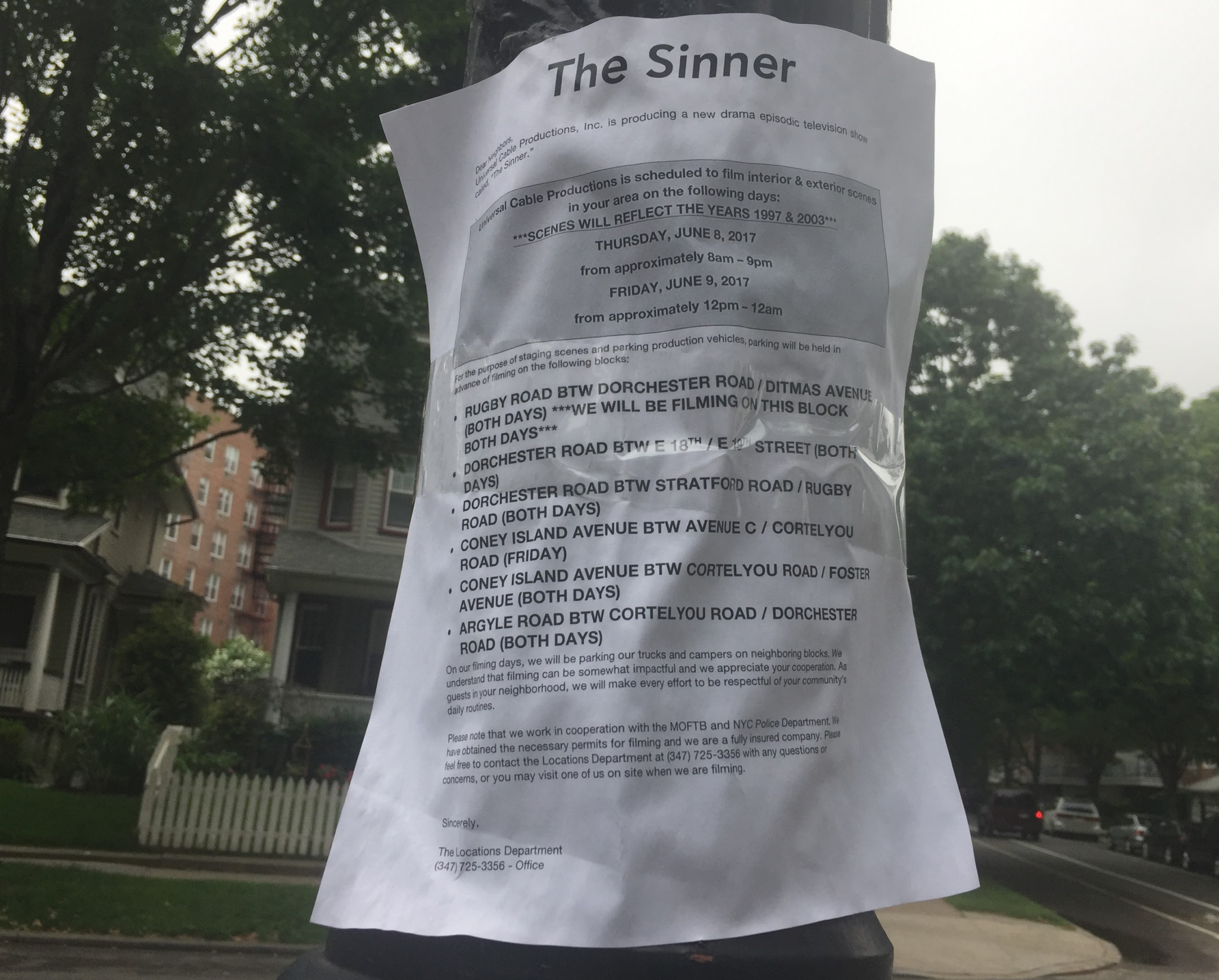 Now, 'The Sinners' can scratch one vice off their list — and the worst sin in Brooklyn: taking up parking spaces.
Production crews for 'The Sinners', a crime drama series premiering this summer, removed their 'No parking' signs this week after officials discovered that the signs weren't sanctioned by the city.
On Monday, we spotted these signs and calculated that the upcoming film shoot planned to consume almost 2 miles of street parking around Coney Island Avenue this week. Amidst a heated debate on Facebook about whether Ditmas Park's filming boom is a nuisance or a point of pride, many agreed on one thing: using that many blocks for a single shoot didn't seem legit.
After some prodding by BKLYNER readers and the hardworking staff at Community Board 14, the Mayor's Office of Media and Entertainment pushed the production company and their film attaché to a private lot. Now, parking will only be blocked on Rugby Road between Dorchester and Ditmas Avenue.
"The signs that film and TV productions post in advance of filming are generic," said Stephanie Browne from MOME. "'The Sinner' has signs at their disposal to post in advance at various locations where they'll be filming in the near future."
Officials said that an internal miscommunication led to the production posting signs that hadn't been sanctioned by the mayor's office.
Here's what you need to know: Parking will now be restricted on Rugby Road between Dorchester and Ditmas Avenue, filming tomorrow and Friday, June 8 and 9. Move your cars by tonight!
Here's where we spotted the original no parking signs in the neighborhood, totaling a no-parking zone of almost 2 miles: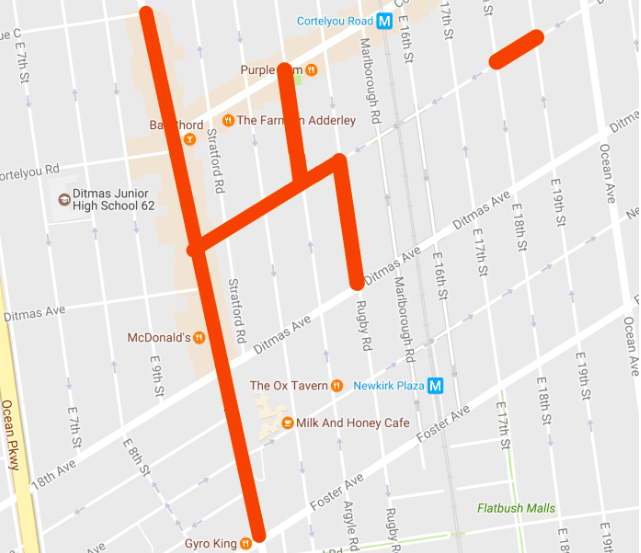 Picturesque Ditmas Park has long been a destination for filming, but in recent years the number of street closures has ramped up.
Just yesterday, the Mayor announced a record-breaking year for film crews in NYC, with 56 television series filmed in NYC during the 2016-17 season (up from 52 last year). Officials championed the productions as a harbinger of economic benefits for the city, like 130,000 full-time jobs, increased spending at local businesses, and nearly $9 billion to the local economy, according to the Mayor's office.
But do these benefits trickle down to neighbors, who are inconvenienced by the parking squeeze, traffic spikes, noise, and limited access to their own blocks?
Neighbors have long complained about 'no parking' signs posted without the standard amount of notice, and many are fed up with film crews reshuffling street parking for days at a time. What do you think?
If you're concerned about a specific issue in the neighborhood — or have complaints about a production crew — reach out to Community Board 14 office at 718-859-6357.