Enzo Farachio, 'A Sweet Boy Who Spread Light & Love,' Killed By Driver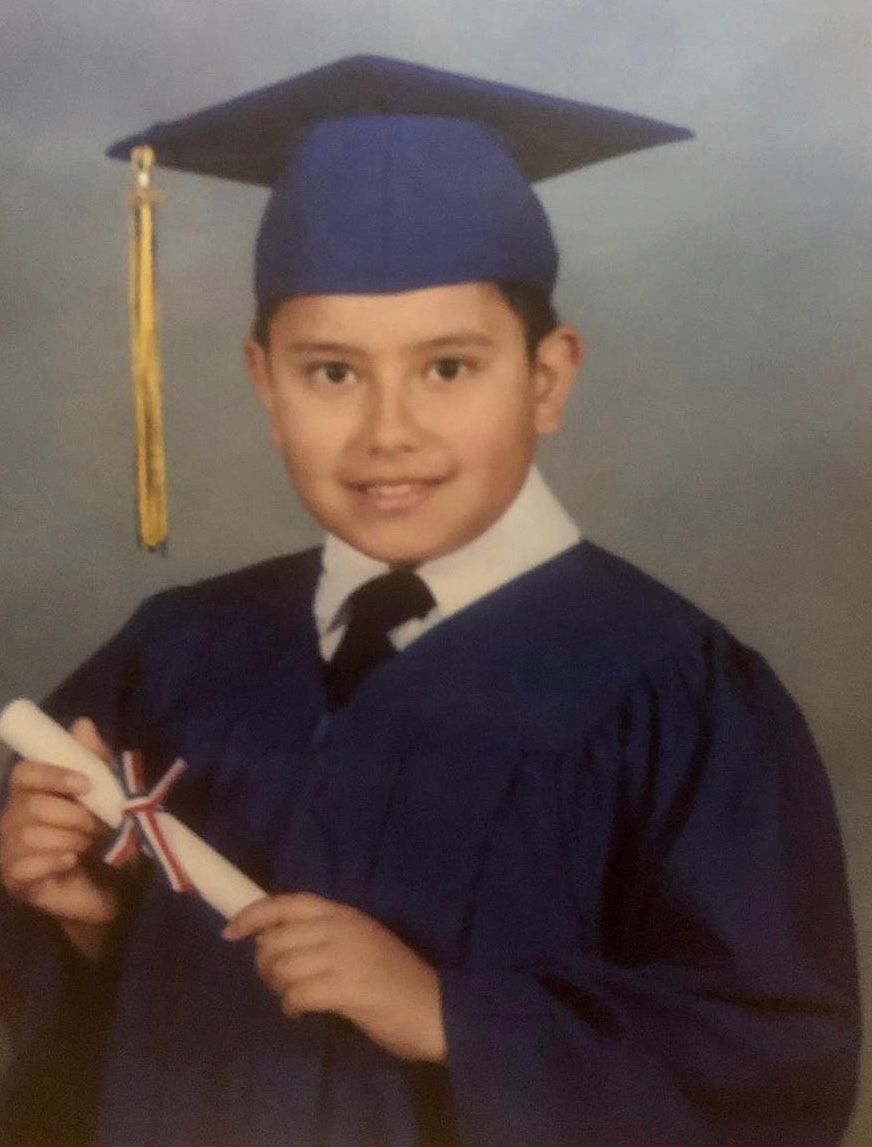 MIDWOOD – The name of the boy killed yesterday was Enzo Farachio.
At around 2:45 on Tuesday, September 10, Enzo was waiting at the bus stop on Ocean Avenue by Avenue L. He was going home from school and was going to take the B49 home to Ocean Avenue near Farragut Road.
As he was waiting, as he had been doing for the past week since he had just started sixth grade at Andries Hudde Junior High School, a man driving a gray Lexus SUV was traveling north on Ocean Avenue. The driver veered to the right and mounted the sidewalk, struck the boy with the car, and continued to drive until he crashed the vehicle into the scaffolding in front of 1673 Ocean Avenue.
Council Member Chaim Deutsch spent the night with Enzo's grieving family and shared with Bklyner what he learned about the little boy. Enzo's birthday was coming up at the end of the month. They were all planning on going to Six Flags because Enzo loved rollercoasters. Enzo, who has an older brother, wanted to be a chef when he grew up, just like his father Angel Farachio. Oh, and the little boy absolutely loved their family dog.
"He was a sweet boy who spread light and love to everyone he encountered," Deutsch told Bklyner. "[His father] told me that he prays that he can use the terrible tragedy that he suffered to bring about change on the streets of New York City. I plan to help him do that."
"This was a heartbreaking tragedy and our thoughts are with the victim's family. No one simply walking on the sidewalk should be in danger from a vehicle," Mayor de Blasio's Deputy Press Secretary Seth Stein told Bklyner. "While this investigation is ongoing, it is clear that we need to continue pushing Albany for escalating penalties for dangerous driving and more scrutiny over people with medical conditions that make driving dangerous."
As of today, no arrests have been made and the investigation is ongoing. Yesterday, cops told us, "We believe the driver had a medical condition prior to the crash. I wouldn't know what medical condition though." When we asked another cop today about whether or not the driver had a medical condition, the answer was, "we are not doctors."
When the vehicle's plate number was ran through a Twitter bot called How's My Driving NY, it revealed that there were summonses for four school zone speed camera violations. The most recent speeding ticket was given just last month.
"This tragedy is a testament to the fact that there is virtually no place in the city where residents are safe from the onslaught of cars — not in the crosswalk, not in the bike lane, not even on the sidewalk," Danny Harris, Executive Director of Transportation Alternatives said. "Crashes like these are not accidents, but the preventable and predictable result of a city where cars, not people, are the priority. As a result, children like this 10-year-old boy and hundreds of others pay the price with their lives each and every year."
"We will never see an end to traffic violence if we don't make safe street designs the standard across all five boroughs," Harris continued. "The City Council and Mayor de Blasio must act immediately to pass Council Speaker Corey Johnson's Transportation Master Plan Bill, Council Member Brad Lander's Reckless Driver Accountability Act, and expedite delivery of the mayor's Green Wave Plan. To do anything less would be an insult to the families of the thousands of New Yorkers killed by unsafe streets and deadly drivers, and put countless more residents at risk."
Borough President Eric Adams tweeted yesterday, "This is a huge tragedy for our Midwood community. Our hearts go out to the child's loved ones. 2019 has already seen too many fatal crashes. We need to reverse this epidemic. We need a bold, comprehensive street safety plan from DOT, for Midwood and beyond."
This year has been awful for cyclists and pedestrians. Just a few blocks down on Avenue L and Coney Island Avenue, Jose Alzorriz was killed by a speeding driver, while waiting at the traffic light on his bicycle. In July, 49-year-old María del Carmen Porras Hernández was killed crossing the street on Coney Island Avenue at Church Avenue. A driver made a right turn and crashed into her.
"It's past time the City ramped up its efforts to protect New Yorkers by doubling down on traffic calming measures, expanding pedestrian spaces, and increasing the number of protected bicycle lanes in order to prevent further heartbreaking losses," Comptroller Scott Stringer told us (he's running for the Mayor).
"Another family will go to bed without their child tonight," he continued. "We can't keep going on like this. We need safe streets, and we need dangerous drivers off the road."
Brooklyn Weeps: A March for Safer Streets is scheduled for tomorrow at 6:30 p.m. on Ocean Avenue and Avenue L. People will then walk over to two other nearby sites where cyclists were killed.