DOT Ends Clear Curbs Pilot On Flatbush Avenue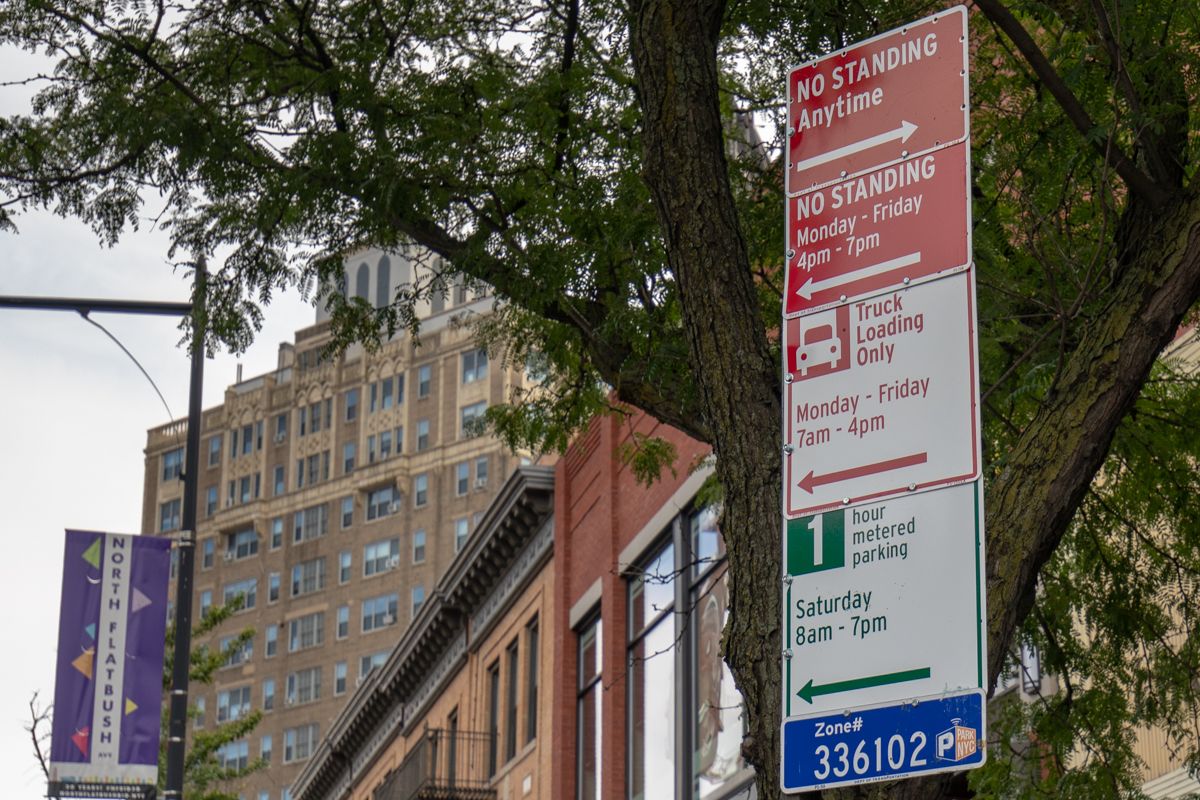 PARK SLOPE/PROSPECT HEIGHTS – The NYC Department of Transportation (DOT) has ended the Clear Curbs Pilot Program on Flatbush Avenue one month early in response to requests from local business owners to return to the roadway's previous parking rules.
Parking regulations along Flatbush between Dean Street and 8th Avenue have reverted back to the prior, pre-pilot regulations with the addition of some loading zone changes to address the needs of area businesses, James Ellis, the Executive Director of the North Flatbush Business Improvement District (BID), told BKLYNER Wednesday morning.
Signage was installed the weekend of August 18 prior to the amended parking regulations going into effect on Monday, August 20.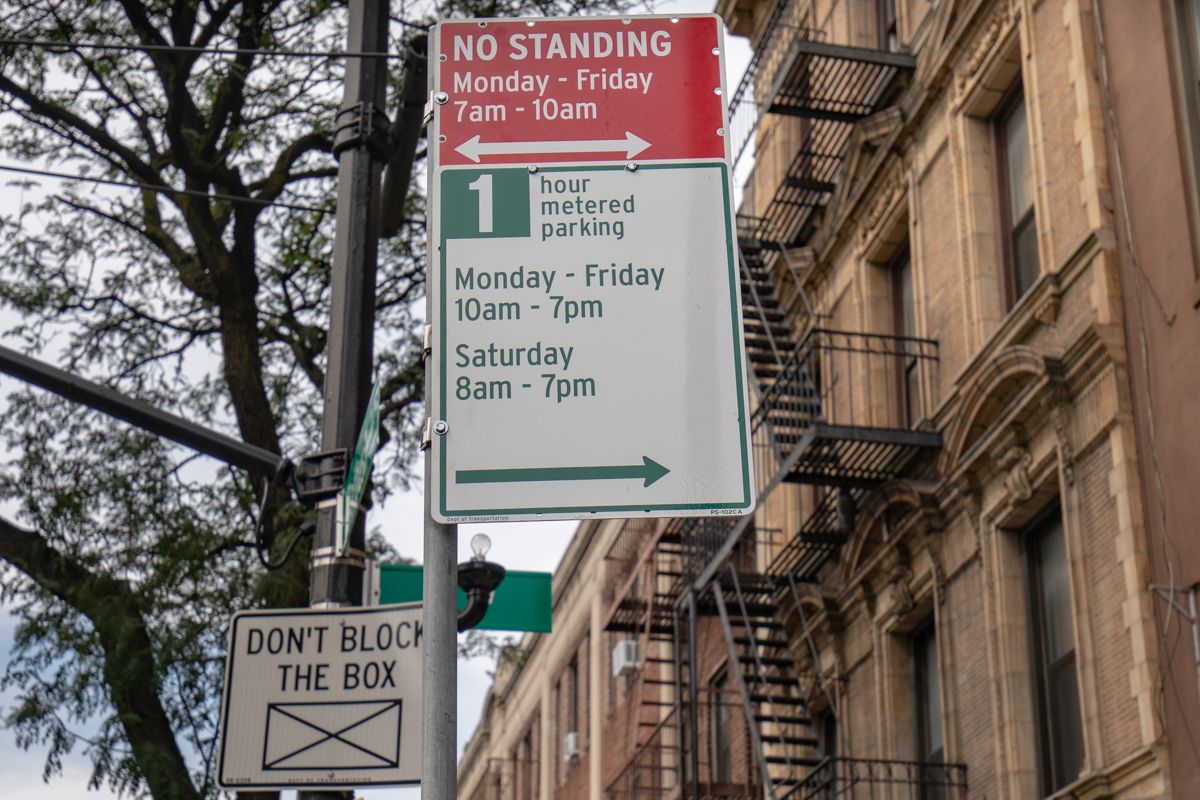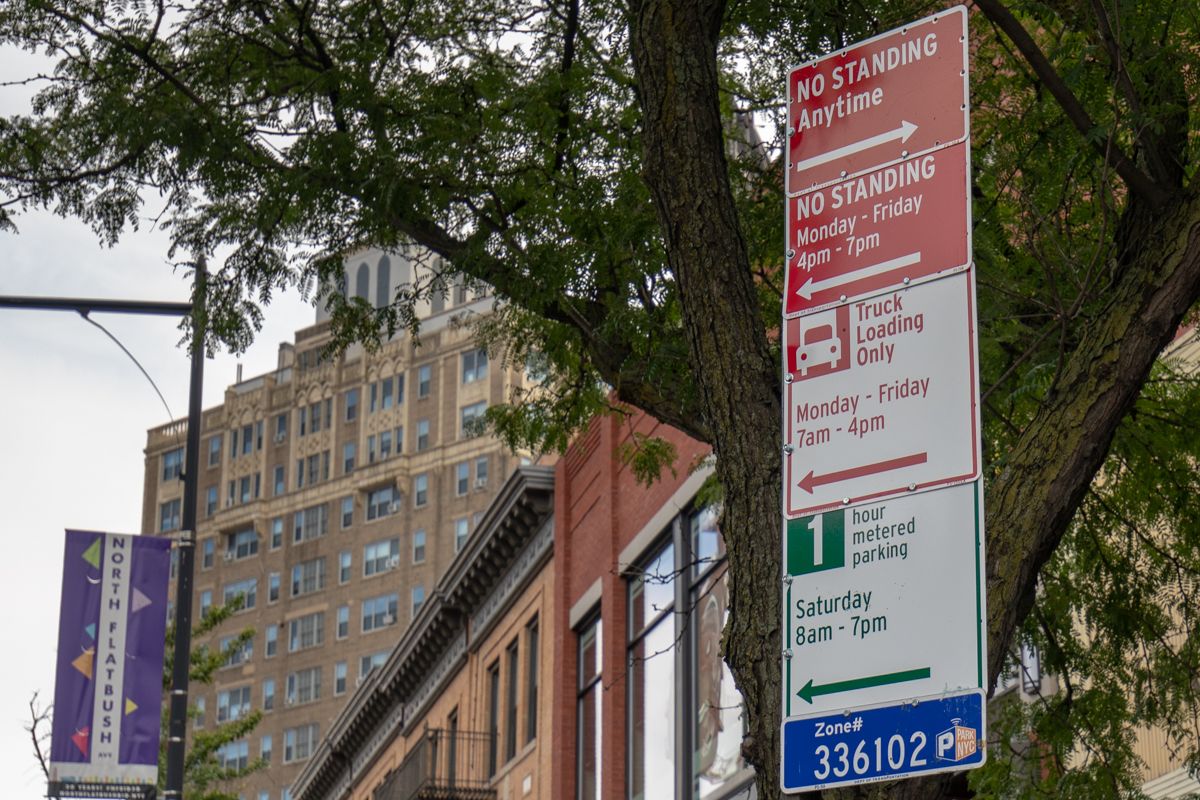 The current parking regulations are:
No parking from  7am to 10am on the northbound/bridge-bound side of Flatbush on weekday mornings
No parking from 4pm to 7pm on the southbound/park-bound side of Flatbush on weekday afternoons/evenings
Changes to commercial loading zones include:
the addition of a new 50-foot loading zone at Union Market (between Sterling & 8th Ave)
the expansion of an existing loading zone at Key Food (between Park & Sterling)
the reconfiguration of a loading zone at Bergen & 6th Avenue
"When the new Clear Curbs regulations came into effect they basically eliminated parking on both sides of the street during both sets of those time periods, and in fact had limited parking for six hours on a community/commercial corridor during business hours," Ellis noted.
Part of Mayor de Blasio's five-point "Congestion Action Plan" to ease traffic across the city, the pilot program launched on March 19 on three busy commercial corridors—midtown Manhattan; Roosevelt Avenue, Queens; and Flatbush Avenue (from Tillary Street down to Grand Army Plaza), Brooklyn. The six-month pilot restricted curbside access for parking and deliveries on both sides of Flatbush during peak hours in an effort to reduce backup on travel lanes. DOT also ended the pilot in Queens earlier this month.
The pilot program affected businesses on the commercial corridor in various ways, Ellis explained. Some business owners had to "reconfigure their scheduling and their labor to accommodate the new times," with some delivery vehicles parking on residential side streets during the restricted hours on Flatbush. Some restaurants saw a decline in customers during the early dinner rush and during happy hour since the pilot's parking regulations didn't end until 7pm.
Shops that rely heavily on grab-and-go sales were impacted because some customers were not willing to park and quickly run in to pick up a beverage or their dry cleaning. Ellis noted that the restrictions also prevented patients of healthcare providers, such as CityMD (288 Flatbush) and Northwell Health (365 Flatbush), from being dropped off in front of the facilities.
While DOT assured motorists that they'd be able to quickly pick up and drop off passengers along Flatbush during the Clear Curbs pilot, Ellis noted that it was quite the contrary. "Enforcement also became a really big issue. It was really aggressive," he said, adding that several agents were regularly out on the road during enforcement hours issuing tickets while tow trucks carted away many vehicles.
Ellis explained prior to the pilot program, there was little to no enforcement. "We rarely ever saw any traffic enforcement agents that were looking to enforce no parking, double parking, or no standing during those regulation hours," he insists. He said that the BID and business owners pleaded with DOT to "go back to what we had. If you put ten percent of the enforcement that you have for [the pilot] into enforcing the old regulations you will see an improvement."
Ellis also noted that the pilot program came at a time when the area is undergoing two  major construction projects that are already causing congestion and parking issues—improvements to the triangle parks along Flatbush and DDC's $63 million project to upgrade the area's water main lines. "How do you determine that these parking regulations are improving traffic flow and vehicle count when you've already got bottlenecking because of construction?" he asked.
"We understand that congestion in New York City is a huge issue, and myself, the board, and our members understand that Flatbush Avenue by no means is a perfect corridor when it comes to congestion and traffic, however this plan was just ill-conceived for this part of Flatbush Avenue and for this type of community," Ellis said.
"We're not the downtown portion of Flatbush Avenue where there's incredible density of cars and traffic all day long. The businesses there have different set-ups, they have loading docks," he noted. "We're still a neighborhood."
Ellis will check in with shop owners to see if the change back to the old parking rules has affected their business any further and will flag any concerns. In the meantime he says, "Those who have been involved in the process are very pleased that DOT and the city listened to what we had to say, albeit maybe not as quickly respondent to what we had to say, but they definitely took our concerns seriously."
The North Flatbush BID serves as "an advocate for the community and for the businesses here," Ellis noted. "We recognize that traffic and transportation are an issue. This [pilot program] was ill-conceived at the time. It wasn't a good fit for our community."
"We'd love to continue addressing traffic and transportation concerns…[and] how to make our neighborhood safer and more inviting," he added. "With the higher speeding and the traffic and the cars, it was a six lane highway for six hours a day," he described the busy corridor during the pilot program. "That was a big concern, especially when we put so much effort into trying to help pedestrian crossing become safer and making Flatbush a more inviting area for local businesses."
"We're not say[ing] that all of our businesses receive all of their customers by car, but in this stage of the game of small businesses developing…any type of prohibition that stops customers from coming is problematic for us and for our businesses."
[UPDATED: Wednesday, August 29 at 2:15pm] The Clear Curbs Pilot Program will still be in effect on Flatbush Avenue north of Dean Street, a DOT representative added. Dean Street to Grand Army Plaza returns "to rush hour regulations in peak directions" with the addition of "truck loading zones in off-peak directions."