Rats! De Blasio Visits Bushwick To Announce Rodent Extermination Plan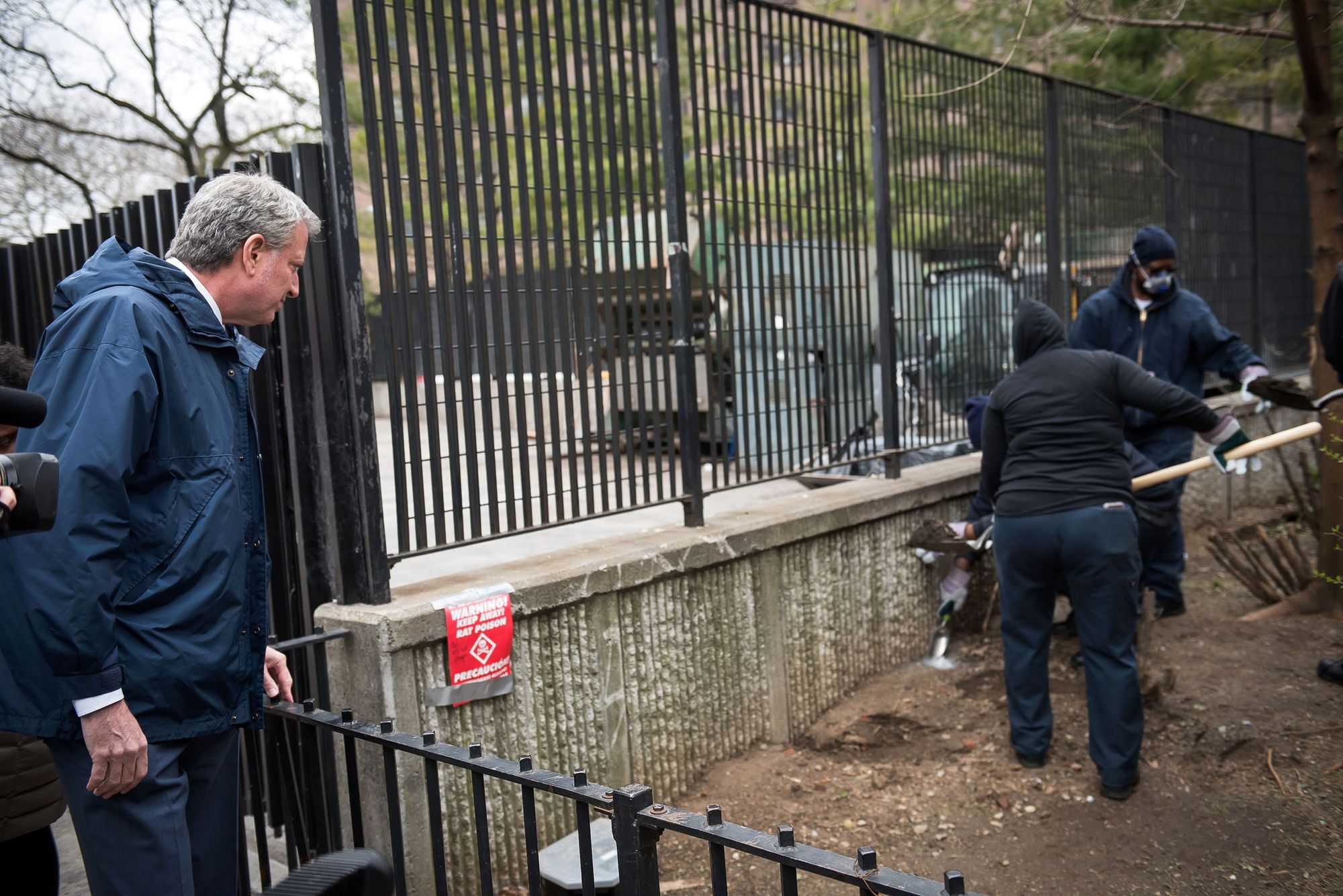 Yesterday, Mayor De Blasio announced a new campaign of aggressive rat extermination strategies at the 10 NYCHA developments with the worst infestations in New York. In Brooklyn, that means the Hyland and Bushwick Houses, along with the Marcy Houses in Bed-Stuy.
"We want to make the greatest city on earth the worst place in the world to be a rat," said the mayor. "We are launching an all-out offensive to dramatically reduce the rat population at these developments and improve the quality of life for residents."
The multi-pronged approach will include plugging burrows with dry-ice to kill rodents, a process that will start this week and continue through June. Instead of using exterminators that rotate throughout the city, each development will also get its own full-time exterminator to respond to resident's requests.
Over the summer, the city will deliver new trash bins to residents, which are "more compatible" with NYCHA trash chutes, which the city hopes will cut down on clogged chutes and trash deposited outside of bins—an easy target for rats.
Finally, the city will be sealing off dirt basements with concrete "rat slabs" in an effort to keep rodents at bay. Half of the 42 NYCHA buildings will get the treatment in 2018, while the other half should see sealed basements sometime next year.
These efforts are all part of De Blasio's $32 million citywide Rat Reduction Program, which hopes to smash the rat population by 70% in the city's most infested neightborhoods: Bushwick/Bed-Stuy in Brookly, Grand Concourse in the Bronx, and the Lower East Side, Chinatown and East Village parts of Manhattan.
"Rat mitigation is a serious issue that impacts neighborhoods across New York City, and particularly our public housing developments," said Brooklyn Borough President Eric Adams. "It has been a mission of my administration to advance bold, aggressive action that combats these infestations, and dry ice treatments are absolutely one of the most meaningful ways we can achieve results. I thank the de Blasio Administration for heeding the calls of our tenants and proceeding with renewed reduction efforts at Bushwick Houses, Hylan Houses, and Marcy Houses."
But NYCHA developments aren't the only areas affected in the city. Last year, it was revealed that Carroll Park in Carroll Gardens receives more complaints about rodents than any other park in New York! Previously, the Brooklyn Navy Yard and nearby Farragut Houses have also seen their fair share of unwanted rats as well.
For any homeowners or New York residents who want to know what they can do to protect their own property from rats, check out our report on the Department of Health's "Rat Academy."