DCP Study Says Reasons For Storefront Vacancies Are "Complex and Varied"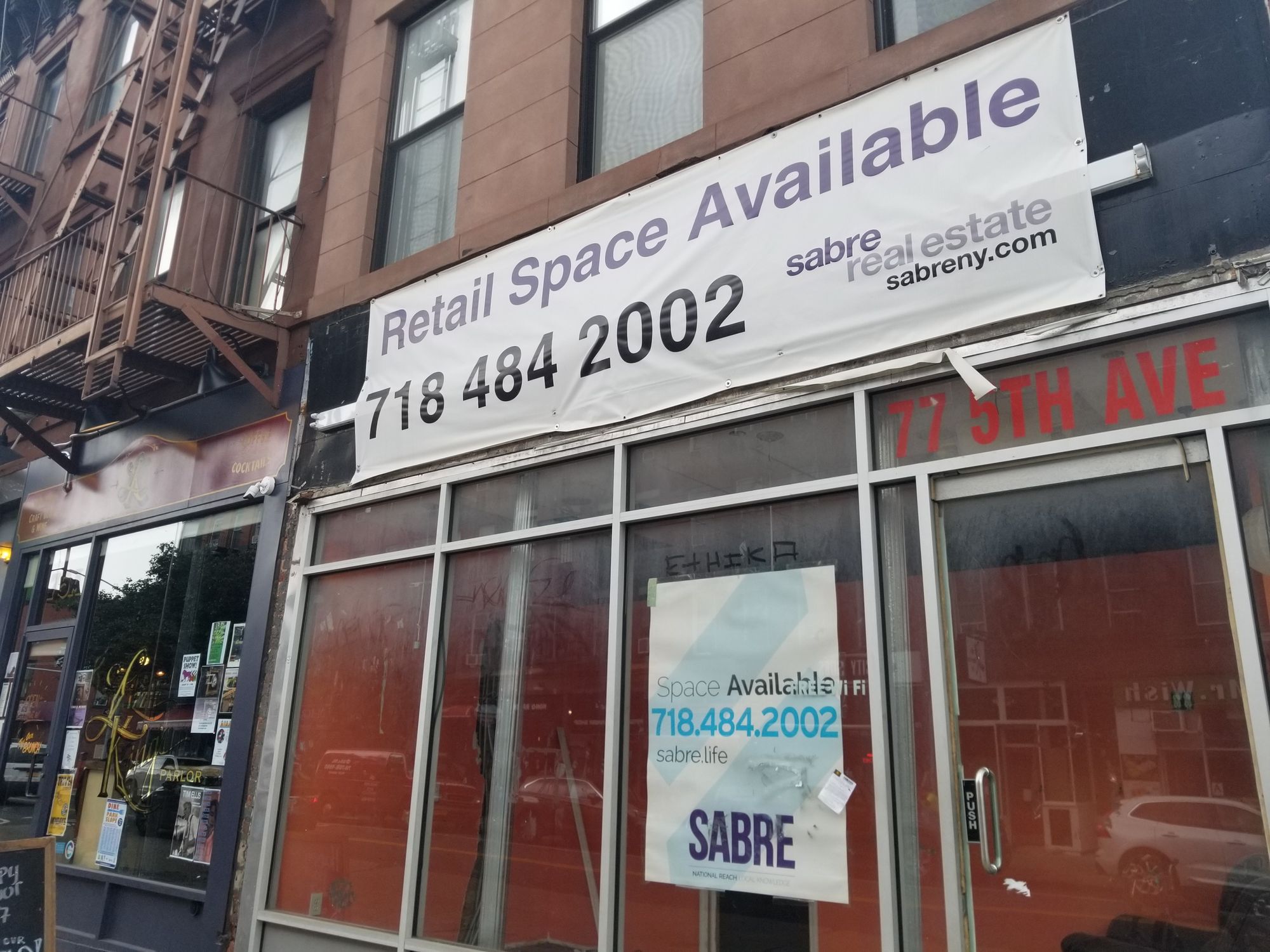 As the mayor pushes for a storefront vacancy tax, the NYC Department of City Planning (DCP) last week released "Assessing Storefront Vacancy in NYC," a report examining retail trends and storefront vacancies across the city "in the context of shifting technology, economic forces, and consumer preferences." The agency surveyed retail corridors in 24 neighborhoods across the five boroughs including seven areas in Brooklyn: Bed-Stuy, Brownsville, Cobble Hill, Coney Island, Fulton Mall, Park Slope, and Williamsburg.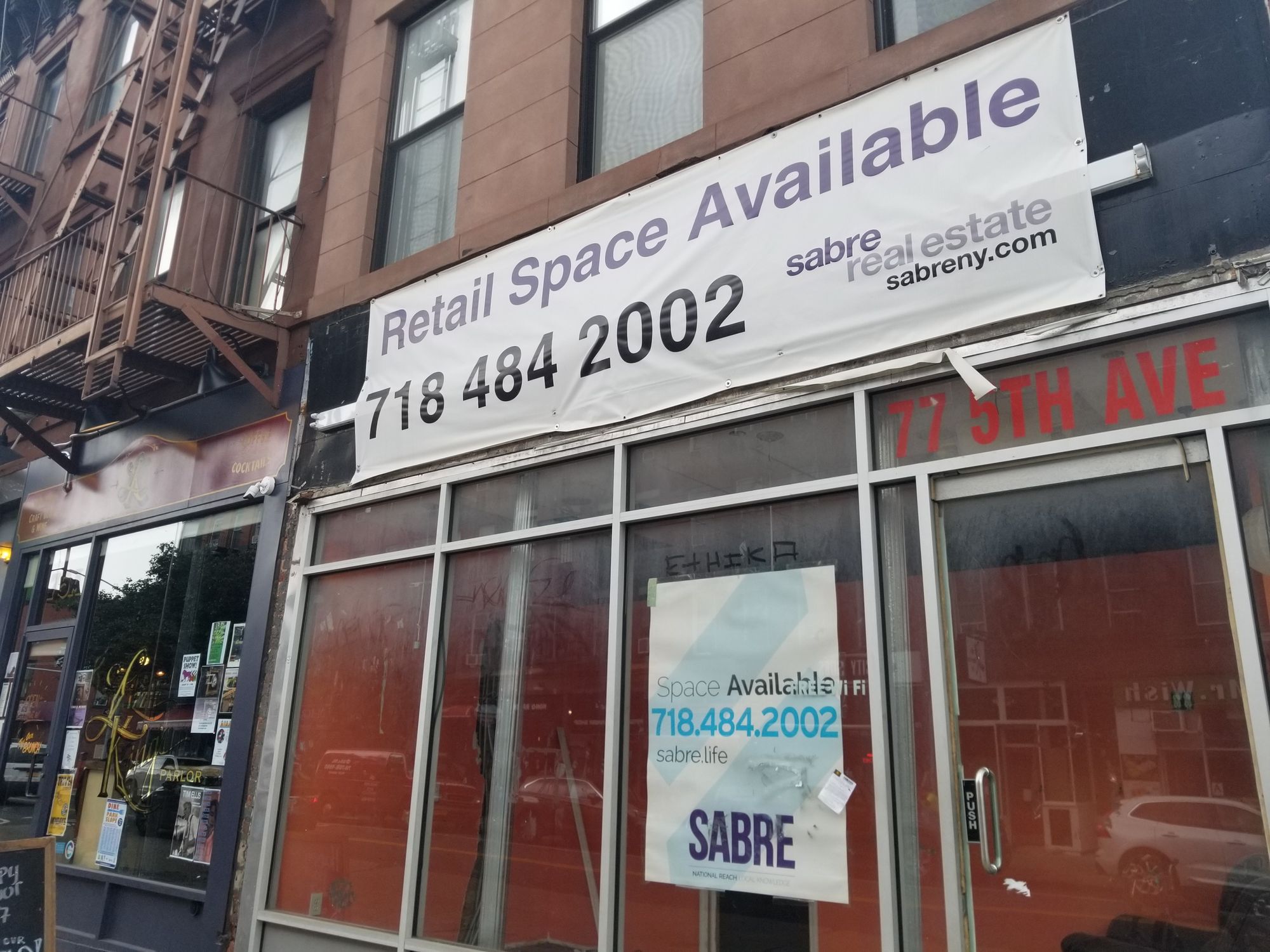 The study's three takeaways:
the retail industry is changing rapidly across New York City and the country;
vacancy rates are volatile, vary from neighborhood to neighborhood and street to street, and cannot be explained by any single factor;
vacancy is concentrated in certain neighborhoods and is influenced by local and citywide market forces and spending patterns.
DCP analyzed 10,000 storefronts across the two dozen study areas using Live XYZ, a database that maps ground-floor use in NYC. DCP also conducted field visits to confirm the data, studying trends from late 2017 through Fall 2018, with a focus on pedestrian shopping corridors—excluding shopping malls and "auto-oriented strips." DCP also used demographic, land use/real estate data, and input from local business associations.

The report explores changes in the retail industry locally and nationally, finding that both e-commerce spending and brick-and-mortar spending are increasing. DCP found that New Yorkers are increasingly shopping online for "Dry Goods" (clothing, books, electronics, furniture), whereas Food & Service (restaurants, bars, supermarkets), Local Services (salons, dry cleaners, banks), and New Retail Models (pop-up shops and bookstore cafes) are thriving in retail spaces across the city.
A high rate of empty storefronts is not a universal issue throughout NYC, according to the study, which notes that high vacancy rates are concentrated in certain neighborhoods. Vacancy rates range from 5.1% to 25.9% in the neighborhoods studied. According to DCP, a 5% to 10% vacancy rate is considered "healthy."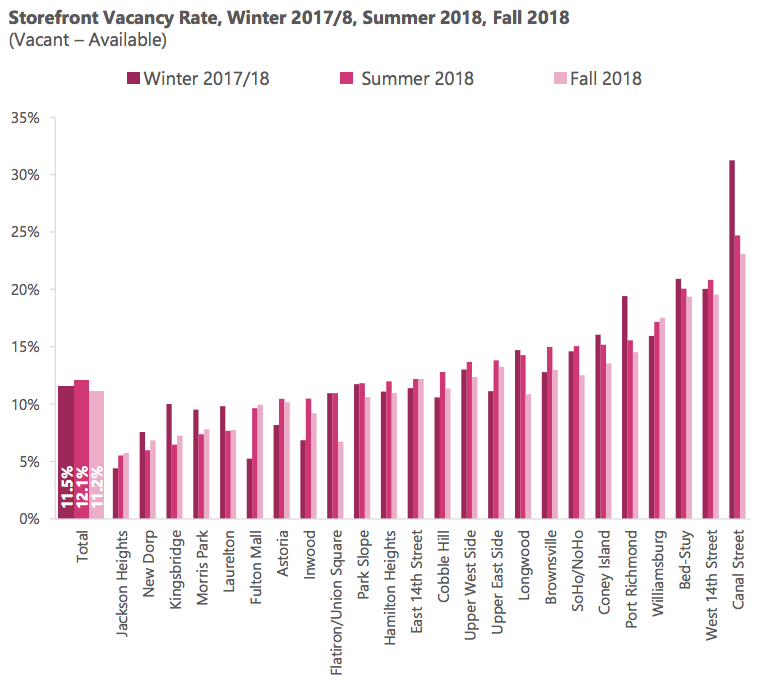 DCP found that the reasons for moderate-to-high vacancy rates vary for each area. While many business owners blame rising rents for vacant retail space, the study found additional factors including transit access, demographic shifts, local building stock, and small business challenges (e.g., taxes, complicated business and land-use regulations).
Along with the significant shift to e-commerce which has impacted "dry goods" sales, a significant amount of newly constructed retail space, as well as the creation of new local shopping destinations—such as City Point or the Williamsburg neighborhood—may increase competition among businesses and retail corridors.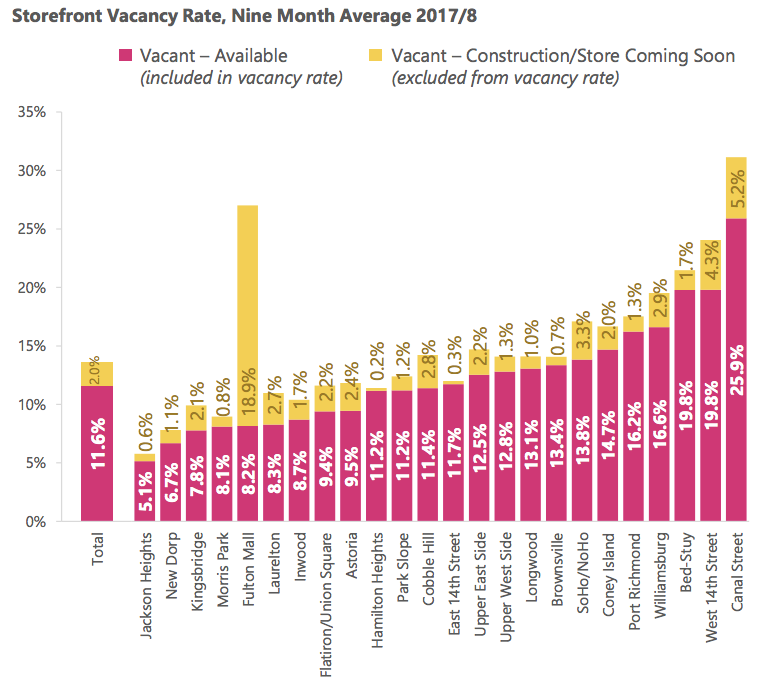 DCP separated the 24 neighborhood case studies into four categories based on common factors and vacancy conditions—"Hot Corridors" or "Underperforming Corridors" which have medium-to-high vacancy rates and "Regional Stable Corridors" or "Local Stable Corridors" which have low vacancy rates.
Of the seven Brooklyn neighborhoods studied, five—Bed-Stuy, Cobble Hill, Fulton Mall, Park Slope, and Williamsburg—fell under Hot Corridors while Brownsville and Coney Island were identified as Underperforming Corridors.
Hot Corridors (Medium/High Vacancy) include Bed-Stuy (Fulton Street) which has 19.8% vacancy; Cobble Hill (Court & Smith Streets) 11.4% vacancy; Fulton Mall (Fulton Street) 8.2% vacancy; Park Slope (5th & 7th Avenues) 11.2% vacancy; and Williamsburg (Bedford Avenue & Grand Street) 16.6% vacancy
Hot Corridors are established or emerging corridors where rents have increased notably in recent years.
Some property owners in these areas kept spaces vacant with hopes of later demanding higher rents or kept them vacant while waiting for rents to rise in rapidly developing areas, such as Downtown Brooklyn or Bed-Stuy.
High asking rents in these corridors are proving unattainable and a large supply of vacant property has increased competition for tenants. Many owners are now settling for lower rents and providing concessions to lure tenants (such as free rent, property improvements, or short-term leases with the option to renew).
After the Recession, more established retail corridors in Manhattan and Brooklyn were asking for higher rents, according to DCP. The agency notes that the rent bubble may have burst, as asking rents peaked then declined in the past few years. The report offers Smith Street in Cobble Hill as an example, with asking rents declining from a peak of $149 per square foot in 2017 to $83 per square foot in 2019.
Underperforming Corridors (Medium/High Vacancy) include Brownsville (Pitkin Avenue) which has 13.4% vacancy and Coney Island (Mermaid Avenue) which has 14.7% vacancy
These areas are characterized by historic disinvestment where storefronts may be difficult to rent due to "negative perceptions of the neighborhood."
These corridors face challenges due to a lack of anchor tenants to attract shoppers, a lack of public transit access, and/or nearby residents who drive to malls in other neighborhoods instead.
While Brownsville's 13.4% vacancy rate is almost equal to that of SoHo/NoHo's (13.8%), the study notes that soaring rents are the reason for higher vacancy in Soho/Noho while a weaker retail market and long-term disinvestment are the reasons behind empty spaces in Brownsville.
DCP notes that real estate brokers in Coney Island are optimistic that new residential development in the neighborhood will potentially attract new spending and help revitalize the area's retail corridors.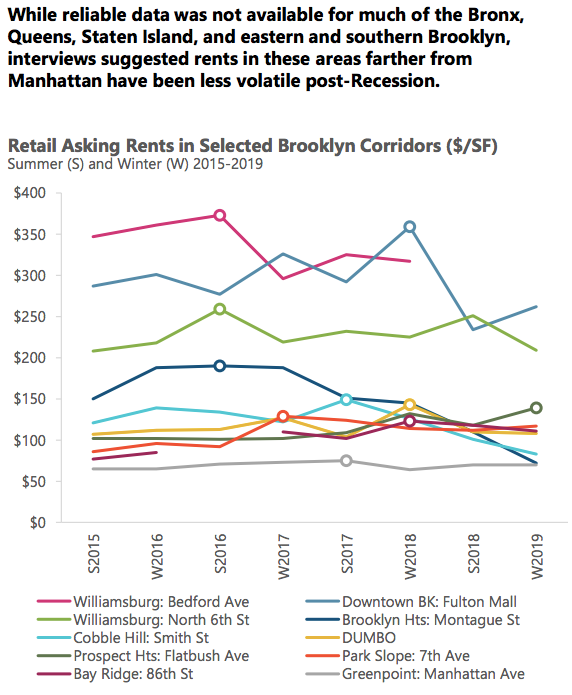 Earlier this year, Bklyner wrote about retail vacancies in Bay Ridge and Flatbush. While City Council Member Justin Brannan and Bay Ridge-based blogger Queen of the Click expressed concerns about the loss of several long-standing businesses at the end of 2018, others such as Amanda Zenteno, the Executive Director of the Bay Ridge 5th Ave Business Improvement District (BID), called reports about the area's vacant storefronts an "absolute myth."
The producers of the Radio Free Bay Ridge podcast conducted their own local study and found an overall 7.8 percent rate of closed businesses in all the sections of Bay Ridge, with 1.8 percent undergoing renovations.
Over in Flatbush, a walk along the Flatbush BID corridor in March uncovered 11.3 percent empty retail spaces. According to January 2019 numbers provided by the BID, the area saw 353 total businesses with 38 vacancies—a 10.7 percent vacancy rate, and in April local business owners said they'd noticed an increase in vacant spaces.
The Flatbush Avenue BID's Executive Director, Lauren Elvers Collins, told Bklyner earlier this year that she considers the vacant storefronts in her district one of her major challenges. She said a lack of good data prevents the BID from more effectively helping local businesses.
"In an ever-changing city where neighborhood shopping is an important facet of urban life, it's crucial that we put as much reliable data as possible into the hands of business owners, residents, policy makers and elected officials," DCP Director Marisa Lago said in a statement. "DCP's research shows that the reasons for storefront vacancies are complex and varied and that solutions must be nuanced and targeted – or we may do more harm than good. And, encouragingly, our research also reveals that many community shopping districts are thriving."
Click here to see DCP's full report, "Assessing Storefront Vacancy in NYC."