Vacancies High As Flatbush Avenue Navigates Changing Demographics
FLATBUSH – The wave of rapid development sweeping over Brooklyn is hitting the Flatbush Avenue Business Improvement District, but that does not make it immune to the issues facing other neighborhoods that we have covered before – vacant storefronts.
The strip, which runs from Parkside Avenue to Cortelyou Road, has been known for decades for its Caribbean food and groceries as well as its variety of clothing stores.
However, as the development of scores of new buildings approaches completion, the vacancies seem to only be going up along the avenue.
There is the recently renovated Kings Theater, which regularly fills its thousands of seats with patrons. Soon (though we have been saying that for a while) the hotel across from it should open – it could not look more finished.  It is supposed to have a restaurant set to open on the ground floor, reported in 2016 to be a new location for Sugarcane, a Caribbean spot located near Barclay's Center.
Just up the street at Flatbush and Caton Avenue is a big hole in the ground that used to be the Caton Market, where mostly Caribbean vendors sold their wares. The site is now the future home of the Caton Flats mixed-use development, which will include affordable housing, retail and a new space for the market on the bottom floor.  For the time being, the market has relocated to 2184 Clarendon Road.
The new office and retail building at the corner of Snyder and Flatbush is advertising its ground floor as the future home of Five Below – a rather recent but successful chain of discount stores that caters to tweens and young teens and where everything is $5 or less. Location next to Erasmus makes sense.
VACANT BUSINESSES
A Bklyner walk-through of Flatbush BID strip found 11.3 percent of storefronts were empty as of March 23. There were plenty of cellphone stores, a few storefront churches, though those are mostly concentrated south of Cortelyou. Almost everything could be had at a discount.
Staples closed on Flatbush at Beverley, but there are still plenty of chain stores – GAP Factory outlet store is just steps from Old Navy outlet, there's Cookies for all your school uniform and formal occasions (though not only).
So far it seems that some of the vacancies could also be caused by owners looking to either sell or develop their properties. The newcomers across from the Kings Theater include a Crunch Gym, a Taco Bell with booze, and a hotel. Those three displaced a number of smaller businesses that used to serve the street. Quite a few buildings are being redeveloped.
As the area becomes more affluent, the rents go up, the existing customer base of longtime businesses gets displaced, newcomers favor different stores, business suffers, storeowner moves on.
For a new business moving in to serve the new customer base, there may not be enough of the newcomers there to support a robust business.  So the area lingers, waiting for a critical mass of sorts.
The most recent numbers the BID provided, from January, included second-floor businesses as well as storefronts in their count.  They found 353 total businesses and 38 vacancies, for a 10.7 percent rate. That is twice the rate of what the bay Ridge BIDs report.
GENTRIFICATION
Local business owners and operators say the rate of vacant businesses has gone up recently.
"It is more than it has been," said Barrington, owner of Barry's Beauty Bar at 859 Flatbush, who has been on the street for 8 years.
Barrington cited the shifting demographics due to gentrification as the reason for the closed stores.
"There's more closed stores but there's also a lot of newly opened stores, that are a different kind of businesses that cater to the neighborhood," he said.
"I have been seeing more vacant stores," said Nick Shehu, who helps run Angelo's Pizza near the corner of Flatbush and Cortelyou Road, who said he has been working on Flatbush for ten years.
"It's hard to pay rent, the people, they don't have much money around the area.  People are just surviving around here, and stores have been going out of business."
LACK OF DATA
It is difficult to tell whether Flatbush Avenue has an unusual level of vacant businesses. The most recent Trends Report from Small Business Services, for the fiscal year 2017, placed the average vacancy rate for BIDs city-wide at 5.6%. The 2018 report comes out this spring.  These numbers are self-reported and cover only the BIDs.
Flatbush Avenue BID Executive Director Lauren Elvers Collins told Bklyner she considers the vacant stores one of her major challenges.
"I'd like to have most of those filled," she said. "Because it also impacts the stores on the same block. It's a little bit less foot traffic, every store that's vacant."
Collins said the BID does not endorse any of the potential policy measures to combat vacant businesses, like the vacancy tax on landlords endorsed by Mayor Bill de Blasio or the long-in-the-works Small Business Jobs Protection Act, intended to give small business owners leverage in negotiating rent with landlords. (BIDs include property owners as well as business owners).
"We can do more to strengthen the businesses, so that's really more what we're geared towards doing," she said. "And we have more resources available there."
Collins said a lack of good data is a major obstacle towards more effectively helping businesses, and that the BID would like to focus on improving that.
Activists see the vacant businesses and even the BIDs themselves as part of a wave of gentrification intended to push out residents of color who have called Flatbush home for decades.
"Even when one luxury building goes up, all of the smaller businesses around it start losing their leases," said Imani Henry, the founder and lead organizer of Equality for Flatbush, an anti-gentrification group.
Henry pointed to the struggle surrounding longtime local business Errol's Bakery soon after the Parkline complex opened just north of the Flatbush Avenue BID.
Parkline is home to Greenlight Bookstore, a recent addition to the strip. Within a few blocks, there are other businesses catering to those with a bit more disposable income, mostly focusing on food and gifts.
Back in the Flatbush Avenue BID, Equality for Flatbush was also involved in organizing street vendors who accused police and officials of racial and economic harassment along the strip.
FOOD & SHOPPING
Among the Flatbush highlights are Caribbean food, a longtime neighborhood staple.
There are grocery stores that cater to the Caribbean chef,  and Collins pointed out Star Best Farm Market and 2 Smart in particular.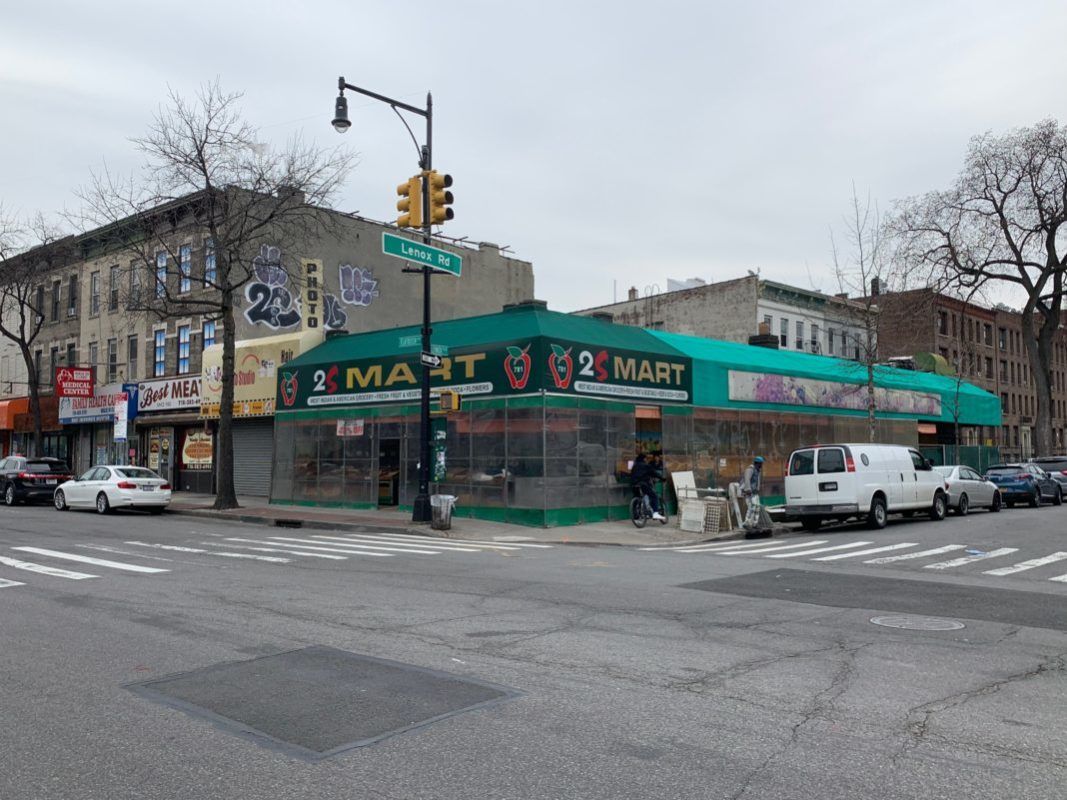 Those looking for a bite to eat, should check out fast-casual spots such as Island Express or Caribbean Social for a more upscale experience.
The other major pull is clothes shopping. The BID features everything from a Gap Factory Store and an Old Navy to Cookie's. You can get hats, and formal wear, for both men and women. There are a number of shoe stores, some specializing in streetwear, others in more formal attire.
No matter your age, shape or size of your wallet, you are likely to find a bargain on Flatbush Avenue that may be hard to pass by. It is busy on weekend mornings, and for many folks places like Cookie's are legendary and a destination that's worth traveling for.