Crash On Ave J Fuels The Fire Over Ocean Parkway Speed Limits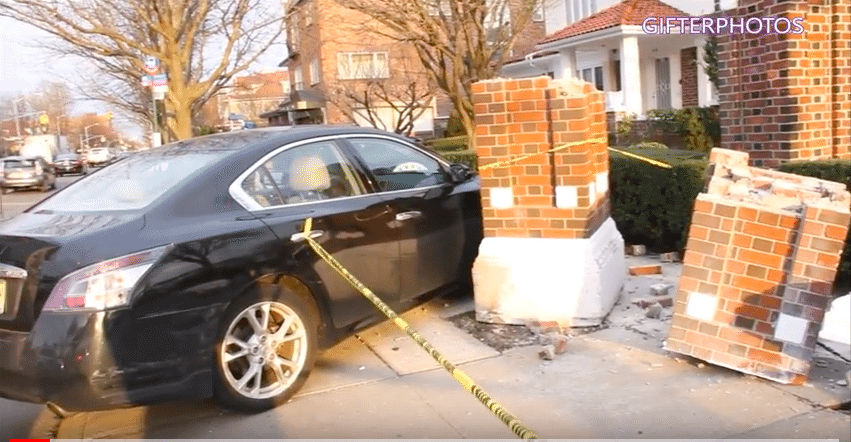 While reporting on the 'raise the speed limit on Ocean Parkway' controversy, a News 12 reporter saw a crash in broad daylight that left a car smashed at Avenue J at Ocean Parkway on Friday, March 24.
And according to a witness, one of the two cars involved was most likely speeding, "based on skid marks, and damage to the [50-year-old] cement bricks that were hit many times, but never came down until Friday," said photojournalist who goes by Gifter Photos.
Gifter also captured video testimony from the hit driver, who says her black car with Jersey plates spun out of control after being rear-ended on the service road near Avenue J.
The driver refused to tell Gifter who was at fault, but he said witnesses saw the black car speeding up to beat the light, not realizing there was a new light at the service road. "It's a miracle that nobody was at that bus stop or someone would have died," said Gifter.
Since there were no reported injuries in Friday's crash and thus no criminal investigation, police sources could not confirm the details of the crash.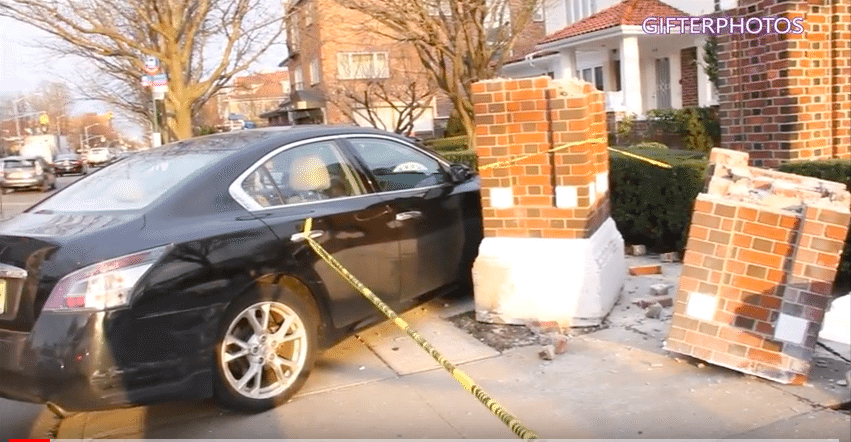 Ocean Parkway and Avenue J has been a notably chaotic and dangerous intersection for years. Since 2009, there have been 147 traffic related injuries at that intersection, with one fatality in 2013, according to Vision Zero data.
But recently, it's also become a political battleground for local pols and news outlets documenting severe traffic and incensed drivers following the Mayor's Vision Zero safety initiative and Governor Cuomo's Ocean Parkway Safety Improvement project.
The service road light is three months old, as part of the controversial right-turn ban that upped the stakes in the traffic safety debate. Though the project was intended to make the road crossing safer for pedestrians, it also resulted in an uptick in congestion and angry drivers navigating the new restrictions.
City Council Member Brad Lander took Friday's crash as evidence that the controversial Senate bill (and its Assembly counterpart) to raise the speed on Ocean Parkway is dangerous and misguided.
"You'll never guess what happened while Brooklyn News 12 was out reporting a story on the effort by State Senator Simcha Felder…to overturn NYC's 25 MPH speed limit on Ocean Parkway. Well, ok, maybe you will," writes Lander on Facebook.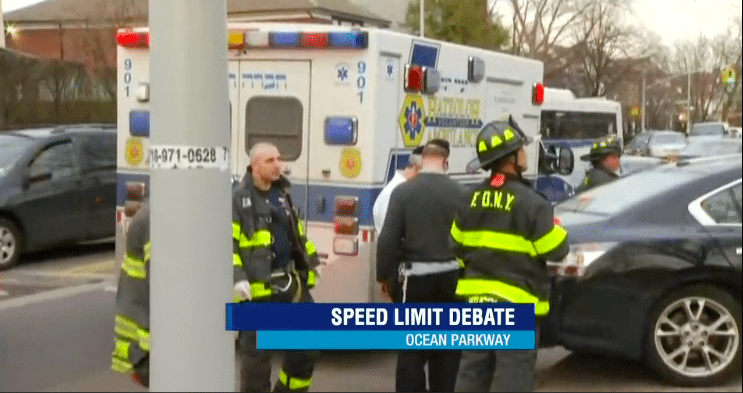 "Anyone pushing for higher speed limit on Ocean Pkwy is out of their damn mind," Gifter writes.
When one commenter on Lander's thread asked if the car that caused the crash was speeding at the time, he responded, "I don't know. But there's overwhelming evidence that crashes at lower speeds save lives." For example, this AAA study which cites that a person is 74 percent more likely to be killed if struck by a vehicle traveling 30mph as opposed to 25mph.
But without being able to confirm whether or not the driver was speeding, other commenters wondered where the oversight lines should be drawn. "If [the driver responsible for the crash] were going the speed limit, does that mean now we have to reduce the speed limit?" writes Brooklyn Tea Party president Glenn Nocera on Facebook.
Those who supported a lower speed limit, however, pointed to the danger they feel crossing the six-lane parkway and the speeding-related crashes they've witnessed over the years.
But speeding isn't the only factor lawmakers consider when it comes to road safety. High congestion on Ocean Parkway, which some pols claim has increased since Vision Zero, has led to a drop in quality-of-life for residents living near the road.
Senator Simcha Felder, who sponsored the Senate bill to raise the speed limit, told BKLYNER that he isn't against safety but he believes that Vision Zero, the Mayor's initiative to cut pedestrian deaths by 50 percent, just isn't working.
"The traffic congestion since the 'no turn' rule is just nuts," he said last week in a phone interview with this publication. "And local residents have since complained of the increase in drivers on local roads as they attempt to avoid Ocean Parkway."
[We reached out to Council Members Brad Lander and David Greenfield for comment, and will update as we hear back]