Community Board 2 Approves Street Co-Naming To Honor Notorious B.I.G.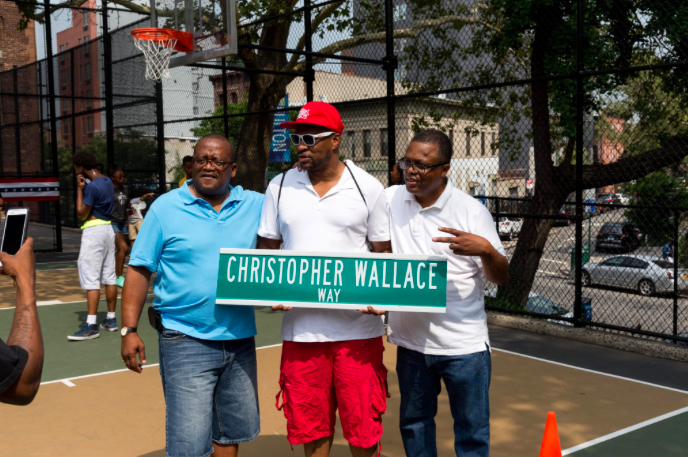 CLINTON HILL – At a general board meeting Wednesday evening, November 14, Brooklyn Community Board 2 voted to approve co-naming St. James Place between Gates Avenue and Fulton Street "Christopher Wallace Way" in honor of the late rapper Notorious B.I.G. The board voted 33 in favor, one opposed, and four abstentions.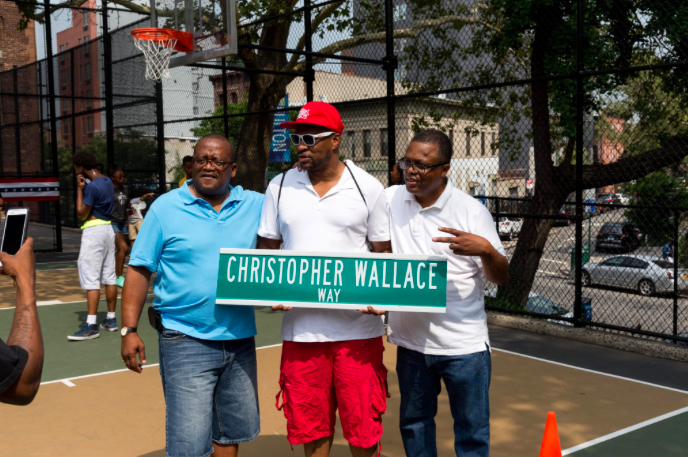 Last month, the CB2 Transportation & Public Safety Committee approved a second proposal to co-name the Clinton Hill block after Biggie Smalls. Back in 2013, Brooklyn-based artist LeRoy McCarthy first presented the community board with letters from local organizations as well as comments from around the world culled from a Change.org petition supporting the street co-naming. At the time, some board members were opposed to the idea, citing Biggie's profanity-filled, misogynistic, and violence-laden lyrics as objectionable, Transportation & Public Safety Committee Chair Juliet Cullen-Cheung explained at Wednesday's meeting. The board "did not take a position on the proposed co-naming" at that time, according to the board's District Manager Robert Perris.
Council Member Laurie Cumbo and Congressman Hakeem Jeffries support the co-naming, Cullen-Cheung noted last night, and Supreme Court Justice Ruth Bader Ginsburg approves of her nickname "Notorious R.B.G.," the Committee Chair added.
Christopher Wallace, who performed as The Notorious B.I.G., grew up in Clinton Hill and is considered one of the most influential rappers of all time. He was shot and killed in 1997 at age 24.
Over the years, murals have been created honoring the rap star, including one at 991 Fulton Street outside the Key Food where Wallace worked as a teen (when it was a Met Food supermarket). To commemorate the 20th anniversary of Biggie's death in 2017, the Fulton Street Key Food released limited edition shopping bags featuring an image of the rapper. That summer, the renovated basketball courts at Clinton Hill's Crispus Attucks Playground were christened the "Christopher 'Biggie' Wallace Courts." The Dream BIG Youth Basketball Tournament, which honors the rapper, takes place at the courts every August.
Following Community Board 2's approval, Council Member Cumbo's office will submit the co-naming proposal to the City Council for a vote. If the City Council approves, the Mayor will sign off on the proposal and NYC Department of Transportation will install the sign reading, "Christopher Wallace Way."
[UPDATED: Thursday, November 15 at 5:30pm] A spokesperson from Council Member Cumbo's office said that the co-naming proposal has been submitted to the New York City Council Committee on Parks and Recreation where it will be reviewed in December. The full City Council will then vote on the proposal, likely next month as well.