Big Respect For The Artists Who Created New Artwork In Tribute Of Clinton Hill Son Biggie Smalls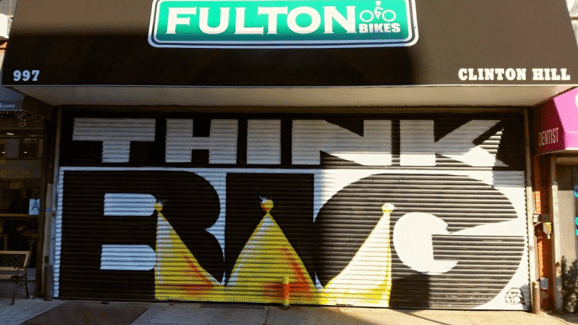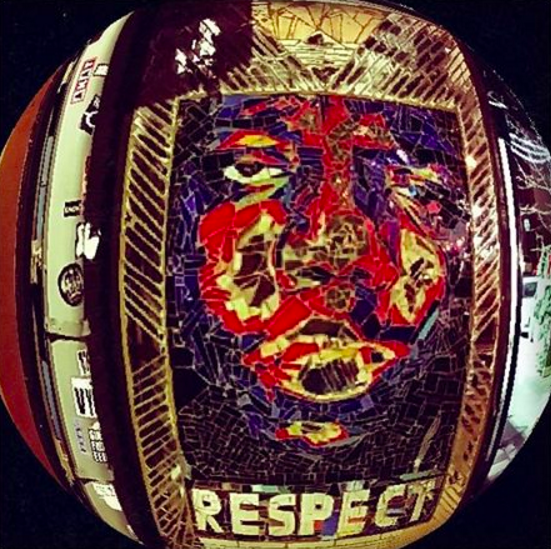 Two new public works of art — one in paint on metal, one a mosaic of glass — have gone up on Fulton Street, between St. James Place and Cambridge Place in Clinton Hill, in tribute to one of the neighborhood's most famous sons, Christopher Wallace, aka Biggie Smalls or Notorious B.I.G.
The first, a mural of the words "THINK BIG" with a golden crown, was painted on the metal closing gate of Fulton Bikes (997 Fulton Street). Artist Vince Ballentine spent several mornings last week working on the mural before the store opened, first sketching the outline and then painting it in.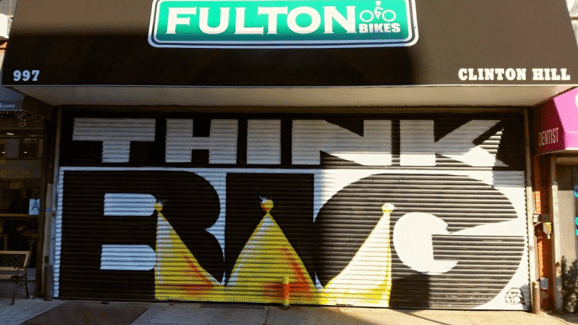 The second, a mosaic of pieces of blue, red, yellow, black, and silver glass making up Biggie's face, with the word "RESPECT" in white glass beneath, was conceived of and created by artist Carlos Pinto on the St. James Place side of Key Food (991 Fulton Street) — a neighborhood stalwart that has served the community for decades, including when Biggie was a child. The young Christopher Wallace once worked as a bag boy at the store.
"He was a hip hop icon and from the neighborhood. His music is timeless. Why wouldn't you want to support him," said Key Food (formerly Met Food) co-owner and manager Rocky Widdi. "Yes, he was murdered tragically, but his music is beautiful and gives hope to kids to take their talent to the next level. We grew up in this neighborhood together and I still see his group shopping in the store."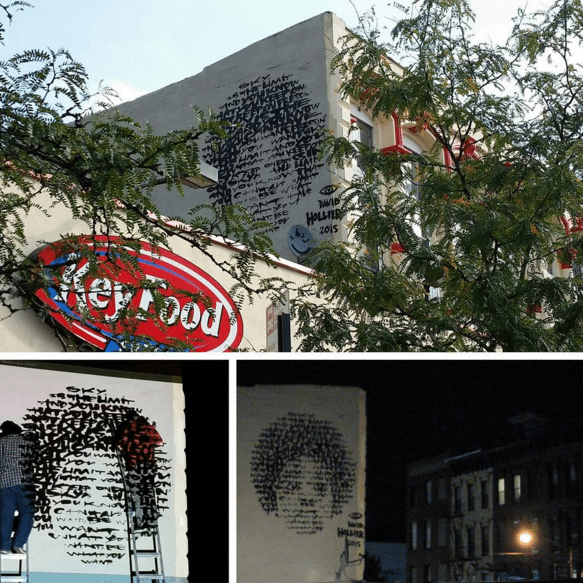 Of the art, Widdi told us that "customers love it. The artists are amazing and one of a kind."
Widdi is referring to both Pinto and David Hollier, who painted a mural earlier this year of a child version of Biggie, also on the side of Key Food, above where Pinto's mosaic now sits.
An additional work of art, by Danielle Mastrion, is slated to go up in the next few months.
All of this is part of an ongoing effort by neighbor Leroy McCarthy to pay tribute to Wallace through art and getting the corner at St. James Place co-named in the late musician's honor, as Christopher Wallace Way. Neighbors like the Widdis "100 percent support the street co-naming effort" and a petition to get the co-naming presented to the City Council has received over 1,000 signatures.
The issue of street co-namings have been a point of controversy here in Clinton Hill of late, with an effort to co-name the stretch of Putnam Avenue between Grand Avenue and Downing Street in honor of the late Cecil B. Collymore, a prominent local businessman who invested in the neighborhood back when it was not the bustling commercial strip is now is, stalling in Community Board 2.