Brooklyn's Best Vegan Food: Good For You And The Planet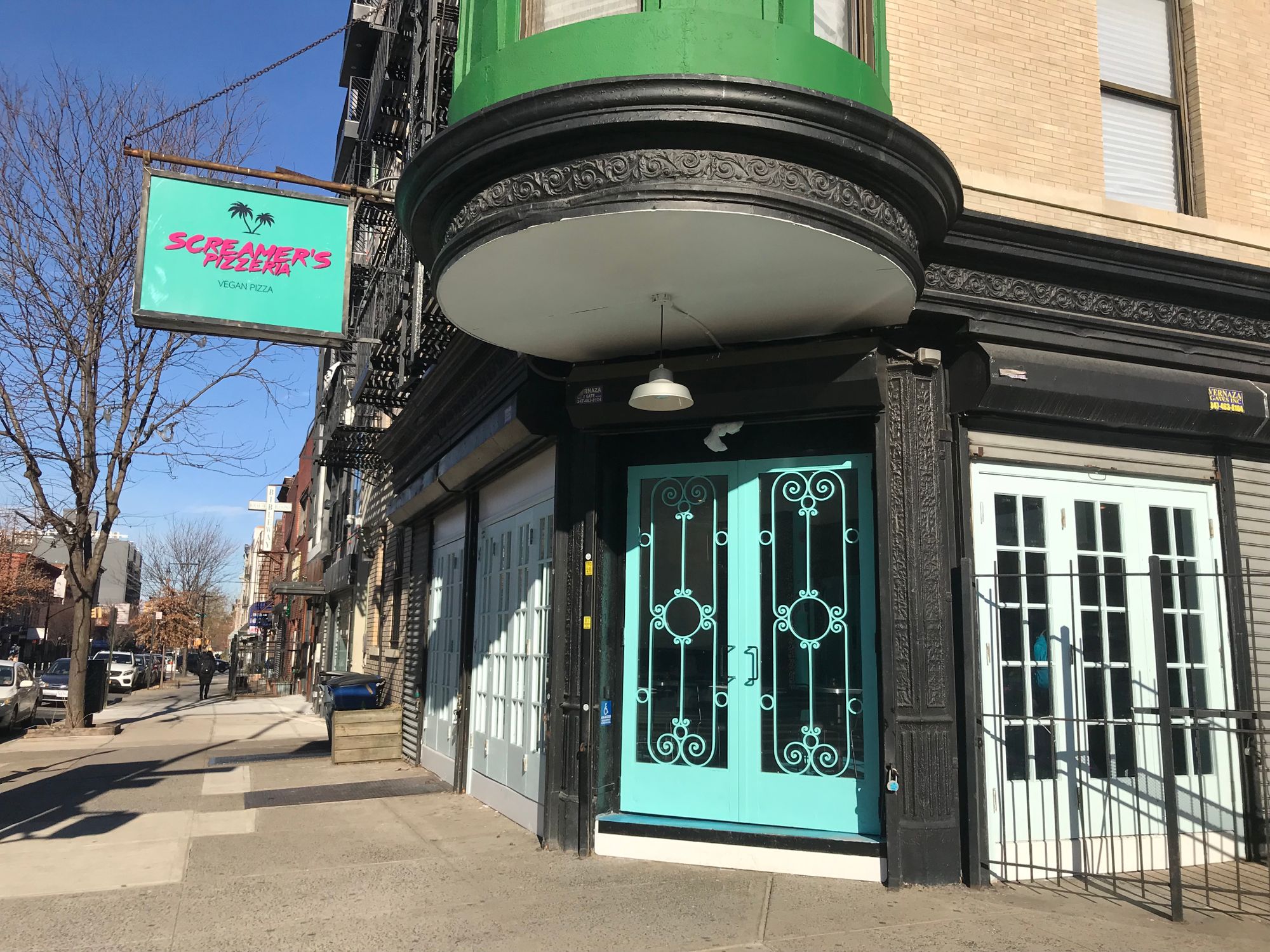 Last Friday, kids all over Brooklyn skipped school and striked for our planet's future, with many more gathering around the world. All of this support for changes in lifestyle, sustainability, and science got us thinking about ways we can help out.
Vegan food leaves a much smaller environmental footprint than meat products.  Luckily for us, this is Brooklyn, and eating vegan doesn't have to mean eating plain rice and dry toast. We have a whole plethora of delicious food to choose from- food that both we and the planet can feel good about.
VSPOT
156 5th Avenue, between Degraw and Douglass Streets.
This Park Slope classic serves up Latin inspired vegan food. They've been in the game since 2006, and have become a favorite with neighborhood locals. From one look at the menu, you'd never know you were choosing meatless options.
They've got a Philly Hero (seitan, mushrooms, green peppers, onions, vegan cheeses), or the VSpot Burrito (carne molida, which is soy chik'n, carribean brown rice, guac, "cheddar", black beans, and "sour cream"). For brunch, try the NYC Breakfast, complete with tofu scramble, vegan sausage, toast with vegan butter, and home fries. Add one of their bloody marys and you're good to go. The inside is pretty casual, with metal chairs, a few booths, and some bar seating.
Hartbreakers
820 Hart Street, between Irving and Knickerbocker Avenues.
This 70s inspired spot, located on Hart Street (get it?), serves primarily sandwiches, as well as some salads and sides. We're partial to the Picnic Basket, with fried Chik'n, seitan bacon, cheddar, slaw, pickled red onion, and sauce. If you take one look at it, you'd swear it was the Meat Hook's special of the weekend, but Hartbreakers is 100% vegan. Nearly everything they serve (minus buns and vegan cheese) is made in house. This is from the same team who brought you Screamers (more about them later), and Champs Diner, so you can enter with high hopes.
Modern Love
317 Union Avenue, between Maujer and Ten Eyck Streets.
Modern Love, "swanky vegan comfort food" serves up their dishes in Williamsburg. The plates are a bit more elevated here, and definitely will be perfect for your 'gram. Try the hen of the woods piccata, with breaded maitake mushrooms, whipped potatoes, lima beans, and white wine sauce. They've also got a nice cocktail selection to go with your meal.  No, you're drooling! We love this place for the huge dessert menu, including cashew ice cream and cherry cheesecake. No more compromising your sweet tooth!
1084 Flushing Avenue, between Melrose and Thames Streets.
Ethiopian food encompasses all of the things we love about eating- using your hands, lots of options, and beautiful colors. At Bunna, everything on the menu is vegan or plant-based.
Cozy up in the lowly-lit space with their Feast for Two- nine dishes served on the injera, including enguday tibs (sauteed crimini mushrooms), shiro (yellow split peas mashed with tomatoes), and misir wot (spicy red lentils). We'd recommend pairing it with one of their many cocktails- the shair correnti (an Ethiopian toddy) is a favorite of ours, or one of their non-alcoholic drinks like the layered mago, avocado, and papaya juice beauty called espris.
Screamers
620 Manhattan Avenue, between Nassau and Driggs Avenues.
For many people (see: us), pizza is the main thing holding us back from being vegan. We just can't give it up- the cheese, the ease of eating it. Of course, with Screamers, no one has an excuse.
This all-vegan NY style pie shop has locations in both Crown Heights and Greenpoint (slightly different menus at both), with over 15 pies to choose from. You can also build your own, if you aren't feeling any of their choices (which we highly doubt will be the case). To top off the experience, they also have a fried food section with seitan wings, pastas, calzones, and salads. That sound you hear is the growling of our stomachs.
Riverdel
820 Washington Avenue, between Lincoln and St. Johns Places.
Vegan cheese has its skeptics. To them, we say make your way to Riverdel. This shop serves and sells a wide variety of gourmet artisan vegan cheeses and both breakfast and lunch sandwiches. Try the tasting flight with three kinds of cheese, or the all-vegan charcuterie plate – three kinds of cheese and two types of meat, and accouterments. All vegan, of course.
The shop sources cheese from all over the country, but also makes some of it in-house. The move here is to take one of their picnic baskets to the directly adjacent Prospect Park, sit in the sun, and think about the good you're doing for the earth.