Students Strike For Climate In Coffey Park
RED HOOK – It's an unseasonably warm September day, and things are heating up in Red Hook. In Coffey Park, nearly 400 students have cut class to demand action on climate change, joining millions of other students walking out of schools worldwide.
Three days ahead of the United Nations Climate Summit in NYC, millions from more than 150 countries are taking part in various Climate Strikes on Friday, September 20, to demand that leaders take action against the global climate crisis.
As the band, Control The Sound, played and more students filed in, it was clear that though the cause was dark, the mood here was bright in Red Hook. Kids sang, played, picnicked, showed each other signs, and of course, dropped everything and danced whenever a Lil Nas X song blasted over the PA system.
Maya Wellington, 13, a student at the International School of Brooklyn, feels this is the most important issue of the day. "I'm here today to have a future." Her classmate, Ariane Charles, 12, said "I hope that the government realizes they're not focusing on what needs to be done, that they're not doing enough to help."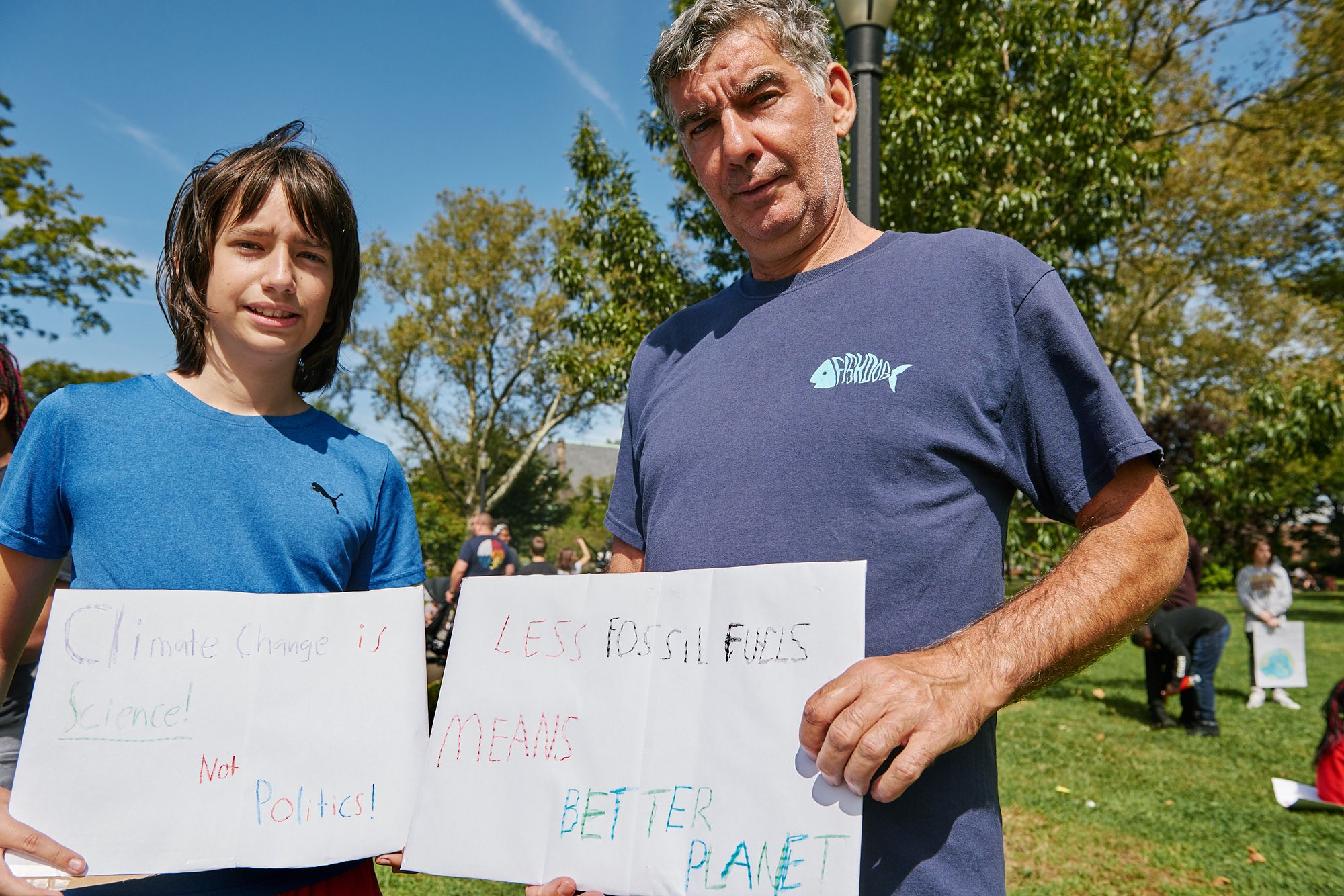 David Clune, 12, a student at JHS 259 in Bay Ridge, biked to Red Hook on Friday with his father, Jon. The middle-schooler explained that climate change is the most important issue because "if we don't fix it soon, it could be irreversible. We rely on the environment and this earth to live."
Willa Nyhan, 13, walked out of her school, MS 442, because "we're here for a lot more years," a sentiment shared by many other striking students, but Nyhan took it a step further. "We also need to make sure there's a future for the kids who aren't around yet."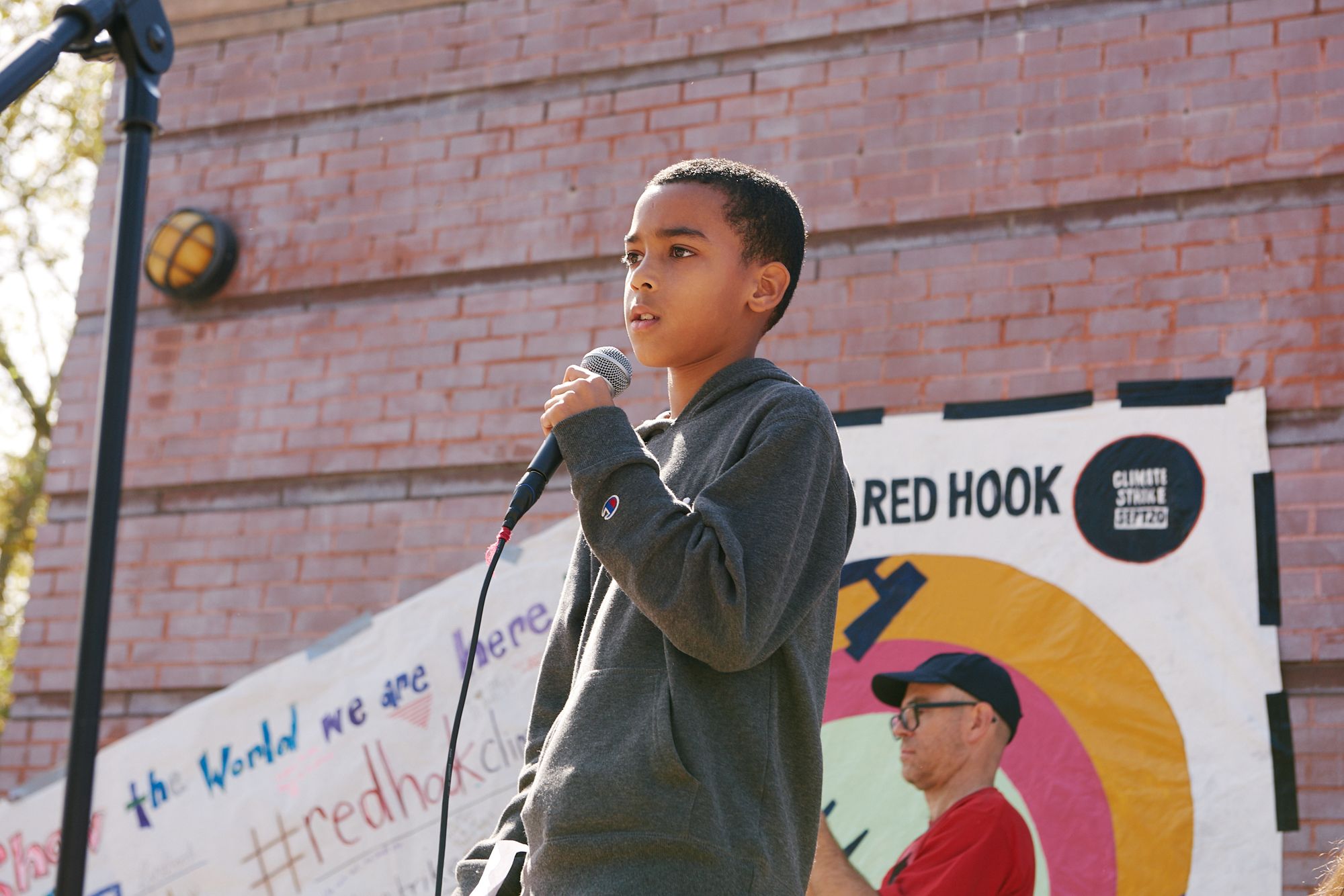 Cy Schloss and Jaeiel Almonte, both 10 and from PS 15, took to the stage to address the crowd. Almonte read a prepared statement, wondering what his future children will say when they look outside. Almonte speculated that they would ask him, "How beautiful did it look?"
Priscilla Figueroa, 45, principal of PS 376, thought that the strike was a perfect complement to her school's climate change curriculum. "We had another group march across Brooklyn Bridge this morning with Eric Adams," she said. Beaming with pride, she turned her phone to display an image of a student on the bridge. "I want to get this one blown up."
Karen Blondel, an environmental organizer with the Fifth Avenue Committee and one of the emcee's of the rally, thinks Red Hook is the perfect location for the strikers to gather. "We had two feet of water where you all are standing right now," she told the crowd in Coffey Park from a stage, referring to the floods of Superstorm Sandy in 2012—a time when many in attendance were, at most, toddlers.
Blondel then implored the students to join the rest of the city, as well as Greta Thunberg, the 16-year-old Swedish climate activist, at Foley Square and announced she would be handing out free ferry tickets.
Friday's Youth Climate Strike in Coffey Park was organized by Resilient Red Hook. Prior to a group photo near the close of the rally, the crowd got together to sing This Land is Your Land, not that these students needed reminding.