Brooklyn Teen Republican Club Hosts Debate For GOP City Council Candidates
The 2017 race to succeed term-limited City Councilman Vincent Gentile — who has represented Bay Ridge, Dyker Heights, Bath Beach and Bensonhurst for more than 13 years — is already gaining momentum.
Neighbors packed into the Bay Ridge Manor last Thursday night for the first Republican City Council debate, organized by Brooklyn GOP Executive Chairman Ted Ghorra, Vice Chairman Brian Doherty, and the Brooklyn Teen Republican Club.
"I started my club for events like this, this is a prime example of Democracy," said teen club president Batya Goldberg.
Candidates Bob Capano, Liam McCabe, and John Quaglione are the Republicans running for the seat in the 43rd Council District. The Democrats running in the primary on September 12 are Justin Brannan, Kevin Peter Carroll, Rev. Khader El-Yateem, and Nancy Tong.
Each candidate got the chance to make opening and closing statements and answer questions posed by moderator John Alexander, senior editor at the Brooklyn Daily Eagle. However, rebuttal was discouraged. "Any yelling out or interfering in any way will not be tolerated."
Liam McCabe, staffer to Republican Congressman Daniel Donovan and founder of the Brooklyn South Conservative Club, is a long-time advocate for addressing homelessness. "The middle class is getting squeezed out of NYC. We are under siege by a far left progressive city council and a mayor that is out of touch," he said in his opening statement.
"Just a few weeks ago there was a town hall held in this room by the far left, billed as an open town hall. I bet many of you weren't here, except for the ones that threw it," he added.
John Quaglione, an aide to Senator Marty Golden, ran a fierce challenge for Gentile's seat in 2013. Quaglione has focused his platform on what he describes as declining quality of life in the neighborhood including graffiti, sanitation issues, homelessness, and poorly maintained parks. At the debate, Quaglione was fiercely critical of City Council Speaker Melissa Mark-Viverito, who has blocked him on twitter, he said proudly. "She has been a disgrace and I'm glad she's term limited."
Bob Capano, considered the most far right of the three potential GOP candidates slammed "crazy" spending initiatives like Citibike expansions "we have enough bike docking stations taking up valuable parking spaces. We don't need them in Bay Ridge, Bath Beach, Dyker Heights or Bensonhurst", and the plastic bag tax, "these liberals in the city council want to tax everything that moves, including plastic bags."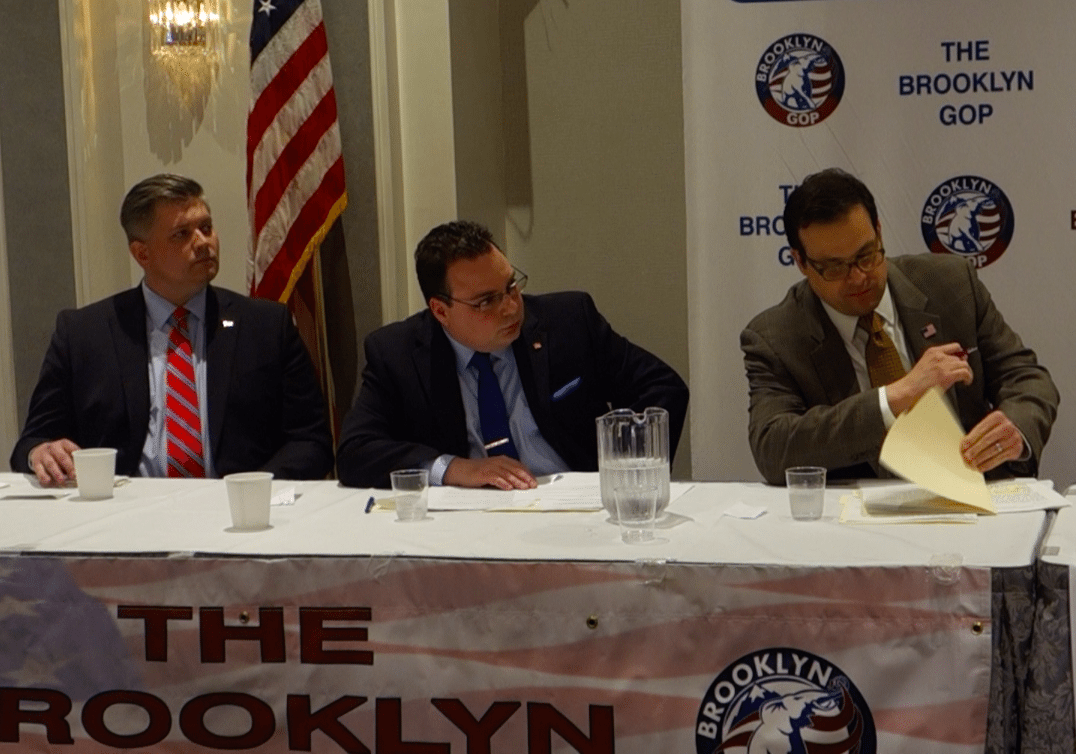 Each candidate touted their diverse histories and qualifications to run in the city council race for District 43 and raced to criticize Mayor Bill de Blasio and his increased city budget.
Quaglione called de Blasio's budget a "runaway train" at $15 billion more than former Mayor Michael Bloomberg. "We are going into the reserves, and we are headed into a fiscal crisis," he said.
Illegal immigration was also a hot topic of the evening, an issue that candidates say bleeds into illegal home conversions and the political divisions within the neighborhood. "Illegal immigration hurts immigrants," said McCabe. Each candidate vowed to cooperate with the feds pursuing illegal immigrants.
"My daughter got booed in kindergarten for raising her hand when teachers asked whose parents are voting for Trump," said Quaglione, discussing the "hatred that's been sparked by this debate over immigration." He discussed waves of immigrants pursuing the American Dream, "to invest in the country and take ownership and succeed." But he wants to focus on strengthening the legal immigration process. "You don't come here to get an opportunity to break laws, get taxpayer money for free college, free social services, and free bail money," he said.
"We have to be honest, the illegal home conversion issue has to do with illegal immigration," said Capano. "It needs to end. We cannot take the additional pressures on our sewers, schools, and police."
In terms of combating the opioid crisis, the candidates supported community support groups over clinics. "Giving them a clinic where they can take drugs with taxpayer money is the wrong approach," said Quaglione, who went on to say, "Marijuana is the biggest gateway drug to heroin and to opioid painkillers that's why this epidemic has blossomed."
"The answer isn't to make life easier for those who are addicted," said Capano. "Facilities where addicts can go and legally shoot up sentence them to a lifetime of death. We have to be compassionate but smart about it."
As for their Councilman Vincent Gentile, McCabe called him "a photo-op councilman" and Capano criticized him for not doing enough to oppose de Blasio and "the far-left city council."
"I don't care if I'm the only one, I'll stand up to each and every one of them, me versus the world," McCabe said. He also proposed initiating a conversation with democrats over lowering housing costs. "One side wants to talk about lowering property taxes, the other wants to talk about freezing rents — maybe we have to talk about combining those," he said. "We have to think outside the box"
Quaglione deferred comparison to the current councilman, and instead shifted to his top priorities, which included increase cops and eyes on the street, utilizing home security cameras to help catch criminals.
Mccabe and Capano expressed their support for charter schools. "According to recent statistics, public school violence is up," said Capano. "If public schools can't cut it, you should give parents the option to send kids to better schools. Let competition rule the day in schools, just like in business."
Quaglione, a product of public school, private and charter school, praised the district's schools and denounced co-location of charter schools.
Learn more about candidates Liam McCabe, Bob Capano, and John Quaglione, and check out video footage from the debate here.
And stay tuned for more coverage of the Democratic candidates for the 43rd City Council District.
Additional reporting by Liena Zagare