City Council Votes To Combat Illegal Home Conversions Plaguing Southern Brooklyn
Today, City Council unanimously passed a bill to enforce fines on landlords that illegally subdivide homes to create "modern tenement housing", an issue that has led to severe overcrowding and deaths in southern Brooklyn.
The bill, Intro 1218 proposed by City Councilmember Vincent Gentile, targets landlords of homes classified as "aggravated illegal conversions," slapping a $15,000 violation per three or more units above legally allowed amount. If unpaid, the fine would be subject to a lien sale on the property.
The legislation also expands the authority of the New York City Department of Buildings (DOB) and the New York City Environmental Control Board (ECB) to inspect properties and impose penalties.
Gentile, representing Bay Ridge, Dyker Heights, Bath Beach, and Bensonhurst, was joined today by Council Members Barry S. Grodenchik and Jumaane Williams, representatives from Boro President Eric Adam's office, and dozens of civic groups and housing advocates who spent years rallying around this issue. The bill was supported by 23 City Council members, said Gentile on a sunny Wednesday at the steps of City Hall. A few hours later, the bill passed with a 49-0 vote.
"These strong restrictions and penalties will force egregious property owners to comply with New York City's building code," said Gentile. "Substandard housing is not affordable housing."
The results of these illegal conversions have been deadly. In 2014, a fire in an illegal unit above a Flatbush church killed an individual and injured 16 others, destroying the building. Also in 2014, the landlord of an illegally split Bath Beach home pled guilty to negligent homicide after a fire killed five Guatemalan immigrants and severely injured a baby girl — in part because firefighters could not easily break through the maze of subdivided apartments.
And last year, 31 residents — with 13 children — were vacated from an illegally converted two-family home in Dyker Heights, after it was discovered they were living in hazardous conditions.
"Illegal home conversions are a high-risk symptom of the overall housing crisis we have in this city," said Council Member Jumaane Williams. "It is our responsibility as legislators to find these bad-acting landlords and thwart their illegal and very dangerous practices. It is also our responsibility to offer a realistic, affordable housing alternative to the residents."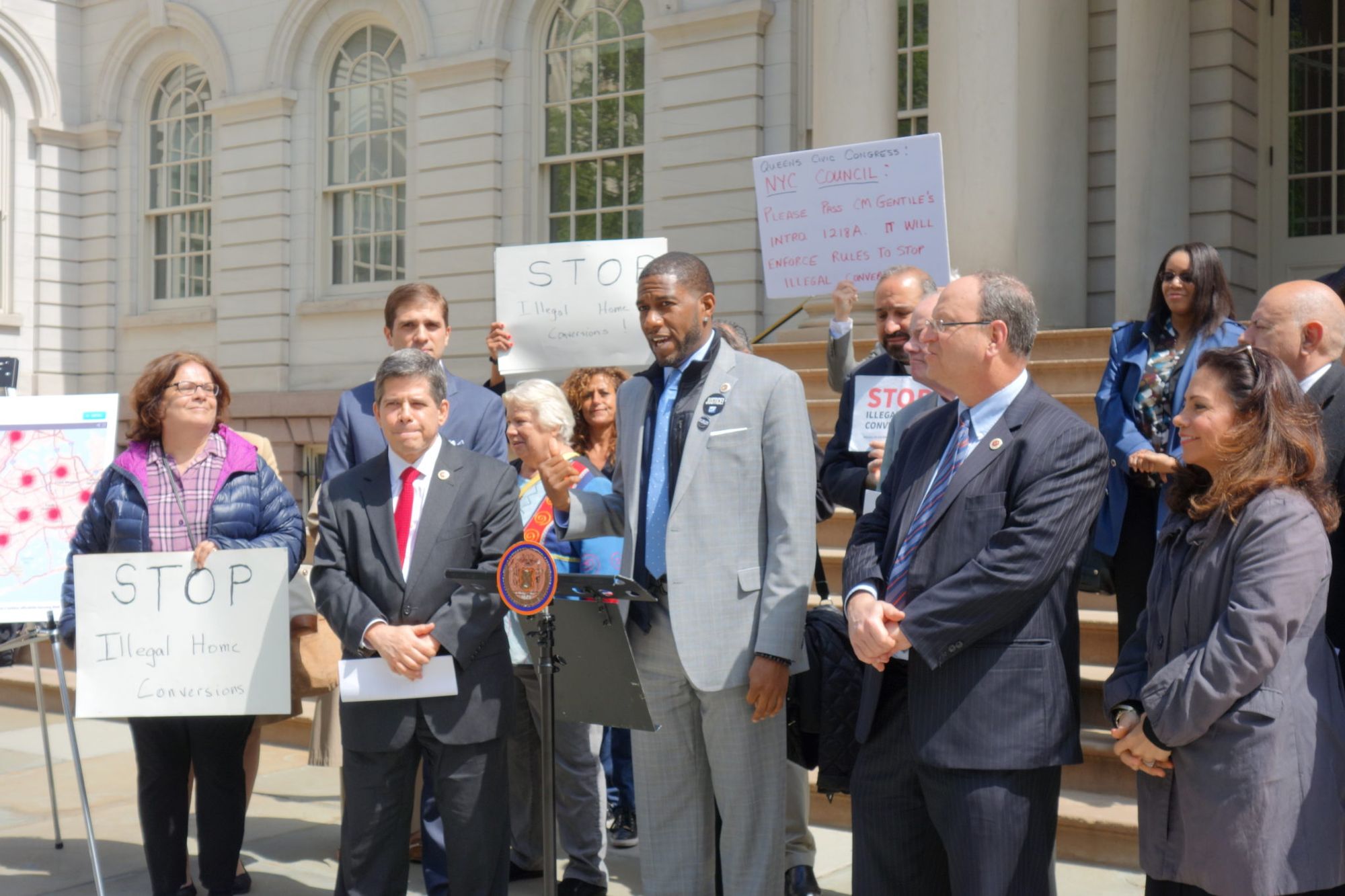 For years, Dyker Heights residents have been calling on the city to crack down on hazardously converted homes, which — aside for posing safety risks — strain local resources like schools, sanitation, and plumbing.
"What's driving this in our community is we have very good schools that attract people to the area," Bob Cassara told BKLYNER. "But District 20 are at 150 to 170 percent of capacity. Their answer to the problem is to increase the supply of schools, but they can never build themselves out of this problem," he said.
Housing preservationist groups, like the Brooklyn Housing Preservation Alliance — headed by Cassara — have charged the DOB with being largely unresponsive to the more than 100,000 housing-related complaints — more than 26,000 of them related to illegal home conversions — that were registered with the agency in 2014. In 2016 alone, the area wracked up more than 18,000 complaints.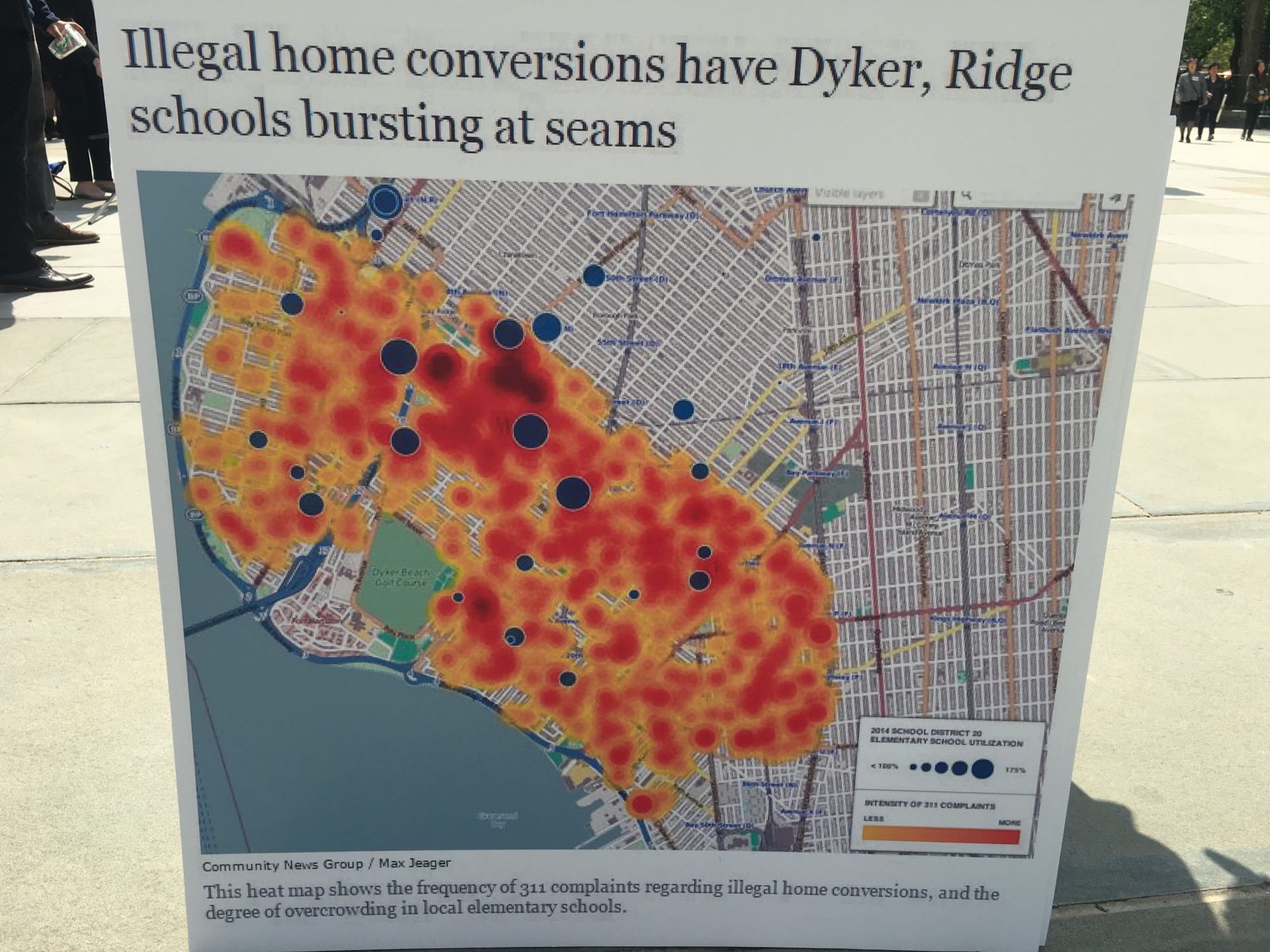 The DOB has also struggled with enforcement, said BHPA members. As of 2014, the city is owed more than $640 million in outstanding building-related fines, according to Department of Finance records that Cassara cited.
"The crux of this bill is just getting the DOB to do their job," he said. "For years, the DOB wasn't collecting fines even though they had that capability. This bill codifies everything, so now it can be enforced."
Cassara started the BHPA after noticing several dumpsters outside his Dyker Heights window. After inquiring at the Community Board, he learned that homes all around the community were being converted to SROs. "I started to get educated. I got woke," he said, laughing, his white hair askew in the breeze.
Neighbors rallied around the cause and worked for years to get support for the bill. "I'm Brooklyn born and bred and I have a lot of pride in my community," said BHPA member Pina Cutrone of Bay Ridge.
But some have criticized the bill for putting an undue burden on the low-income, elderly, and immigrant tenants who rent the subdivided apartments for below-market rates. In 2015, advocates of these groups agreed that housing safety is important, but said they were concerned that immigrant communities were not consulted in the initial drafting of the legislation, and a potential homeless crisis it could cause among elderly Asian residents.
Though home conversion has long been a "touchy subject" in Bensonhurst's Chinese community, the Chinese American Social Services Center (CASS) supports the bill, said spokesperson Bonita Lei. "Nobody wants to be subject to hazardous living conditions," said Lei. "That said, passage of the bill will also (directly or indirectly) displace the young blue-collar workers or undocumented laborers who need desperately a roof over their heads, or seniors living on benefits and pensions."
It is Gentile's hope that they can include a memorandum to the bill that directs the fines toward relocating residents evicted from illegally subdivided buildings, he said today.
Two other illegal conversion bills from 2014 are working their way toward the floor:
Intro 393 would allow DOB to issue summonses and notices of violation based on externally observable circumstantial evidence of an illegal conversion, such as an excess of mailboxes, utility meters of the same kind, or doorbells on a building for the lawful number of dwelling spaces within that building.
Intro 439 would attack the problem before construction commences by revoking, suspending, or conditioning the self-certification privileges of architects and engineers whose faulty applications for permits have resulted in the issuance of a stop work order; in addition, it would require that notifications bearing information on the individuals who have been affected by such sanctions be distributed to the City Council.
Correction: A previous version of this article stated that the $15,000 fine was for each unit above the number allowed by the C of 0. The correct fine amount is $15,000 per three or more units above the legally allowed number.