Brooklyn On Terra Firma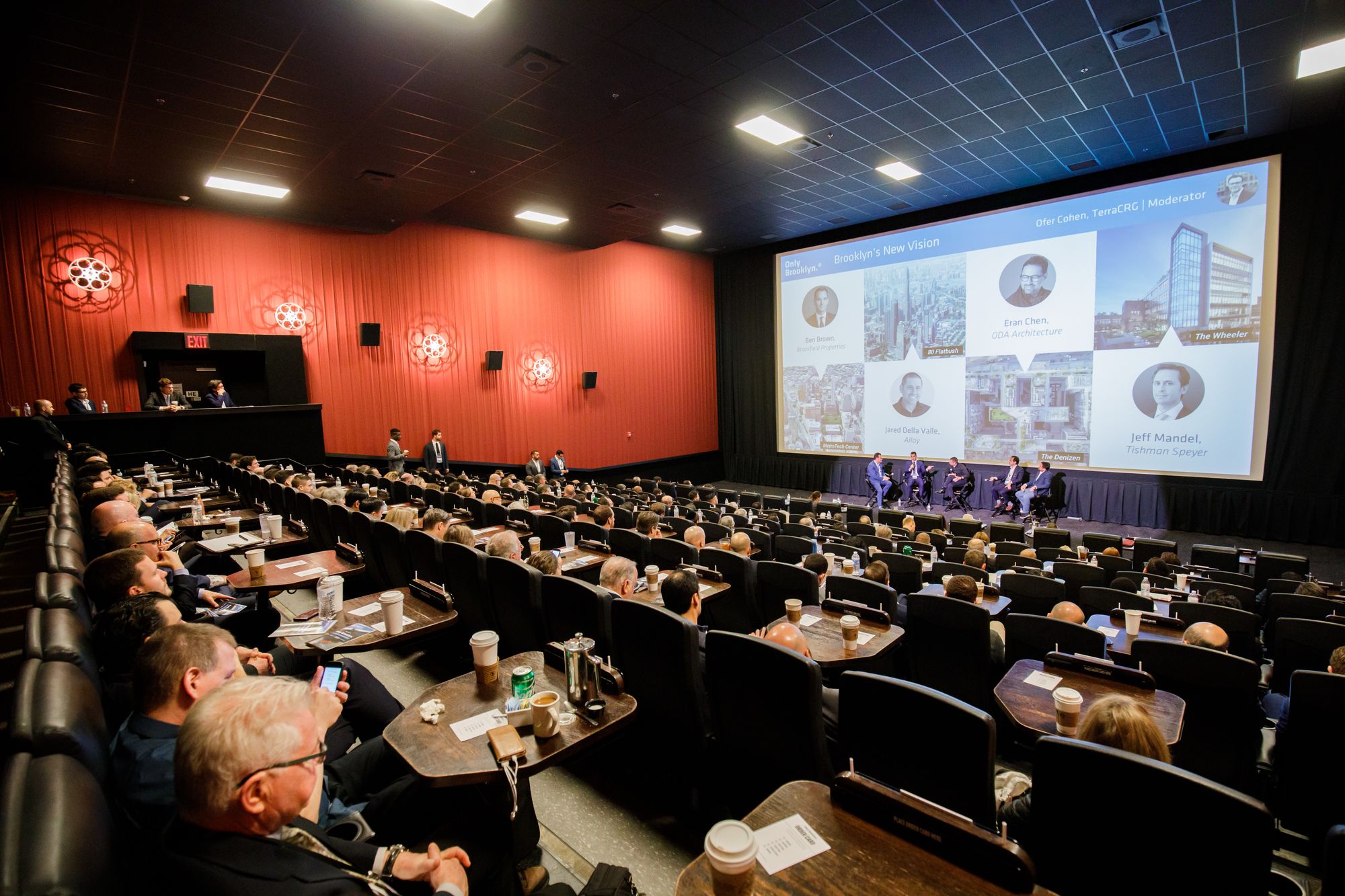 DOWNTOWN BROOKLYN – Perhaps it was fitting that the 9th Annual Only Brooklyn Real Estate Conference was held at the Alamo Drafthouse. The upsurge in the borough in the past decade only could have been written from a Hollywood script.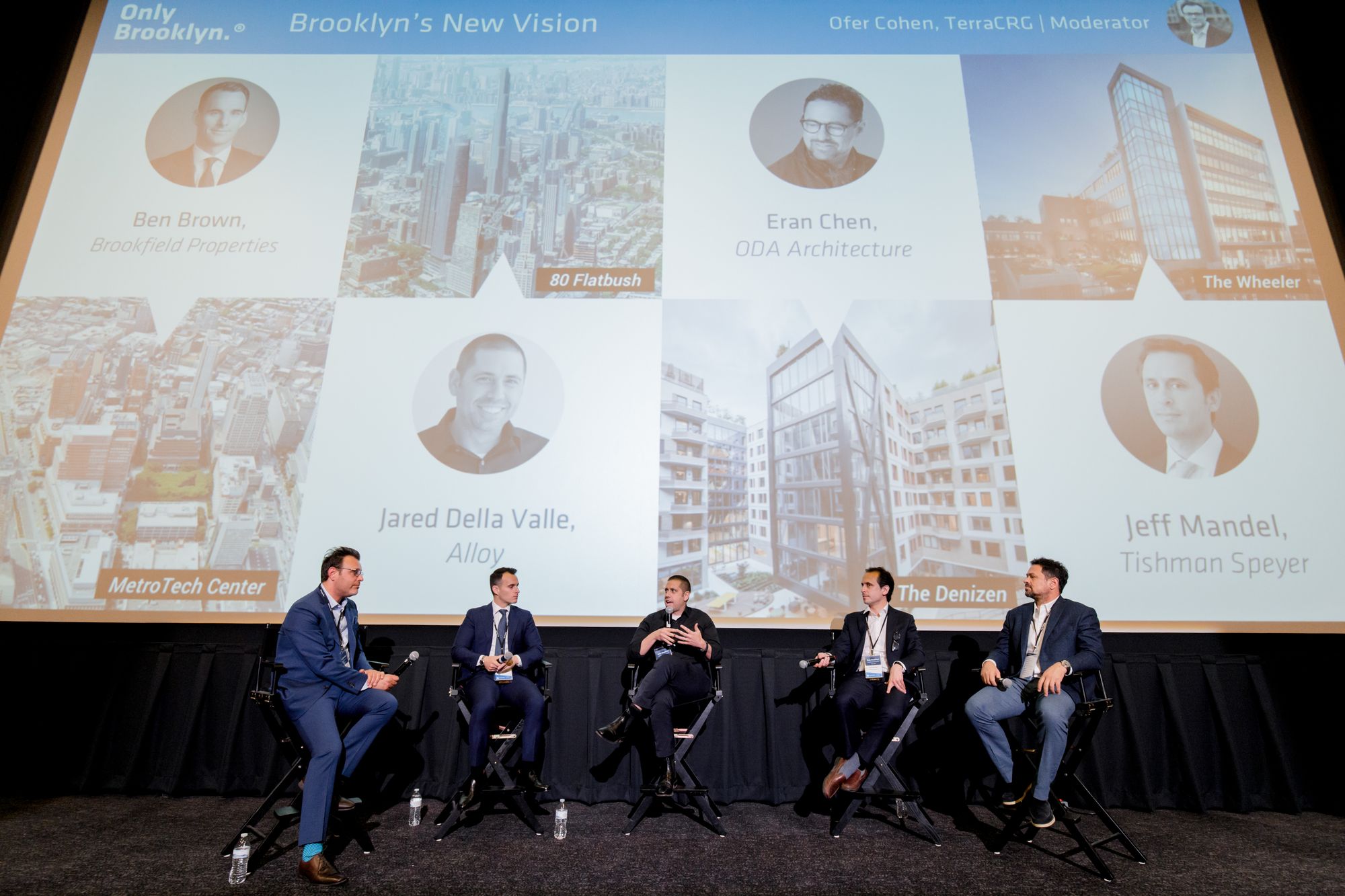 Topics ranged from Brooklyn's past to dealing with the L train and everything in between. Ofer Cohen, founder and CEO of TerraCRG, opened the company's 9th annual event, and after a rah-rah speech by ex-cop turned borough president Eric Adams, it was time for business.
Making a company-wide move from Manhattan to Brooklyn was a panel topic discussed by Deirdre Quinn, CEO of clothing firm Lafayette 148 and Jack Esterson, principal of Think! Architecture. "Our process involved having our HR department set up a task force for our employees," explained Quinn. "We looked at both Industry City and The Navy Yard. We also had to make sure our clients knew where Brooklyn was."
"I live in Clinton Hill," said Esterson, "and we don't even have an HR department. The lobby of Metro Tech is somewhat cold and corporate but we created a work space that suits the image of the firm. The access of Metro Tech via numerous mass transit options also was a plus for relocating the firm."
"When Metro Tech was built, it was a fortress. We had security guards who showed clients around," explained Ali Esmaeilzadeh, senior vice president of Brookfield Properties. Brookfield is now repositioning Metro Tech to blend in with the changing surroundings.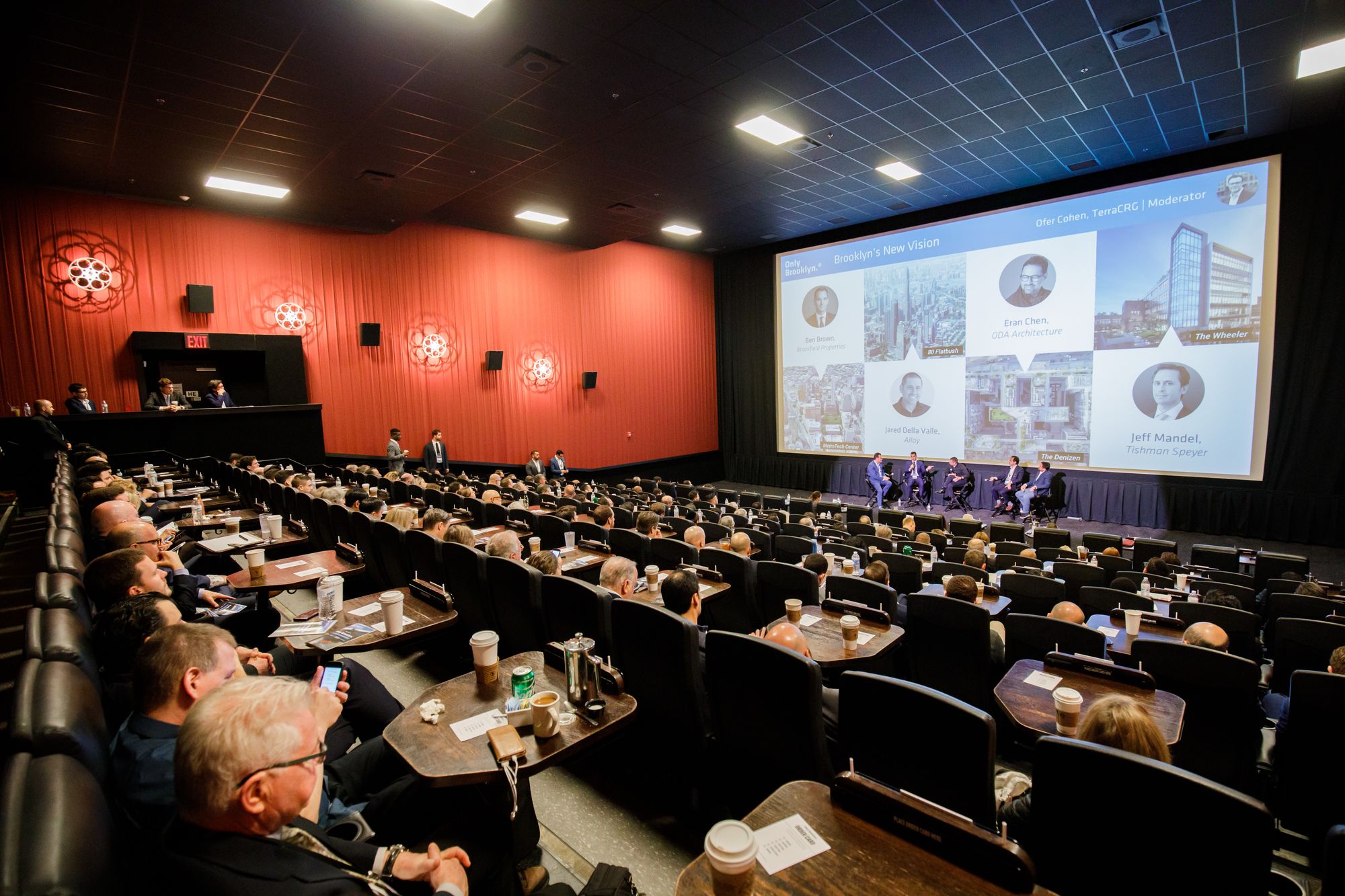 Regarding the residential market, Ari Goldstein, Senior Vice President of Development for Extell, spoke about Brooklyn Point, the first residential development by the company in the borough. "Brooklyn Point is 68 stories. It is a co-op but due to the 25-year tax abatement, it functions as a condo. It is 720 feet in height; with 480 units and 60,000 square feet of retail at the base."
"We wanted to bring a superior caliber product that never before existed in the market," said Goldstein. "We have been surprised about how well the project has been received; with a variety of buyers—young families as well as empty nesters."
Karen Hu, a director at Hudson Companies, added: "We developed One Clinton, located on Clinton Street in Brooklyn Heights. It is a condo with 133 residences; a 26,000-square-foot library plus community space and retail. We hear about the slow-down in condo sales in Manhattan but sales are great going for us."
Jeffrey Levine, founding principal and chairman of Douglaston Development, made sure the audience knew his roots. "I grew up in Brooklyn as did my father. And my father in law owned a pharmacy in Greenpoint. So I have a long history with Brooklyn. And I hate the condo market. In my early days, I waxed rich and poor with that market, so I prefer rentals. We went into Williamsburg with condos. And then the recession hit and I learned my lesson."
Jeremy Shell, a principal at TF Cornerstone, talked about Pacific Park. "We were in the Brooklyn market and have been out of it but were fortunate to get back in before it really took off. We have 720 apartments at 33 Bond Street. We have two sites now at Pacific Park [595 & 615 Dean Streets]. Our concept is public/private rental housing where you need to have a long-term view. As for concessions on Bond Street, as the market tightened up, we no longer gave rent concessions. We were giving one month."
"We have a rental building in Williamsburg, off of Berry Street," said Hu. "We were renting when people were preparing for the L train doomsday shutdown. But we maintained rents at $80 per square foot and we had retailers such as Trader Joe's and Whole Foods coming in." Hudson Companies also has a luxury rental in Prospect-Lefferts Gardens called The Parkland and are adding two other luxury buildings.
"The fear of the closing of the L train was greater than the reality," explained Levine. "I actually thought the loss of the L train would make the community feel like it did when I first arrived and before it became a tourist Mecca. We did offer concessions on two-year leases, but we did have 98% occupancy as the closure approached."
In a panel with the moniker "Reshaping Brooklyn," Bruce Eichner, founder of The Continuum Company, told of how he got started in investing in the borough. "I bought my first brownstone in Park Slope in 1974 on Montgomery Place for $60,000," he smiled. "Seventh Avenue was the demarcation point; below was problematic. And nobody ventured to Fifth Avenue. There was no Metro Tech." (Or Barclays Center, Apple, or Whole Foods.)
"Back then, Park Slope reminded me of Greenwich Village. It had the scale of the Village. And the scale of buildings in Brooklyn was small until Metro Tech. Brooklyn keeps re-inventing itself. I think what will govern its future will be transportation."
Richard Lam, principal of Property Markets Group, was born and raised in Brooklyn. "We started looking in 2010-11 for opportunities. We saw the potential upside. When we first entered Gowanus, people had been talking about rezoning for 15 years and Gowanus was left alone. We also have to wait for the canal to be dredged and cleaned. That could take seven years. At present, we have 8/12 acres along the canal."
Bonnie Campbell, a principal at Two Trees Management Company, joined the development firm in 2002. "David Walentas had already placed a big bet on Brooklyn," she explained. "When I arrived, there was a residential renaissance happening in Dumbo and the same after the 2004 rezoning in Williamsburg. Brooklyn was becoming viable for mixed-use and for people wanting to launch tech companies. We realized the best use was to create mixed-use communities."
"It is not Crown Heights; it is the concept of income targeted housing," said Bruce Eichner about his massive development in Crown Heights [960 Franklin Avenue]. "I was looking to build 2,000 units and to test out a concept that can be replicated. It can be done in Queens but not in Manhattan. You need the right political environment. I believe local officials in Brooklyn are interested in the concept of affordable housing. I believe more than in any borough and they realize you have to give something to get something."
"I recall working at BID in Dumbo in 2005 and when it rained, the basements flooded," recalled Tucker Reed, founder of TOTEM and former president of the Downtown Brooklyn Partnership. "We finally found two water mains, one had collapsed and one was blocked. Regarding what Bruce [Eichner] said, he brought a compelling case and checked all the boxes that allowed the local official to say yes to his project. You have to put the data together. Start with the community board and explain all of the options and explain there are trade-offs for all. In Community Board 3 [Bed-Stuy], there have been 2,000 market rate units built in the past five years. 150 are affordable. The local residents are going to question what they received from the rezoning. The answer is – zero."
Reed also said downtown Brooklyn has multiple subway and bus lines and is the epitome of transit-oriented development. "Firms looking to move here are looking for large floor plate sites, and we have not provided that yet," he explained. "We are asking firms to take a big leap of faith."