Beva Boutique Slated To Close After 6 Years On 7th Avenue
PARK SLOPE – Another beloved 7th Avenue business will shutter next week. Beva, a boutique specializing in unique children's clothing, will close on Wednesday, July 31.
Opened in 2013 by sisters Eva Borak and Betty Hernandez at the corner of 7th Avenue and 14th Street, Beva is an amalgamation of the siblings' first names. Running a knitwear business inspired the pair to open up their own shop. While Beva carries a limited supply of adult merchandise, including jewelry, accessories, and Brooklyn t-shirts, the sisters decided to focus on children's clothing since there was a dearth of kid's shops in the "family-oriented" area six years ago, according to Borak.
"There was no such store in the area," she explained to Bklyner, "except for Lulu's," whose baby shop on 5th Avenue will also close at the end of July. Along with a carefully curated selection of children's clothing from European brands as well as local small businesses, Beva sells items created by Borak, who is a fashion/knitwear designer. The store also carries toys, books, and art supplies for kids. Mittens-on-a-string were top sellers since the beginning, Borak recalled, saying parents start inquiring about them every year starting in September.
Beva outgrew its original space after a year and moved to its current location at 340 7th Avenue in September 2014, doubling in size. Borak notes that the move a few blocks north also offered a better location for shopping, but quickly adds that has changed in recent years. She said she first noticed foot traffic slowing down on 7th Avenue about two years ago. With several businesses closing along the corridor, the area is no longer a retail destination, she said, blaming online retailers and rising rents for the change.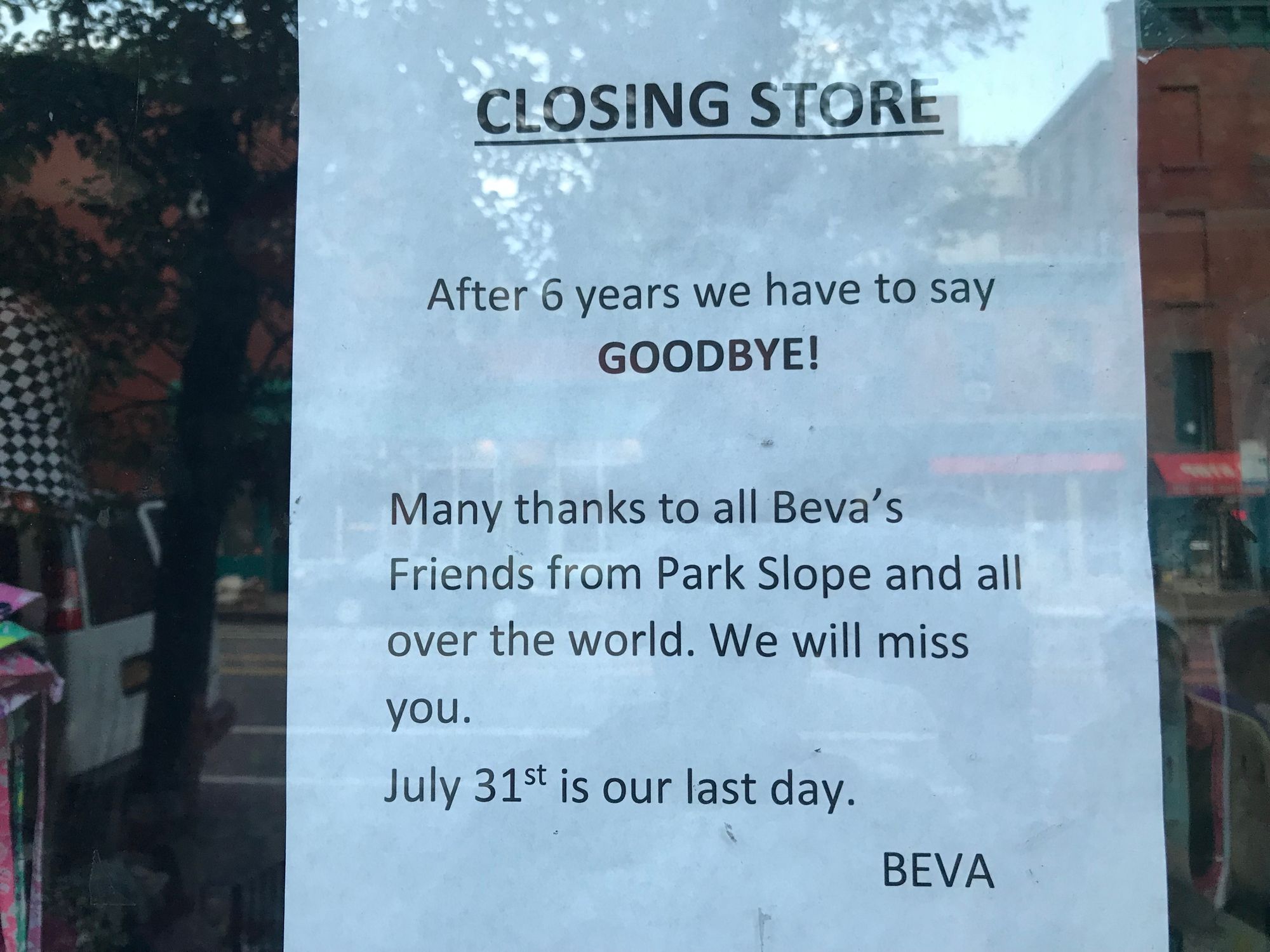 With the store's lease expiring, Borak decided not to renew and to move on. She and her son, Nick, will launch brooklynitedesigns.com in the coming weeks, selling tops, hoodies, hats, and more, emblazoned with "Brooklyn." Borak will be responsible for design while her son will oversee the business side and the website, which along with e-commerce will feature information on Brooklyn-related history, art, and events.
Borak has lived in Park Slope for more than 25 years while Hernandez now lives in Denver. Both Borak's sons were born and raised in the neighborhood and attended P.S. 10, M.S. 51, and Brooklyn Tech. She says she gets sadder each day as July 31 comes closer and thanks everybody for their support over the years. She says she will miss her customers, the kids, and neighbors, and quickly promises, "but I'll still be around."
Other recent closings on 7th Avenue include Talde, The Clay Pot, and Old Carriage Inn.
Beva Boutique is having a half-off sale through Wednesday, July 31.
340 7th Avenue (between 9th & 10th Streets), Park Slope