B82 and Why We Need Fast And Reliable Bus Service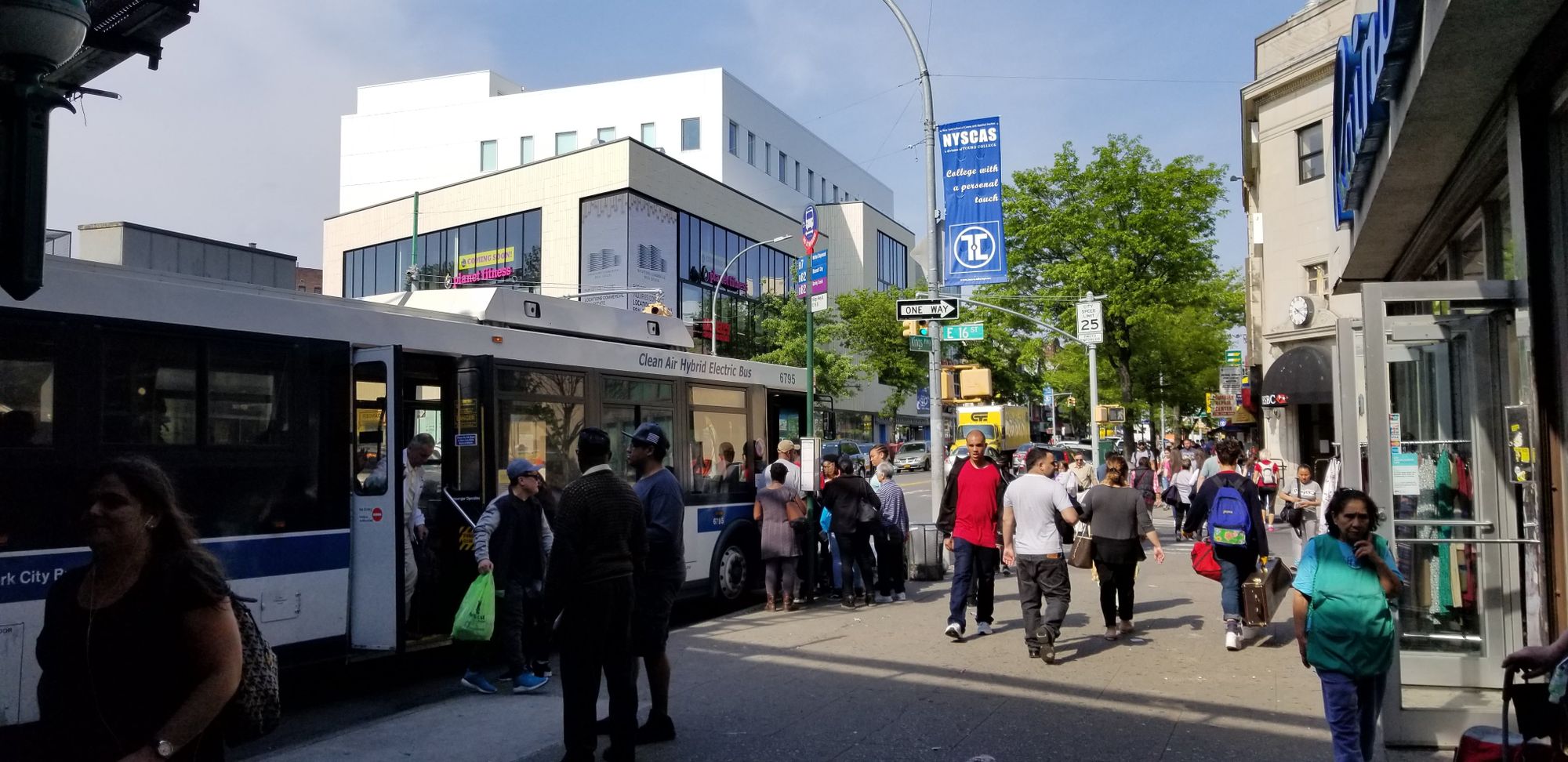 MIDWOOD – Across the city, a part of the MTA's and DOT's plan to improve public transportation includes massively improving the quality of public bus service. Compared to fixing and expanding the subways, this offers a relatively inexpensive and quick way to provide a much better transit option to hundreds of thousands of daily bus riders.
Busses may be slow, but they are the only way to get places for many if not most of Brooklyn's residents that are poorly served by subway lines. The solution to make them faster and more reliable involves dedicated bus lanes, often though not always at the expense of parking.
Last month merchants rallied with local officials along Kings Highway against the plan to dedicate Kings Highway parking lanes to Select Bus Service buses along the B82 route during peak hours.  Specifically, the parking lanes along Kings Highway's commercial strips between F stop at McDonald Avenue and Q/B at East 16th – a necessity as Kings Highway narrows along that stretch.
Assemblyman Colton went as far as to say that this plan was against women, and would make their lives harder, implying women do not ride the bus. (However, Streetsblog quickly discovered that, according to the Census, 66% of bus riders in Brooklyn are women.)
The Kings Highway Business Improvement District and those it represents argue that taking away parking amounts to taking away customers and destroying local businesses.
Local officials oppose the plan now, as they did back when it was first proposed a few years back, choosing to placate a few vocal merchants over the thousands of community members that rely on buses to get across southern Brooklyn. They did succeed in pressuring the MTA into delaying implementing the dedicated peak hour bus lane plan, that was to start this summer. The agency is moving ahead with installing parking meters on side streets and plans to still continue with the plan.
This Tuesday, Riders Alliance (a nonprofit dedicated to improving public transit) members gathered at the corner of Kings Highway and 16th Street to educate fellow bus riders about the plan, and how they can reach their elected officials and those currently opposing the plan: Senators Simcha Felder and Marty Golden, Assemblymembers Steve Cymbrowitz, Helen Weinstein and Bill Colton, and Council Members Chaim Deutsch, Kalman Yeger, and Mark Treyger.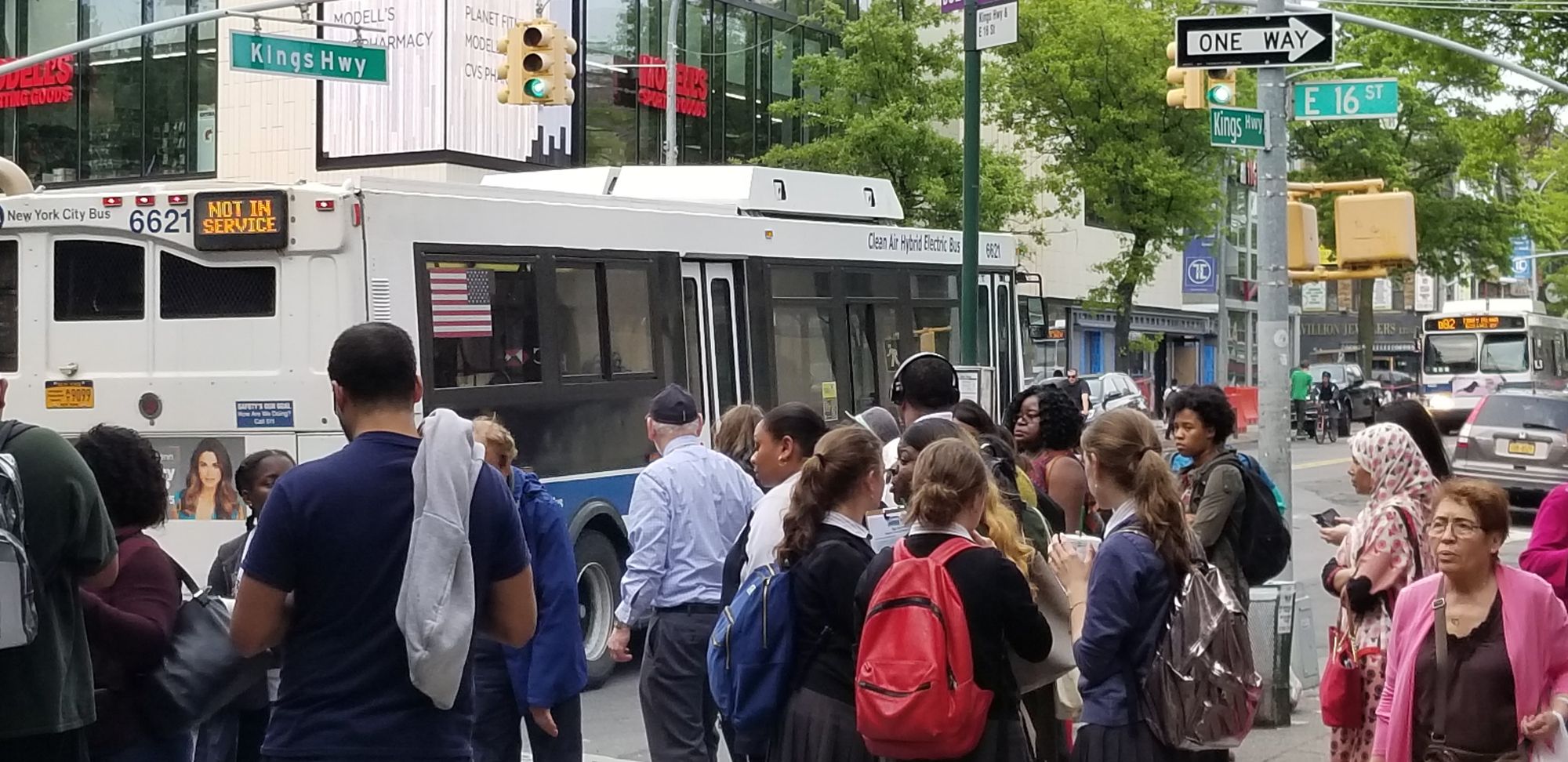 Kings Highway is a very old road that connects Bensonhurst with Midwood, Flatlands, East Flatbush, and Brownsville – from Bay Parkway, across Ocean Parkway to Eastern Parkway. The B82 route connects East New York to Coney Island and connects almost all of Southern Brooklyn's subway lines – L, B, Q, F, N, and D.
"28,000 daily B82 riders were offered genuine relief from gridlock on Kings Highway when the MTA and DOT proposed Select Bus Service. Yet their very own representatives are now blocking the plan to deliver them home earlier to their children after a hard day's work each evening. Riders will not stand for being made second-class citizens in their own neighborhoods. Riders will continue to organize and show their leaders the importance of prioritizing better bus service on the B82, across Brooklyn, and throughout New York City," said Stephanie Burgos-Veras, Senior Organizer with the Riders Alliance on Tuesday.
During the Tuesday rush hour, B82 buses heading to Bensonhurst from Kings Highway Q/B stop at E16th Street were able to get to the F stop at McDonald Avenue in just about exactly 10 minutes (the distance is 0.9 miles) and were leaving at regular intervals.
The trip back on the same stretch took closer to 15 minutes, the busses were bunched, arriving 3 at a time, passing each other, drivers berating passengers trying to make room for the elderly and the handicapped on the packed buses: "The lady with the cane needs a seat". An able-bodied person could walk the same stretch in 18 minutes, give or take.
Who were the riders? Kids going home from schools, elderly and handicapped individuals, parents with small children, residents going home from work. Many used the bus to connect between the two subway lines – F and B/Q. Some had just finished shopping. It took over a minute for most busses to add passengers at the stops that connect with subway stations, or other bus lines (like at Coney Island Avenue). All would be better served by a better bus experience.
With buses barely faster than walking, and politicians blocking better service, it will be up to those who use or wish it made sense to use the buses to advocate for better commutes. The MTA/DOT proposal would result in buses traveling faster and arriving on time more reliably.
Over the last 10 years, 100 million annual riders have been lost from the bus system in NYC, as service has become slower and less reliable. This results in people trying to find alternatives, including walking. Routes get eliminated because people are not taking them, further disconnecting neighborhoods from one another. In Park Slope, residents and elected officials are fighting to get back the B71 route it used to have.
The City and MTA are currently working to establish 16 Select Bus Service routes across the city, and four of those are proposed for Brooklyn, including the B82 along the Southern Brooklyn East-West Corridor.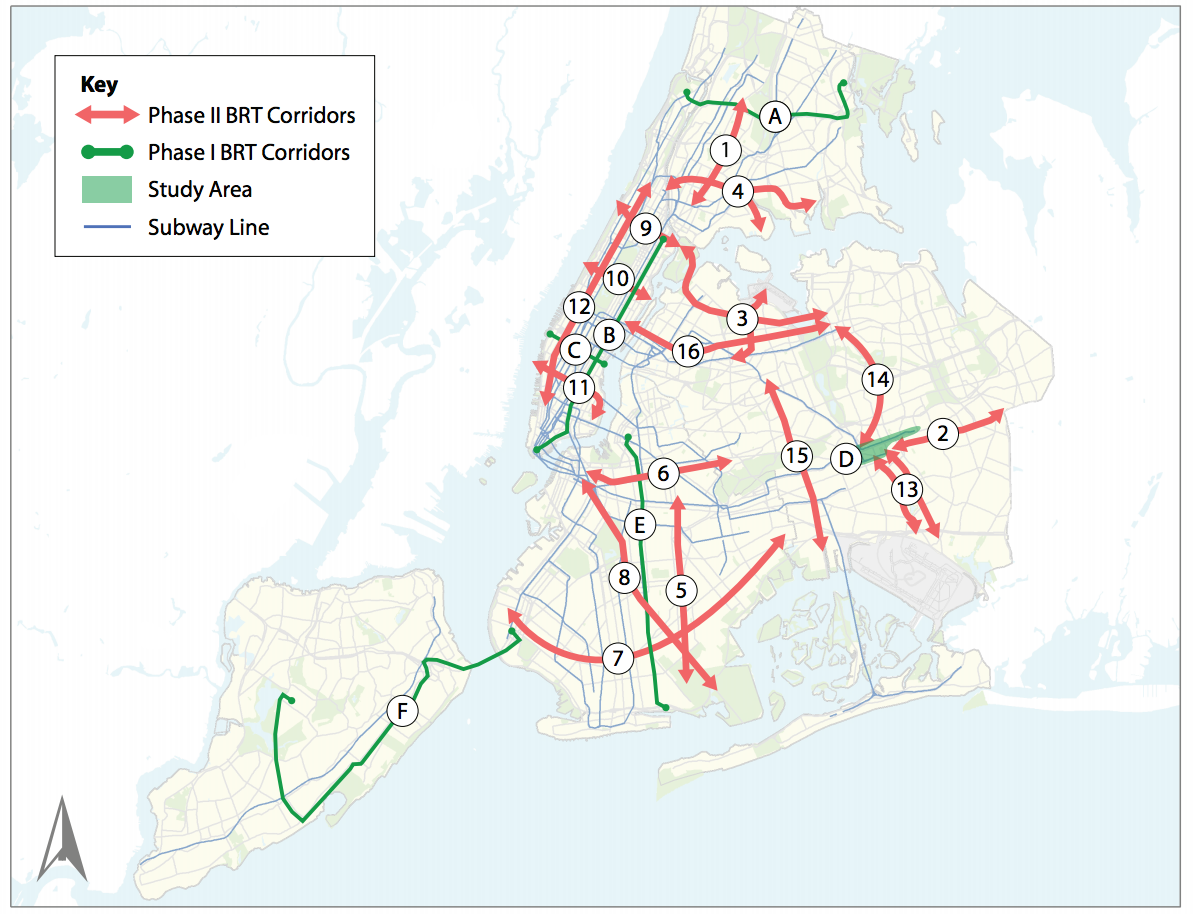 The Nostrand/Rogers B44 SBS route has been operating since November 2013, connecting Sheepshead Bay with Williamsburg, and Utica Avenue/ B46 since July of 2016, connecting Bushwick and Kings Plaza and reducing travel times by 25%.
The progress report from a couple of years ago looking at B44 says that the travel times improved 15-31%, ridership increased 10% from 2014 to 2015 (while ridership across Brooklyn declined 1%), there was 37% reduction in traffic injuries where crossing distances were shortened with bus bulbs or neckdowns, and a 2% reduction in traffic injuries where bus lanes were added.
Like the merchants along Kings Highway, merchants along Nostrand and Rogers were concerned about deliveries, employee and customer parking. According to the surveys performed by the DOT, surveying over 7,000 people along Kings Highway, about 25% use cars to visit the Kings Highway business district – the rest walk or use public transportation. But the merchants like things the way they are: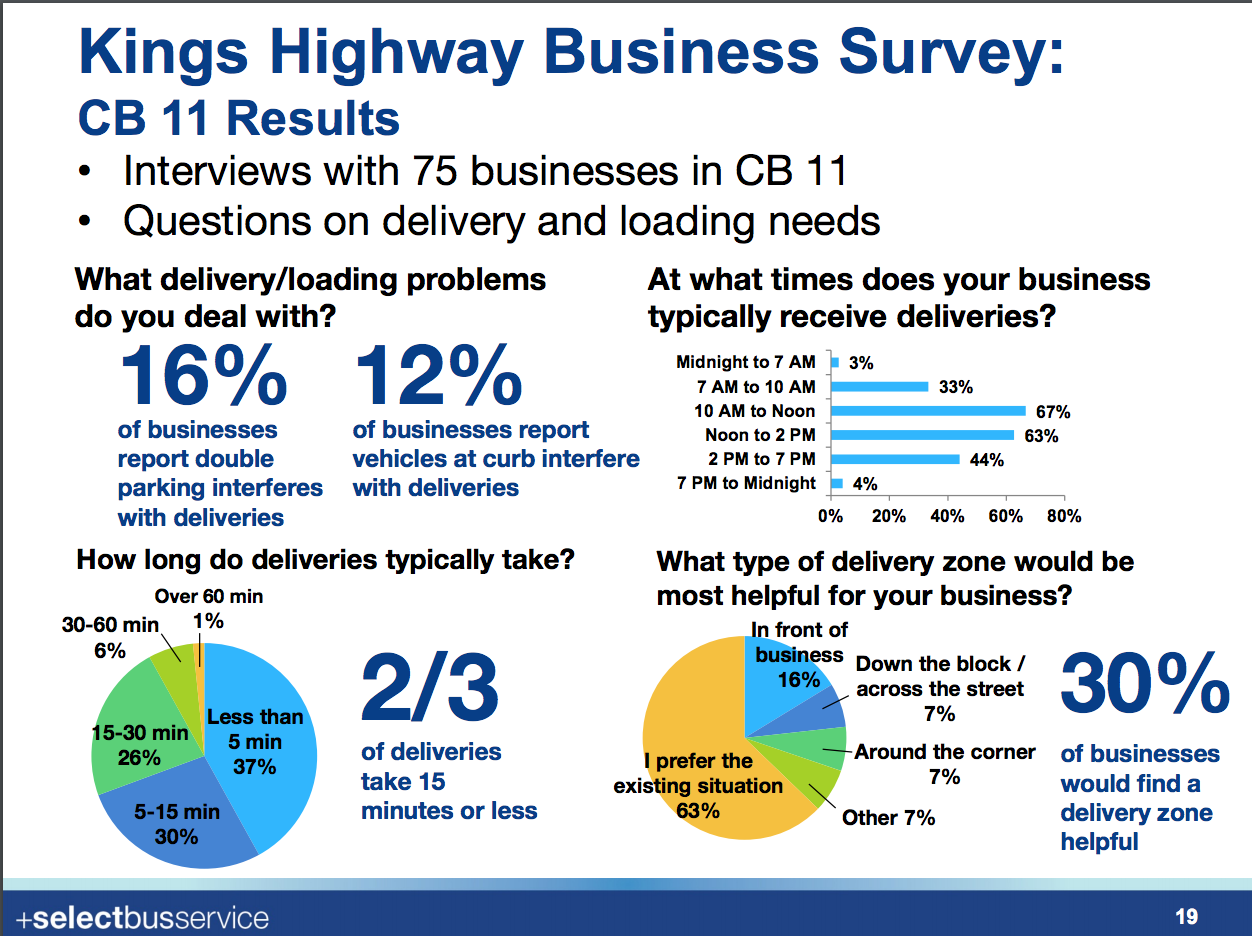 In the meantime, NYCDOT and the MTA want to hear from you about the challenges you face along the B82 route. Please use the B82 Feedback Map to provide comments and suggestions. More information and all the available studies are here. If you'd rather sound off to your local elected officials, Riders Alliance has this pamphlet with numbers: