Winterfest Vendors Feel Scammed, Brooklyn DA's Office Reviewing Complaint Against Organizers
[UPDATED: Wednesday, January 2, 2019, 10:30am] Johanna Guevara-Smiley clarified that her company Dropping Seeds invested $10,000 in total for the event, including rent for the chalet ($6,745), as well as staff, product, and labor.
[UPDATED: Sunday, December 16, 2018, 11:30am] This article originally stated that Pamela Barsky was "initially promised a refund." Barsky did not state that she was promised a refund, only that she did not receive one. Bklyner regrets the error.
PROSPECT HEIGHTS – It wasn't only families left feeling disappointed and cheated by Winterfest at Brooklyn Museum. Several vendors who paid thousands of dollars to sell their wares in the holiday marketplace say they are feeling scammed by the event's organizers.
Winterfest debuted at a 40,000-square-foot outdoor space behind the Brooklyn Museum on November 23 and is scheduled to run though December 31. The event's press release and website claimed that the lot would be transformed into a winter wonderland featuring shopping, entertainment, and family activities including Santa Land, a Snowzilla slide, a Spectacular Menorah, a giant snow globe, a tree maze, and more.
As previously reported, the slapdash paid attractions area did not feature the promised slide nor the snow globe, and families complained that the "Chocolate Experience" was "actually a cup of instant cocoa and a Tupperware of fun size Halloween candy," as described by a Bklyner commenter. Disappointed visitors who attended the event during its "soft opening" tried to get refunds with mixed results.
"Winterfest is not organized by the Brooklyn Museum," a statement from the museum reads. "The market's organizers have temporarily licensed the use of a portion of our parking lot for the purpose of presenting a 5-week holiday market. We had every hope and expectation that Winterfest would be a fun and successful event for the community, local businesses, and families during the holiday season. We are extremely disappointed that the organizers have failed to live up to their promises and we have conveyed our concerns to them."
At the end of November, Brooklyn Museum demanded that Winterfest organizers stop charging admission "and make all attractions free of charge." A spokesperson for the Museum said they have also "asked that [organizers] provide refunds to frustrated visitors who have already purchased tickets."
The Winterfest marketplace features approximately 50 artisans and vendors, many of whom say they experienced problems with the event right from the start. "We immediately started experiencing problems with the marketplace from day one," wrote Johanna Guevara-Smiley in an email. She and her husband own Dropping Seeds, a Brooklyn-based multi-use herbal blend company. The couple paid $10,000 to participate in the holiday market. "We figured they were having a rough start and wanted to work with them."
"The day before the opening we saw they were not ready with any of the entrances," she continued. "There was no slide or skating rink (as promoted)." The Christmas tree maze was "half-done" as were the holiday decorations.
Pamela Barsky, an NYC-based maker of canvas bags featuring witticisms, said the moment she arrived she noticed problems with electrical power, including "no power at all during 12 hours of set up." Barsky immediately complained to Lena Romanova, whose company Millennial Entertainment organized the event. "As soon as I met her I complained. She then blamed me for all the problems and later sent out a letter to all other vendors saying bad things about me," Barsky said.
A retail veteran who has participated in similar holiday markets for nine years, Barsky spent more than $6,000 to register for the event and an additional $2,000 on setup and displays. Barsky notes that she was provided with incorrect specs for her booth and had to spend extra money on materials to re-cut the shelves for her space.
Frustrated, Barsky closed her stall and left Winterfest after the opening weekend on the morning of Tuesday, November 27. "We'd have [left] Monday but the location was not open," she adds. Barsky has not received a refund.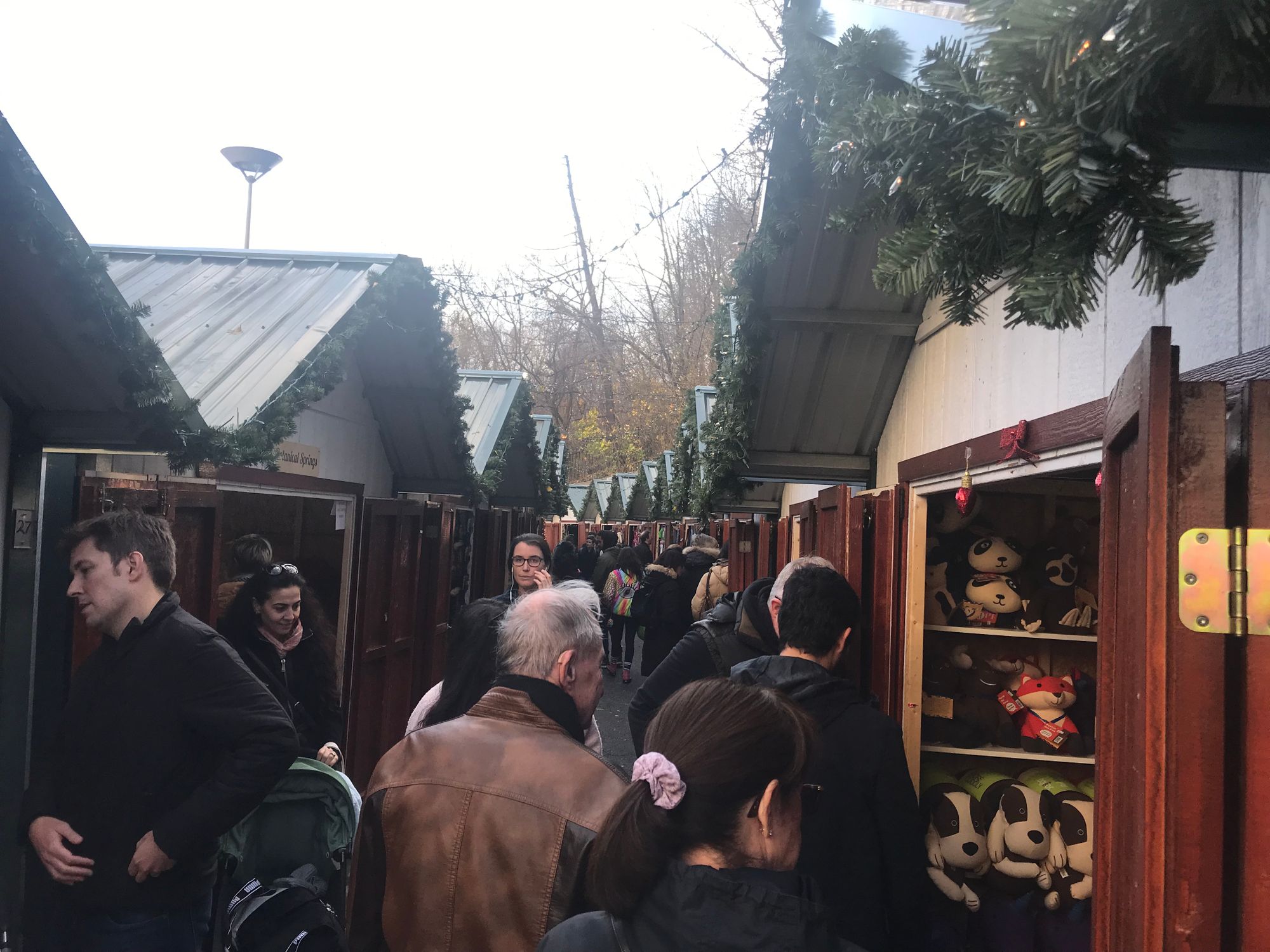 Along with electrical issues, Guevara-Smiley says it was also unclear to vendors when the market's open hours were as well as the loading times. She says that Romanova sent an email to the Brooklyn Museum "stating that the decision to close Tuesday and Wednesday [came] directly from vendors," based on a survey Romanova conducted. Guevara-Smiley insists that she and many of the other vendors "did not receive this survey email or much less agree to it." They believed closing on the two days was a "tactic for [Millennial] to save money on their end," while the vendors, who paid for seven days a week, lost customers and profits. None were given a refund for the decrease in business hours.
Guevara-Smiley, who lives a block away from the Brooklyn Museum, says she also "noticed that there was zero marketing outreach to any of the local people." As part of Millennial's agreement, vendors were promised attractions to lure visitors to the event as well as marketing and promotion to "bring 10,000 people daily," according to Guevara-Smiley. Dropping Seeds has participated in several similar markets, including the Afropunk Festival and City Point's FAD Market.
Several vendors approached Romanova during the first week of Winterfest to discuss their concerns, Guevara-Smiley says. Romanova responded by "attacking us for all the issues,"  claiming that the power outages were caused by vendors overloading the system, which Romanova had to pay to fix.
Unlike Barsky, Guevara-Smiley and her husband, SirRoan, have decided to stay at the event. "None of the problems have been resolved," she notes, and while the weekend foot traffic is "decent" she says weekday visitors are sparse. The longtime Prospect Heights residents believe the "neighborhood deserves a good holiday market." She adds, "This is our land and we're not going to let outsiders come and think they can take advantage of Brooklynites."
Apparently this is not the first time Millennial Entertainment has let down vendors. The company organized a similar holiday event in Boston in 2016 and 2017. Following positive feedback on the first year of Boston Winter, Tucker Gaccione, owner of Boston-based The Happy Cactus, joined three other small business owners to rent an $8,000 chalet at the 2017 market.
"As soon as we got there it was pretty evident there were problems," Gaccione recalls. The outdoor space looked as if it were still under construction. There was no signage and the lighting was inadequate. Some vendors were surprised to find that instead of a chalet, they were provided a tent, according to Gaccione.
Gaccione, and approximately ten other vendors, found their chalets located on the "outskirts" of the marketplace—near the Porta-Potties and an exit—where they received no foot traffic. When they confronted Romanova shortly after the event's opening, she blamed them for their poor sales, saying that their product was not good, Gaccione says. She promised to post signs to direct visitors to their section and create maps showing the location of each vendor, but those items never materialized.
While traffic for the main market area was good on weekends, it was "quite a ghost town most weekdays," Gaccione recalls. He attributes this to the lack of advertising for the event as well as the lack of food stalls to attract workers during their lunch hour. Gaccione believes that the food stalls, which were managed by Romanova, were not open during the week to cut costs.
Like Winterfest, Gaccione adds that many of the promised attractions at Boston Winter were never offered, including a Christmas tree maze. Santa Claus often never even showed up, he says.
After the unhappy vendors voiced their grievances to Romanova individually, they sent her a group email to request that their stalls be relocated to a busier part of the marketplace. Her response was defensive and combative, saying they were being "negative and disrespectful."
Shortly after her response, a male "business partner" went to each of these vendors' stalls "screaming and berating" the business owners and their staff, Gaccione says. He threatened them, insisting they "renege all their negative comments" if they wanted to remain at the festival, according to Gaccione. Though he was not at the site at the time, a colleague who shared a chalet with Gaccione told him that the experience brought her to tears.
Boston Winter felt "like a scam," says Gaccione, who adds that he's "never done a market so poorly operated, that treated small business owners so badly." Currently running a stall at the holiday market at Columbus Circle, Gaccione says it's "like night and day," participating in a well-managed event.
He notes the group of unhappy Boston Winter vendors considered filing a class action lawsuit, however some were afraid of retaliation while others just wanted to put the experience past them and move on.
Back in Brooklyn, Barsky has filed a complaint with the Brooklyn District Attorney's office. She says she contacted the DA's office "as soon as I read the article about Boston chasing [Romanova] for money." A spokesperson for the Brooklyn DA's office confirmed that they are reviewing the complaint.
Guevara-Smiley says she's also filed a fraud complaint with the Brooklyn DA's office and that the vendors have contacted lawyers to discuss a class action suit. Among their demands, they'd like to be reimbursed for the lost business days (Tuesdays and Wednesdays) and for the loss in business caused by Millennial's failure to bring in the promised 10,000 visitors a day. The small business owners also want an improved marketing and programming plan to attracts crowds—and business—to the market until it closes on December 31.
She adds that some vendors have been advised to contact the NYC Department of Consumer Affairs and the NYS Attorney General's office with complaints. A source tells Bklyner that this case is more likely a civil matter than a criminal case.
Barsky disagrees. "I hope she goes to jail," she said. "I don't like being misled and cheated."
If you're in the area, consider stopping by Winterfest to support these small businesses.