Some Unhappy Winterfest Customers Receive Refunds While Others Left Out In Cold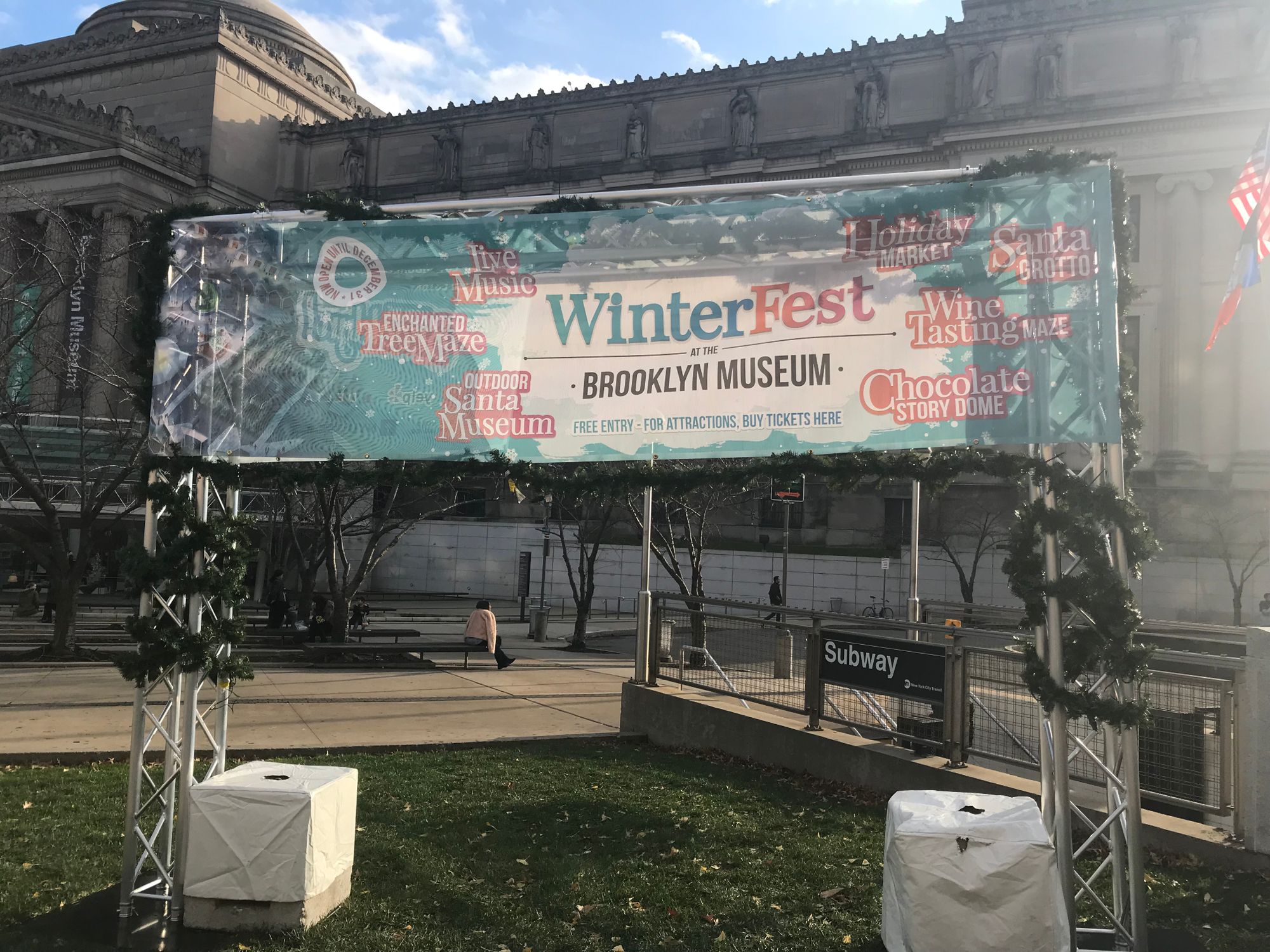 PROSPECT HEIGHTS – Some customers disappointed with the paid attractions at Winterfest during the event's opening weekend are now feeling frustrated by the lack of response from the event's organizers.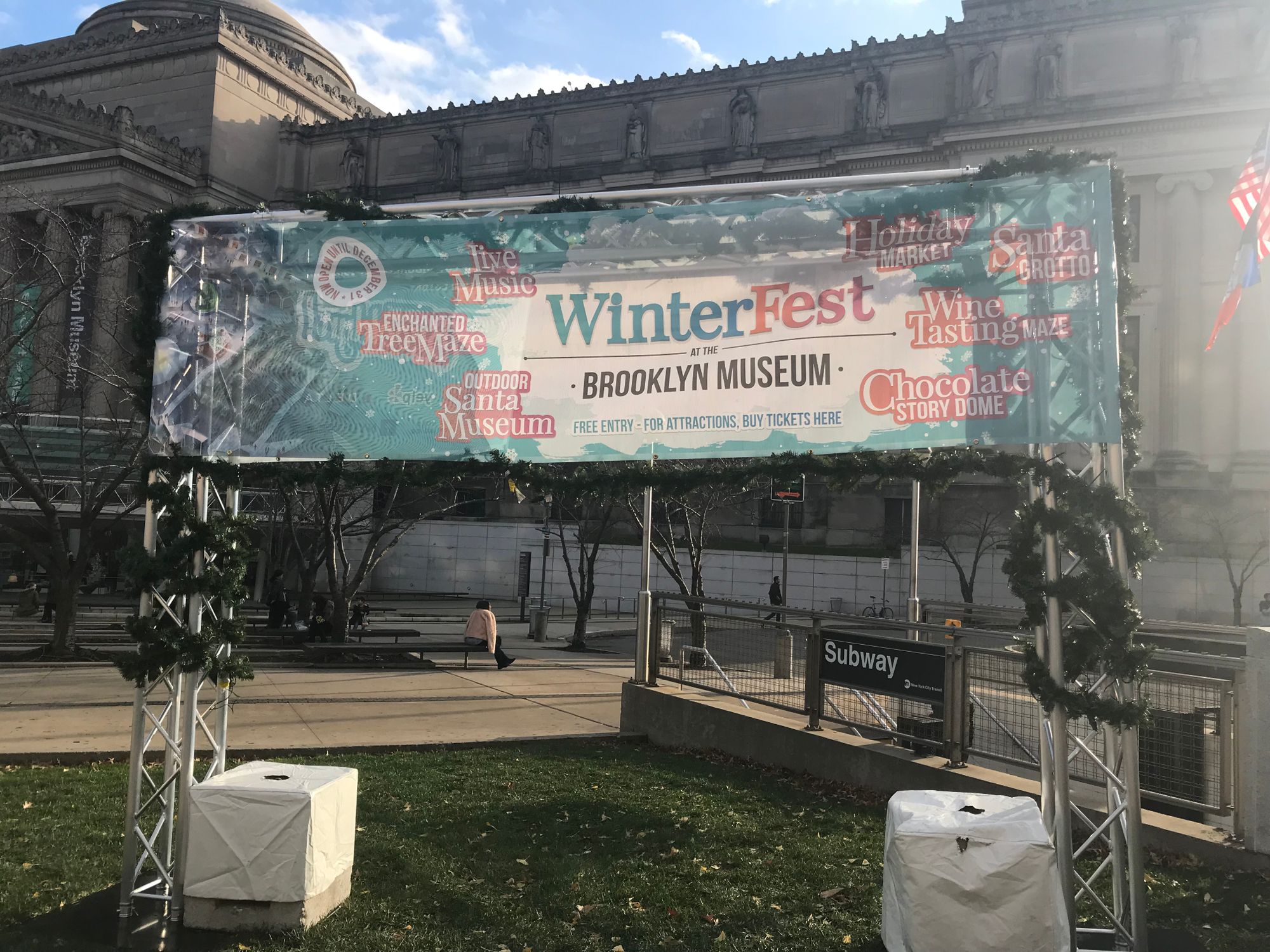 Lena Romanova, the founder of Winterfest at Brooklyn Museum, told Bklyner on Sunday, November 25, that unhappy customers could contact Jennifer Crosby at jennifer@winterfestbrooklynmuseum.com and request a refund. Many readers noted that they tried contacting Crosby multiple times and have not received a response, leaving some wondering whether she actually exists.
It was a "disappointing experience," said one Winterfest visitor on Sunday, November 25. She noted that the actual experience was very different from what originally appeared on the Winterfest website, saying, "the pictures are far beyond what it was." Some of the promised attractions, such as the slide and snow globe, were not open during her visit with her family.
A reader named Julia commented, "the immersive chocolate experience is actually a cup of instant cocoa and a Tupperware of fun size Halloween candy."
Bklyner emailed Crosby on Monday morning and has yet to receive a response. Bklyner also planned to attend a Winterfest at Brooklyn Museum press preview today, November 29, to see if any of the improvements Romanova discussed on Sunday had been implemented. The preview, which had been rescheduled several times, was cancelled on Wednesday afternoon.
Bklyner left a voicemail on the telephone number listed on the event's Facebook page (646-233-4298) on Wednesday morning, November 28, but did not receive a call back. Today (Thursday), a message states, "the number you dialed is not a working number."
Nobody picked up when we called Seasonal Activation Group, the company behind the event which is affiliated with Millennial Entertainment. The latter ran into legal problems earlier this year with Boston Winter, a similar winter festival event held in Boston.
After learning that one reader named Melinda, who attended the event last Friday, received a refund by contacting See Tickets, the Los Angeles-based company handling online ticket sales for the event, Bklyner called the ticketing company for more information (323-908-0607).
Tionna, the Customer Support Manager for See Tickets, said that Seasonal Activation Group only gave See Tickets approval to give refunds to customers who attended Winterfest on the opening day, Friday, November 23, however Christine, another Bklyner commenter, attended the event on Sunday, November 25, and emailed Crosby, See Tickets, and the Brooklyn Museum on Monday about her bad experience. She received an email from See Tickets the next day and was given a full refund.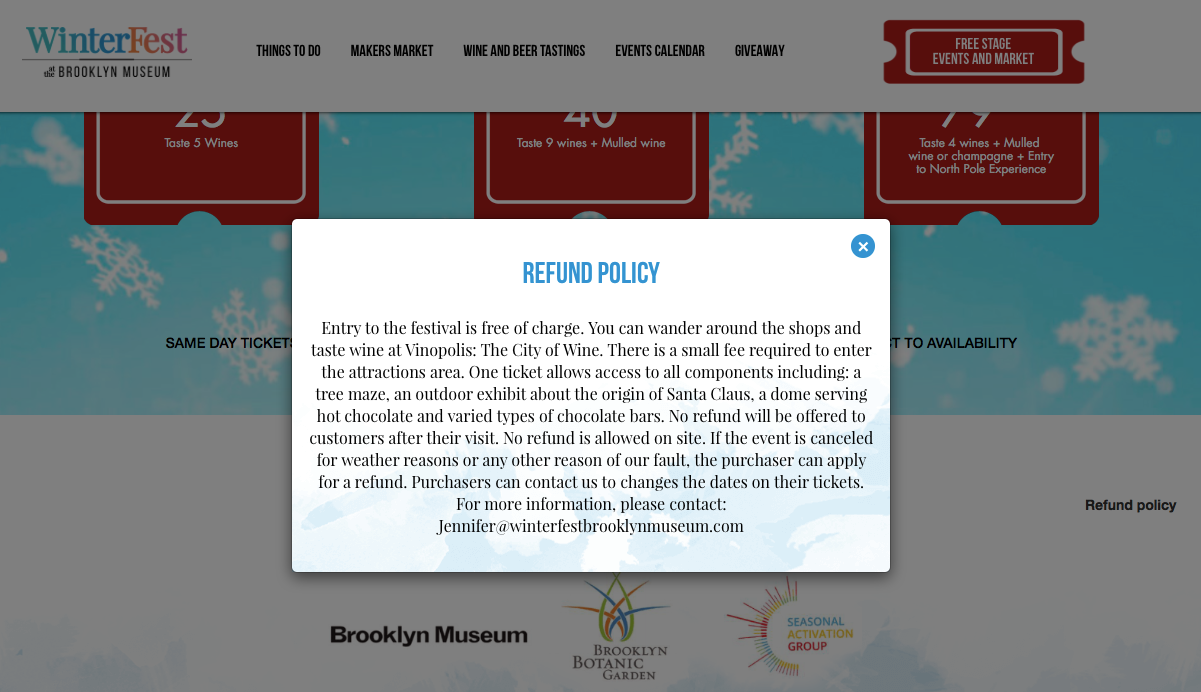 Winterfest's website now carries a Refund Policy disclaimer at the bottom of the homepage. It reads:
"Entry to the festival is free of charge. You can wander around the shops and taste wine at Vinopolis: The City of Wine. There is a small fee required to enter the attractions area. One ticket allows access to all components including: a tree maze, an outdoor exhibit about the origin of Santa Claus, a dome serving hot chocolate and varied types of chocolate bars. No refund will be offered to customers after their visit. No refund is allowed on site. If the event is canceled for weather reasons or any other reason of our fault, the purchaser can apply for a refund. Purchasers can contact us to changes [sic] the dates on their tickets."
The message also provides Jennifer Crosby's email address.
On Thursday morning, a reader wrote in the comments of the original post that she did receive a response from Crosby who offered tickets for a return visit and a glass of mulled wine but not a refund.
A Brooklyn Museum representative said that the Winterfest at Brooklyn Museum event is managed by an outside organization and is not affiliated with the cultural institution.
Bklyner reached out to Romanova Thursday afternoon to follow up on the refund policy and promised improvements but did not receive a response prior to posting.