Weekend Crime Blotter: A Surgical Bank Robbery in Bay Ridge, Killers in Cuffs & More
BAY RIDGE – A hot Sunday afternoon in Bay Ridge was interrupted by a bank robbery by a medical-mask wearing suspect, police said.
The robbery took place yesterday, Sunday, August 5, around 1:40 pm, said police. The suspect entered the TD Bank at 9904 4th Avenue and 99th Street wearing a light blue surgical mask and made his way up to the teller.
The suspect passed a note demanding money, said police, and the teller complied, turning over an unspecified amount of cash. The robber fled, but can be seen in a surveillance photo below: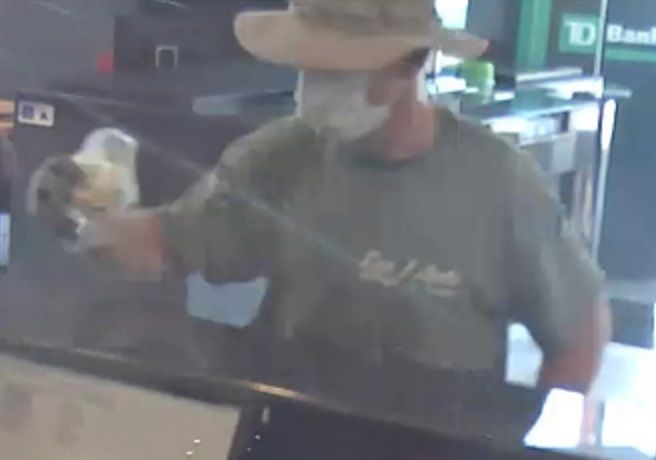 SUNSET PARK – Police have identified the victim and arrested a suspect in the stabbing death that shook Sunset Park last week.
The victim was identified as Miguel Garcia, 25, of Brighton Beach. His alleged killer was also arrested: 31-year old Rogelio Vasquez, also of Brighton Beach.
Sources say the men were with others in a livery cab when an argument broke out, and Vasquez allegedly broke a bottle into a weapon, using it to stab Garcia to death.
Vasquez has been charged with murder in the second degree.
DOWNTOWN – Last week, police in the 84th Precinct arrested an off-duty firefighter for DWI, the NYPD confirmed.
Just after midnight on Saturday, August 4, Michael Profeta of the FDNY was arrested by the NYPD and charged with driving while intoxicated, speeding, refusal to take a breath test and more.
PROSPECT HEIGHTS – Finally, police are looking for a subway perv who was caught pleasuring himself on the D train late last month.
The indecent incident took place around 2:40 pm on Monday, July 23, said police, on a southbound D train headed for Atlantic Barclays. An 18-year old woman saw the suspect masturbating while attempting to hide his actions with a backpack, said police. The woman detrained and reported the incident to the MTA, but the man continued on towards his destination.
A photo of the suspect can be seen below: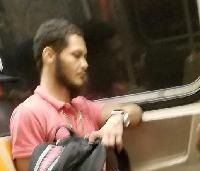 As always, anyone with information in regards to any of the above incidents is asked to call the NYPD's Crime Stoppers Hotline at 1-800-577-TIPS (8477) or for Spanish, 1-888-57-PISTA (74782). The public can also submit their tips by logging onto the Crime Stoppers website at WWW.NYPDCRIMESTOPPERS.COM or by texting their tips to 274637 (CRIMES) then enter TIP577. All calls are strictly confidential.