Weekend Art Events: September 15-17 (En Vogue, Gorillaz Pop-Up, Festivals Galore & More)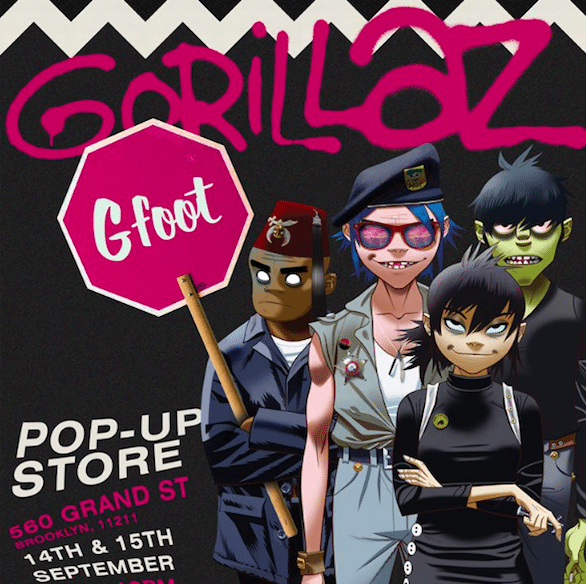 So many festivals, so little time. This weekend hosts fests for books, photography, food, beer, autumn, avenues, and neighborhoods.
Check out our packed list of things to do below and have a great weekend!
Photoville
When: Wednesday, September 13 – Sunday September 17 and Thursday, September 21 – Sunday, September 24
Where: Brooklyn Bridge park
What: Read more about Photoville here.
How Much: Free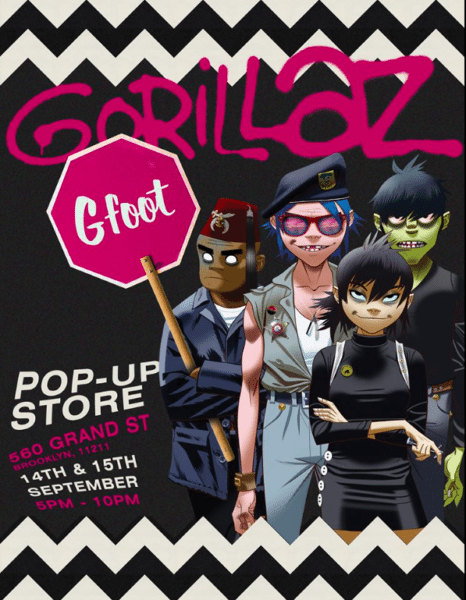 G Foot Pop-Up Store
When: Thursday, September 14 – Friday September 15, 5pm to 10pm
Where: 560 Grand Street, Williamsburg
What: Fans of the virtual band Gorillaz need to get to this Williamsburg pop-up shop to score clothing and accessories by cofounders Jamie Hewlett and Damon Albarn inspired by the style of the Gorillaz band members. The capsule collection includes exclusive, one-off  'I heart NY' character t-shirts! The band are in town to headline The Meadows festival in Queens on Saturday.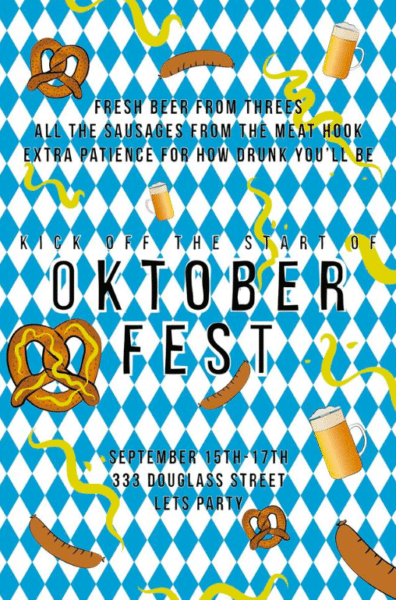 Oktober Fest
When: Friday, September 15 – Sunday, September 17, 5pm to 12am
Where: Threes Brewing, 333 Douglass Street, Gowanus
What: Threes Brewing will provide the beer and the Meat Hook will supply the sausage to celebrate the start of Oktoberfest.
How Much: Free admission
Brooklyn Historical Society Free Fridays
When: Friday, September 15, 5pm to 9pm
Where: Brooklyn Historical Society, 128 Pierrepont Street, Brooklyn Heights
What: September is National Bourbon Heritage Month! Join the Brooklyn Historical Society for an evening of French music, Brooklyn drinks, and far-reaching talks, all in the name of bourbon.
How Much: Free
Brooklyn Music School Jazz Series: Jeff Newell
When: Friday, September 15, 5:30pm to 7:30pm
Where: 7-Corners, Fulton & S. Oxford Streets, Fort Greene
What: Brooklyn Music School and Fab Fulton team up to bring a series of live, outdoor, "happy hour" concerts on three Fridays this month performed by BMS faculty. This session features Jeff Newell, a longtime BMS faculty member and professional saxophonist, flutist, and clarinetist. Musically-inclined attendees are invited to jam along.
How Much: Free
Marianne Moore's New Collected Poems
When: Friday, September 15, 7:30pm to 9pm
Where: Brooklyn Public Library, Central Branch, 10 Grand Army Plaza, Prospect Heights
What: As part of the Brooklyn Book Festival, Prospect Park Alliance presents Margo Jefferson, Timothy Donnelly, Maureen McLane and Eleanor Chai reading their favorite works by the American modernist poet, Marianne Moore.
How Much: Free
Brooklyn Book Festival Children's Day
When: Saturday, September 16, 10am to 4pm
Where: MetroTech Commons, Downtown Brooklyn
How Much: Free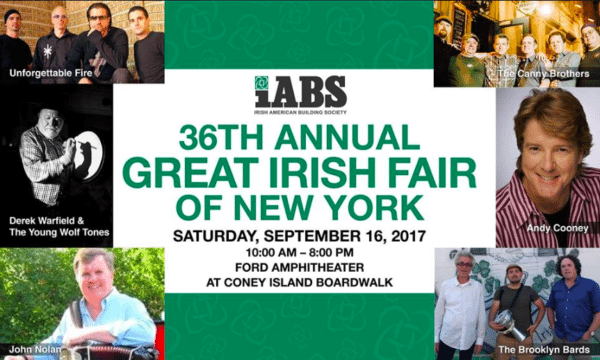 36th Annual Great Irish Fair of New York
When: Saturday, September 16, 10am to 8pm
Where: Ford Amphitheater at Coney Island Boardwalk, 3052 W 21st Street, Coney Island
What: A family-friendly event celebrating New York City's great Irish-American heritage and culture featuring traditional and contemporary Irish music from local bands, Irish dancing, Irish food and goods, and children's activities.
How Much: Tickets $20 general admission/$45 VIP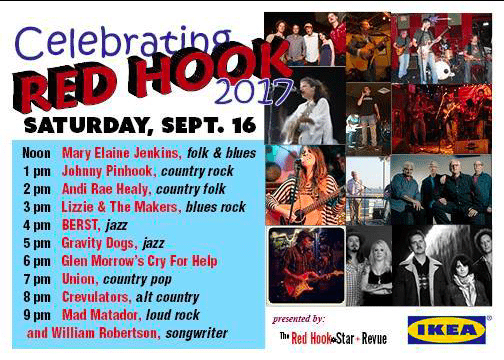 Celebrating Red Hook
When: Saturday, September 16 at 12pm to 10pm
Where: IKEA Plaza, One Beard Street, Red Hook
What: The Red Hook Star Revue presents an all-day party on the waterfront.
How Much: Free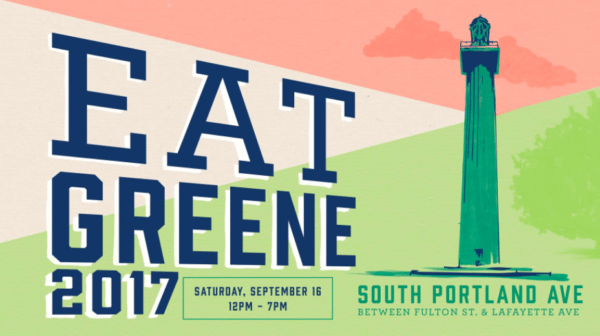 Eat Greene 2017
When: Saturday, September 16, 12pm to 7pm
Where: South Portland Avenue (between Fulton Street & Lafayette Avenue), Fort Greene
What: Brooklyn's first Eat Greene street fair will celebrate the local community as well as the maker community with a day of food education, neighborhood collaboration, and lots of food and drink!
How Much: Free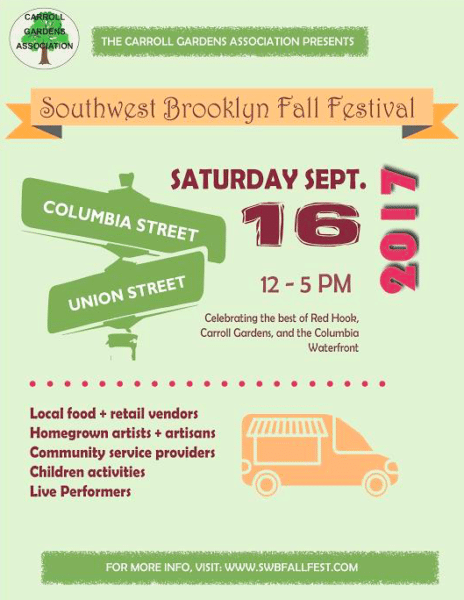 Southwest Brooklyn Fall Festival
When: Saturday, September 16, 12pm to 5pm
Where: On Columbia Street from Degraw Street to Union Street and on Union Street from Columbia Street to Hicks Street, Carroll Gardens/Columbia Waterfront/Red Hook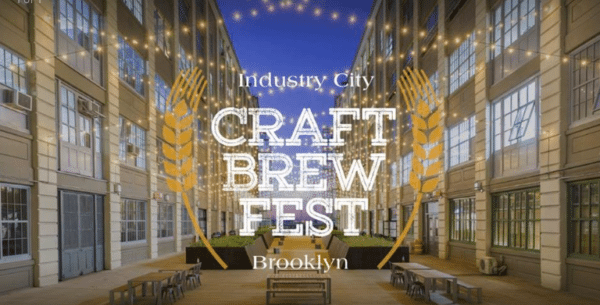 Industry City Craft Brew Fest
When: Saturday, September 15, 1pm to 4:30pm and 6pm to 9:30pm
Where: Industry City, 274 36th Street (Courtyard 3-4), Sunset Park
What: Enjoy an array of craft beers, live entertainment, food, and more.
How Much: Tickets $15-$60
En Vogue and Finding Ashley Stewart 2017
When: Saturday, September 16 at 8pm
Where: King's Theatre, 1027 Flatbush Avenue, Flatbush
What: Celebrate Brooklyn, women's empowerment, and community at this event featuring performances by singer Kierra Sheard, Brooklyn United Drumline, Xinos Step Team, dancer Amanda LaCount, and the award-winning 90s group, En Vogue. There will be special appearances by NFL legend Carl Banks, WNBA star Kym Hampton, MLB legend Mo Vaughn, and more.
How Much: Tickets $25-$65 (all net ticket proceeds will be donated to Dress for Success)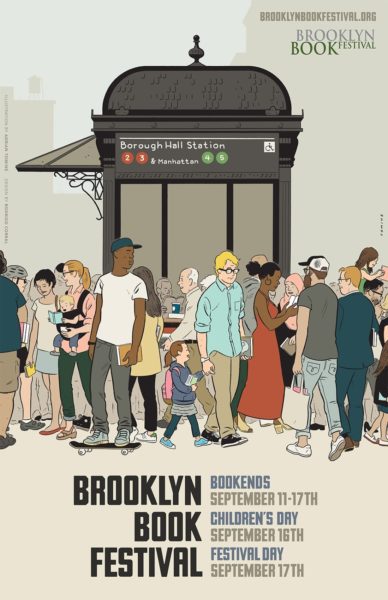 Brooklyn Book Festival Day
When: Sunday, September 16, 10am to 6pm
Where: Brooklyn Borough Hall, 209 Joralemon Street, Downtown Brooklyn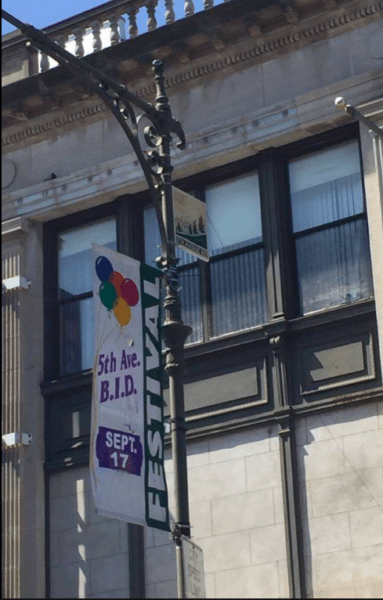 Sunset Park 5th Avenue BID Street Festival
When: Sunday, September 17, 11am-6pm
Where: 5 Avenue Between 44th Street & 59th Street, Sunset Park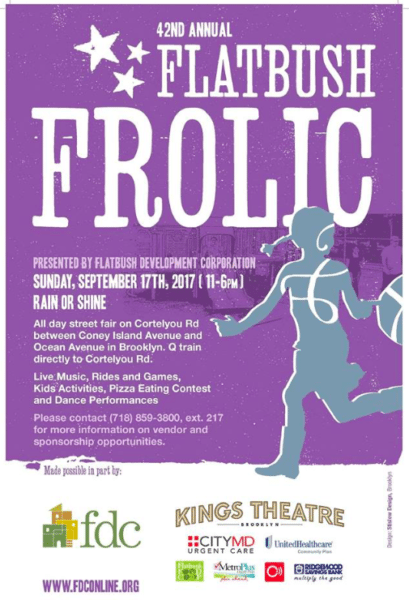 42nd Annual Flatbush Frolic
When: Sunday, September 17, 11am to 6pm
Where: Cortelyou Road between Coney Island Avenue & Ocean Avenue, Flatbush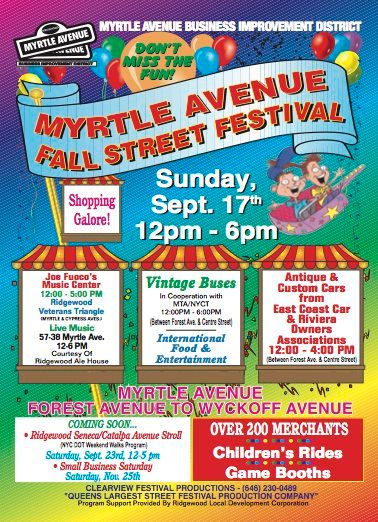 Myrtle Avenue Fall Street Festival
When: Sunday, September 17, 12pm-6pm
Where: Myrtle Avenue between Wyckoff Avenue & Forest Avenue, Bushwick
Taste of Williamsburg Greenpoint
When: Sunday September 17, 1pm to 5pm
Where: East River State Park, 90 Kent Avenue, Williamsburg
How Much: Tickets $35-$85
Concerts on the Slope Presents: Basses Loaded
When: Sunday, September 17 at 3pm
Where: Saint John's Episcopal Church, 139 Saint John's Place, Park Slope
What: Cellist Ben Larsen, bassoonist Nanci Belmont, and pianist Ava Nazar perform works by Beethoven, Debussy, Hindemith, Mozart, and more.
How Much: Suggested donation $20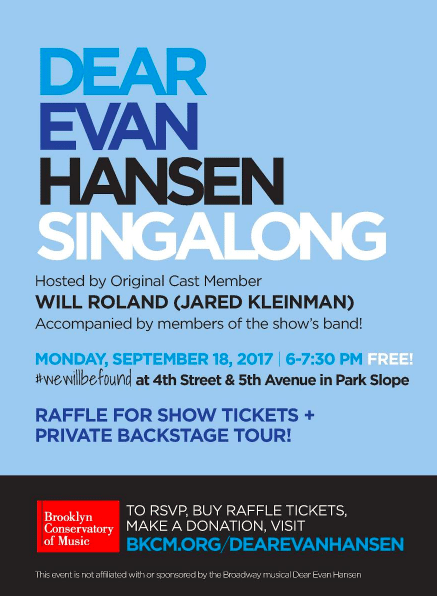 Dear Evan Hansen Singalong
When: Monday, September 18, 6pm to 7:30pm
Where: Brooklyn Conservatory of Music, 58 7th Avenue, Park Slope
What: Sing along and purchase raffle tickets for a chance to win tickets to the hit Broadway show.
How Much: Free
James Brandon Lewis and Val Jeanty
When: Monday, September 18 at 8pm
Where: Roulette, 509 Atlantic Avenue, Boerum Hill
What: Former Roulette artists-in-residence James Brandon Lewis (saxophone) and Val Jeanty (electronics) come together to present a live spontaneous composition. Lewis' new group, UnRuly Notes, will open the show performing works inspired by the Czech composer Antonín Dvořák.
How Much: Tickets $15 online, $20 at door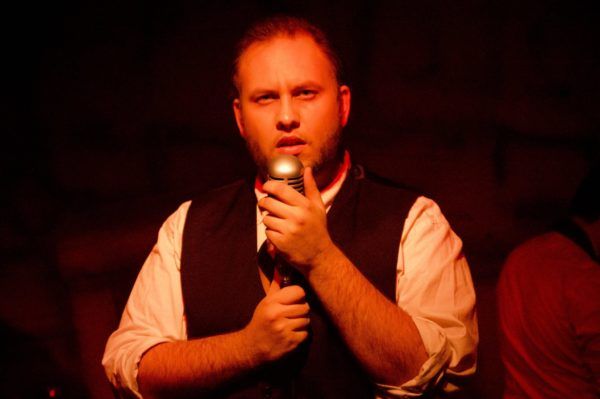 Curiosities
When: Opens Friday, October 13
Where: The Menagerie, 627 5th Avenue, Park Slope
What: An immersive theatrical experience set in an illegal 1930s sideshow world populated by bootleggers, deviants, performers, and misfits. Audiences are invited to explore a secret performance of Professor Mysterium's Menagerie of Wonder set in a subterranean jazz club.
How Much: Tickets on sale now.

Doubles | Julia Rooney
When: On view from Wednesday, September 13 through Sunday, October 1 (Opening reception Saturday, September 16, 6pm to 8pm)
Where: One Brooklyn Bridge, 360 Furman Street (between Piers 5 & 6), Brooklyn Bridge Park
What: The inaugural exhibition at Chashama's newest presentation space, Doubles investigates domestic space and how it is both physically built and socially performed through habitation. The artist presents large-scale installations using materials from the home that reclaim and change the viewers' understanding of domestic spaces.
The Witness Tree Project
When: On view from September 9 – September 30 from Thursdays through Sundays, 12pm to 5pm
Where: Lefferts Historic House, 452 Flatbush Avenue, Prospect-Lefferts Gardens
What: In honor of Prospect Park's 150th Anniversary, the Prospect Park Alliance and Rhode Island School of Design (RISD) present this art exhibition featuring objects designed by RISD students created from a fallen 150-year-old elm tree from the Prospect Park Parade Ground.
How Much: $3 suggested donation
Latitudes and Meditations
When: On view from Thursday, September 7 through Sunday, October 8
Where: 440 Gallery, 440 6th Avenue, Park Slope
What: 440 Gallery presents two new exhibitions. Latitudes is a two-person exhibit that addresses the artists' need to travel, featuring paintings by Joy Makon and sculptures by Richard Barnet. Meditations features digital imagery by Leigh Blanchard, paintings by Ellen Chuse, and mixed-media collages by Karen Gibbons.