Weekend Art Events: July 19-21 (Tiny Sketchbook Exhibit, Pearl Market, Coney Island Music Fest & More)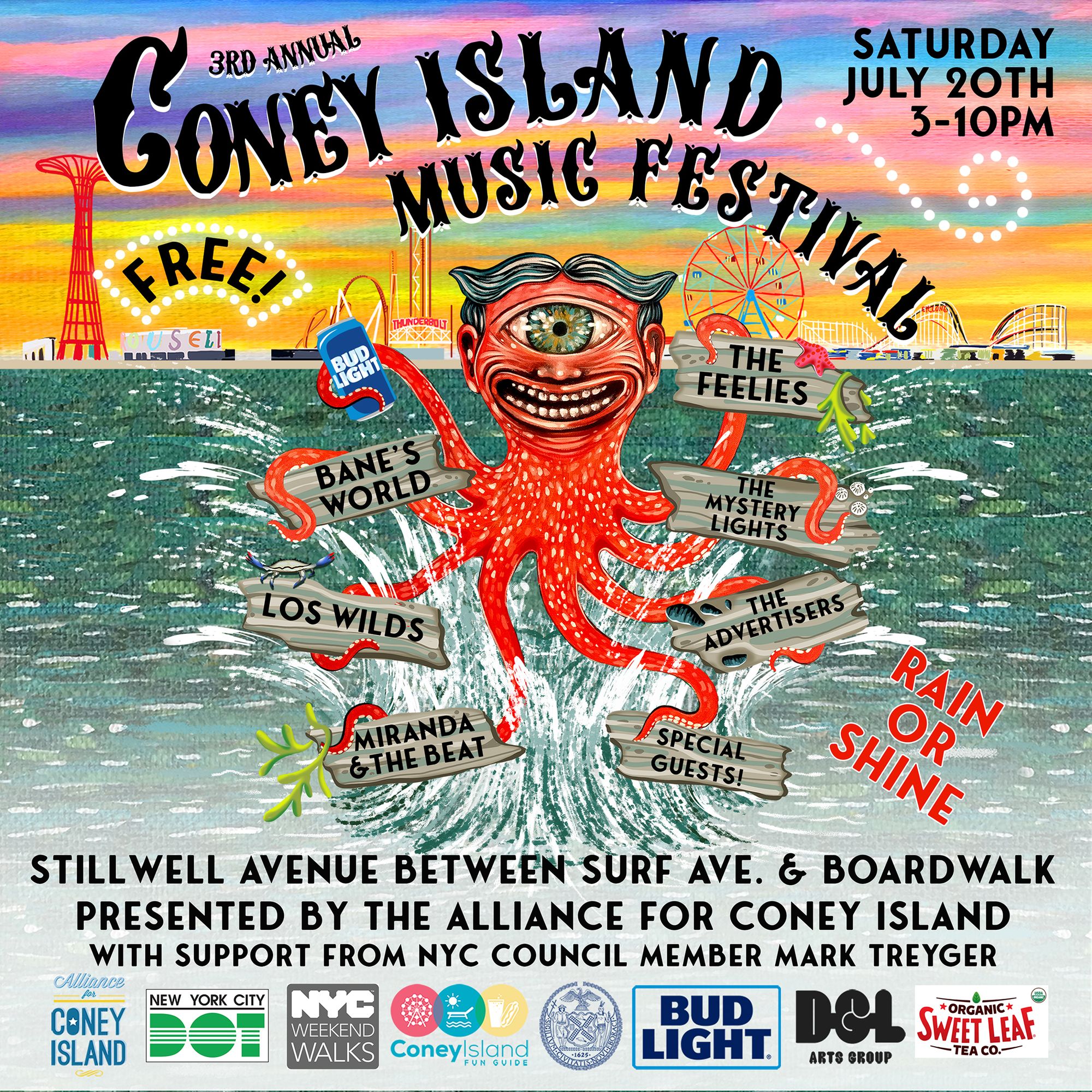 Spend the summer evenings outdoors at one of the many events happening around Brooklyn this weekend. Catch a movie at Greene Garden or see a live performance at the Gowanus Dredgers Canoe Club Boathouse. Plus, don't forget to check out ongoing events including On the (Queer) Waterfront at the Brooklyn Historical Society or the Summer Wellness Sunday Series at the Brooklyn Botanical Garden. Both events end Aug. 4.
Bklyner Calendar has more events happening around town and you can list one of your own.
Friday, July 19
SWEET MEGG at Old Stone House, 6pm [Free]: Check out live music with Sweet Megg & The Wayfairers at the Old Stone House. Then afterward, stick around for movie night with Shorts on the Slope (8:30pm), a program of short films by Brooklyn filmmakers.
TINY SKETCHBOOKS at Brooklyn Art Library, 7pm [Free]: The Brooklyn Art Library is a creative platform that hosts interactive projects accessible to anyone.They also have the largest collection of sketchbooks in the world. Check out their latest exhibit by Brazilian artist Tati Vitsic featuring tiny sketchbooks.
COMMUNITY GARDEN MOVIE NIGHT at Greene Garden (2 South Portland Ave), 8:30pm [Free]: Join community members for a screening of Living Los Sures. Attendees will get to watch both the original 1984 documentary of neighborhood life in South Williamsburg and the 2014 film project documenting how the neighborhood has transformed.
Saturday, July 20
PEARL MARKET at The Plaza at 300 Ashland, 11am [Free]: Spend the day at this roving fashion, beauty, and homestyle pop-up market that travels seasonally to unique venues across Brooklyn. Booths will feature jewelry, beauty and skincare, home furnishings, apparel, and more featuring female-led, owned, or inspired brands.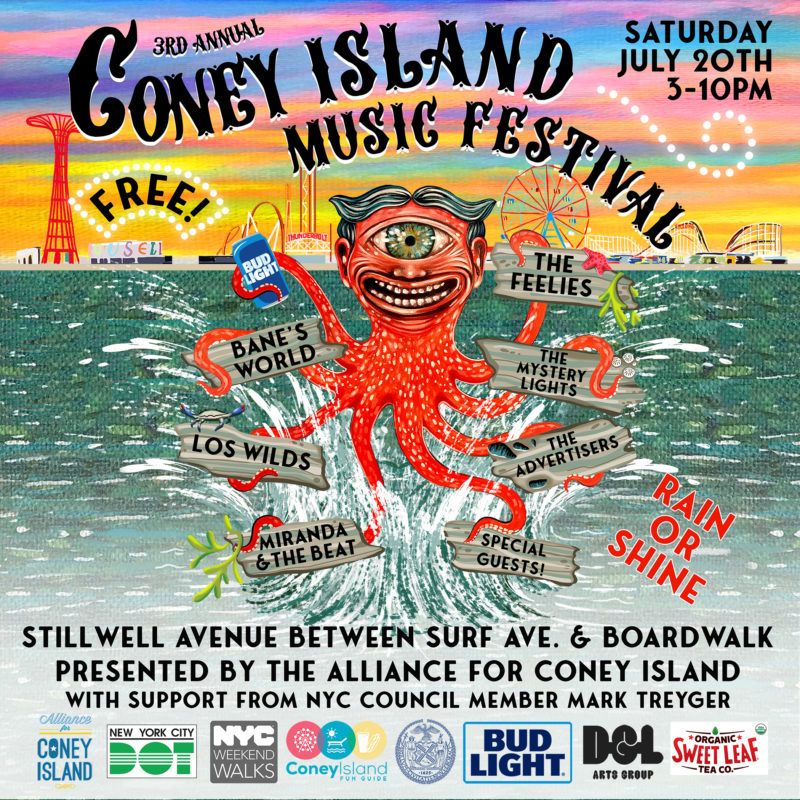 3RD ANNUAL CONEY ISLAND MUSIC FESTIVAL at Stillwell Avenue (between Surf Ave & Boardwalk), 3pm to 10pm [Free]: Post-pop pioneers The Feelies headline the third annual Coney Island Music Fest. Other acts include Bane's World, The Mystery Lights, Los Wilds, The Advertisers, Miranda & the Beat, and Jeanines. This free music event, staged in the heart of Coney Island, is rain or shine.
CREEKERS JAMBOREE at Gowanus Dredgers Canoe Club Boathouse, 5pm [Free]: Creekers Jamboree celebrates Roots and Americana music on the third Saturday of every month this summer. This month features performances by The Homestead Street Band and Hello Bittersweet.
ROULETTE'S 40th ANNIVERSARY CLOSEOUT PARTY at Roulette, 5pm (+July 21) [$30 online, $40 at door, or $50 for both shows]: Roulette celebrates the close of its incredible 40th Anniversary Season with two benefit concerts. Attendees will enjoy complimentary wine and beer and performances by artists spanning Roulette's rich history. All proceeds will support programming for the 2019–2020 season.
Sunday, July 21
POP-UP PERFORMANCE: BROOKLYN SYMPHONY ORCHESTRA at the Brooklyn Museum, 2pm [Free with museum admission]: Drop by Brooklyn Symphony Orchestra's new series of intimate pop-up performances, highlighting members and featured musicians as the Orchestra in Residence activates Brooklyn Museum's Beaux-Arts court with a family-friendly range of classical music from across the globe.
THE NEW YORK NIGHT TRAIN SOUL CLAP AND DANCE-OFF at Ford Amphitheater, 6pm [Free]: Spend the evening dancing the night away with performances by Irma Thomas, Archie Bell, Betty Harris, Joe Bataan, Binky Griptite and the Brooklyn Rhythm Band. Jonathan Toubin will also host his infamous $500 Dance Contest. Participants can join the dance contest on-site at 7:15pm.
Ongoing…
ON THE (QUEER) WATERFRONT at the Brooklyn Historical Society, through August 4 [Free]: Co-curated by Hugh Ryan and Avram Finkelstein, this exhibition focuses on the lesbian, gay, bisexual, transgender, and queer history of Brooklyn in the 1800s and through World War II. Visitors can expect to see photographs, artifacts and more. Read more here.
SUMMER WELLNESS SUNDAY SERIES at Brooklyn Botanical Garden, 9am (through Aug. 4) [Tickets start at $30]: Connect with nature, yourself, and your community during these wellness mornings. Take part in 90-minute sessions prior to the Garden's public hours including a 45-minute yoga class and 15-minute guided meditation, both led by Sarah Schumann, followed by a horticulture exploration led by BBG's own staff.
THE PHOTOGRAPHS OF BUILDER LEVY: HUMANITY IN THE STREETS at Brooklyn Historical Society, through August 11 [Free]: A collaboration between the Brooklyn Historical Society and students from Pratt Institute, this new exhibit showcases a selection of images documenting everyday life in NYC from the 1960s to 1980s, through the lens of Brooklyn-bred photographer Builder Levy. Students from Pratt's Spring 2019 Museology Class took on roles as curators, designers, publicists and more for the exhibition.
OSCAR @ THE CROWN at 3 Dollar Bill, through August 25 [Tickets begin at $25]: Directed by Shira Milikowsky, this performance combines sequins, reality television, and the complete works of Oscar Wilde. OSCAR @ The Crown is an immersive nightclub musical detailing the rise and fall of one of history's most flamboyant characters.
CONEY ISLAND HISTORY PROJECT: SALVATION BY THE SEA at Coney Island, through Sept. 2 [Free]: View historic artifacts, photographs, maps, ephemera and films of Coney Island's past and this year's special exhibition Salvation by the Sea: Coney Island's 19th Century Fresh Air Cure and Immigrant Aid Societies. This exhibit explores an era of Coney Island's history by examining the role that the beachfront played in saving lives and providing a livelihood for the waves of immigrants who came to America between the 1870s and 1920s.