Weekend Art Events: April 19-21 (Rorschach, Music Of Curiosities, Morbid Anatomy & More)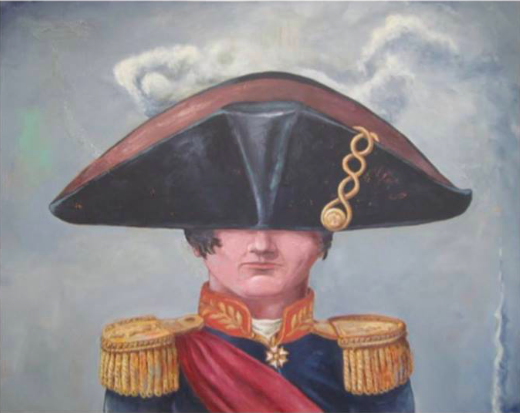 It's Easter weekend and the start of spring break. There's lots to do if you're staying in town including the return of Morbid Anatomy at Green-Wood Cemetery and an immigrant heritage walking tour at Coney Island. It's also the last weekend to check out Marjana and the Forty Thieves at Target Margin Theater and Refiguring Binaries at Pioneer Works.
The Bklyner Calendar has more events happening around town and you can list one of your own.
Friday, April 19
RORSCHACH at 202 Plymouth Street, 10am to 9pm through April 21 [Tickets $10]: Austrailian-born, NYC-based artist CJ Hendry's exhibition was inspired by psychological inkblot tests and features an interactive, 14-foot-tall, 3,000-square-foot bounce house with padded white walls and floors.
BOBBY'S BIRTHDAY at Ground Floor Gallery, through April 21 [Suggested donation $10 per person]: This series of animated dioramas tells the story of a dog named Percy as he prepares a last-minute surprise birthday party for his feline roommate Bobby.
MUSIC OF CURIOSITIES at Coney Island USA, 9pm [Tickets $20]: Live music and live art come together on the Coney Island Sideshow stage with performances by surreal folk/rock duo Cookie Tongue and Charming Disaster. Hosted by PNK VLVT WTCH.
Saturday, April 20
CELEBRATE EARTH DAY 2019 at Brooklyn Bridge Park, 11am to 5pm [Free]: Celebrate Earth Day with a variety of activities hosted by the Brooklyn Bridge Park Conservancy including volunteer opportunities with the Green Team; puppet shows, animal feedings, and a nature tour with the Education Center team; and gardener talks led by BBP's horticulture staff.
HEAVEN, HELL, AND PURGATORY: VISIONS OF THE AFTERLIFE IN THE CATHOLIC TRADITION at Green-Wood Cemetery (Fort Hamilton Gatehouse), Saturdays & Sundays from April 20 through June 30 [Free]: Morbid Anatomy returns for a second year to Green-Wood Cemetery's historic Fort Hamilton Gatehouse. The museum's latest exhibit explores visions of heaven, hell, and purgatory in the Catholic tradition featuring paintings, photographs, sculptures, historical books, and prints dating from the 17th century to the present. Don't forget to visit the attic where selections from Morbid Anatomy's vast library will be available for perusal. The official launch for the exhibition will take place next Friday, April 26 with a special after-hours cemetery garden party.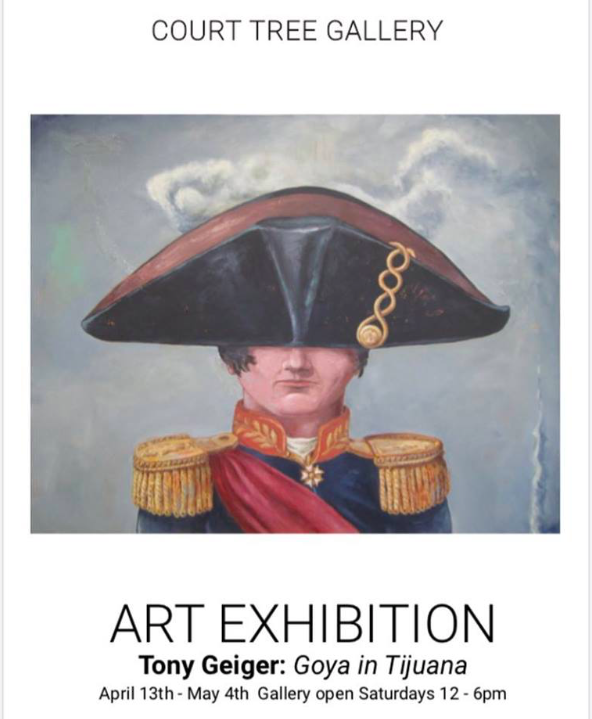 GOYA IN TIJUANA at Court Tree Gallery through May 4th: Brooklyn-based artist Tony Geiger presents a series of paintings that encompass "classical surrealism and more contemporary concerns" while illustrating conflict and the human condition.
Sunday, April 21
EASTER SUNDAY IMMIGRANT HERITAGE TOUR OF CONEY ISLAND at Coney Island History Project, 12pm (in English) and 3pm (in Mandarin) [Free]: As part of Immigrant Heritage Week 2019, the Coney Island History Project hosts this special walking tour discussing the contributions of immigrants to the development of "The Playground of the World."
Looking ahead…
Kings Theatre Historic Tour (Sponsored) at Kings Theatre, April 20, 2pm [Tickets $20]: Brooklyn's newly-restored Kings Theatre is pleased to announce the return of the popular historic theatre tours. All tours cover the history of the initial opening in 1929 through the story of the current day restoration to glory in an intimate group setting.
SF9 Unlimited Tour (Sponsored) at Kings Theatre, April 21, 7:30pm [Tickets begin at $60]: Billboard's 2019 K-Pop breakout pick, SF9, is coming to Kings Theatre on April 21 in support of their comeback album NARCISSUS released on February 20th.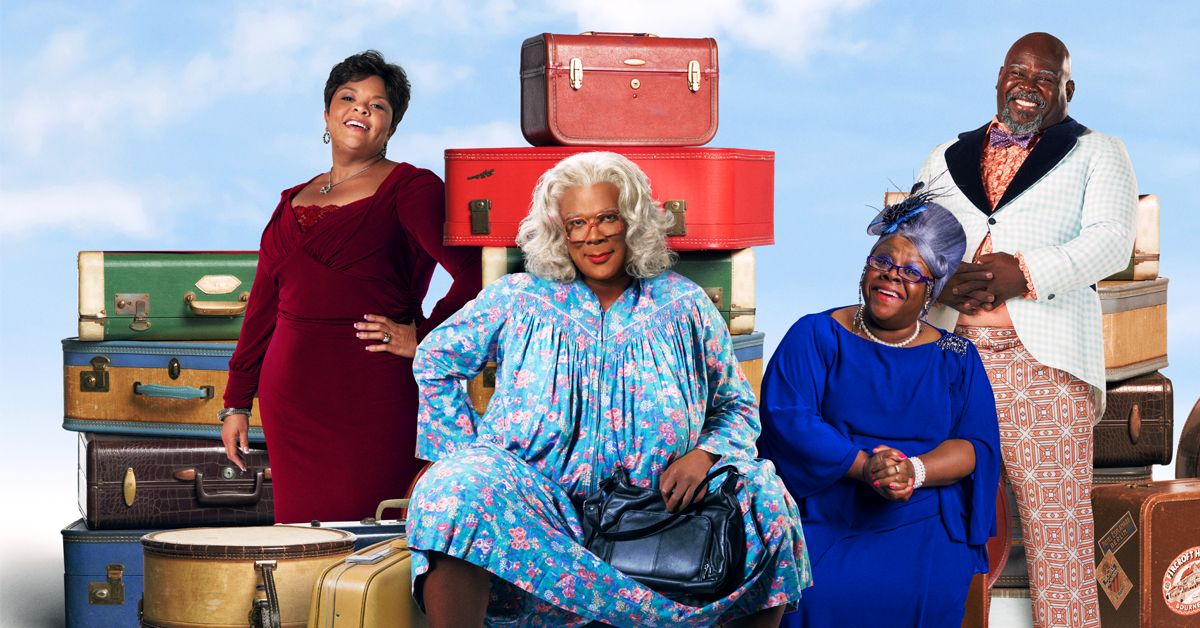 TYLER PERRY'S MADEA'S FAREWELL PLAY TOUR (Sponsored) at Kings Theatre, April 25-28 [Tickets start at $200]: Tyler Perry's "Madea's Farewell Play Tour" will be Perry's 21st stage play. In addition to Perry, the play will star Tamela Mann, David Mann, and Cassi Davis Patton. Perry made headlines last month when he announced that he would be hanging up Madea's wig in 2019, with the expected final stage play and the upcoming film Madea's Family Funeral, being released by Lionsgate on March 1, 2019.
TURETSKY CHOIR PRESENTS THE GREATEST HITS (Sponsored) at Kings Theatre, May 4, 8pm [Tickets begin at $95]: The Turetsky Choir returns to Kings Theatre this spring on their greatest hits tour!
GRiZ TOUR (Sponsored) at Kings Theatre, May 10, 8pm [Tickets start at $50]: Sax man. Producer. DJ. Musician. GRiZ is all of the above—and then some. But beyond everything, GRiZ is the shining force of positivity who's here to teach the world how to do one thing: Show Love, Spread Love. It's the driving mantra that's come to define the core of everything GRiZ. "I'm just here to spread good vibes, my friends," the jovial producer says. "It all comes down to spreading the good word and sharing the love."
Pod Tours America (Sponsored) at Kings Theatre, May 16 + 17, 8pm [Tickets begin at $59.50]: Pod Save America, co-hosted by Jon Favreau, Jon Lovett, Dan Pfeiffer and Tommy Vietor has been downloaded more than 370M times, and was dubbed "the voice in blue America's head" by New York Times Magazine. Favreau, Lovett, Pfeiffer and Vietor all served in key roles in the Obama White House. They have expertise in political campaigns (both winning and losing), political strategy, speechwriting and foreign policy. They are blunt about their disgust with the Trump administration, but are equally hard on the Democratic Party when it screws up. You'll laugh. You might cry. And you'll leave motivated to fight for our democracy.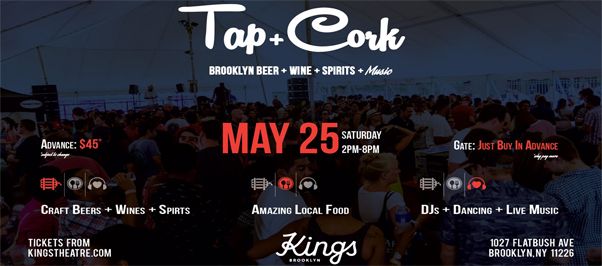 Tap & Cork (Sponsored) at Kings Theatre, May 25, 2pm [Tickets begin at $45]: A block party-styled beverage festival full of craft and small batch brands next to some known favorites. Amazing food and great music keeps your belly full and your feet moving. All happening in the greatest city's favorite borough.
Ongoing…
MARJANA AND THE FORTY THIEVES at Target Margin Theater, through April 20 at various times [Tickets begin at $25]: This production is part of Target Margin Theater's multi-year exploration on the tale The One Thousand and One Nights and is based on the story of Ali Baba.
REFIGURING BINARIES at Pioneer Works, through April 21 [Free]: Explore identity, the body and the politics of technology with this new exhibition. Curated by Kelani Nichole, this exhibition explores how the boundaries of technology and the body have blurred just as the lines between author, image, and copy have as well.
STEEL MAGNOLIAS at Gallery Players, 8pm (through April 28, various times) [Tickets begin at $20]: Spend the evening with a tight-knit group of southern ladies in a small-town beauty parlor who each witness each other's life milestones. Celebrating the 30th year since the film's release, this production was written by playwright Robert Harling in ten days as a tribute to his sister Susan.
FIVE VOICES OPENING RECEPTION at South Slope Local Café, through April 28 [Free]: Enjoy works from Faith Gertner, Suzanne Jasper, Lily Moy Leong, Susan Louie and Deborah Wheaton—five voices taught by Susan Newmark Fleminger of Park Slope Center for Successful Aging and Daniel McDonald of Prospect Hills Senior Services Center.
RACE AND REVOLUTION: REIMAGINING MONUMENTS at The Old Stone House, through June 14 [Free]: This third iteration of a series that aims to bring the conversation of systemic race and racism from the past into the present displays excerpts from historical documents alongside contemporary works by 16 artists including paintings, drawings, quilts, interactive sculptures, and public art.
ON THE (QUEER) WATERFRONT at the Brooklyn Historical Society, through August 4 [Free]: Co-curated by Hugh Ryan and Avram Finkelstein, this exhibition focuses on the lesbian, gay, bisexual, transgender, and queer history of Brooklyn in the 1800s and through World War II. Visitors can expect to see photographs, artifacts and more. Read more here.