'We Need a Crisis-level Response': Myrie, Richardson Call on State to Cough Up More Anti-Gun Violence Funding
PROSPECT LEFFERTS GARDENS — Brooklyn-based anti-gun violence groups need more money from the state, local elected officials said Friday.
While announcing the allocation of hundreds of thousands in state funds to neighborhood-based anti-gun violence groups, central Brooklyn politicians called on Albany to dedicate additional money to such efforts. In the aftermath of mass shootings in Brownsville and Crown Heights, and amid an uptick in gun violence in pockets of Brooklyn, State Senator Zellnor Myrie and Assembly Member Diana Richardson said the $200,000 that in the 2019 budget had been set aside for anti-gun violence work and doled out to six organizations isn't enough.
"By any definition of the word, we are living in a crisis in central Brooklyn, and instead of getting a crisis-like response, we only get thoughts prayers and vigils," Myrie— who represents Crown Heights, Prospect Lefferts Gardens, and Brownsville— said at a press conference outside his Prospect Lefferts Gardens district office, where he was joined by clergy and representatives of groups set to receive thousands in funding. "We need a crisis-level response to the crisis of gun violence in our community."
Friday's press conference comes after on Tuesday Mayor Bill de Blasio announced Brownsville groups will receive about $9 million from the city's coffers for anti-gun violence initiatives, as Bklyner first reported.
Of the $200,000 of SNUG ("guns" spelled backwards) violence-prevention funding in the 2019 state budget that Myrie secured, $50,000 apiece will go to 67th Precinct Clergy Council which serves East Flatbush, and Save Our Streets which serves Crown Heights and Bed-Stuy, according to Myrie. In addition, Brownsville Community Justice Center,  Brownsville In Violence Out, Brownsville's Elite Learners and Brownsville Think Tank Matters will each get $25,000 of state money, he announced.
"That is a necessary contribution, not a sufficient contribution," Myrie said. "And the state has a responsibility to respond to gun violence in our community as if it were an epidemic, an outbreak and a disaster, so we are saying in unequivocal terms today that the state must do more to end gun violence in central Brooklyn. …. We are demanding more money from our state government."
Richardson, who represent Crown Heights and Prospect Lefferts Gardens, said in recent years it's been a struggle to bring back enough money from Albany to combat gun violence.
"Four years ago, it was to my dismay that [in] Kings County … we had the most gun violence but there were zero dollars coming back to our county, back in 2015," she recalled. "It is though we are crying out for the state of New York to pay attention to the crisis that is happening in central Brooklyn."
"When I go back to Albany in January," she continued, "it will be game on."
Richardson said she'd like to see the state dedicate as many resources and as promptly as it did in respond to the opioid epidemic, blaming color of the skin of gun violence victims in Brooklyn for the state's insufficient response to the problem.
"We want the same level of response that there was an issue that was affecting white New Yorkers," she said. "If the face of the person who was getting shot was in Park Slope … the response would have been here already."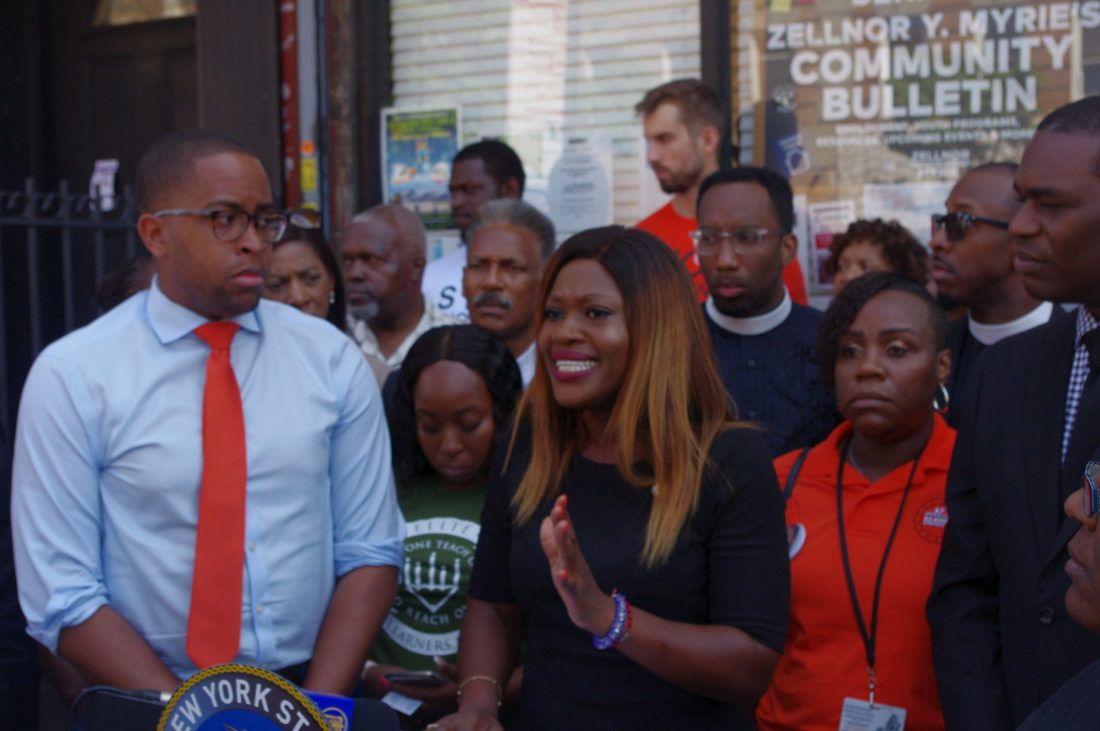 Exactly how much money should the organizations doing anti-gun violence work get from the state? Richardson says $1.3 million. Myrie, for his part, declined to give a number, and a spokesperson for him said the governor "should allocate whatever funding possible to stem the epidemic of gun violence in our community."
"Despite the city and state's increased funding directed toward anti-violence and mental health work in recent years, the violence continues and our people are suffering," Myrie's spokesperson Jonathan Timm told Bklyner in a text. "If we are to truly strike at the root of this violence, we need to treat this like the public emergency that it is and dramatically increase our investments in community institutions and anti-violence groups."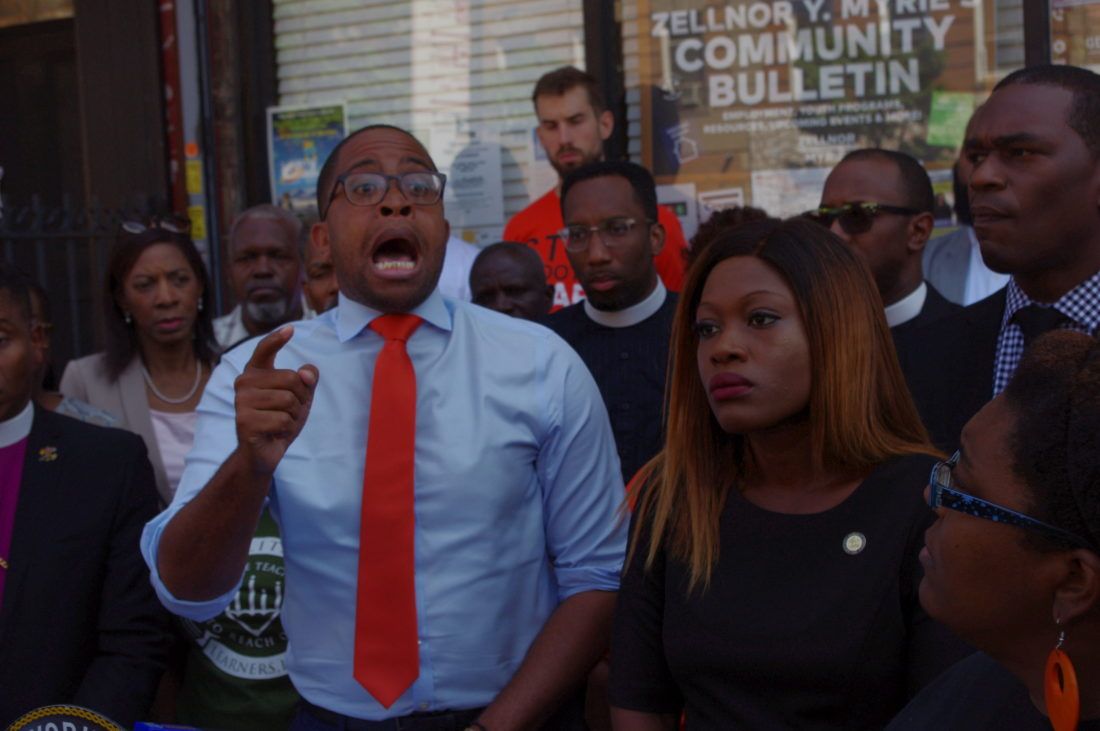 After the press conference, Myrie told reporters de Blasio's "laudatory and welcome investment" in Brownsville was an impetus for his calling for more state funds. And Myrie said he and others in Brooklyn won't necessarily have to wait until the 2020 session in Albany for the state funds he's requesting.
"We know that when the state wants to step into action when there is an emergency, they find a way to reallocate funds, and that is what we are calling for today," he said. "If we had some sort of natural disaster that had a 600% increase in deaths, the state would find the money to deal with that, and we're asking them to do that in this situation."