High Flying Water Tower Bar Opens Above Williamsburg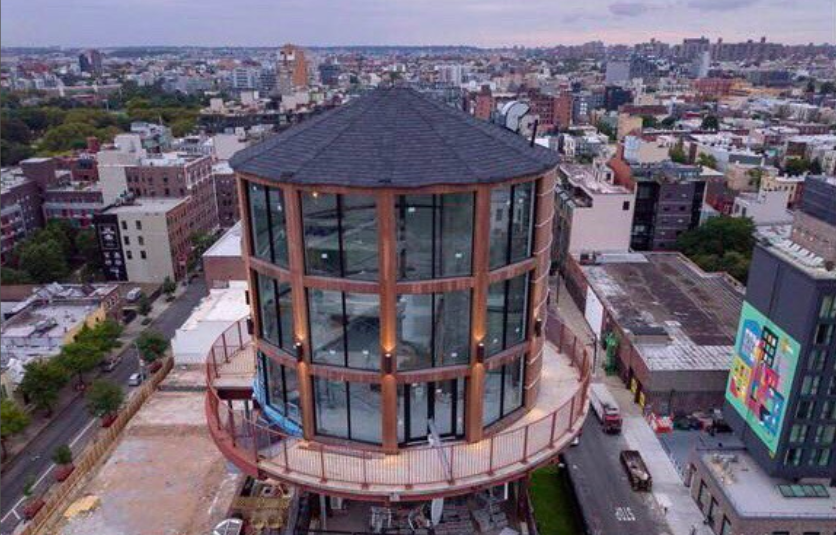 WILLIAMSBURG – Amid the highrises and hotels that are springing up everywhere on the North Brooklyn waterfront, a high-flying and high-priced cocktail bar has opened in a space inspired by old-school water towers.
Perched atop the Williamsburg Hotel at 96 Wythe Avenue and North 10th Street, The Water Tower bar boasts views of the East River and Manhattan skyline while sitting above a rooftop pool.
Naturally, with such a fancy set-up, things at the 45-seat bar don't run cheap: $500 bottle service and $525 caviar tastings, for example. For those operating on budgets a little less lofty, there are $22 cocktails to be had, but they quickly ramp up to $150.
In keeping with the late-stage Williamsburg necessities, there's a CBD-infused cocktail and a truffle-infused spritz, both to be sipped under the Edison bulbs while gazing out at the view—or at some Roy Lichtenstein-inspired pop-art, while seated in a mix of retro velvet and leather couches.
The announcement of the new space has drawn comparisons to an invite-only speakeasy operated out of a Chelsea water tower about five years ago. Far from a pop-up, though, The Water Tower was purpose-built from scratch—and it's legal to operate.
The bar is open from 10 pm to 4 am Wednesday through Sunday, though with the rather limited seating, it would be wise to make a reservation.