The Wait Is Over: Camperdown Elm Opens Today In South Slope
South Slopers have been waiting for months during the extensive renovation of Thistle Hill Tavern in preparation for the grand opening of Camperdown Elm, a new dinner restaurant named after a famous elm tree in Prospect Park.
Tonight, the wait is finally over and hungry Brooklynites need not worry that the menu features hot sausage and mustard, nor cold jelly and custard.
The song from the old Broadway play Oliver, "Food Glorious Food," opens with the lyric, "Is it worth waiting for?"
Some of us were lucky enough to sample the menu at the sneak preview last night, and we can answer a resounding "yes."
The menu, with 'seasonal and approachable New American fare' is broken down into Snacks, Small Plates, Mains, and Sweets. Three of the snacks, to my tongue, were total winners: the Fried Muffins with House Butter (think tiny Italian Zeppoles minus the powdered sugar), the Squid Cracker, and the East Coast Oyster.
The fourth snack, grilled cucumber with Ikura (fish row) and Smoked Buttermilk, while not bad, was the least interesting, as the cucumber overwhelmed the other flavors.
The terrific Squid Cracker, made by hand in the kitchen, lacked the fishiness of the processed seafood crackers you find in Asian grocery stores because it's basically a rice cracker with a dash of squid ink for color.
The similarly non-fishy mackerel pate adorning the cracker was enriched by a dollop of chef Brad Willits' secret and delicious Camperdown steak sauce, which seasoned the Beef Brassica main course.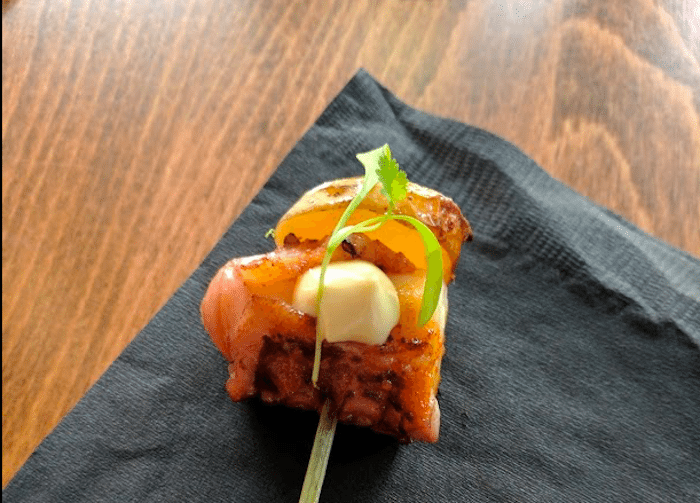 We would have had no problem slurping down oysters all night. Marinated in a delicate mignonette of red wine vinegar, shallots, pickled kiwi, and cracked black pepper, they were hard to resist, but enticing trays of food kept emerging from the kitchen and distracting us.
Two small plates that couldn't have been more different were the Octopus & Morcilla and the Broadbent Country Ham, Johnny Cakes. The grilled octopus paired with Spanish blood sausage, tomatillo, and smoked potato was all savory. But underneath the ham covering the crispy Johnny Cake, a traditional New England pancake made from cornmeal, was a generous lathering of sweet blueberry jam. Yum!
But the evening was not all snacks and appetizers. Still in store were two main courses, a seared D'artagnan Rib Eye steak finished off on a Japanese grill cut thin and served rare with that aforementioned (top secret!) Camperdown steak sauce. The expertly prepared and succulent beef was paired with broccoli rabe that sat on top of a cauliflower mash.
The other main course, Crispy Rice, Grouper, Clams, and Shiso, resembled Spanish paella more than a Japanese-inspired dish. But the real culmination of the night was the dessert, "Key Lime Pie" made with Sea Buckthorn, a super berry.
No offense to Steve in Redhook but this tasted better than any real key lime pie I ever had. Orange-y rather than limey, it had a subtly smooth smokiness to it and undertones of sugar and salt meshed in the home-made graham cracker crust molded with browned butter.
The special ingredient, said chef Willits, is Sea Buckthorn — delicate juice from an imported berry.
Unlike poor and hungry Oliver Twist, by evening's close, none of us had a "Please sir, can I have some more?" moment. We were all pretty damned full and satisfied.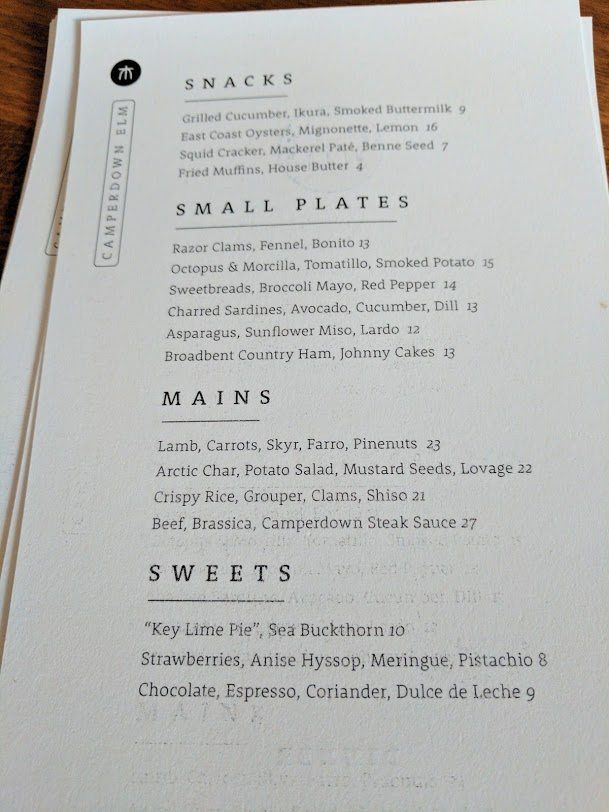 In addition to the delightful menu, the atmosphere was warm and relaxed, which is exactly what owners Nao Minami and Brad Willits were going for.
The decor is accented with exposed brick and reclaimed wood, including the bar top made of thick-cut yellow pine beams salvaged from a former Williamsburg bakery, tables made from butcher blocks, and bar shelves are made from reclaimed beams from a New Jersey factory.
Willits and his team were tired of commuting to Manhattan for a stuffy dining environment, and are striving to create a simple, comfortable, neighborhood restaurant. "We just want people to have fun," he said, taking time throughout the bustling night to chat with guests.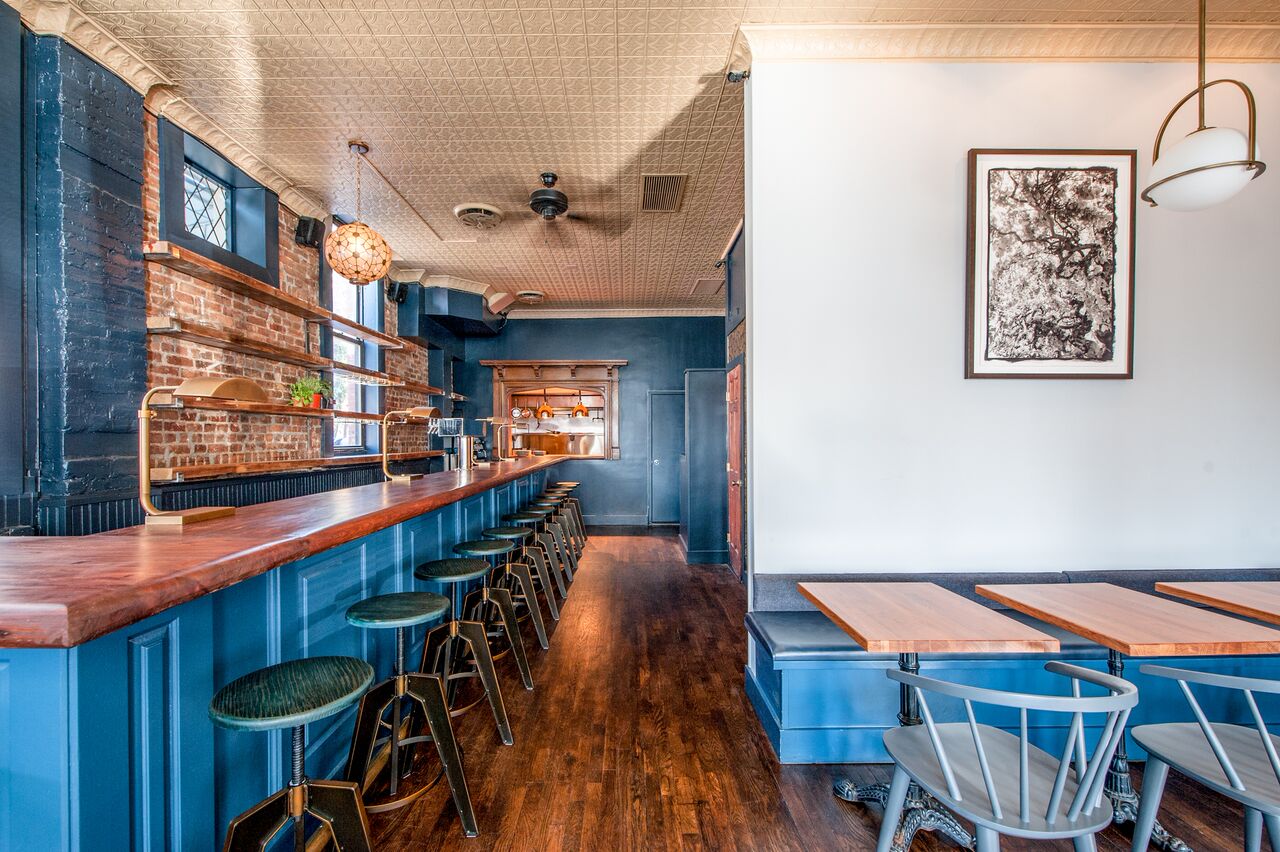 Willits, who has been working in kitchens every day for 15 years, recruited an A-list team from his days at critically acclaimed restaurants like Agern (Claus Meyer), Lupulo (Georges Mendes), and Aldea.
Check out Camperdown Elm tonight at 441 Seventh Avenue at 15th St, or any Monday–Friday from 6pm to 12am; Saturday and Sunday 5pm to 1am. Brunch hours coming soon!
Additional reporting by Carly Miller