Updates On Reconstruction of Putnam Triangle Plaza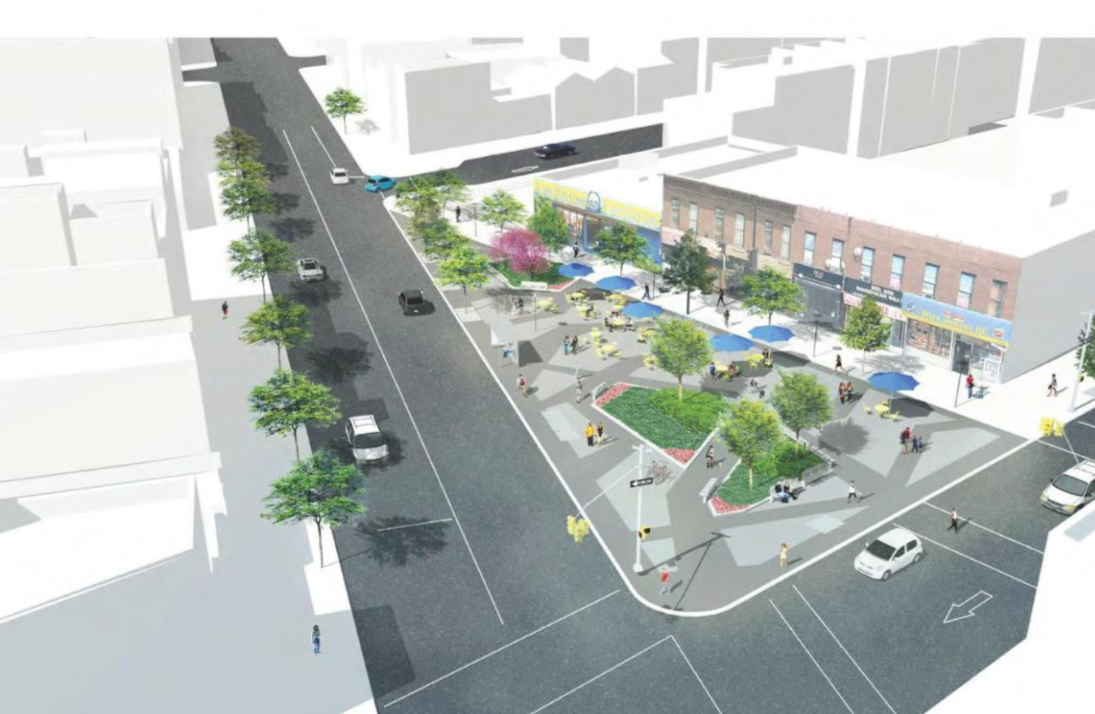 CLINTON HILL – The NYC Department of Design and Construction (DDC) met with community members Thursday evening to provide an update on the reconstruction of Putnam Triangle Plaza which has been closed to the public since March.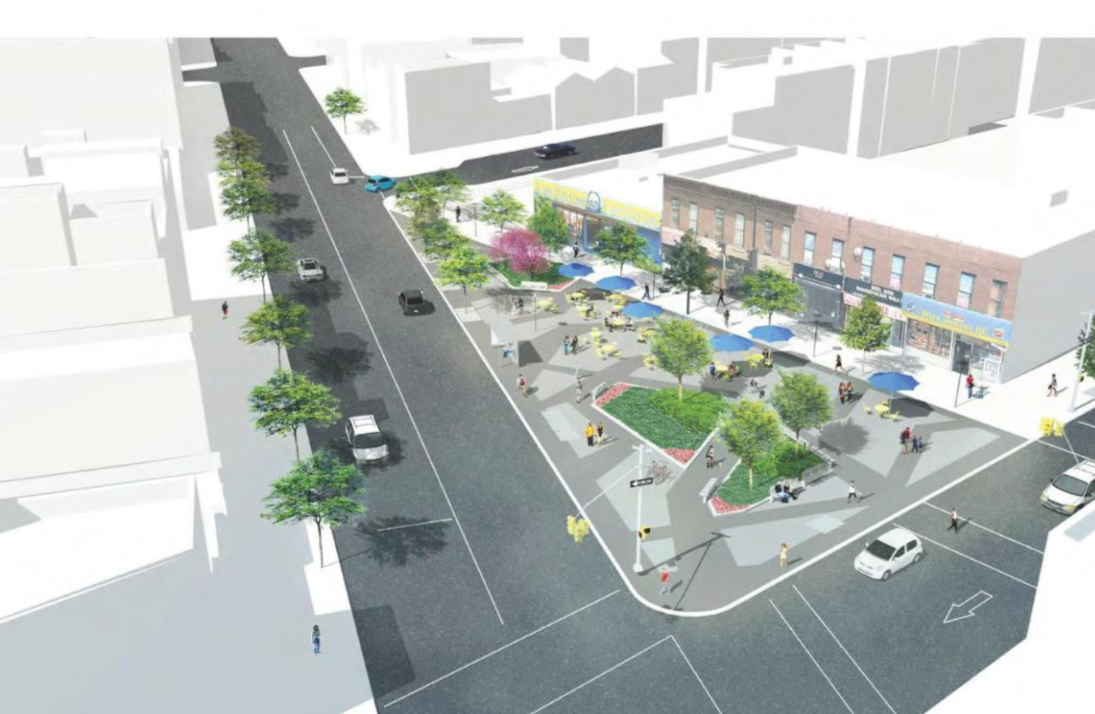 In 2011, temporary materials were used to close off vehicular traffic on Putnam Avenue between Fulton Street and Grand to gauge the community's response to having a public plaza. Community Board 2 approved the project in April 2015. Putnam Triangle was gated off in March 2018 so that construction could begin to permanently convert the 15,000-square-foot space, however according to the DDC permit issues stalled construction for months, leaving many in the neighborhood wondering about the status of the project.
Phillip Kellogg, the Executive Director of FAB Fulton (Fulton Area Business Alliance), says yesterday's meeting was productive, adding he is grateful that the DDC agreed to meet with the approximately 30 community members who showed up for their presentation. He notes that while the community's list of concerns were all addressed, attendees were also able to voice their grievances about the project's delay.
According to the DDC's presentation, the agency has received the necessary permit approvals to get back to work.
DDC's tentative schedule for upcoming planned work on Putnam Triangle Plaza includes:
Stage 1 – Water main replacement and sewer work including the installation of a catch basin on Putnam and Grand Avenue. This work will involve up to three days of water service interruptions (during daytime hours) from September to December 2018
Stage 2 – Electrical infrastructure work in and around the Triangle, including the installation of new lighting. This work will occur intermittently from September 2018 to March 2019
Stage 3 – Sidewalk, curb, and asphalt restoration—"full depth pavement restoration" of the 50-foot-long stretch on Fulton—from March to June 2019
Stage 4 – Landscaping and tree planting from January to May 2019
Stage 5 – Sidewalk, curb, and asphalt restoration—replacement of roadway and the sidewalk in front of stores on Putnam as well as the curb extension at the southwest corner of Grand and Putnam—from March to June 2019
Project estimated to be completed by June 27, 2019
For Stages 1, 2 and 5, the DDC notes that work hours will be from 7am to 6pm, Monday to Friday, and 8am to 6pm on Saturday.
For Stages 3 and 4, work hours will be from 9am to 4pm Monday to Friday and 8am to 6pm on Saturday.
The DDC adds that two 14-foot-wide lanes will remain open for vehicular traffic on Fulton Street and one 14-foot lane on Putnam Avenue, though they note that temporary street closures may be necessary at times. Parking may also be temporarily restricted during the construction.
Pedestrians will have access through and around the Plaza throughout the project.
When the time comes (approximately Spring 2019), NYC Transit will coordinate the temporary relocation of the B25/B26 bus stop currently situated on the Plaza on Fulton between Cambridge Place and Grand Avenue. Advance notification will be provided to commuters and neighbors. After the Plaza construction is completed, the bus stop will return to its original location.
Locals will also be provided 72-hour advanced notice of water service interruptions along with specific instructions prior to the water shutoff. Buildings in three areas will be affected by water service interruptions—Putnam Avenue (north of the Plaza) and both sides of Fulton Street from St. James to Cambridge Place. DDC notes that the water shut-downs will primarily be scheduled during daytime hours with service restored at the end of each work day.
Once complete, Putnam Triangle Plaza will offer the community a large, permanent public space, with Putnam Avenue closed off to cars from Fulton Street to Grand Avenue. The updated space will feature additional trees, benches, movable tables and chairs, trash bins, green infrastructure elements, pedestrian wayfinding signs, and a bike share station.
FAB Fulton will continue to post updates on the progress of the project at faballiance.org. As of Friday morning, Kellogg says he still has not noticed any work on the site yet.
Anyone with questions or concerns about the Putnam Plaza Reconstruction can contact the project's Community Construction Liaison, Anil Dayaramani at hwkp2029@gmail.com or 347.533.8833. Reference the Project ID Number: HWKP2029.