Meeting On Thursday To Discuss Putnam Triangle Delays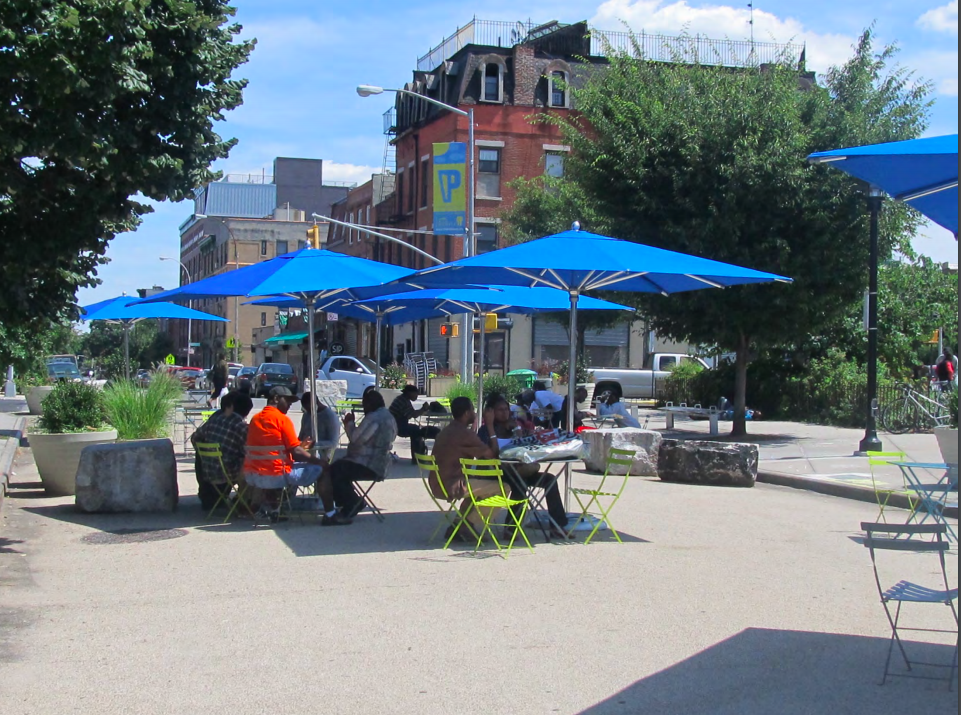 CLINTON HILL – The NYC Department of Design & Construction (DDC) will hold a community meeting on Thursday, September 27, to present an overview of the reconstruction of Putnam Triangle.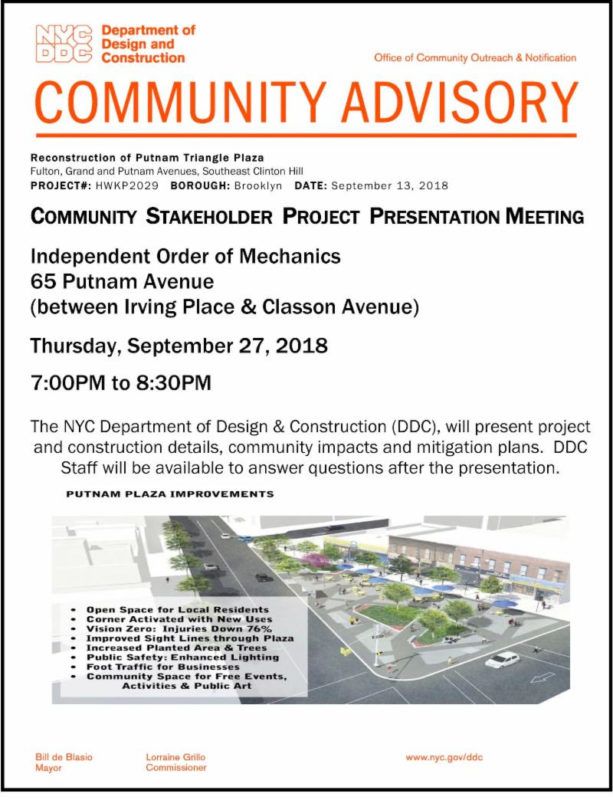 FAB Fulton (Fulton Area Business Alliance) requested the meeting to learn more details about the project, which has shut down the public space since March. DDC will go over the project schedule and the impact the construction will have on surrounding streets before answering questions from meeting attendees.
Below is a list of some of the topics that will be addressed on Thursday:
Reason for the delay in construction work since the plaza closed
Completion date (the project was previously estimated to be completed by Winter 2019)
Work schedule (days and hours)
Final product (e.g., number of new trees, lighting, planted areas, flat surface, utilities for a possible kiosk)
Construction schedule based on actual start date (e.g., What type of work is expected? How long will it take over the course of the project?)
Water Service Interruptions (e.g., What type of work and what will it entail? Which buildings will be affected? Will interruptions be scheduled during overnight hours?)
Storage area locations
Temporary relocation of bus stop
In 2011, temporary materials were used to close off vehicular traffic on Putnam between Fulton Street and Grand to gauge the community's response in having a public plaza that would increase foot traffic for area businesses and offer an open community space with trees, benches, chairs and tables, trash receptacles, and more.
With positive results, Community Board 2 approved the project in April 2015. Putnam Triangle was gated off in March 2018 so that construction could begin to permanently convert the 15,000-square-foot space, however permit issues stalled construction for months.
Over the summer, FAB Fulton worked with NYC DOT to install temporary benches, tables and chairs in front of 966 Fulton Street for the public to use while work on the Triangle takes place.
DDC announced in early September that the permit problems have been resolved and construction would resume. As of Tuesday morning, Phillip Kellogg, Executive Director of FAB Fulton, told BKLYNER that while equipment and materials have been moved into the Triangle space, he has not seen work begin yet.
Read about the project at FabFulton.org and be sure to attend the DDC meeting to learn more.
Putnam Triangle Community Stakeholder Project Presentation Meeting
Thursday, September 27, 7pm to 8:30pm
Independent Order of Mechanics
65 Putnam Avenue (between Irving Place & Classon Avenue), Clinton Hill