Try Brighton's Smoothie Cafe For Cheap Eats On The Boardwalk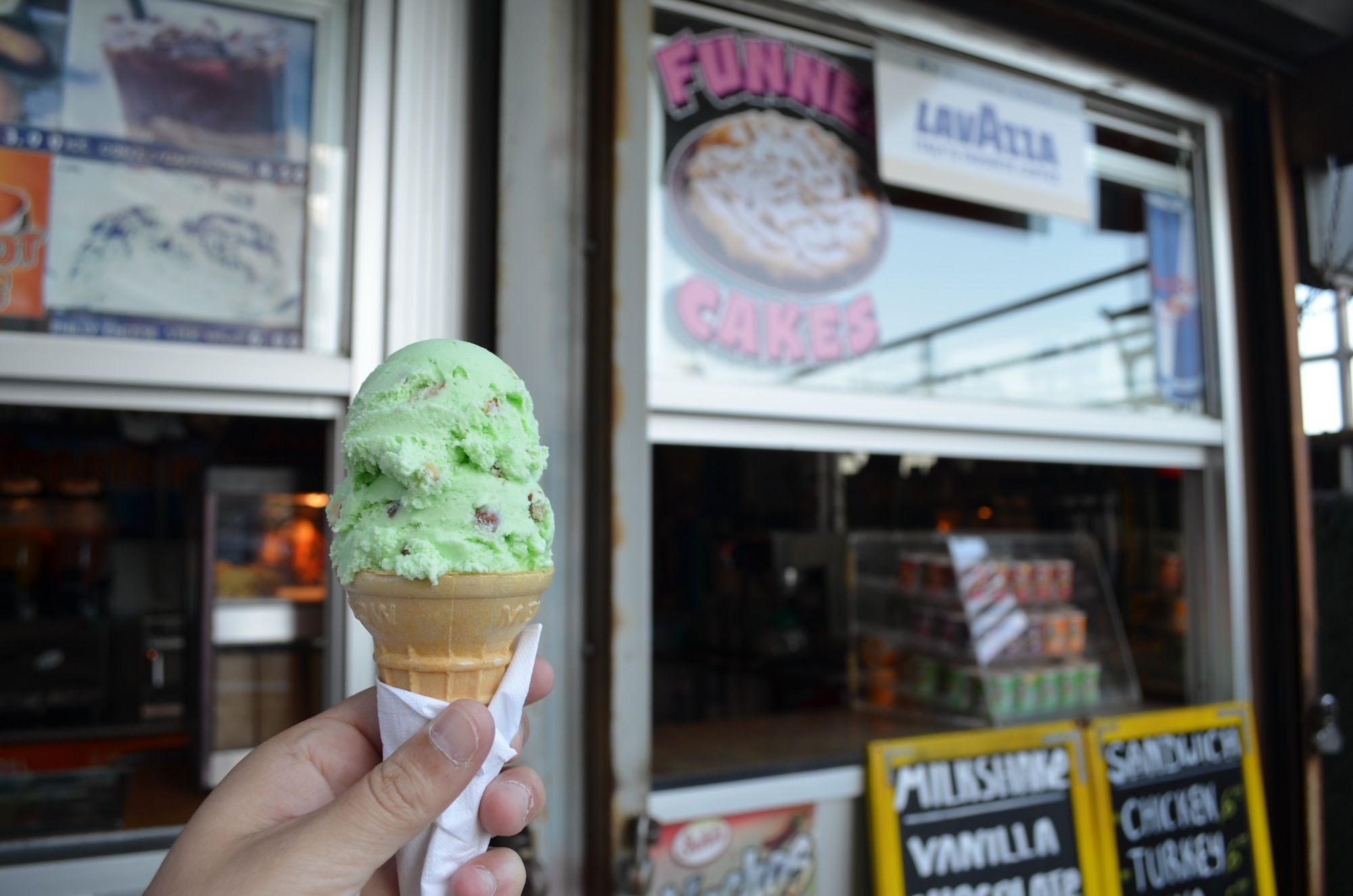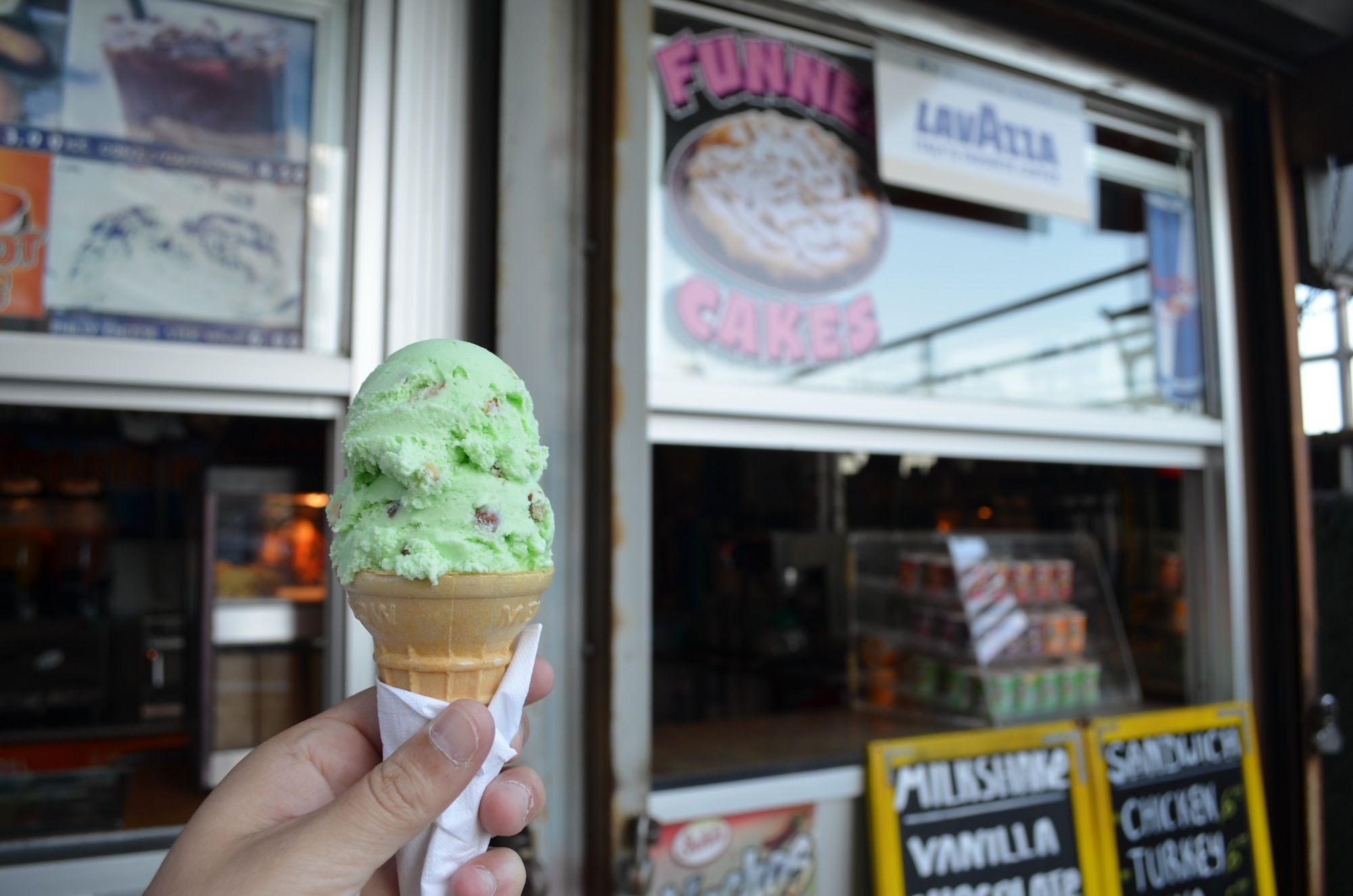 Brooklynites should expect another scorching summer this year. And what better way to shake off the heat than a visit to Coney Island's beautiful beaches?
But crashing in the surf can stir up an awful appetite. So if you're looking to grab a cheap bite or a scoop of ice cream, consider stopping by the Smoothie Cafe — located right under the boardwalk at Brighton 1st Road.
The little storefront, with sun-faded signs advertising hamburgers, ice cream and, of course, smoothies, has been in business for 17 years, an employee told me. The cheap, food-truck fare in the beachside shack is a great way to round out a sunny day on the waterfront.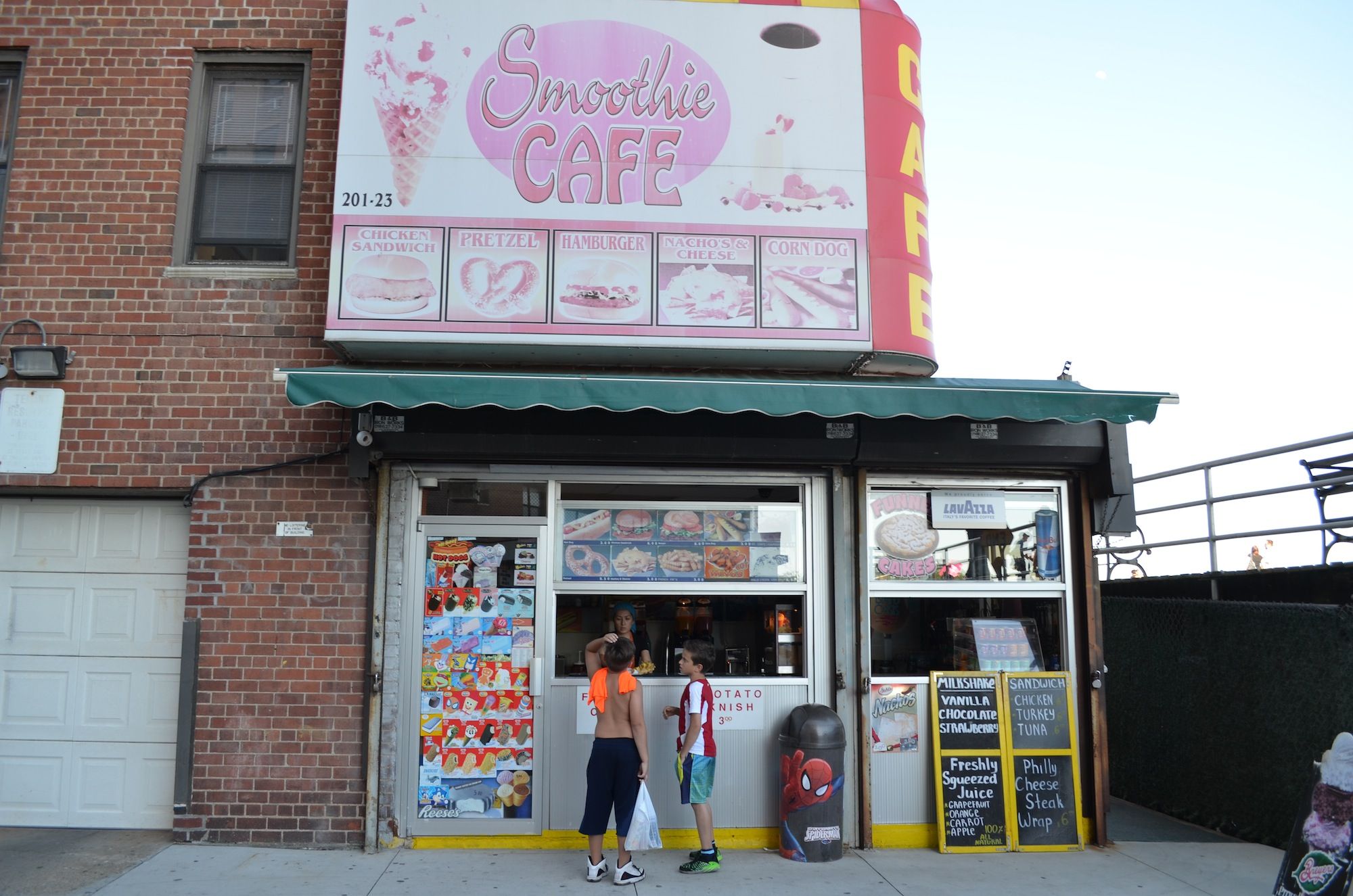 Sure, the boardwalk has loads of snack-grabbing options — you can chase down one of actual food trucks often parked near Asser Levy Park or the parking lot near the Brighton Playground. There are also plenty of (often overpriced) restaurants right on the boardwalk.
The Smoothie Cafe is where I like to stop in for cheap eats. It's right under the boardwalk and it never moves! Usually I just picked up one of their fruit smoothies ($5.50) or milkshakes ($5) and then continue strolling down the beach. But as I walked past the shop this week, I decided to dive a little deeper into their menu. I couldn't resist a double scoop of pistachio almond ice cream ($2.50) and wanted to taste their potato knish ($3). After all, this is Brighton Beach.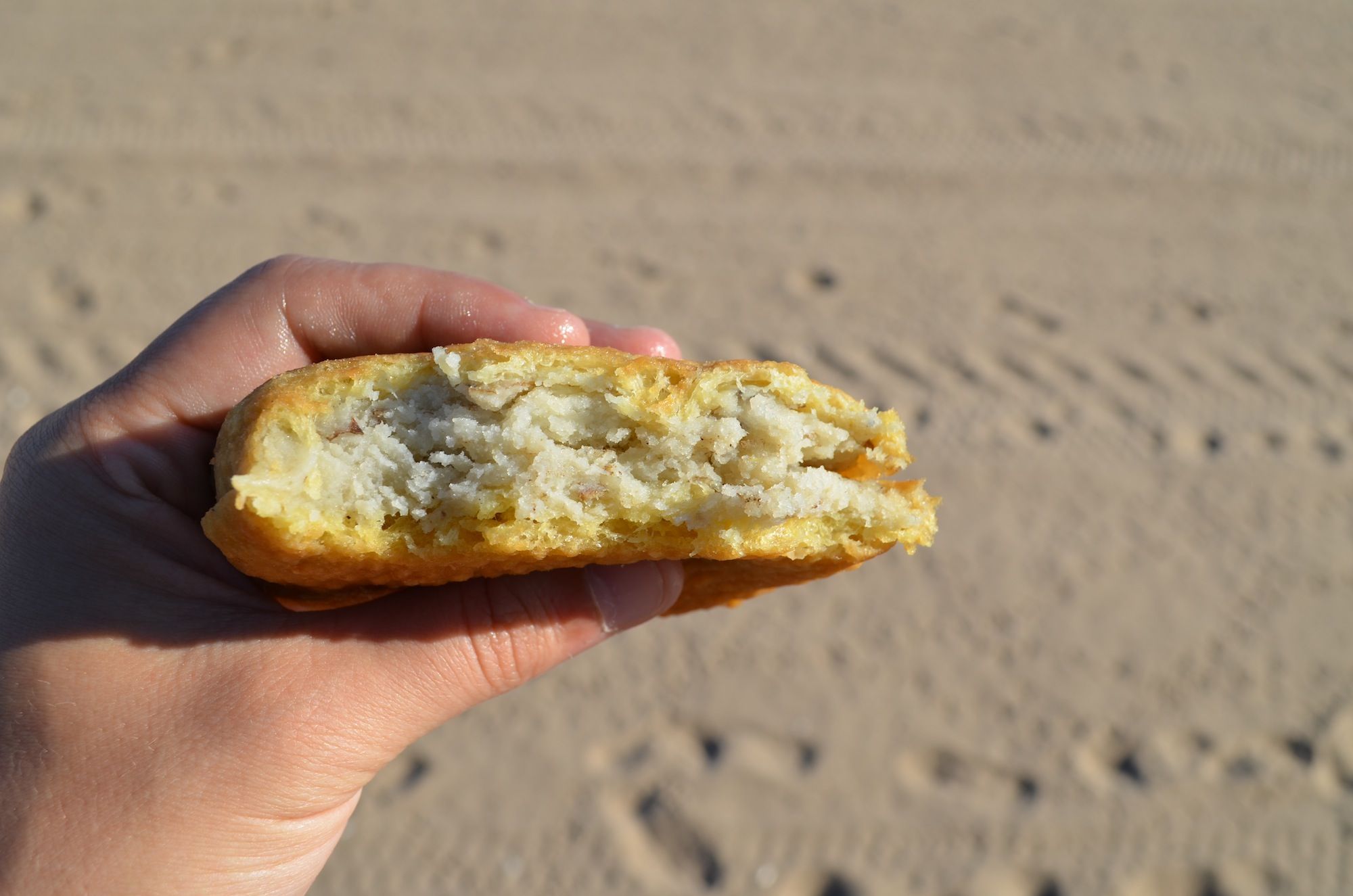 The potato knish perfectly captures what I love about the Smoothie Cafe. It's two spongy, greasy pieces of bread sandwiched around riced potato with some black pepper. It's amazingly satisfying after you've been hiking along the boardwalk in the sun.
Meanwhile, the pistachio almond ice cream was brightly sweet. It's creamy coolness coated my tongue and throat while I munched on the almonds loaded inside the ice cream. Take that, summer heat!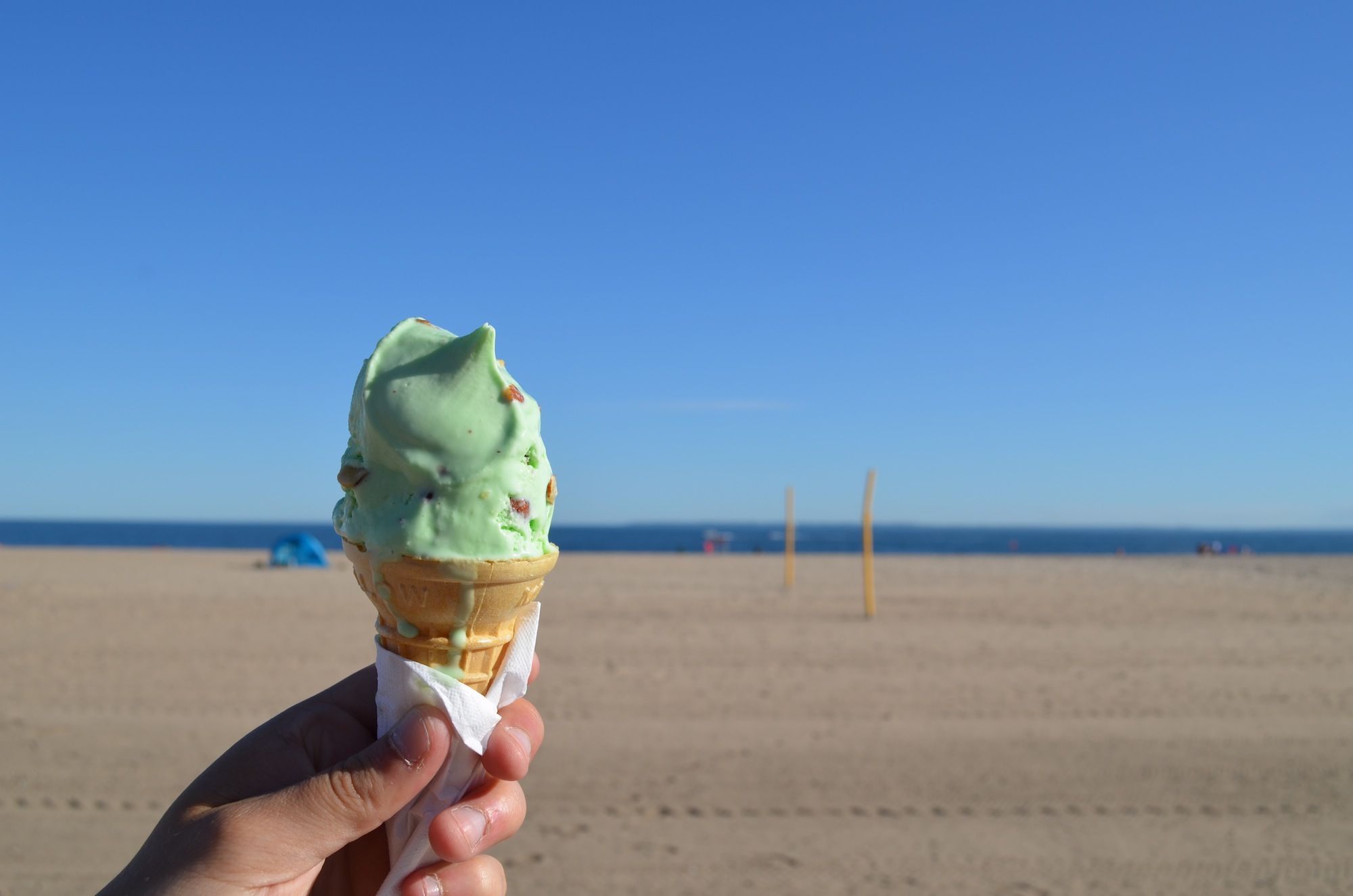 So if you're ever in Brighton, looking to score a satisfying snack. Check underneath the boardwalk in Brighton for the Smoothie Cafe. Enjoy the sunshine!
Smoothie Cafe
Where:  201-23 Brighton 1st Road, near the Boardwalk
Hours: 10am – 12am, daily