"It's The Titanic Approaching The Iceberg," Rep. Yvette Clarke Slams Trump's First Days In Office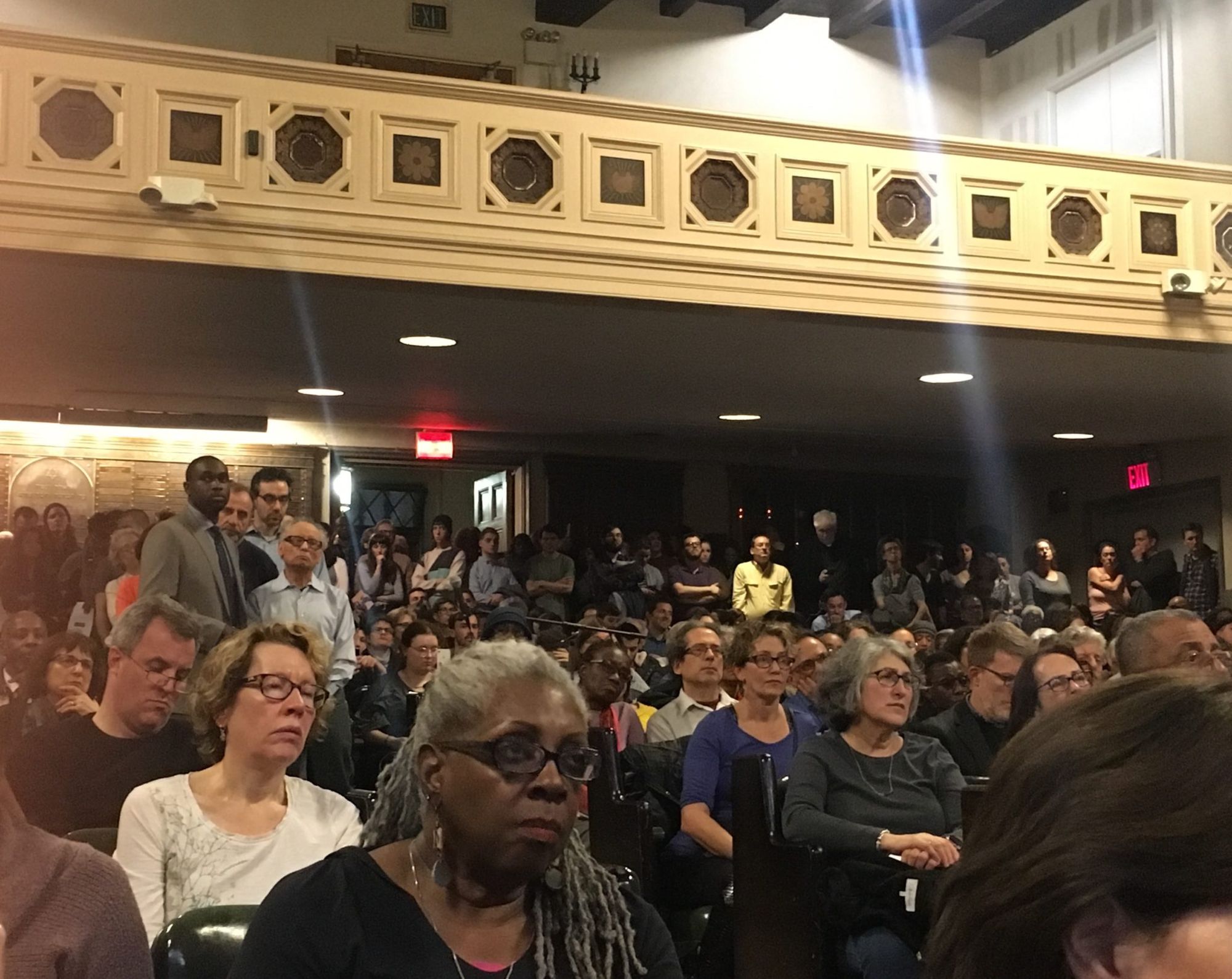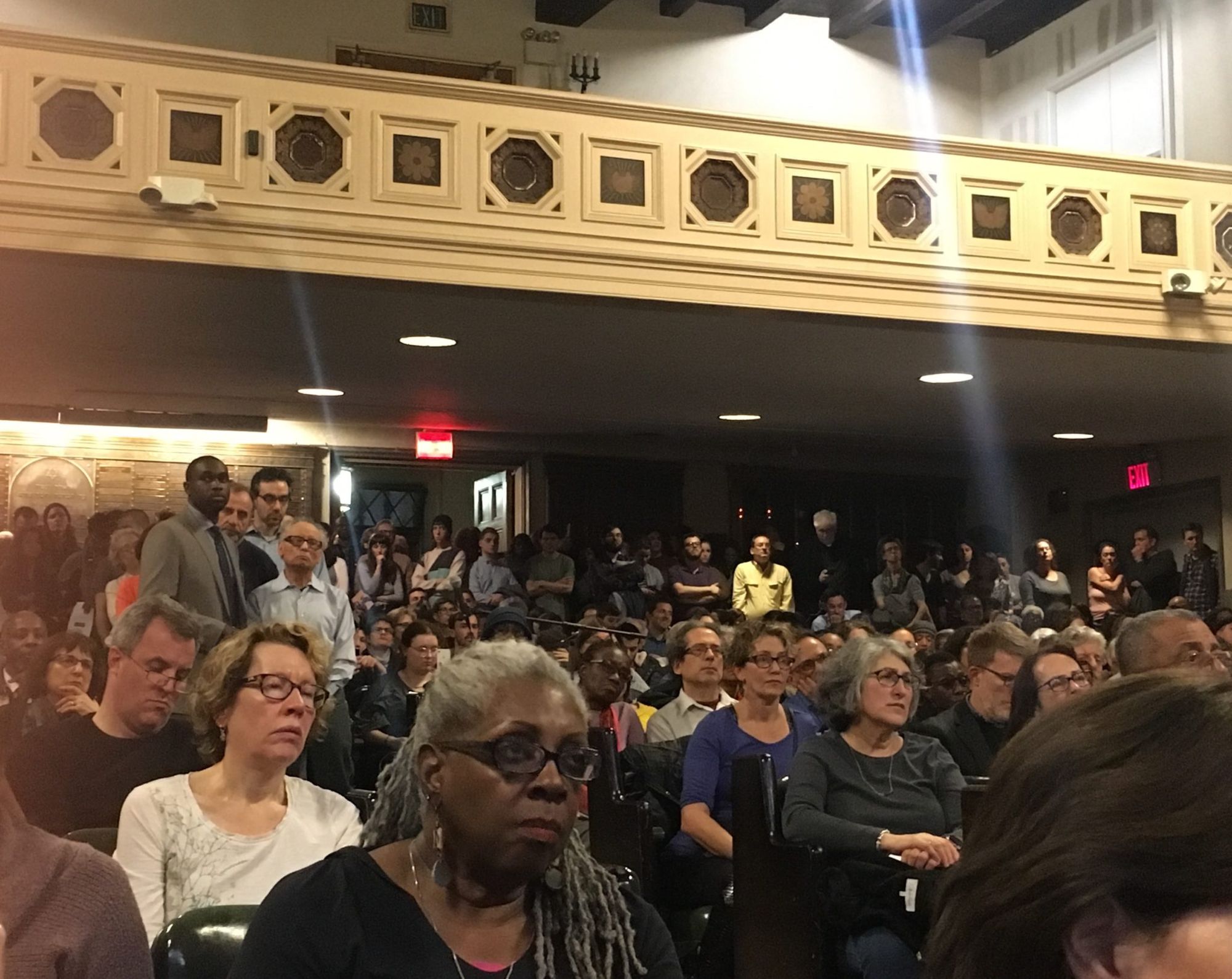 "We need to act up! We have overcome tyranny before," U.S Democratic Congresswoman Yvette D. Clarke shouted to the hundreds packed into her town hall event last night, addressing Donald Trump's first 32 days in office.
An estimated 1,000 people packed into the Union Temple of Brooklyn in Prospect Heights (accounts vary), with a line snaked around nearly three blocks long and hundreds more packed into overflow rooms or turned away at the door.
Clarke stood in bold opposition to Donald Trump, who she called an "illegitimate president", and his administration "defined by dysfunction and ineptitude coupled with philosophies of hatred and division." She spoke passionately about threats to civil rights, criminal justice reform, the free press, affordable healthcare, and more — just in the administration's first 32 days.
"He's taking a victory lap from an illegally hacked illegitimate election," she said, citing the Russian President's campaign of cyber interference in the U.S. election that is currently under investigation by the Senate Intelligence Committee. Clarke also co-sponsored a resolution to investigate Trump's involvement with Russia.
Watch her full speech here:

Though Clarke represents Brooklyn's politically diverse 9th congressional district, audience members expressed nearly unanimous support of Clarke's resistance to Trump. Though there was a notable lack of representation last night from constituents in Sheepshead Bay, Flatlands, and Brownsville.
Clarke is leading a strong resistance movement in her district, calling on constituents to pressure state politicians and mobilize outliers in Republican-represented NYC districts. But audience members in the room also pushed Clarke for specifics regarding what they can do to push back against unjust national policies.
Clarke galvanized audience members to expand their networks, and organize in communities where local Republican reps. won reelection even though they voted majority Democrat in the Presidential election. "There is an enlightened electorate there that we need to lean hardest on," she said, noting the trend of Republican representatives met by angry constituents in Town Halls.
"I would suggest that we start with Dan Donovan, Peter King, and Tom Reid," she said, to an eruption of applause. "Help Democrats and resisters organize a town hall, send letters out, stay on top of their representatives," she said, encouraging everyone to follow her twitter handle #BrooklynResists.
Republicans are afraid of Donald Trump and his power to sway their constituents, she said. "But they smell the crazy," she said, predicting Trump's impending fall from grace.
"A lot of this is coming to a head — it's the Titanic approaching the iceberg, and you're going to see a lot of these guys jump ship as more comes out about the Russian intrusion and conflicts of interest," she said.
Members of the Flatbush-based activist group Indivisible 9th were a strong visual presence at the town hall, holding up signs and preparing a list of questions about their priority issues. "We're holding her accountable in our absence," said Mela Ottaiano of Indivisible 9th. "She's the one in Washington D.C. doing the work. We want to remind her that we're here and we care."
Many constituents expressed concern over the idea of uniting a divided electorate, after Trump's victory in November. "How do we expose opposing viewpoints to each other in a constructive manner?" asked one questioner.
James White, a 12-year Prospect Heights resident, has found that a crucial element to change is stepping out of "the bubble" of your racial and class circles. "I have friends who are Trump supporters, and I feel like I'm their token black friend," said James White about the importance of bucking racial stereotypes.
For one Bronx resident, coalition building is the key to uniting advocates. "We do feel powerless," said Rasheida Alston. "But we have representatives we put in office that are here to address our needs, it's important to find out how to get involved," said Alston, who recently signed up to join her local community board council.
But citizen power and grassroots organizing will only take you so far with a Republican-led House and Senate, the congresswoman acknowledged.
"These pieces of legislation that will move our nation toward progress are not going to go anywhere right now under this current construct," said Clarke in a discussion her support of re-instating the Glass-Steagall act and universal, single-payer healthcare
Expert panelists from the ACLU and Aboushi immigration law firm proposed looking to the judiciary to begin enacting policy changes to combat civil rights violations.
"If you see something, say something," said lawyer and panelist Tahanie Aboushi, discussing how filling lawsuits can contribute to and change policy.
"Our district court responded to the Muslim ban because someone had to be wronged and sue to bring it to the courts," said Aboushi. "Don't underestimate your ability to change and create policy," she said, noting that even though 2.0 of Trump's executive order on immigration is rolling out soon, the #NoBanJFK legal movement is ready.