Thursday, Aug. 19: 3rd Mass Shooting in 10 days, Crown Heights Riots, Live Music, and more
It's been 30 years since Crown Heights Riots.
Residents across Brooklyn are unnerved by changes to eviction protections, and an increase in shootings - we've have three mass shootings in Brooklyn in the last 10 days alone.
On the brighter side - lots of wonderful live music and events happening across the borough as we enter the final stretch of the summer.
---
Billy Richling • 4 min read
"I think there are some instances of antisemitism on the streets. Especially now with gentrification. But I think on a leadership level, things are very good," Behrman said.
---
Bklyner Bulletin
💉A Bay Ridge bakery, a Staten Island gym and other mom-and-pop shops are suing Mayor Bill de Blasio and the city over the vaccine mandate on indoor venues, claiming the order unfairly targeted their businesses. (Crain's)
💰 "Whenever a PTA gets a student or a family member to come in and get vaccinated, we will give them $100 for everyone they bring in. So, think of the virtuous circle here. People get vaccinated, the individuals get $100, the PTA gets $100 for each person they bring in and they recruit to get vaccinated," Mayor Bill de Blasio announced this morning.
---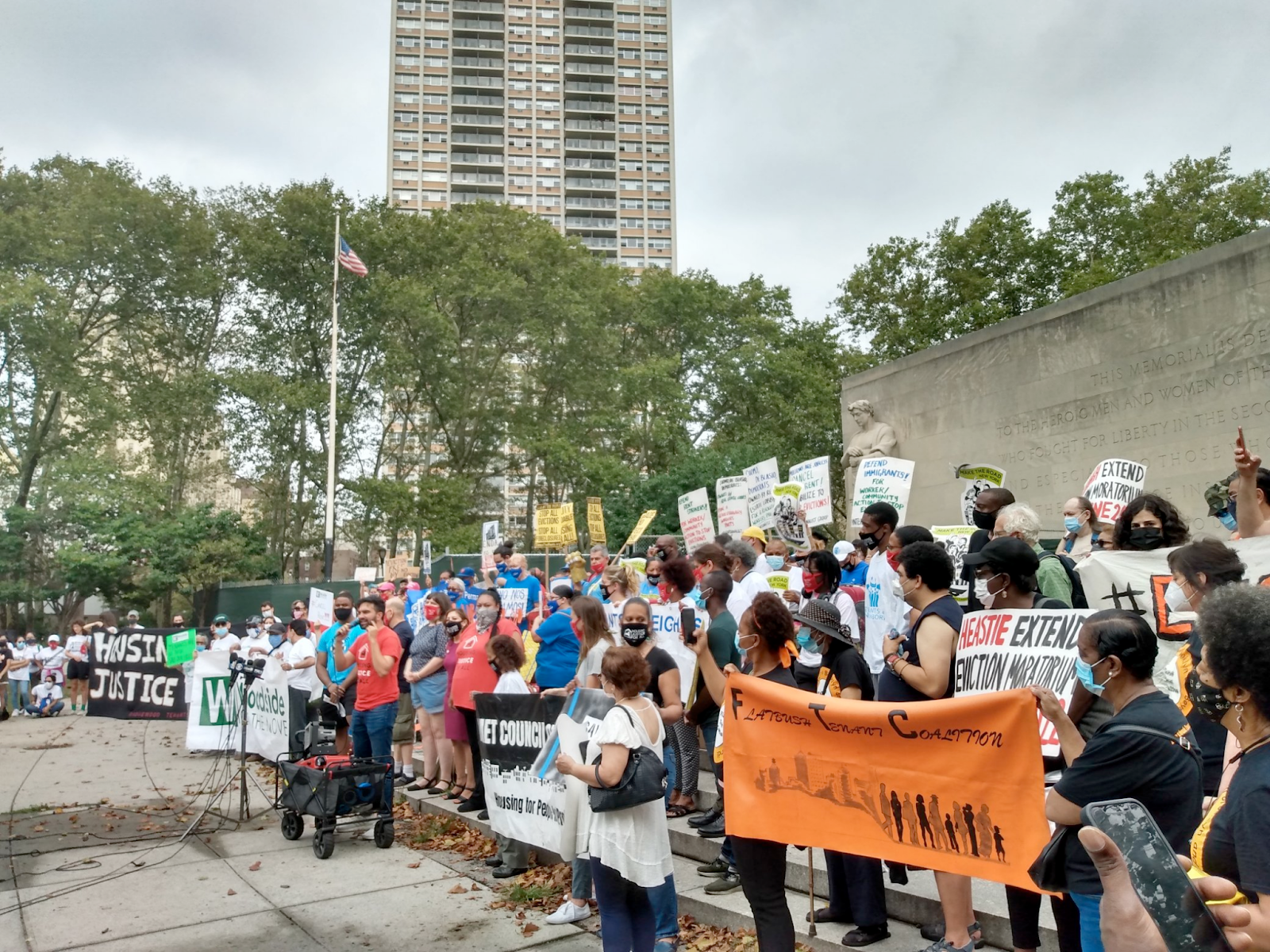 Billy Richling • 3 min read
Last week, the Supreme Court voted to block a key provision in the state's eviction moratorium that allowed tenants to at least temporarily avoid housing court proceedings by signing a sworn declaration that they had experienced COVID-related financial hardship. This week, tenant advocates took to the streets.
---
Piotr Orlov • 4 min read
Free shows and porch shows, block parties and dance parties, a punk professor and "We Live in Brooklyn Baby."
---
🚨While some local news publishers throw fundraisers for future Mayors, we will never do that. We rely on our subscribers to make ends meet. You can support our work here.🚨
---
Liena Zagare• 1 min read
Five men were injured in Tuesday night's shooting at Mather Gaston Blvd. and Belmont Ave, marking it the third mass shooting in the last two weeks in Brooklyn.
---
Today's Question for the Mayor: What is the city planning to do when kids are quarantined? How are they going to continue their studies?

Mayor Bill de Blasio: "If you're a child who is vaccinated in that 12-year-old and up group, or an adult in the school system vaccinated, and there is some evidence of COVID in the school, unless you are symptomatic, you're continuing to be in school. You're vaccinated. You are safe. If you're not symptomatic, you're in school.
"So, you're going to see a lot fewer people going home for those quarantines, among those who do go home for a quarantine, it's now seven days, not a long time in the context of the whole school year. And we want everyone to be safe. We want everyone to have the information they need, but that quarantine period is very brief.
"We will be talking in the coming days about exactly how there'll be education for those kids during that time. But it is a very temporary kind of – it's like, you know, when we're helping kids for a very temporary period of time to keep continuity, but overwhelmingly, we're going to see kids in school getting educated the way that actually works in-person."
---
You've made it to the end of today's edition. We love hearing from our readers — please email editor@bklyner.com with any questions, tips, or concerns. And if you haven't yet, you can support our work here.
---