The Barnacle Parade: Red Hook Residents Remember Hurricane Sandy
RED HOOK – The Red Hook community held the 5th annual Barnacle Parade on Monday, October 29 to commemorate the sixth anniversary of Hurricane Sandy.
The Barnacle Parade was launched by a group neighbors in 2013—the year after the superstorm brought a 12-foot surge into Red Hook. The parade celebrates the community's resiliency and the unity that brought locals together during the recovery process.
Last year Mother Nature literally rained down on the parade so organizers were prepared—even for Saturday's Nor'easter that flooded parts of Van Brunt Street.
Working on a tight schedule, the team began work on this year's Godzilla float a week in advance and brought the production indoors during Saturday's rain. They dried off parts of the radioactive sea monster and made necessary repairs on Sunday, according to Anne O'Neil, the parade manager.
In previous years, Bait & Tackle, a neighborhood favorite, hosted The Barnacle Parade's afterparty, but since the bar closed in January, a block party was held on Pioneer Street instead, replete with cookies, coffee, and a tiki snack bar. Hometown Bar-B-Que's Halloween party coincided with the parade, so some parade- and party-goers showed up in costume.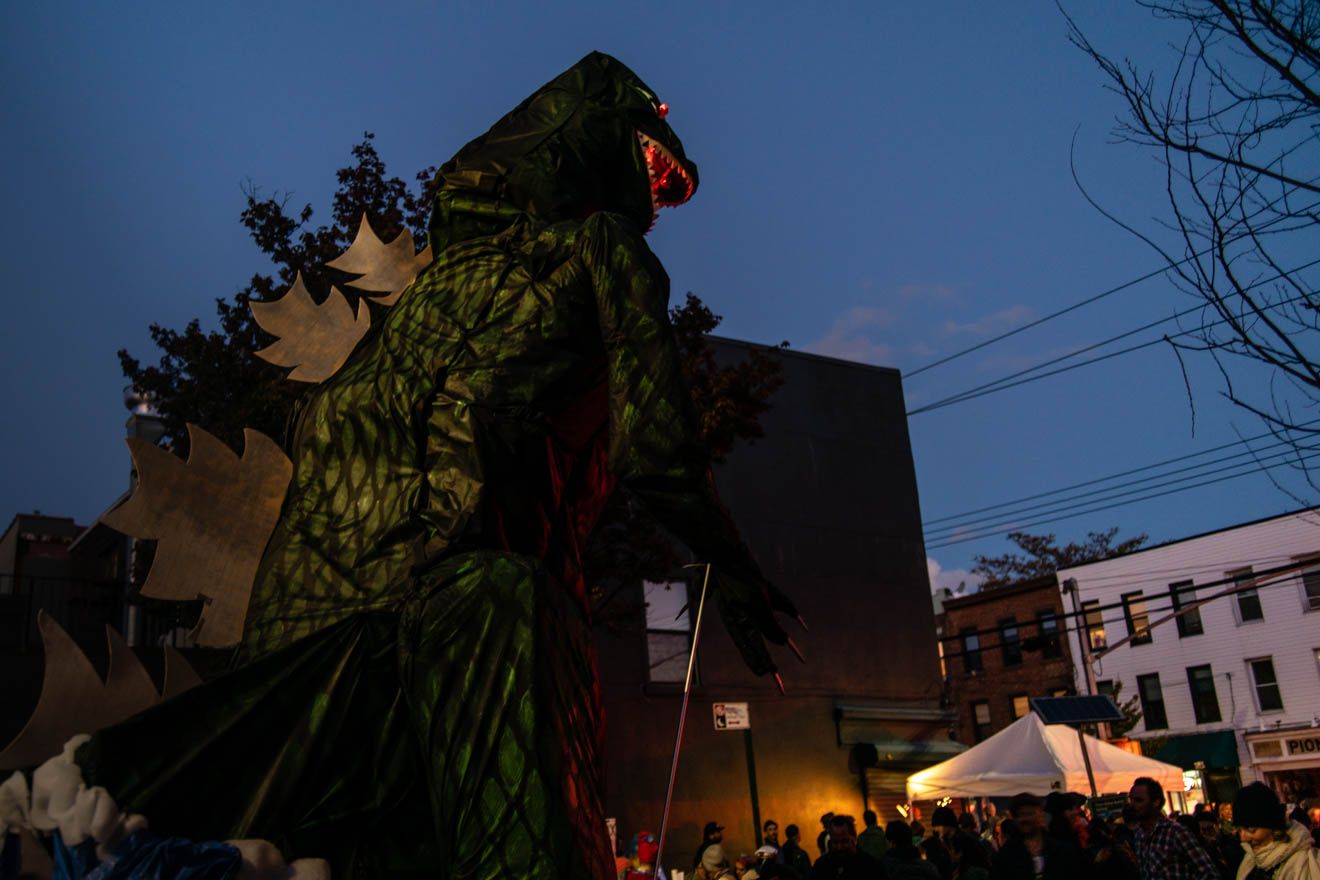 This year's Barnacle Parade is raising funds to assist those impacted by Hurricanes Florence and Michael in Florida and North Carolina through a raffle with prizes provided by local businesses. Check out The Barnacle Parade's Facebook page for details on what's on offer.
The raffle drawing will take place Sunday, November 4 at 6pm at Rocky Sullivan's (46 Beard Street). Raffle tickets can be purchased at Rocky's, Brooklyn Icehouse (318 Van Brunt), and Sunny's Bar (253 Conover Street).